Ohana moored at the wharf in Miro Bay, the homebase for our charter.
Invercargill based Dawson Charters have a reputation for providing fishing and diving charters with a difference. They may be a little unorthodox in their approach, certainly packed with humour and above all provide an experience that you'd struggle to find on any other charter.
This was the NZ Propeller Magazine's second Dawson Charters experience and once again we had our serious fishing mate Mike Butt along to join Doug Dukeson, Dave Broadley and myself. Greg Dawson, the owner of Dawson Charters, arrived at Blenheim Airport to pick us up, with unpaid assistant and resident comedian Richard Murrell. Right from the minute you are picked up and driving off in the van you know you're in for another interesting and unpredictable trip.
First stop was the vineyards around Blenheim where we stocked up on a few bottles of Cloudy Bay, Hunter and Nautilus. Leaving the graceful ambience of the vineyards we then stopped off at the Okaramio pub where we experienced a culture shock. Run by the unconventional Hadlee, the pub is a famous watering hole that dates back to around the end of the 19th century. In its early years it was a regular refreshment stop between Blenheim and Havelock. Now, it's frequented by the few locals in the area and tourists interested in seeing a legacy of a bygone era. Believe me, apart from the 1977 Falcon Fairmont with 1,25 million clicks on the speedo sitting outside, the pub was just like the day it was built. Well, almost! Anyway, it's unique and certainly well worth stopping for a pint and a pie and some interesting banter with Hadlee.
However, as much as we enjoyed our 2nd and 3rd and 4th pint of the locally brewed Bays Gold, we had to get away to Havelock where our Southern 770 awaited to take us out to Dawson Charters' Marlborough base in North West Bay, Pelorus Sound.
Home base is a neat Kiwi style bach – 'crib' in the South Island – that offers all the right amenities, a beautiful bush location and a deep water wharf for all tide access. There's even a quad to help you get up the path to the house, should you have already found Dawson Charters start to the trip a little over exerting.
Snapper Alley- Yeah Right!
Day one consisted of a snapper trip to Kenepuru Sound where Greg was adamant the big snapper were still there to be caught. He had spot X marked on his GPS and we were keen to hook straight into these famous Kenepuru snapper. Mike caught the first one and it was all looking good. But that was it. One snapper and hardly a bite later. We cruised on down the sound to have lunch at Portage Hotel – another great destination if you are ever in the sounds and one that can be easily accessed by car from Blenheim.
On the way back we stopped off and picked a feed of oysters off the rocks. They are plentiful and very succulent. With a sack full, we then headed off to get some fresh mussels from one of the many mussel farms scattered throughout the Sounds. Greg talked to one of the local mussel harvesters and after a rundown on how the farming is carried out, we were allowed to stripping a few of  New Zealand's finest greenlips off a strand or two. That night it was a huge feed of seafood – well, oysters and mussels, anyway. The remainder of the meal was supplied courtesy of the local butcher.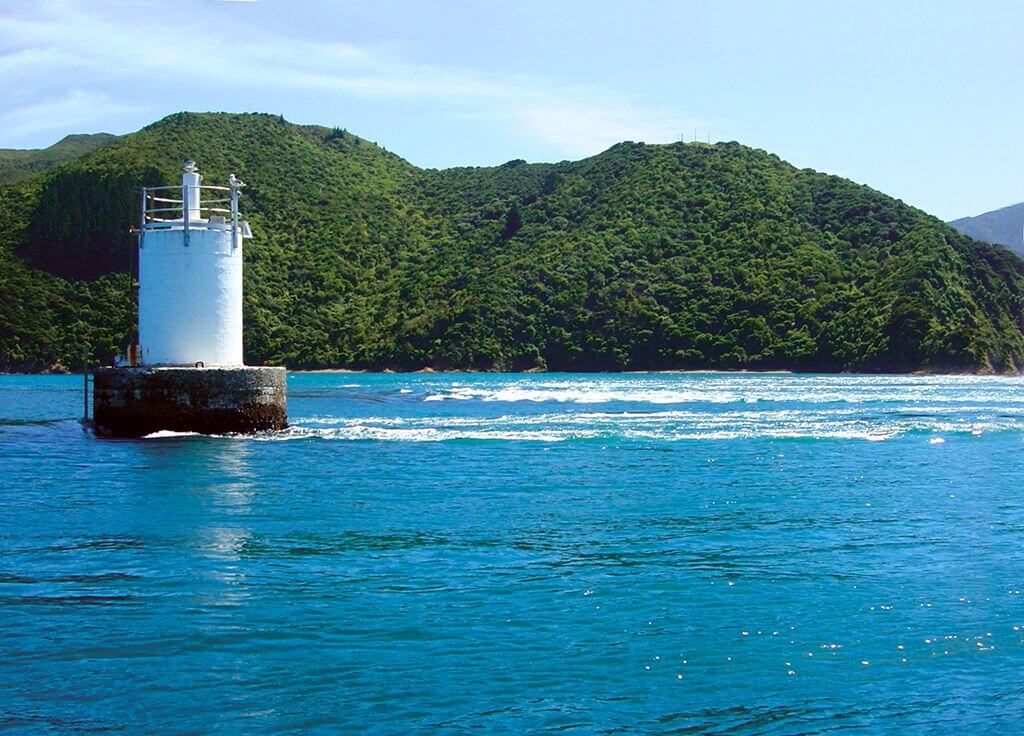 The destination on day two was the outer islands and bays of the Marlborough Sounds, with a trip across to the infamous French Pass. It was right beside the entrance to French Pass, with the tide roaring past at a full 7 knots, that we anchored over some of the most voraciously hungry fish I have ever come across.
The blue cod were so prolific that we caught our limit in such a short time we had to stop fishing almost as soon as we got there. Mind you, getting there was a great trip, especially as a lot of the area was totally new to me.
Every drop of the line was an instant blue cod. One bite, one fish! To make the fishing a little more interesting we also had the occasional barracuda take the cod on the way up, but fortunately we managed to extricate them before they got aboard.
As if the barracuda weren't giving us enough action, Doug hooked up a small mako, which ran his line almost totally off the reel. With the nylon screaming as the mako headed off like a freight train, it suddenly did a mid-air pirouette, threw the bait and swam off into the swirling waters of French Pass.
The fishing excursion at French Pass had come after a big day, which saw us leave our home base in Miro Bay, cruise past Maud Island and through the Waitata Reach and on to the Chetwode Islands.
Initially that was plan A, with plan B to keep going on to French Pass and maybe if time and weather permitted doing a circumnavigation of D'Urville Island. As it was, going all the way to French Pass and back was as much as we could get in.
French Pass was named by Dumont D'Urville when he sailed through it in 1827. The Maori name is Te Aumiti, which is a shortened version of 'Te Aumiro-o-te-kawau-a-Toru' means "the swishing currents of the shag Toru', the plsce where Kupe's path-finding shag was drowned by the current.
First stop was shallow reef off the Western side of the Chetwode Islands (named in 1838 by Lieutenant Chetwode) where the sounder showed plenty of baitfish. Our seriously keen fisho mate, Mike, was certain the snapper would be lurking around the steep faces. He was right and although the pickings were slim we did get a few reasonable fish aboard.
As the weather was fine and the sea hardly rippled we set off to Clay Point where some locals had said it was a great dive for crays. After opting to try that on the return trip in the afternoon, it was straight on to French Pass. To really understand French Pass and its whirlpools, eddies and raging tidal flow, you have to be in it to really appreciate what it's truly like. Photos just don't do it justice.
The Southern 770's Yamaha 225 4-stroke was noticeably feeling the pressure from the tide rip as we headed into the more open channel on the eastern side of the beacon in the centre. Although you can pass around the other side it's certainly rockier and a dangerous approach at low tide or if you are not experienced in boating in the area. Skipper Greg had to push the throttle down for a few more rpm just to get through at low speed.
Our return run was equally as interesting as the current was pushing us faster than we really wanted to go. For a trailer boat it's not a problem either way, but for a slow displacement cruiser or yacht, it's not a place I would like to tackle without first making sure you've got everything exactly right. This is a place that would offer you no second chance!
The tide rip was way too strong to fish anywhere close to the centre of the Pass, even with sash weights, so we pulled over to shore and anchored in a calm eddy. As I said before, the blue cod virtually jumped into the boat and getting the limit for the six of us aboard was no effort.
On the way back to Pelorus Sound we stopped at Puketea Bay for lunch and went on to Clay Point for a cray dive. After an hour in the water our divers came up with empty catch bags. If the locals really knew where the crays were, they certainly were not telling us.
The nice thing about the Marlborough Sounds is there are plenty of places to stop and refresh either the boat or you. At Te Rawa Resort in Wilson Bay at the head of the Pelorus Sound, we called in for fuel and a few well earned pints. Hosts Erika and Walter have done a lot recently in upgrading Te Rawa and it's one of the more popular restaurants and bars for boaters in the area.
That night at home base we were treated to a typical Dawson Charters seafood feast and spent the rest of the evening reminiscing over the few days we had had and plans for our final day before flying back to Auckland.
As our first day at the famous – according to Dawson Charters – Snapper Alley in the Kenepuru Sound had been so unproductive we decided to have one last try on the way back to Havelock. We need not have bothered and once again those big snapper eluded us. Surprisingly, the next charter for Dawson Charters the following week was reputed to have produced a 12kg monster. A fishing story perhaps to bolster the reputation of Dawson Charters!
After a tidy up and then another interesting lunch at Okaramio Hotel, it was on to Blenheim and a few flights later back to enjoy the Auckland rush hour traffic.
Once again Greg and Richard had provided the NZ Propeller team with a memorable charter and whilst the snapper fishing and diving might not have been as good as we expected, the rest of the trip certainly made up for it. We have promised ourselves that the next Dawson Charters experience will be somewhere in Fiordland, where the crays are reputed to be as prolific as the sandflies.