Author : Barry Tyler
There are some owners you just can't seem to convince no matter how hard you try, no matter how many obstacles are put in their way. So when well known entrepreneur Keith Williams was told it was out of the question to make a larger version of his then 2600 model Powercat Partycat, as it was too expensive to gear up to build just one boat, he promptly trumped the builder's 'hand' by placing a multiple order for Powercat 3400 Partycats.
As the then owner of the North Queensland Port Hinchinbrook resort and lifestyle development, he had decided it would be a good idea to have one boat there, and the second domiciled at his 'head office' base on the Gold Coast. And being as Williams is a respected member of the boating communities of both the Port Hinchinbrook as well as Gold Coast regions, the order quickly grew to four boats, as close friends also appreciated the wisdom and absolute convenience and practicality of his choice of waterborne transport.
It is well etched in the annals of Australian boating history that the discerning Williams has owned some very luxurious boats in his time, albeit significantly larger in proportion as well as opulence, yet he has opted as his latest mode of transport this variation of the popular pontoon style of vessel. And why, simply because it offers a no-hassle practical and easily manageable alternative that enables him to at the drop of a hat, load his family and friends aboard (and of course his beloved and much publicized dog) and head off for a day's boating fun at any one of the myriad of islands or beaches available in the cruising grounds of either the Hinchinbrook or Broadwater Gold Coast regions.
Simply, it was this new-found hassle-free freedom he had come to enjoy from his smaller Partycat, that prompted him to 'ask' Powercat Marine MD Steve Shaw for a larger version. "The first 2600 Powercat Partycat was very much a practical family-friendly way of going boating," Shaw explained, "a boat that sort of evolved, which I built solely for myself and which as such was entirely suited to my own requirements. Unfortunately or fortunately whichever way you care to look at it, the concept enjoyed instantaneous acceptance by an audience who wanted a more practical alternative to the American style of pontoon boat – and now here we are with a bigger version that once again evolved almost by default. It certainly wasn't on my 'To Do' list for 2005."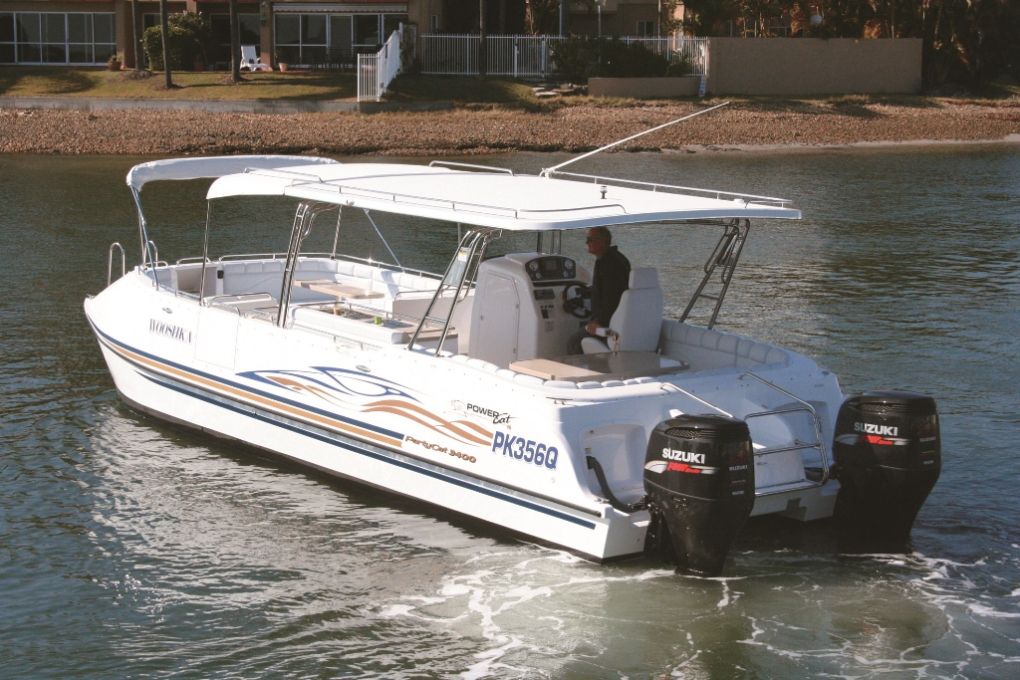 While this 3400 model enjoyed all the usual user-friendly features of the 'American' alternatives, the real attraction of this 3400 was its obvious (underwater) hull shape and inherent handling attributes, which offered it genuine bluewater capabilities. And that was the real attraction for the likes of Keith Williams, for when he goes somewhere he likes to do it in an efficient time-frame, in an appropriate manner. He may be miles away from home base, so he needs to know he has a hull beneath him that will handle seas affected by a sudden weather change for the worse.
A big 'ask' for a style of boat particularly suited to inland sheltered waterways and secluded bays, yet immediate substantiation of this claim was gleaned from the fact that on the day of our test the vessel was delivered to its owner by water. Wooshka, as it has been affectionately named, was to be moored on a floating pontoon outside the owners' residence, so the only sensible solution to the 'hand-over' dilemma was to deliver it by water from Powercat's base at Bribie Island (Caboolture) North of Brisbane, over the exposed waters of Moreton Bay and on down to the Gold Coast. "We were here in a shade over two hours, cruising at an idyllic speed of 30-plus miles per hour," said an excited Steve Shaw immediately after the trip, "There aren't too many pontoon-style boats you would attempt a trip like that in, and do it in that time!"
While this hand-laid composite GRP vessel was significant in size with a length of 10.55 metres and 3.2 metres in the beam, and certainly in weight too with an all-up displacement of 3 tonnes, power was a pair of V6 3614cc, DOHC 24-valve fuel-injected 250hp 4-stroke Suzuki outboards running 16" diameter x 21.5" pitch S/S propellers.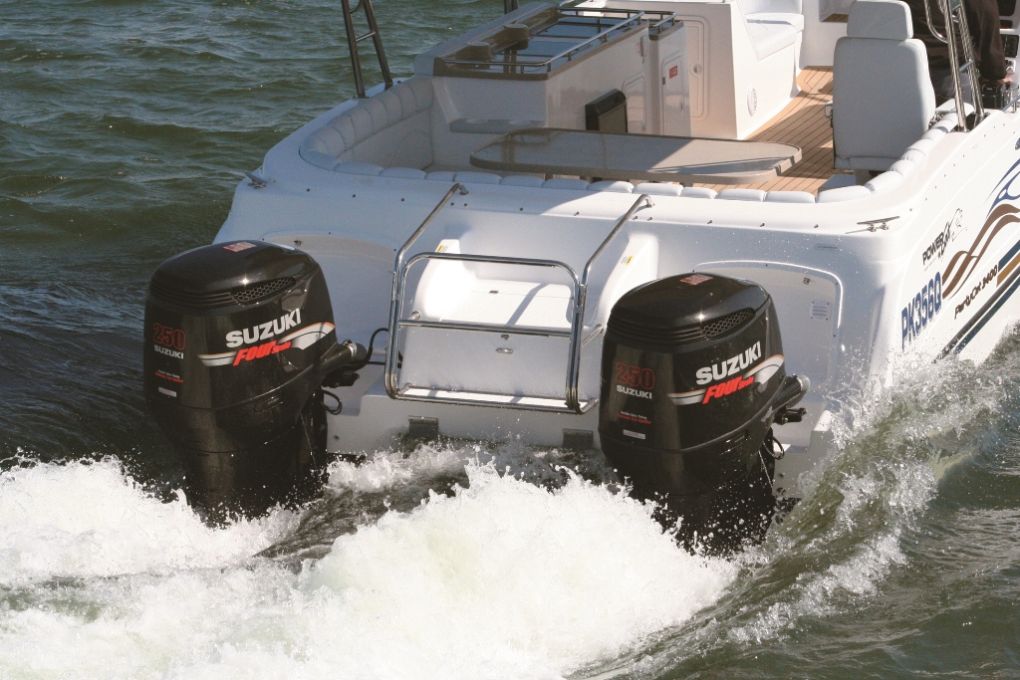 While offering the Partycat an easy cruising speed of around 30-40mph, interestingly it powered Wooshka to a most impressive top speed of 55mph. Now perhaps we are starting to appreciate why Williams opted for this mode of transport!
"I recommend these engines with this particular model," Shaw explained, "for while at 55mph they obviously offer top-end performance, more importantly at cruise speeds of 30-40mph these engines are merely ticking over. As such you get the almost sublime fuel economy, but more importantly you have the quietness of operation which is seemingly mandatory in a vessel of this guise."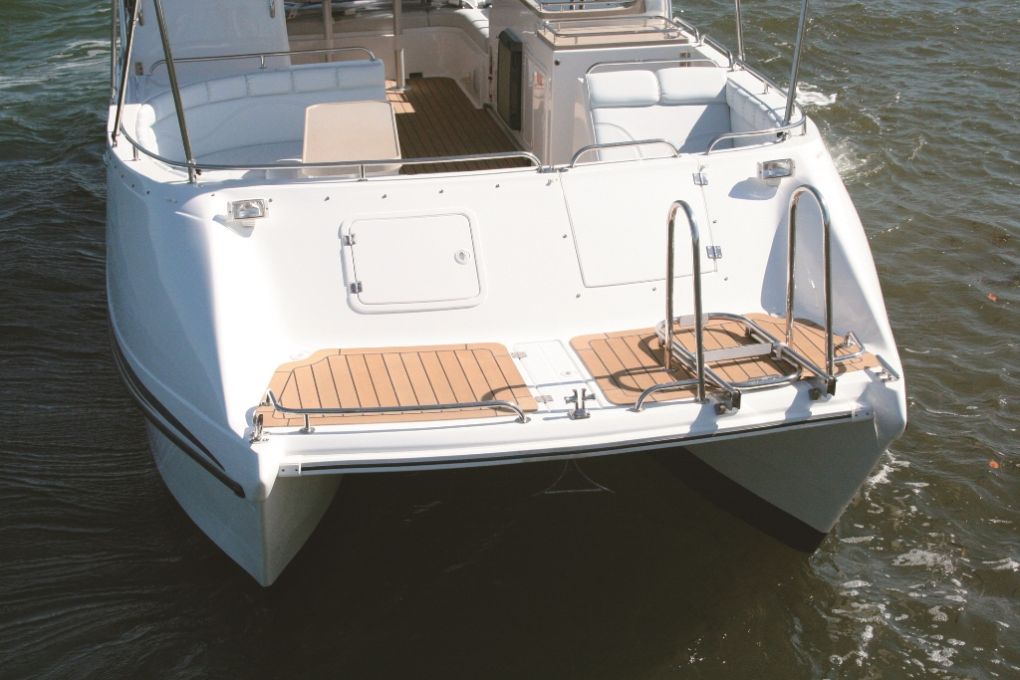 As agile a performer as the 3400 was, however, you still needed to 'get the power to the water' and in this instance the Partycat excelled, courtesy of a hull derived unashamedly and directly from Powercat's larger bluewater catamaran configurations. Nothing is changed and as such is the sole influence behind this catamaran's ability to perform equally well in the rougher waters as in the calm. But a vessel such as this is certainly not all about performance – it is all about providing the ultimate platform from which to enjoy the sea and its environs – in an appropriate manner.
While the intro paragraph may have connotations of debauchery and irresponsibility, the 3400 Partycat was however purpose-designed as a suitable configuration from which to indulge in whatever your pleasures may be. Put bluntly it was one great big platform with all the bells and whistles appropriate to an 'entertaining' situation, but it was certainly a lot more refined than simply a 'party barge'. I would venture to suggest this was precisely the reason Williams opted for this style of boat, for while in a cruiser situation you are decidedly more constrained, in this instance it was one big uncluttered living area.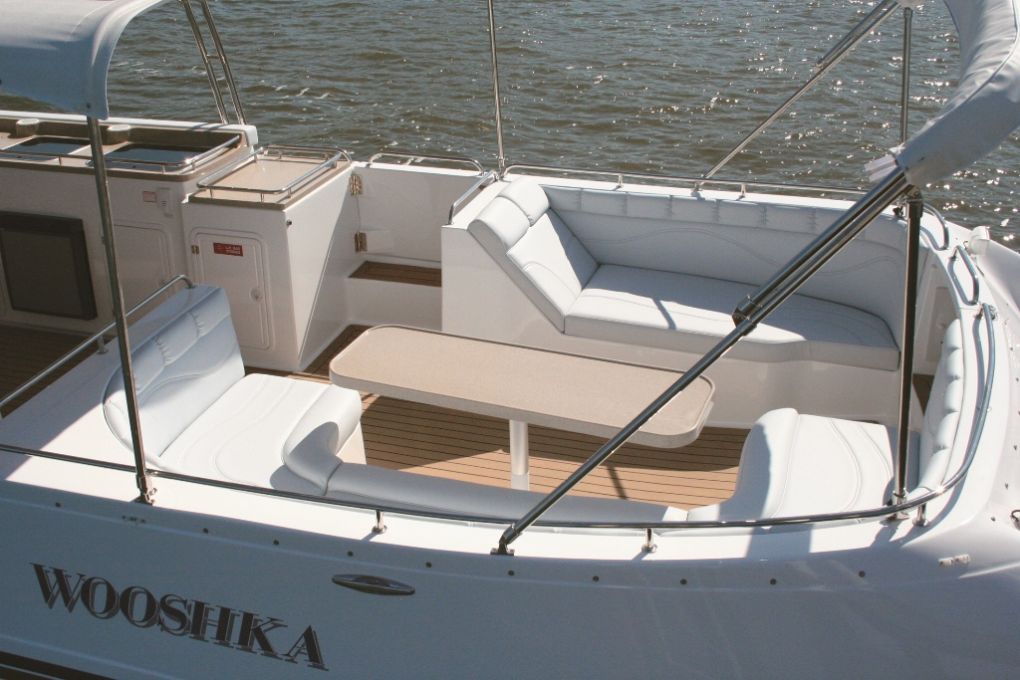 If you objectively perused the majority of party barges available on the market today you could be forgiven for concluding that most features were a token gesture; yes they were provided, but were invariably of insufficient consequence, substance or indeed specification, to be of any real practical use. Not so in this 3400 model, or indeed the smaller Powercat 2600 Partycat model for that matter, for like the hull the rest of the equipment and features were what would best be described as entirely appropriate to the task at hand.
The very real attraction of a configuration such as this is the vessel's inherent ability to operate in decidedly shallow waters, which of course allowed the 3400 to motor right up to the beach-line of your favorite bay, on all but the very shallowest of beaches. And while the Partycat enjoyed a very user-friendly rear entry feature for the divers and swimmers in the deeper waters, up and over the pod between the two engines, for those who wanted to step ashore at a beach without even getting their feet wet there was an equally user-friendly virtually portofino-style of boarding platform at the bow, complete with bow ladder that extended right down onto the beach level – just brilliant. In a real touch of class, access for a 'marina' situation was via side-opening doors recessed just forward of amidships, into the topsides – very trawler or passage-maker, styling.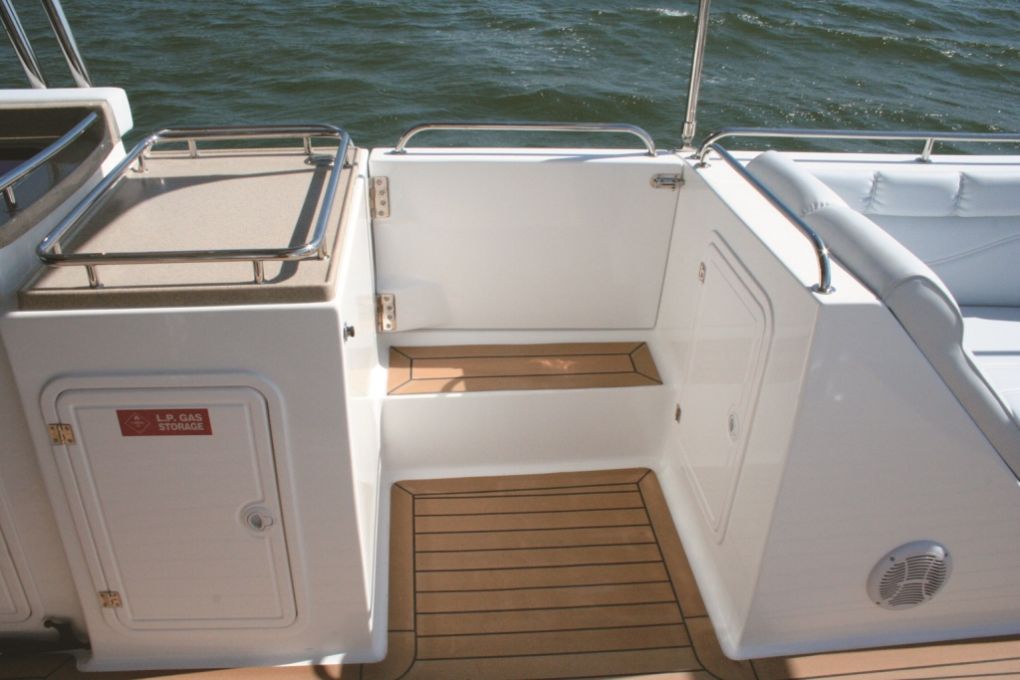 Because of its sheer size and therefore floor area, despite the lack of actual defined parameters Wooshka was deceptively-well 'divided' into three distinct areas, the rear dining area, the central operations area of galley and helm, and the for'ard sun-worshippers' area. Mandatory in any Partycat situation, a substantial and refreshingly rigid GRP overhead 'hardtop' structure covered both the rear and central areas. Because of the sheer drag and pressure-potential of a full-length structure, overhead protection for the for'ard section was provided by another separate bimini-style feature that folded into a sock when underway, but was able to be quickly extended once stationary.
It is worth mentioning at this juncture too that a full set of clears, available as an 'optional extra', would quickly transform this whole floor area into overnight accommodation – both the bow loungers and the rear dining feature, with the addition of an infill (a table lowered), provided sleeping provision for two doubles and one single. During the day though, the aft section was simply the perfect entertainment feature consisting of a plush U-shaped lounger surrounding a not insignificant cockpit table. It was the same scenario at the bow, only in that instance the seat and table feature was off to port, and a typically American-styled sloping-backed sun-lounger was opposite, on the port side.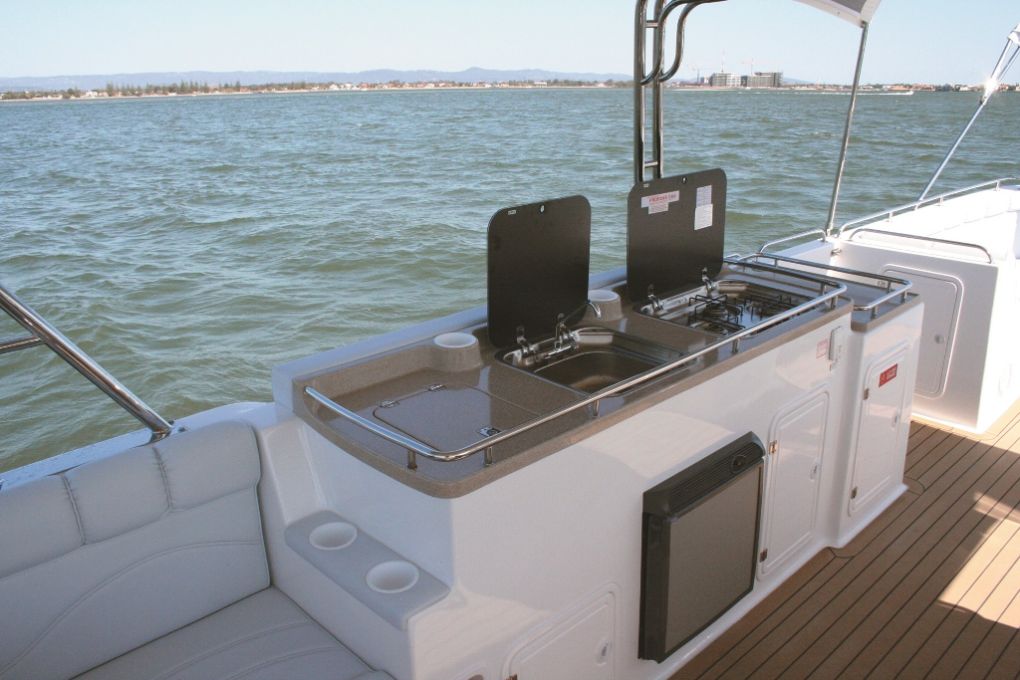 In between these two features was what would best be described as the operations area, and it really brought home to me the sheer size and floor area of this vessel, as I gazed first to the bow, and then to the stern. They were a looooong way apart, yet you still had this huge expanse of area between that was dominated firstly to starboard, by a most ergonomic helm feature. I say ergonomic, for with the impressive Navigator helm chair and the car style driving position in front of what was a well spec'd 'information station', it was purpose-built for a long-haul drive.
The single most impacting negative of a vessel such as this is the obvious problem of privacy, but Powercat has competently overcome this with the larger than traditional helm module that was able to double as a head and bathroom, as well as yes, a room large enough to change clothes in. Powercat even went as far in this instance, of installing an electric macerator head complete with holding tanks – sensible I would suggest, in this day and age of pending tightening up of sewage disposal regulations.
Opposite the helm was a well appointed galley. Features appropriate to an overnight or extended stay included separate refrigerator and freezer, a three-burner gas stove, ample bench space, and more importantly ample storage space for the necessities such as food, crockery and cutlery. Storage provision in fact, oh so important in a multi-person vessel such as this, was very generous, with areas such as seating and underfloor lockers providing all manner of wet and dry storage.
It became apparent after testing the Powercat 3400 Partycat, that there are two options available in this particular style or configuration of vessel, either you could have a 'Claytons' version, or you could have the real McCoy – a party platform like this that fully encompasses the very ideal of entertainment at sea – in an 'appropriate manner'. It occurred to me that so many people had a cruiser of some description, that invariably only ever got used for overnighting or day trips to their favorite bay. As a viable alternative however, a boat like this whilst certainly being so much faster, also offered better economy, better handling and performance in many instances, equal or better appointments, more (entertainment) room, and so much more flexibility when it came to pulling into beaches or bays. I can certainly see why a discerning boater and lover of the sea, like Keith Williams, would choose a concept of boat such as this!
Boat Design Name: Powercat Partycat 3400
Year Launched: 2005
Designer: Steve Shaw
Builder: Powercat Marine
LOA: 10.55m
Beam: 3.20m
Draft: 0.60m
Displacement: 3 tonnes
Max Speed: 55mph
Cruise Speed: 30mph
Construction: GRP
Fuel Capacity: 480 litres
Water Capacity: 120 litres + 55 litres hot water
Engines: 2 x 250hp Suzuki Outboard
Base Price: $189,100
Price As Tested: $245,000