There is a distinct family resemblance in all the Princess F Series flybridge boats, with the F55 an outstanding example that exceeds expectations.
The Princess F55 is one of five models in the F Series flybridge range and follows the same boldly distinctive window lines styling as the F70, F62 and F50. It's just everything is proportionally different to maintain a balanced and smooth flowing exterior and interior profiles. Princess has been building boats since 1965 and today offer over 20 models in seven Series, from the 11m, 50 knots, R35, through to the luxury X95 motor yacht. 
Built in Plymouth, England, a city that has always played a key role in Britain's maritime history, Princess is ideally placed to carry on that seafaring heritage. It was the home to Sir Francis Drake in the 16th century and in 1620 the port where the Pilgrim Fathers set sail aboard the Mayflower for the New World. While Princess is not sending boats to discover new lands or fight the Spanish Armada, they have indeed conquered the world in terms of exposure. Now, none more so than in New Zealand and Australia, where, through two very active distributors; Sports Marine in New Zealand and Princess Yachts Australia, this luxury brand is starting to get some traction again. 


In the previous issue, I reviewed the Princess V60, a stunning sport motor yacht that epitomises everything that Princess stands for – quality, style, finish and performance. Yes, I was impressed and when Sports Marine's, Scott Williamson invited me to look over the F55, the first of the new flybridge models that has been imported to New Zealand I was keen. However, the lockdown has made me wait until mid-July to get onboard. 
They describe the F55 interior as having an architectural presence that tastefully uses contrasting surfaces while retaining the elegance that Princess interiors are renowned for. Everywhere you look, you can see a deep dedication to detail. From the master stateroom to the flybridge has been well conceived and all areas maximise the available space. There doesn't seem to be one area favoured over another, with every place given the benefit of what is required.
Take for example the 18sqm flybridge with its raked hardtop and seriously generous seating down the starboard side and across the rear of the aft deck. There is a seat that slides out to make a sun pad or an extra berth for late-night guests, plus a large foldout teak table, and wet bar with provision for a bbq. If you are into entertaining, then you will love the open and expansive flybridge. 
The upper helm has twin seats, with the passenger seat outboard, so you have to step over the skipper which is not ideal. Full seat adjustment means no matter your size, you can position the skipper's seat to suit you. Dual station instrumentation, controls and alarm systems including VHF, MFD and autopilot.
There's almost 2m headroom under the optional hardtop, which can also be fitted out with clears and a sunroof. While the standard option is a radar arch with a soft bimini, I can't see too many Kiwi's going for that. Princess does not offer a fully enclosed hardtop option.
The two other significant outside areas, the foredeck and cockpit, have been carefully engineered to maximise space. It has become quite common these days to make then foredeck a featured area with sun pads. Princess has addressed this with fold up cushions that can transform the sun pad into more of a lounger, plus the Portuguese style walk through between the seated areas means you are not stepping onto the squabs to go from deck to deck.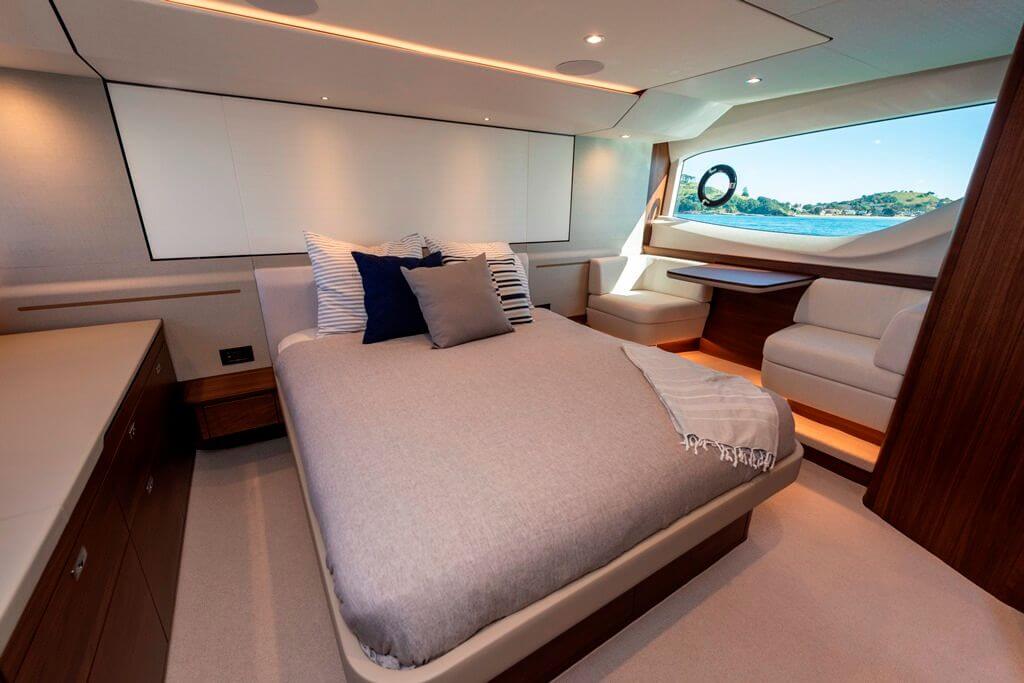 And when you do need to go fore or aft, you'll find wide side decks and robust handrails.
The cockpit features a U shape lounger with folding teak table, with twin transom gates that lead to a full-width teak platform. You have the option of an electro-hydraulic rise/fall platform complete with dinghy chocks. There is also a foldaway swim ladder and a freshwater shower. 
Under the cockpit is an optional crew cabin, although I would not see any Kiwi owner employ it for such. It's an extra overflow cabin, or somewhere the kids are going to call their own. In the case of our F55, it is used as a cavernous storage area. 
The saloon furnishings are placed to make the most of the excellent light and views through the large windows. There are plenty of small finishing touches, such as stitched leather, strip lighting and materials that set the Princess F55 apart from a lot of competitive boats of a similar size. 
The interior is as meticulous and exciting as you would expect from a bespoke creation. Being a production boat it has in-house design, so it's not available to customise. However, why would you? Princess has nailed it, when it comes to style, layout and practicality, with an inviting interior that you want to be part of.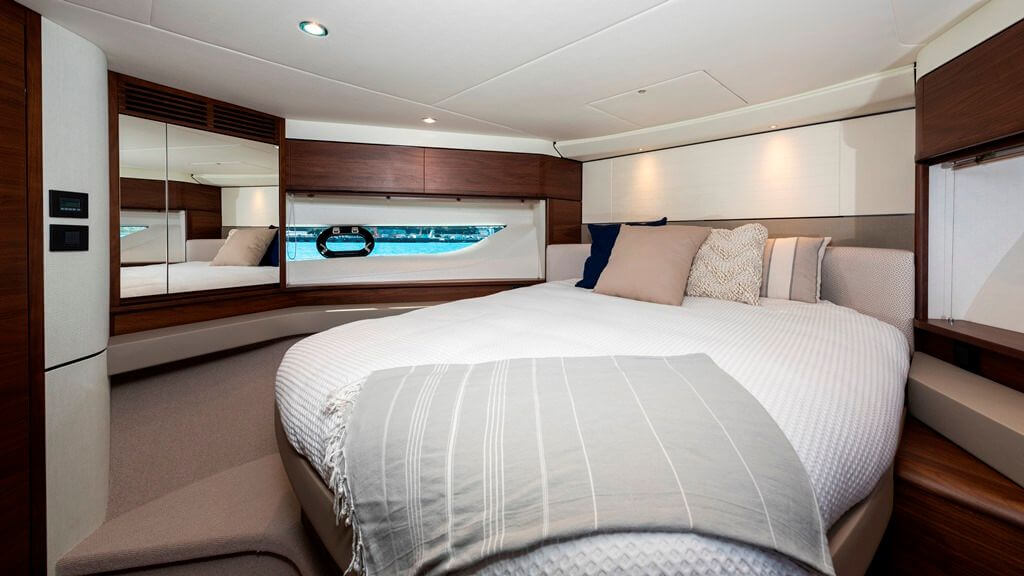 There is an extremely well-equipped aft galley that has an integrated opening window to the cockpit and glass sliding doors that open to blend the indoor and outdoor areas. I like the fact that from the rear of the cockpit to the forward screen, it's one space, with the only divisions dictated by the furnishings. 
Interestingly the saloon sole is split level with a step down to the galley and step up to the forward lounging and helm area. Being a flybridge boat, there are two distinct driving areas, with the saloon helm very retro with flat glass screens, adjustable wheel and seats, plus an electric opening window. Visibility is excellent, and everything is easy to hand. With the Volvo Penta joystick controls, you can manoeuver this shaft-driven boat into tight spaces at low speeds, just as easily as you would with IPS.
The master suite is full beam with a king-size bed facing a large TV. Just as in the saloon, huge hull windows radiate light into the cabin, and there's an opening port either side for some natural ventilation. To port are a couple of chairs with a small table and to starboard deep drawers. There is also extra storage under the bed. As you would expect, there is a large en-suite with a sliding door to maximise space. Dark timbers throughout the accommodation areas contrast the light fabrics and again accentuate the quality of cabinetry and styling that has gone into the F55. You have the choice of Revere or Alba Oak with a satin finish, with Walnut or Silver Oak as an option. Our F55 was completed in satin-finished Walnut, and it certainly looked classy.
Guest accommodation is provided with a forward VIP cabin with island berth and a smaller guest cabin with twin single beds that can slide together to form one double. Both cabins share the day head. 
With the standard power package of twin Volvo Penta D13-800s, the F55 tops out at around 30 knots and has an ideal cruise around 20-21 knots, However, if you are after more, both maximum and cruise speed then you can up-spec to a pair of D13-900s. Top speed jumps to 33 knots. The solid grp hardtop maybe gives the F55 a top-heavy appearance, but it is built light and seems not to affect how the boat handles. The riding attitude is around 8-10 degrees.
I am not sure why you would go to the 900s, as the 800s present a very agile and responsive boat that is a pleasure to drive. It's almost like driving a sport boat and is a lot of fun. Top the tanks up, and you can cruise for around 250nm and burn about 200 lph.  
When you are pitching a boat into the highly competitive 17-18m flybridge market, you have to be sure you have it right. Kiwis are very familiar with this style of boat from both local and international builders, so having an edge is an advantage. Traditional the focus in recent years has been on fully enclosed hardtops, so the Princess F55 comes along with an alternative option. Will Kiwis go for it? Only time will tell, but if you are happy with the solid hardtop open style, then the Princess F55 is undoubtedly well worth a look.
Design Name: Princess F55
Year Launched: 2020
Builder: Princess Yachts
LOA: 17.60m
Beam: 4.87m
Displ: 24600kg
Max Speed: 30-32 knots
Construction: GRP              
Fuel Cap: 2750 litres 
Water Cap: 608 litres                                
Engine Make: 2 x Volvo Penta D13-800                               
Drive Train: Shaft
Generator: Onan
Thrusters: Side Power
Tabs: Bennett
Anchor Winch: Lewmar
MFD: Garmin XHD 
Priced From: $NZ2,950,000 
FUEL & PERFORMANCE DATA

PRINCESS F55

Fuel capacity:

2750

litres

 

RPM

Knots

L/h

L/NM

Range  (NM)

1000

8.8

35

4.000

610

1200

10.1

59

5.900

410

1400

11.1

94

8.500

290

1600

13.3

125

9.400

260

1800

18.1

175

9.700

250

2000

22.0

216

9.900

250

2200

26.1

259

10.000

240

2350

29.5

300

11.000

220