The Princess V60 has been described as having a dynamic yet agile look, combined with great performance and sea-keeping ability. Barry Thompson spent a morning on Auckland Harbour savouring the delights of this English masterpiece.
It wasn't so many years ago that finding a sports performance sedan was quite difficult as just about everything built was a flybridge. It was often remarked by dedicated flybridge owners that not having a flybridge was like having half a boat. Well, times have changed, and today there are arguably as many if not more sports performance sedans offered by the world's leading brands, than flybridge. One of those companies is the UK based, Princess Yachts, which recently underwent a dealership and distribution change in New Zealand and Australia.
While Princess Yachts have been available on both sides of the ditch for many years, it is only recently that under new distributors, that the brand is again getting some traction. New Zealand and Fiji are now represented by Sports Marine Ltd, trading as Princess Yachts New Zealand & Fiji and Australia by industry icon Greg Haines, who markets this popular English brand under Princess Yachts Australia.
It has been some years since I have been aboard a Princess and back in the day, they were extremely popular, especially around the Gold Coast. I can remember attending a Princess function at Coomera about 15 years ago, and a scan of the car park was like looking into a luxury car yard. The boats, like the cars were expensive and Princess was favourite brand of the chic set, especially when it came to sports performance yachts. Not the sort of boat you own because you are seriously into fishing, but one that lends itself to an evening of canapes, Moet (Princess, is part of the luxury giant LVMH (Louis Vuitton Moët Hennesy) and when in Aussie, a bucket of prawns. 
A Princess V60 is the first boat to be marketed in New Zealand by Sports Marine and right from its release it attracted considerable interest. Scott Williamson, Managing Director of Sports Marine, arranged for my videographer and myself to meet at the Viaduct Basin, shortly after he was due to return from a sea trial with a potential client.
"Were they keen?" I asked Scott. "Yes, but they felt it was a bit small, and I have quoted them the larger V65". 
Speaking to Scott a few weeks after we ran the boat he confirmed that a new 2020 F55 had recently arrived and that a V65 had been sold and was due in early 2021. It seems the market was always in New Zealand it just needed someone to kick it back into gear.
"Since we have had both the V60 and F55 on display in Auckland they have attracted a lot of interest, and I am confident both will soon find owners", said Scott. He added that the reaction to the layouts, finishes, and the whole concept of both boats had been a significant plus with local buyers, along with the high value the brand already has amongst those that know their boats.
"There are a number of Princess Yachts in New Zealand already, and that has been a help, so we are not coming in with an unknown brand to the market". added Scott.
Princess Yachts unveiled the Princess V60 in 2018 and is one of six yachts from 12.98m to 24.5m in the Princess V Class (series). Princess of Plymouth, England offers a total of twenty-three models from 9.1m to 30.5m in seven classes.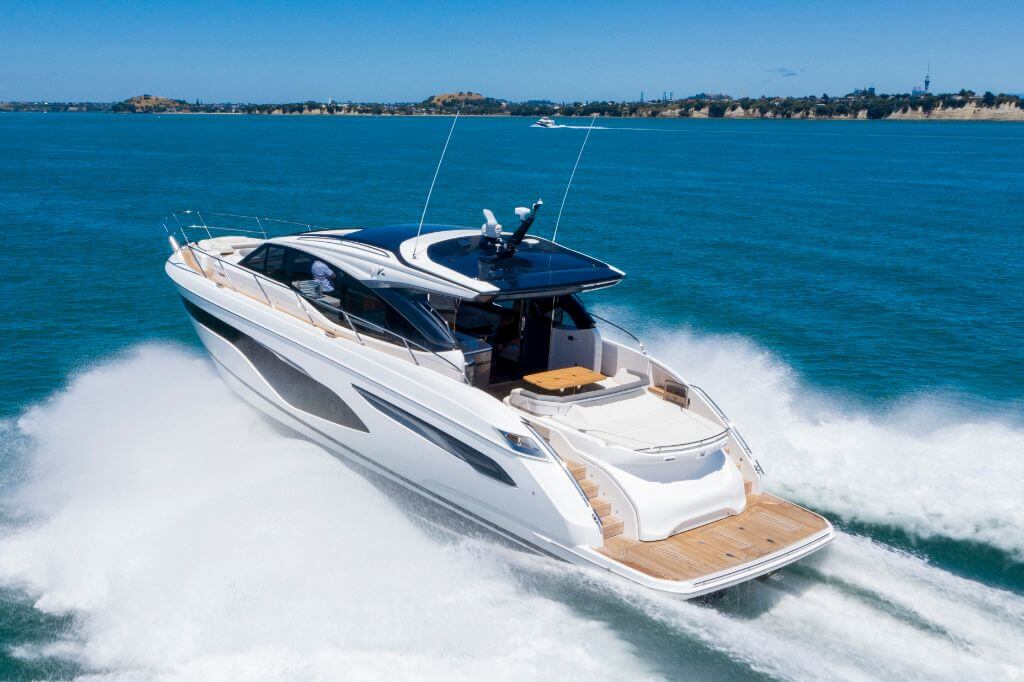 With the new V60 Princess Yachts filled the big gap between the V50 and the V65. The deep-cut, dynamic V hull of the 60 combined with the two Volvo Penta D-13 1000 V8 diesel engines, which can accelerate the V60 to 32-34 knots, (36-38 knots with a pair of MAN 1200s), enables sporty driving. At 2000 rpm, the V60/Volvo package cruises at 23.1 knots, using 223 lph/9.65nmpl and gives a range of just over 300nm. This luxurious motor yacht is just as suitable for fast journeys as it is for comfortable cruising along the coast.  
Right from the start, I knew I was going to love driving the V60. It just felt right behind the luxurious helm, which makes you feel like you are in the Gold Lounge at the movies. Everything from the two Raymarine screens to all the controls and switches for everything is perfectly positioned and easy to operate. Visibility is excellent, and when you open the massive glass sunroof, you have all the natural air and sunlight you need.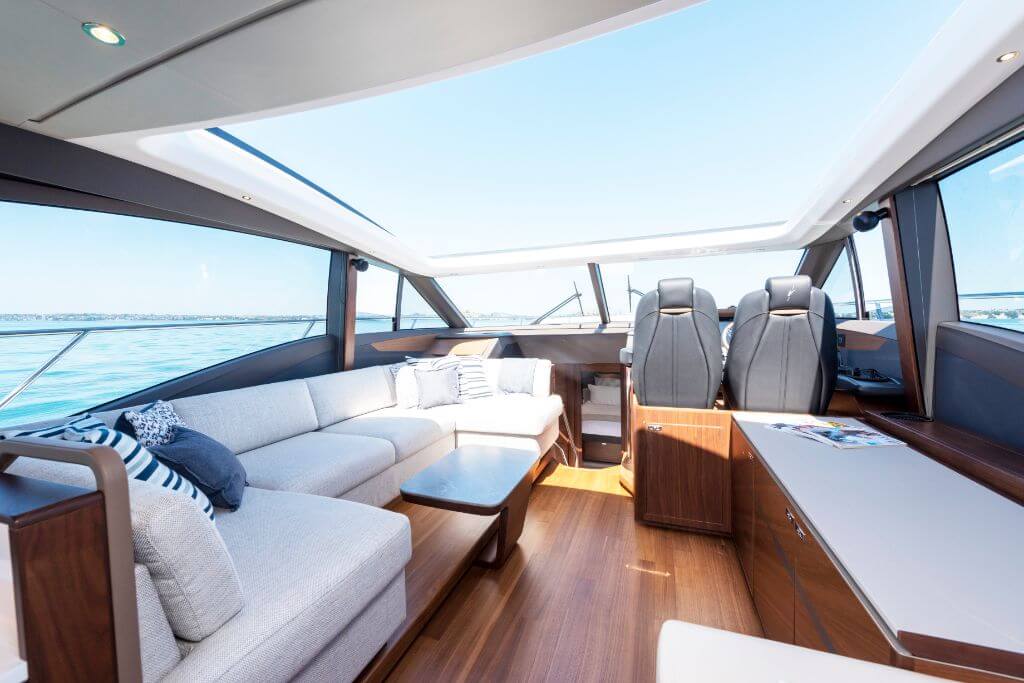 Like a lot today's sport performance sedans, Princess has made the best use of the deck and outside spaces, with lounging areas both fore and aft. On the foredeck, is a reclining area and a U-shaped seating area. The squabs can be adjusted from flat to reclining, plus there is another wide sun lounge below the windscreen. 
Walk down to the transom, and there is another big lounging area above the dinghy garage and crew cabin. Yes, even a boat, this size can have a crew cabin, and while it is small, it is cosy enough and perfect as a space for unexpected overnight guests or the kids. Even has a shower and head along with a single berth. 
The V60 cockpit is spacious and ready to entertain. There is a central transom seating area with fold-out teak table and a wet bar that includes an outdoor grill to port. Opposite is a separate set of docking controls and either side of the central settee is access to a hydraulic rise/fall platform aft.
Sliding doors and fully opening windows separate the cockpit from the spacious saloon,
10 which like every aspect of the boat is designed to impress. The interior as you would expect from a builder of Princess's reputation is meticulously done. Forward on the main deck is a sumptuous lounger, with low profile window lines that give you uninterrupted views outside. Opposite is the double seat helm.
The aft galley is designed for conviviality and has an open dining area that can be extended towards the cockpit. The kitchen is fully equipped and offers plenty of storage space in addition to large servery spaces. A large U-shaped sofa, including a table for dining, completes the living area on the main deck. 
Below deck, the large hull windows and the bright, elegant interior create a pleasant living atmosphere. Up to six guests can be comfortably accommodated below deck in the V60's three spacious double cabins. The large forward cabin has a king-size double bed, with easy access either side and long hull windows with open ports providing plenty of light. There is also separate access to a bathroom with separate shower cubicle and plenty of storage space. 
The full-width master suite with a large king-size double bed, comfortable seating and a large wardrobe is located on the midship and offers an en-suite bathroom with shower cubicle. Again I loved the massive hull windows with vented ports. 
The third cabin has two single beds, which slide together to form another double, and also shares the bathroom with the forward cabin. 
While there are plenty of choices when it comes to a boat in the Princess V60 style, I would have to say this has to be one of the best I have been aboard. I would sum the Princess V60 up by describing it as stylish and elegant without being too complicated. A sports performance boat that delivers in every respect.
Boat Design Name: Princess V60
Year Launched: 2020
Builder: Princess Yachts
LOA: 18.92m
Beam: 4.87m
Displ: 29182 kgs                                           
Max Speed: 32-34 knots                                          
Construction: GRP              
Fuel Cap: 3250 litres                                          
Water Cap: 603 litres                                
Engine Make:  2 x Volvo Penta D13-1000                             
Drive Train: Shaft
Generator: Onan
Thrusters: Side Power
Tabs: Bennett
Anchor Winch: Lewmar
MFD: Raymarine
Autopilot: Raymarine
Rise & Fall Platform:  In House                           
Priced From: POA    
| | | | | |
| --- | --- | --- | --- | --- |
| RPM | Knots | LPH | LNM | Range |
| 1000 | 7.7 | 39 | 5.06 | 578 |
| 1100 | 8.6 | 47 | 5.47 | 535 |
| 1200 | 9.1 | 65 | 7.14 | 410 |
| 1300 | 10.2 | 78 | 7.65 | 383 |
| 1400 | 12.1 | 100 | 8.26 | 354 |
| 1500 | 13.7 | 111 | 8.1 | 361 |
| 1600 | 15.9 | 138 | 8.68 | 337 |
| 1700 | 17.2 | 157 | 9.13 | 320 |
| 1800 | 19.1 | 178 | 9.32 | 314 |
| 1900 | 21.4 | 202 | 9.44 | 310 |
| 2000 | 23.1 | 223 | 9.65 | 303 |
| 2100 | 26.5 | 268 | 10.11 | 289 |
| 2200 | 29.5 | 300 | 10.17 | 288 |
| 2450 | 32.7 | 366 | 11.19 | 261 |
Range is based on 90% of total fuel load.