'HOSTS' MAY LABEL THEIR RESPECTIVE EVENTS DIFFERENTLY, BUT THE UNDERLYING COMMON DENOMINATOR OF AN OWNERS' SAFARI IS HAVING FUN ON THE WATER IN A CONTROLLED SITUATION – WITH A GROUP OF LIKEMINDED PEOPLE.
Manufacturers and/or their respective agents have over the last few years gone that extra yard to further value-add their clients' boating pleasures by hosting sojourns, experiences, rendezvous, or in this case safaris, with owners of their particular marque. It may be for a weekend, a week, or in some cases even longer but more often than not the time away or indeed the often exotic locations are invariably incidental; the very real benefit for owners and their families is the peace of mind that accrues from participating in a group situation, on a bluewater passage.
That to many owners is the absolute crux of the matter, for participants may be either boaters for the first time, they may be new to a boat of that particular dimension or configuration, or they may be new to coastal cruising. The location is surely the icing on the cake, as is the fellowship that develops along the way, but for most the real attraction of an excursion such as this is the security of knowing help is very close at hand should anything untoward happen. It seldom if ever does of course, on pre-organised events such as these, but it is surprising just what can be learned from a fellow skipper, over a glass of wine at the end of the day; all sorts of situations and 'stories' emerge of previous experiences, that others can learn from.
From a manufacturer or agent's perspective these events are a way of giving something back to their clients, showing they care and this was surely the case with the recent Princess Motor Yachts Australia (PMYA) 'safari' to Fraser Island, off Queensland's south east coast. Each manufacturer of course has their own particular view-point as to the precise format for these events and in Princess' case Australian CEO Alan Paterson prefers to keep the numbers small. "We like to keep it more personal, keep numbers to a maximum of five to six boats. That way we can logistically manage the situation more appropriately, ensuring each owner and their family is treated accordingly," he explained. "We can anchor quickly and more importantly move quickly if winds/sea conditions change, plus it is also a lot less time-consuming when it comes to exercises such as re-fuelling 5000-litre fuel tanks; no-one is waiting too long to top tanks up in preparation for the next leg of the trip.
"There are other benefits in keeping the numbers smaller and more intimate too, none the least being when eating. It is more convivial when we go to a restaurant, if 20-25 people can all be seated at the one table. And in the case of the beach barbeque it is nicer too if we can cook and serve food all at the same time, so everyone eats together. Another influencing aspect is location; it is a lot easier getting 4-6 boats into a bay, rather than a flotilla of say 20 boats. Each leg needs to be an 'easy' trip, but just as important is the need for an idyllic setting at the end of that leg, so people can anchor or raft up in a sheltered bay, reasonably close to shore.
"We prefer to go ashore where possible, for a barbeque or evening 'drinkies', so people can mix and mingle more easily. Owning a Princess is like no other ownership experience and it is not until you undertake trips such as our recent adventure that you truly appreciate and enjoy the benefits that owning a Princess can provide. Boating trips like this offer up some of life's truly 'magic' moments, but perhaps more importantly they also assist owners in gaining a greater knowledge and understanding of the capabilities of their vessels – and of seamanship in general," Paterson said.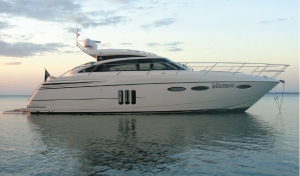 For this particular Princess 'safari', PMYA sales executive Scott Davis assumed the role of tour leader, assembling the troops for in this instance a week-long excursion to Fraser Island. "The weather is always a bit of an unknown and our first consideration is always for the welfare of our group," Davis explained. "We run two of these events a year and after having to cancel our last trip through a weather forecast that proved in the end to be 100% accurate, our heart was in our mouth on this occasion – pending a favourable outcome.
On each occasion we have to make a decision to proceed based on the long-range forecast just a few days prior to departure; fortunately in this case the weather gods were kind. We organise the logistics of the trip, we take them to a place they invariably have never been to, and we show them how their boats can and do perform in genuine bluewater situations; all they have to do is look after the food, drinks and general provisioning side of the exercise. And that is precisely how our (Princess) owners prefer it too; they do not expect us to organise the whole trip AND cover their food and beverage requirements also."
"Of course, we will shout a meal while we are away and certainly we will contribute to the beach barbeques but other than that, the owners favour the independence of arranging their own provisions. The beach barbeques are their favourite part of the week though; to them the idea of idyllic settings, a cool wine from the chiller we take, a game of cricket on a secluded beach, a nice barbeque meal and a yarn round the camp-fire after the sun has gone down – are what these trips are all about.
"That is the good thing about being on the sea – the simple 'fun' things in life take on a new meaning and significance. Nothing is set in stone, as to where we go, what we do and what we see during the course of the week; it's all very 'laid back' and dependent only on the weather and a consensus of opinion each morning before we leave. We might fish, we might water ski, we might watch the whales; we work it out at the time," Scott insisted.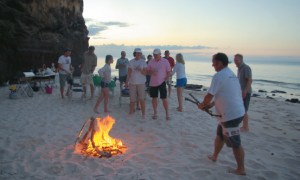 Leg one of the trip was a leisurely cruise from the Gold Coast north to Mooloolaba, on the Sunshine Coast. PMYA does not charge meal expenses or indeed any other associated costs along the way so as was typical with the entire trip, guests could come and go as they pleased, attending or opting out of any scheduled events. They could also choose whether they had meals aboard their respective boats, at the beach barbeque or indeed at local restaurants (where applicable) PMYA had selected; in the instance of this first stopover destination at the Wharf Marina at Mooloolaba. Upon arrival, some went for a walk, others went for a (body) surf on the other side of the beach and some just kicked back and enjoyed the location, aboard their boat. All without exception however, chose to spend their first evening together, at a local restaurant. The mood was set for the rest of the safari!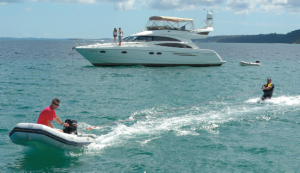 Bright and early the next morning the five boats departed The Wharf Marina and headed north to anchor eventually at a location on the inside of Fraser Island, known as Platypus Bay. There, some contested a rather vague form of beach cricket, while others either water-skied or went for a walk along the beach. Two of the boats headed out to the blue water, one fishing and the other hoping to catch a glimpse of the migrating whales which pass close by at that time of the year.
While by law you cannot approach them, the lucky onlookers were amazed when the inquisitive whales came as close as 3-4 metres from the boat and obliged accordingly with a memorable display of flops and gyrations.
Following a beach barbeque and a yarn around the camp-fire; the weary crew had an early night in preparation for what on day three was more of the same above options. And yet again the very playful whales and their season-old calves turned on a great show. After two full days at Platypus Bay the five boats headed north to civilization, to the Boat Club Marina in Hervey Bay. That night a meal at the local boat club restaurant was the dining choice of the majority.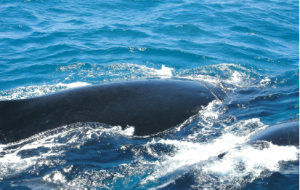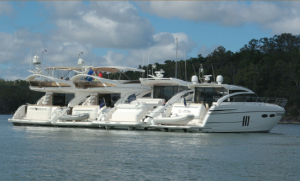 After cruising the plethora of bays and areas of interest in the Hervey Bay region it was back on the Thursday to a Fraser Island location known locally as Gary's Anchorage, where amongst other things the assembled group of skippers had a familiarisation 'chat' about how they would prepare for and then cross a Wide Bay bar chopped up by 20-knot winds, that in Davis' own words was "far from perfect".
Following this consensus of ideas, most were relaxed about the prospect; however two of the boats sensibly opted (seeing as they were 'available') for the additional 'insurance' of the PMYA relief skipper and the engineer respectively, who had both accompanied tour leader Scott Davis on the trip.
The trip back to The Wharf Marina in Mooloolaba ran like the proverbial Swiss watch, with each boat negotiating the conditions with consummate ease and professionalism. So consummate in fact that the skippers and their respective crews were rewarded with an evening meal hosted by Princess Motor Yachts Australia, prior to the trip back down to the JumpinPin Bar the next day. After a stop-off there for lunch, the intrepid team disappointingly headed back after a most memorable week, to PMYA's home base at Hope Island Marina.
Interestingly, while words failed to aptly describe the feelings of this group of 'On Safari' Princess owners, the trip was however nicely quantified by one skipper: "The best part of our trip was the fires on the beach and stopping for lunch at Moon Point. The trip was well organised and well run. We appreciated the support of Steve, Andy and Scott who were very keen to make the trip the success it was." As a final and most 'fitting' PMYA gesture, each skipper was presented with a bound hardcover compendium of captioned photographs, just another little 'attention to detail' to remember their trip by!