Punching Above It's Weight
In the last issue of AB (#6) we ran a review on the Profile 700H, one of the builder's larger hardtops. In this issue Barry Thompson looks at one of their smaller models, the Profile 545C and discovers a lot of the good attributes of the big brother.
Profile Boats are based in Napier, so they have a great testing ground right off the coast. An area known for throwing up some mean seas at times, means that the locally built boats are designed with harsh conditions in mind.
Company owner, Brian Firman says" When we design a boat we look at all the worse sea conditions an owner might find themselve in and try to make sure that whatever model they choose is as safe and sea kindly as we can make it".
While the Profile 700H certainly got a perfect 10 from me when it came to handling, ride and finish, it was in every respect being pitched as bluewater boat. However with the 545C, a 5.45m open cuddy, you would expected the use would be more coastal and sheltered waters. However, from what Brian told me, that's not always the case and the 545C has proven to be a very capable fishing platform ithat will handle some reasonably nasty seas. It's a small pontoon boat that punches above it's weight and comes with the same safety, handling and finish of the company's larger hardtop models.
While we launched at the main Napier boat ramp, the 545C is also well suited to beach launching. All up weight is only around 1000 kgs and on a single axle trailer it's an effortless task. But, like any beach launch you need to be fully prepared both launching and retreiving so you don't get the trailer and/or tow vehicle stuck.
Our test power was a Mercury 75 four-stroke, spinning a ??? prop. The engine ran to 5500 rpm for a top speed of 30.5 knots (35 mph) and a maximum fuel consumption of 27.3 lph. At  cruising mode around 4500 rpm @ 25.5 knots, the fuel burn dropped to a very economical 22.5 lph. At the other end, if you are into trolling you can expect to use no more than 2-3 lph depending on if you are towing lures for Trout or Kahawai.
The 545C is rated from 60hp through to 115hp and is only available in an outboard version.
I like the new Mercury 75 four stroke for its big cubes (2.1 litre), lot of torque and it can run a good size propeller. I have had one on my own boat for a year now and it is extremely quiet, smooth, economical and got plenty of 'punch' when you need it.
The water off Napier for the test was reasonable calm with a very slight sea breeze and the standard long lingering swell. Although this time the swell was small, it did give me the opportunity to get a little lift off for the 545C. It's a boat that tracks cleanly and is very stable at rest. We had three on one side, and two of us standing on the wide flat coaming and the boat stayed relatively flat. Wide pontoons certainly help.
The layout of the 545C is typical of cuddy cabin boats of this size with a forward area under the deck to stow your gear dry and a cockpit that provides plenty of space to fish 2-4 people.
The transom area of the 545C is customisable, so you can have a full width aft deck or, as in our boat a walk through. This is ideal if you are going to use the boat for diving. There is a large bait station in the centre with a couple of rod holders, but again, the options here are varied. This also doubles as the ski pole to tow the skiers, wakeboarders or whatever water toys you have for the kids this summer.
Brian points out that as a lot of his boats are beach launched, often into surf conditions, there is a built-in wave deflector right across the aft deck. This is a feature on all Profile boats and is also ideal when you are backing up on a fish. Certainly helps keep the water out of the cockpit. Intertestingly, from Cape Kidnappers to Wellington there is hardly a boat ramp, so beach launching is the norm. That's where the compact 545C really comes into its own.
Battery, fuel filters and isolation switches are all up and out of the weather below the deck and behind So Pac hatches. While there is the option or an underfloor fuel tank to 100 litres, it's more common to use a couple of tote tanks under the aft deck. In fact there's room for three, so 75 litres is certainly going to be way more than enough for an average day's boating.
Standard seating for the 545C is a pair of pedestal mounted bucket seats, with an optional king/queen set up. You can also add a padded chilly/isky bin for even more seating should you need it. Another option is a flip up seat hinged on the back of the pedestal bases, so they are up when you need them and folded down to give you maximum fishing space when you don't. You also have the option of a couple of upholstered bunks in the cuddy.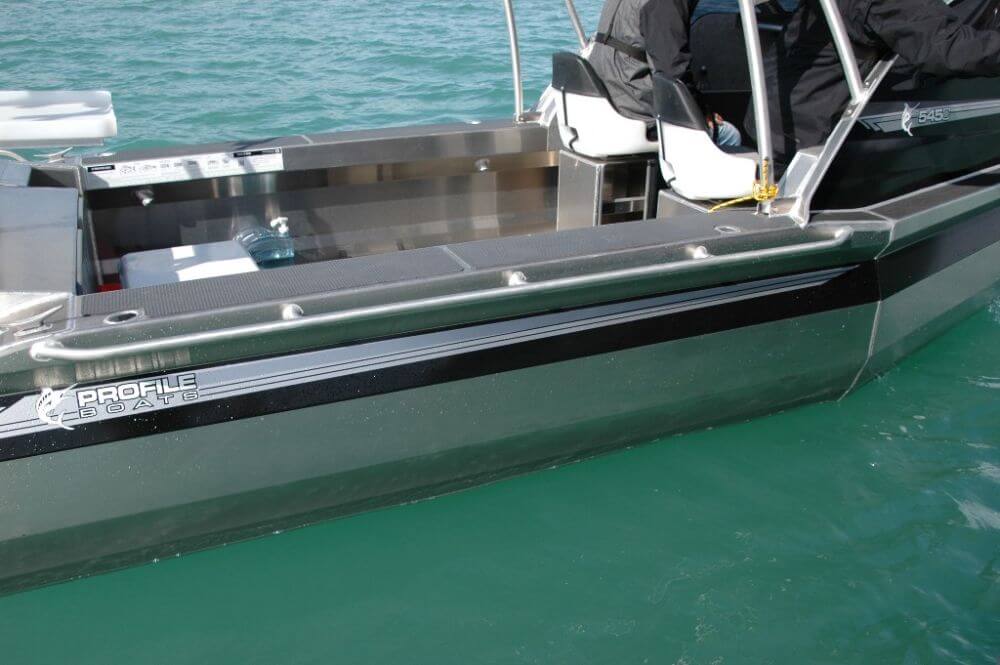 Something I don't remember seeing on any production boat I have reviewed before is the side rails running level with the wide flat coamings. "We designed these to be multifunctional, with a variety of uses, such as divers using them when they come alongside to hand in their catch bag or to hang on to when holding the boat in a surging surf", says Brian.
Storage is provided in side pockets which are wide enough to hold dive bottles and long enough for your rods. Rods can also be kept in an overhead rocket launcher or in four coaming rod holders. There is also storage in the alloy seat bases for tackle, flares and other small items and in side trays in the cuddy.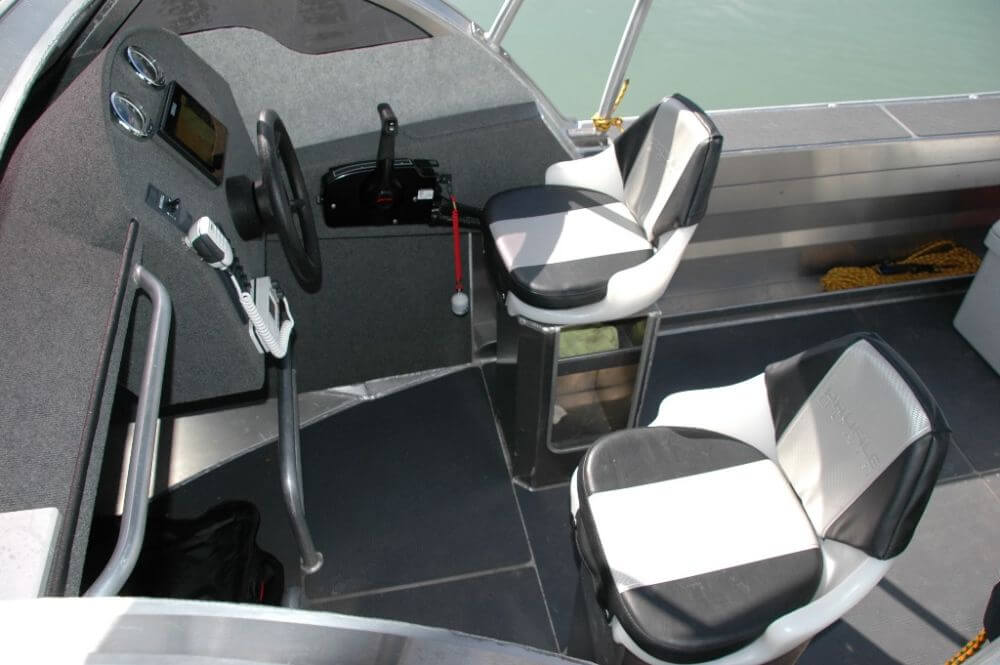 Unlike a lot of other production boats of this size, Profile have gone away from the stock screwed-on windscreen and replaced it with a seriously strong and secure screen, that  follows the contour of the sweeping lines of the cuddy. It is welded onto the deck and then the centre panels are later cutout for the sea through screens. It also comes with a wide deflector lip, which Brian says is designed for those beach launching into surf. I found when  standing to drive, it also lifted the wind away from my face. A fold down bimini affords you some sun protection and you can also run a full set of clip on clears if you want extra coverage from the elements.
The dash is huge, so you can really fit it out with a large MFD, plus all the necessary controls, instruments and switch panels. Our boat had a Simrad Go7, but you could go bigger. Profile have thought about where you might take this boat fishing so the anchor locker has plenty of fall and is capable of taking over 100m of tackle and a fully auto system. You can also put a drum winch in, which will be tucked below the deckline profile. If you need to go forward there is a generous size forward hatch and a standing platform forward in the cuddy.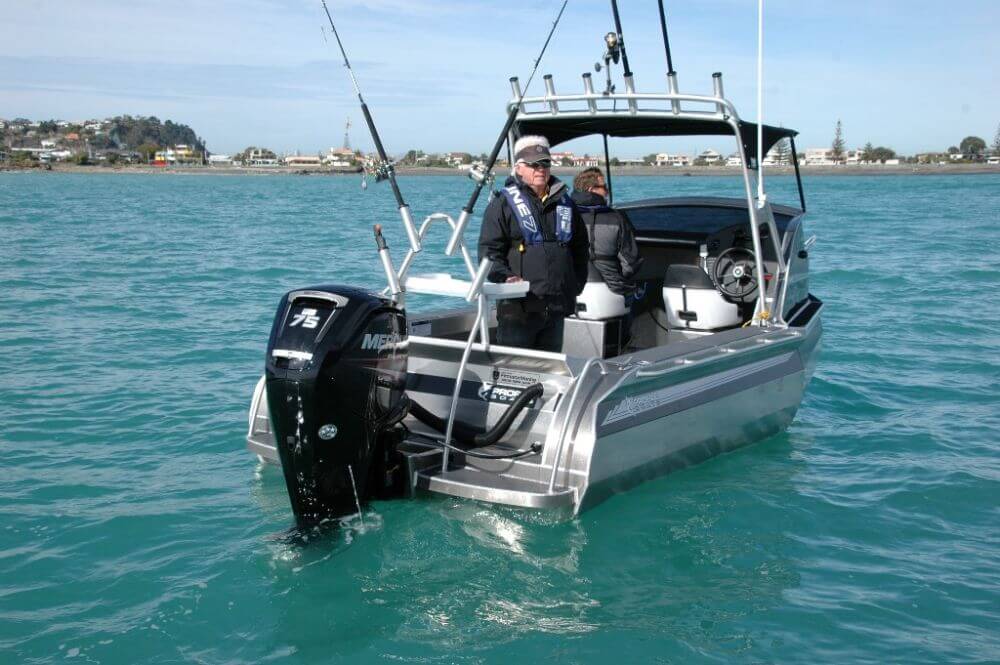 The 545C comes with a host of standard features, such as a boarding ladder, fully welded treadplate sole, transom wave deflector
The owner's of the 545C have brought the boat to dive and fish and will do most of their launching off Wimaramara Beach. It's also used to transport surfers to surf breaks along the local coastline that can't be accessed by road. Certainly a versatile boat that is going to be well used for the reasons it was designed.
Model: Profile 545C            
Priced from: $NZ42,000
Price as tested: $NZ59,000
Type: Cuddy
Construction: 4mm/3mm alloy
LOA: 5.45 m                
Beam: 2.00 m
Deadrise: 17 deg
Height on trailer: 2.10 m   
Trailerable weight: 1000 kgs
Test Power: Mercury 75 4S
Propeller: ?? 
Power Range: 115-150hp   
Power options: Outboard only
Fuel capacity: Tote tanks
Trailer: DMW           
| | | |
| --- | --- | --- |
| rpm     | knots | LPH |
| 1000 | 4.5 | 2.7 |
| 1500 | 5.5 | 3.8 |
| 2000 | 6.5 | 5.1 |
| 2500 | 8.5 | 8 |
| 3000 | 13 | 10.2 |
| 3500 | 18 | 13.3 |
| 4000 | 22 | 16.7 |
| 4500 | 25.5 | 22.5 |
| 5000 | 28 | 25.1 |
| 5500 | 30.5 | 27.3 |