The Profile 700H has all the attributes of a seriously good deep water fishing boat, but when you look closer there's a lot more too it. Barry Thompson checks out Baby Blue, the latest in a long line of this popular model to be launched.
I see a lot of alloy hardtops and they are all very much designed to carry out the same functions. The big difference is not so much in the layout and for that matter even in the ride and handling, it's more in the finish, construction and overall appeal of the boat.
So when I went to Napier recently to check out a couple of the latest Profile boats, I was looking for a point of difference.
Something that made the Profile boats different from the rest. CEO of Profile Boats, Brian Firman has been in the boat building and retailing business for many years. His company Firmans Marine, have until now been the only outlet for Profile Boats, so they have maintained a very tight marketing package. No boats leave the shop that aren't fully rigged, right from the engine through to the anchor pack. And that is a point of difference over many of their competitors, but not something they have solely on their own.
"Until now we have had no dealers, so we have been able to control the quality of our boats from construction through to handover to a client and that way we know what we are supplying a consistently high quality product,", says Brian.
As production has increased, we are now in a position to supply two dealers with the appointment of PowerBoat Centre in Christchurch and Hunts Marine in Sydney. While Brian admits that he gets many phone calls from boat dealers wanting to sell the Profile brand in their area, he has until now said no.
"Even now, the way the boats leave the factory for both Christchurch and Sydney will not change and apart from the engine package being supplied by the dealer, the boat's will leave fully rigged", added Brian.
Brian adds that for now that is it for the dealer network and doesn't plan anytime soon to add any more.
Another obvious point of difference that is clearly visible is the styling and the external finish. Bright colours compliment stylish lines that bring a fresh look to the hardtop design. To be fair, some manufacturers look at their hardtop range as more practical that eye appealing and that's fine. There is a market for that, but not if you want a Profile. The Profile brand very cleverly blends visual appeal with very practical functionality.
But it's probably in the construction and the way the boats are built that sets the Profile brand of boats ahead of many of its competitors. Mark Hunter GM for Profile Boats says the quality aspects of every boat they build from the 1410D dinghy through to the 940HW doesn't change.
"It takes longer and we can't produce as many boats as we would like, but we know that every boat is built to the highest possible standard and to me that is more important than mass producing a product that isn't perfect", says Mark.
Profile currently offer a 14 boat range, with the Profile 700H being one of their more popular models. Released a few years ago as a replacement for the previous Profile 700 Hardtop, the 700H was formed on the same hull as the previous model, but underwent a lot of aesthetic and practical alterations in the foredeck and hardtop area. The overhang was extended and the side profiles of the hardtop were changed.
"It was just a simple upgrade of an existing model that while it was a good boat, we could see it could be even better with a few tweaks.
"We are continually re-inventing ourselves on every model and that's something I feel is very important, as we listen to customer feedback and are quick to make the changes if we think they are in the best interests of a particular model", says Brian.
When I flew into Napier at 7.30am the water looked relatively calm from the air, so I knew I wasn't going to experience anything more than a big swell with a soft breeze lifting a few white caps. Hardly the sort of water Profile wanted their hardtop tested in, but what we got was what we got.
My test boat was the very latest 700H to be completed and was destined immediately after my run to be delivered to it's new owners.
Called Baby Blue, the 700H has become increasing popular due to its versatile size and there are four more currently on order and in various stages of build in the Profile Boats factory.
Baby Blue is a bright metallic blue Profile 700H, owned by Brett Mainey and Veronica Morales from Auckland, well Waiheke Island to be more precise. The owners have been building, La Bodega Waiheke, a luxury homestay on the island, which is due to open in December, with Baby Blue very much part of the La Bodega Waiheke experience.
Brett says that the boat they chose had to reflect that same luxury and high quality image of the homestay and the Profile 700H meet his factitious boating requirements in all respects. This is also the first new Profile that Firmans Marine has sold to Waiheke Island.
Baby Blue is powered by a Mercury Verado L6 200, running a 15" Revolution 4 stainless prop. Top speed with full fuel and two aboard was 34.5 knots off the Napier foreshore. Fuel consumption was 77 lph with the throttle hard down, but if you bring it back to a more conservative 4500 rpm, that just about halves, to 42 lph @ 26 knots. Running out across the bay in the very moderate sea with a long low swell, the Profile 700H was a pleasure to drive at 25-30 knots.
The wrap around hardtop takes away all the wind and leaves you very cosy and warm inside. Boating has never been the same since the advent of the hardtop and Profile now offer seven boats in the hardtop mode.
If you feel like you need more power on the transom, then a 225hp will jump your top end by a few knots and depending on the engine, make very little difference in your fuel economy. A 150 would be okay, but personally I feel the 225hp is the best option.
​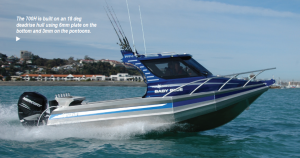 The 700H is built on an 18 deg deadrise hull using 6mm plate on the bottom and 3mm on the pontoons. External beam is 2.40m, with an internal beam of 1.85m and a fully welded treadplate floor. A fully welded alloy rub rail extends around the boat, offering excellent protection when coming up alongside wharfs and jetties. 
A special feature of the 700H is the reverse wave deflector across the transom at deck height, which stops water slopping into the cockpit when backing up on a fish or launching your boat off the beach into waves. Not so common if you ramp launch but certainly can be an aspect of beach launching.
One of the improvements on the new 7m Profile is the inclusion of deep 'toe-kicks', which is something you don't see on a lot of pontoon boats. A great feature when you are fishing and playing a reasonable size fish. The side decks are wide and flat and again great when you want to 'sit a spell' between hook-ups.
Profile sells their boats as packages so you can go boating without having to add too much. This includes a full anchor pack, bilge pump, carpeted cabin, hardtop and dash, LED lights, rocket launcher rod rack, hydraulic steering, safety glass windows, trailer and outboard.
We all like to add things and Baby Blue has plenty. A large bait board, bunk infill squab, toilet, Maxwell RC6 capstan, fender rail, live bait tank, Furuno TZ12, Lowrance VHF, Fusion 750, painted hull, wash down system and Octigrip floor matting were just some of those.
The layout is conventional, but again there has been a few changes made. The cabin bunks in the standard boat are already long, but in Baby Blue these have been stretched 450mm with the addition of rear extensions. When these are not in place, clip on footrests are added. The cabin comes with a central infill to make one huge berth and in Baby Blue there's also the optional fully plumbed head and privacy curtain.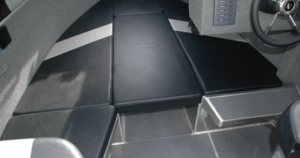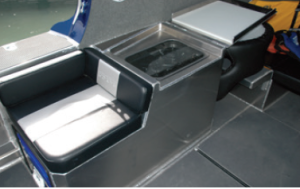 Seating is a king/queen to port with a complete galley and cooler bin under, with a bucket seat helm chair on an alloy base, complete with fold up rear facing seat. However, the seating is one area that you can do your own thing, with many variables available.
As the primary purpose of the 700H is fishing, it's no surprise to find an extra large deluxe style cutting board and bait station aft. This comes complete with five-cup holders (great for sinkers & hooks) plus six-rod holders. There's a live bait tank in the port side step-through and three vertical So Pac hatches conceal all the batteries, electrical and plumbing equipment.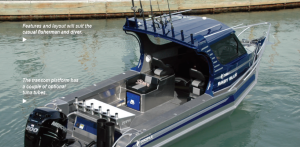 The Profile 700H is a multi tasker with the ability, features and layout to suit the casual fisherman and diver, to those looking for a compact and versatile weekender. The large deck area is ideally suited if you go fishing with four or more mates and is a great space when preparing for a dive.
If you like the 700H but want something a little smaller then Profile can offer you the 585H, 600H, 635H or the 750HW, 780HW or 940HW, so they have you covered both sides. Best thing is, the finish, style and overall presentation of all models is the same, so you know what you are getting. There are no surprises. All boats come with a ten years structural hull warranty.