Classy new fisher is proving popular around the world as either a turnkey package or a kitset. Mike Rose went to Tauranga to check it out.
One suspects that most boaties reading this will not have heard of Purekraft boats. They will, entirely reasonably, infer that it is a new manufacturer, one just releasing their first model.
They would be wrong. Very wrong. Purekraft's Tauranga-based designer and manufacturer, Hall Marine Design, is not only a good decade old, it has also sold hundreds of its vessels, ranging from 5 to 15 metres, to owners in Australia, Asia, the US and, of course, New Zealand.
As its name suggests, HMD is primarily a design group. Led by marine designer and naval architect, Jarrod Hall, it has a further three designers on its staff, one a naval architect and the others boasting an industrial design background.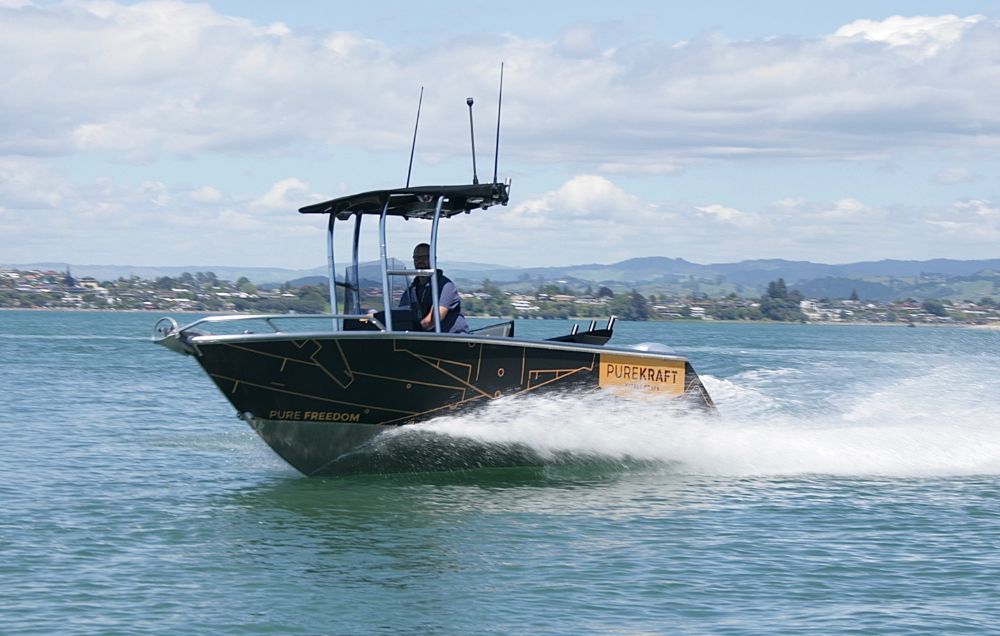 The company was initially design-only focused, creating designs for both industry and local boatbuilders (they still design for a number of well known New Zealand brands). However, about five years ago, Jarrod started to field calls from a variety of boaties keen to build their own alloy boats and wondering if it was possible to get some sort of kitset.
Correctly gauging that those requests were indicative of a wider demand, HMD created a range of designs that could be assembled by those with a fair degree of welding proficiency. All were "design-driven", very influenced by weight distribution and featuring fine entries, 18-degree deadrises and warping hulls.
The boats were offered as flatpack or folded kitsets (the flatpack versions obviously being easier and cheaper to transport but requiring more DIY work), or as hull and deck packages. Before being finalised, the designs were built by Jarrod and his team, not only to ensure they all worked properly but, just as importantly, so they better understood the internal fit-out and the ways the various pieces worked together to create a useable, customer-friendly interior.
After satisfying this initial demand, Jarrod and his team began marketing their kitset designs more widely. They quickly discovered that the desire to build one's own alloy vessel was not just a New Zealand or Australian one. Through word of mouth, their website and exhibiting at trade shows, they were soon fielding inquiries — and exporting kitsets — to numerous far-flung destinations.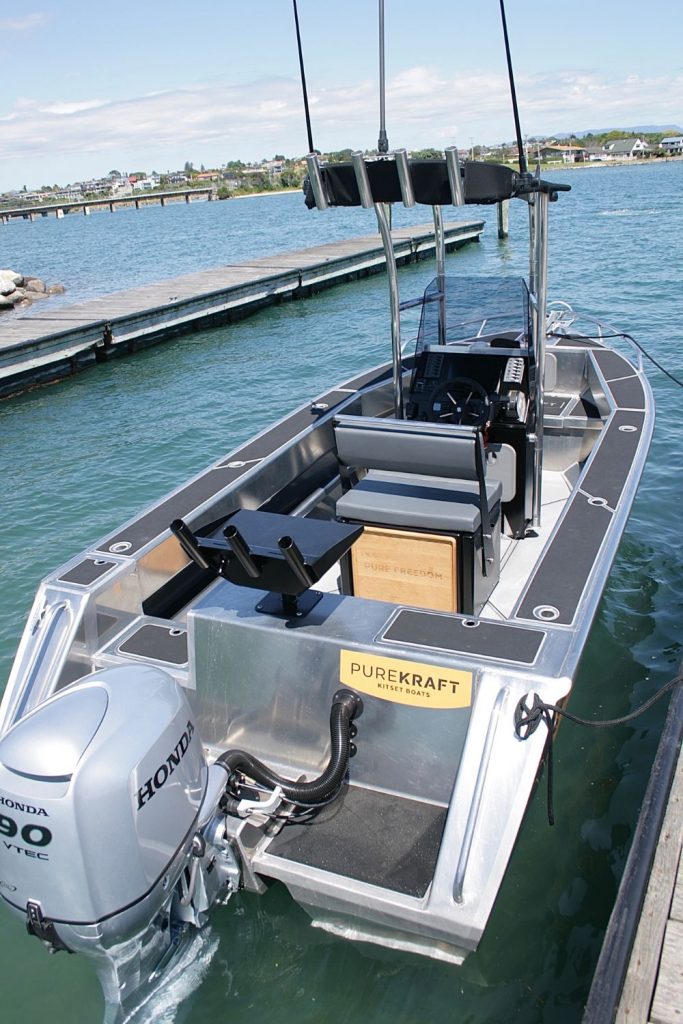 Following their success in the international kitset market, HMD decided to give their increasing range of models its own brand name and Purekraft was born. They also thought it would be a good idea to showcase their new brand at the 2017 Hutchwilco New Zealand Boat Show. It was, but not entirely for the reasons they expected.
While the Purekraft's smart, clean design and innovative layout appealed to many, and the idea of a kitset aluminium boat attracted a lot of attention, most of the genuine interest came from people wanting to know if they could buy a version ready made, a turnkey model.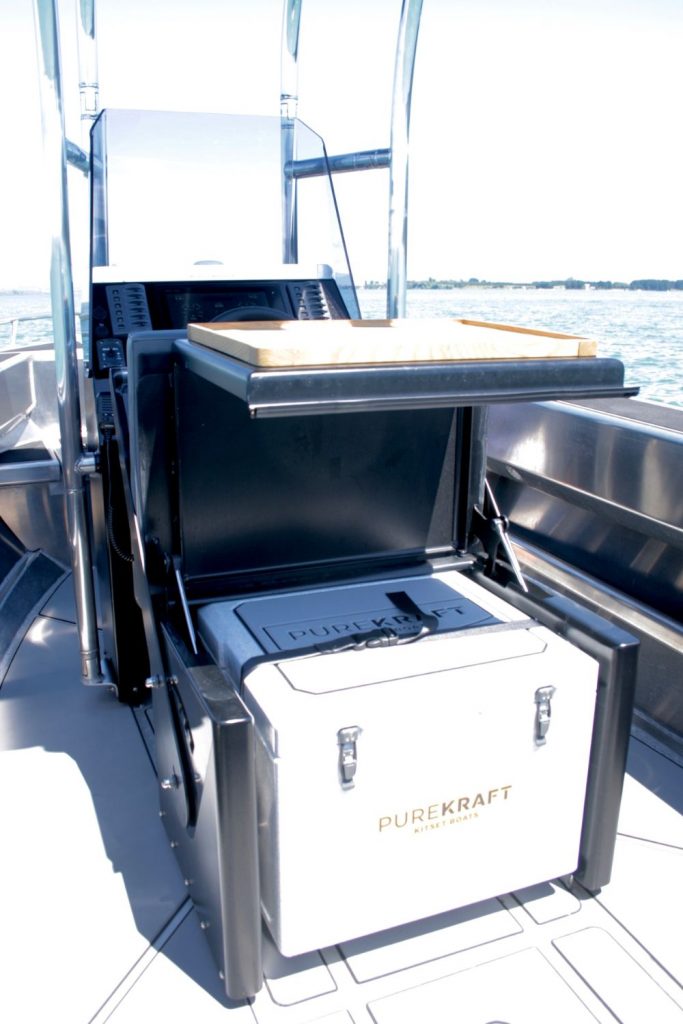 Although this was not the first time the company had been asked to provide turnkey packages, the level of such inquiry at the show took them by surprise. While they were keen to take advantage of the interest, HMD was not really set up to be a production boat manufacturer.
However, in one of those fortunate twists of fate, the company was also approached by an established fabrication company. Called Rivet Engineering and based in New Plymouth, they were looking to get into boatbuilding and had come to the show seeking a suitable designer. It was, as they say, a perfect match.
As a result, HMD is now able to offer three small to mid-size turnkey models: 480, 550, 650 in a choice of centre console or cuddy cabin; and models ranging from 650 to 850 with four options: centre console, cuddy cabin, hardtop or Crosscab (featuring a fixed roof and sliding doors).
One of the first things one notices when encountering a Purekraft vessel is just how smart and classy they are. When the subject of this review, a Purekraft 550 Centre Console, arrived at the Sulphur Point boat ramp in Tauranga, it immediately turned heads. Even in these days of painted hulls, wraps and impressive graphic packages, this rig stood out.
Its alloy trailer, for example, was not only exceptionally smart looking, it also featured a striking cage-like arrangement surrounding the front half of the boat, obviously intended to house stone guards.
The 550's exterior was also striking: the black hull decorated with yellow blueprint-like straight lines, miniature circles and eye-catching angles. The Purekraft logo graces the aft quarters while, low down on the bows, is the legend: PURE FREEDOM.
The interior is no less attractive. The bare alloy is brightly polished and is offset by dark grey, almost black, anti-skid on the side decks, transom lockers, for'ard hatch cover and aft platform; with a lighter version protecting the cockpit floor. Also providing contrasting accents are the powdered-coated black bait station, console module and innovative seat base.
Described by Jarrod as a "dynamic seat box", this standard Purekraft fitting is a clever piece of kit. For a start, there are six positions in which the seat back can be placed, from almost flat facing forward to ditto facing aft. The top and back section can also hinge forward, with the latter's permanently-mounted timber board becoming a handy cockpit table, complete with protective fiddles. Underneath is another standard "extra": a substantial Waeco chilly bin.
The 550's centre console is a sharp construct of black powdered-coated alloy, shiny, swivel-able stainless steel T-top supports, clear Perspex protection and modern Garmin electronics.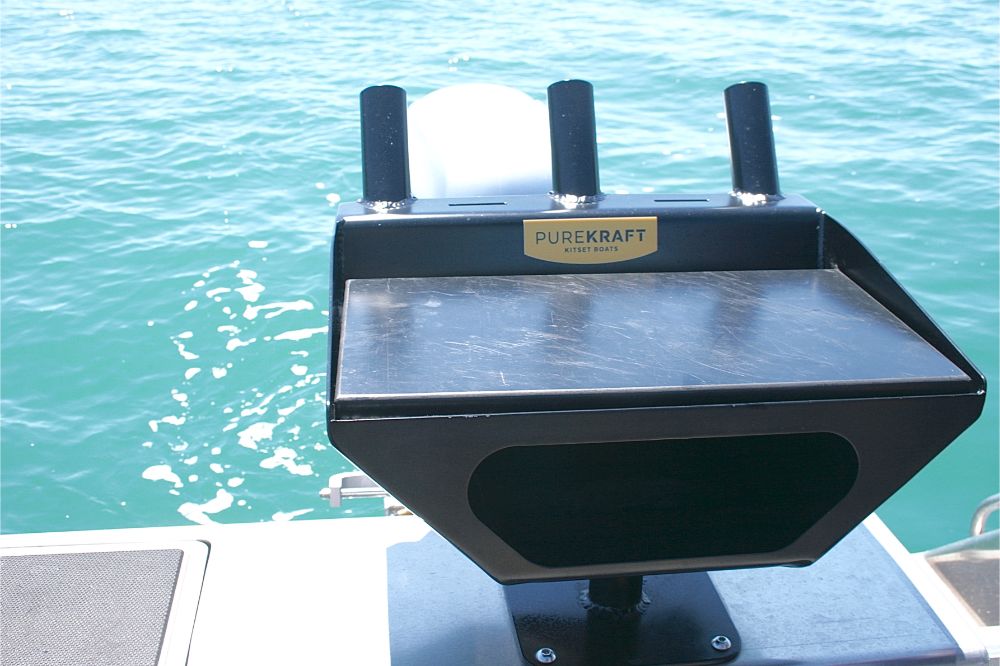 To ensure his MFD screen is as large as possible, Jarrod has done away with the boat's Honda 90's traditional gauges and instead linked the motor directly to his Garmin GPSMap XSU. This enables him, when required, to display all the engine information he could possibly need: revs, speed, fuel consumption in a variety of formats, range, oil pressure, water temperature, etc) and his 12" screen. The rest of the time, the screen can be used in the conventional way: to display charting or underwater information (in a wide variety of combinations) and information from the Fusion stereo system.
The screen is flanked by a pair of Blue Seas DC panels, a control for the Maxwell RC6 windlass, a Garmin VHF and a panel containing USB and DC charging outlets.
There is also a handy flat panel above the dash and a large dry locker underneath. High above, the T-top is swathed in black and houses the vessel's aerials, running/anchor light, four rod holders, the speakers for the Fusion sound system and a pair of bright LED cockpit lights.
In the bow, the chain (10m) and rope (70m) rode is tastefully hidden behind a large plastic hatch, the Manson Supreme anchor is permanently mounted on its bowsprit and there is a cleat for tying off.
There is also another handy dry locker, complete with drainage channels, that doubles as both a bow seat and a casting deck.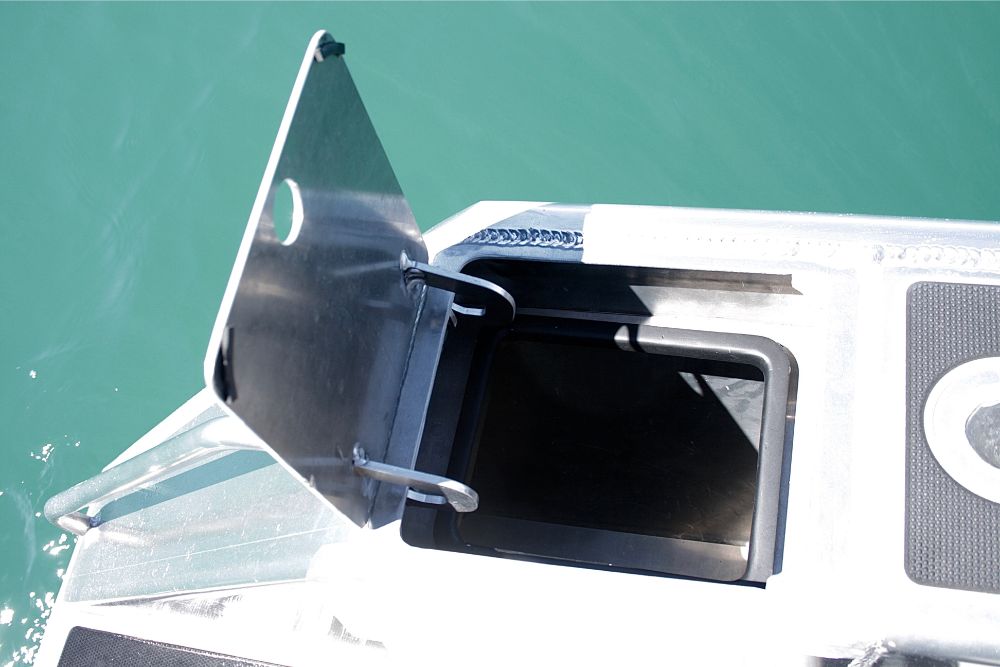 The black powder-coated Purekraft baitboard dominates the transom and features three integral rod holders and a large tackle shelf underneath.
To starboard is something rarely if ever seen on this size of boat: a dedicated twin-bottle dive locker, complete with cut-outs to hold the bottles safely upright.
On port is a similarly creative addition: a handy trash locker, complete with smart yellow graphic and a removable plastic flange to hold the bin liner in place.
Under the step-thru' to the platform is the now almost-obligatory plumbed livebait locker, while the twin batteries, isolating switch and fuel filter are all safely out of harm's way in the transom locker.
Completing the 550's appointments is a underfloor kill bin (large enough for another two dive bottles), deep side lockers (with the starboard one housing the Jabsco washdown hose), a "hidden" retractable ladder (cleverly set into the transom) and a further three rod holders per side (making a total of 13). Another nice touch is the smart yellow measuring markers on the inside of both coamings.
Tauranga kindly turned on an ideal day for our review of the Purekraft 550 Centre Console: brilliantly fine and flat inside the harbour and quite windy and boisterous outside.
Initially I thought Jarrod had underpowered this rig, especially with two reasonably robust lads and a couple of dive bottles on board. I was wrong.
The 90hp Honda four-stroke pushed the 1300-kg vessel along just fine, getting out of the hole quickly and reaching a top speed of 31.3 knots at 5900rpm. That was a bit low for the WOT, suggesting that, with the correct propeller, there might be a little more top end, and perhaps some better fuel economy, to come.
Cruise-wise at 4000rpm we were doing a respectable 19 knots while using 16.6 litres per hour. At 4500, it was 22.6 knots at 18.9lph; and at 5000, 26 knots at 25.5lph.
Throttle control was smooth, tight turning in either direction was rail-like and predictable and, as the pictures show, the hull design keeps the spray well back and down. The lack of a hard top means there is very little of the type of windage that necessitates trim tabs and, consequently, Jarrod hasn't fitted any. They weren't missed.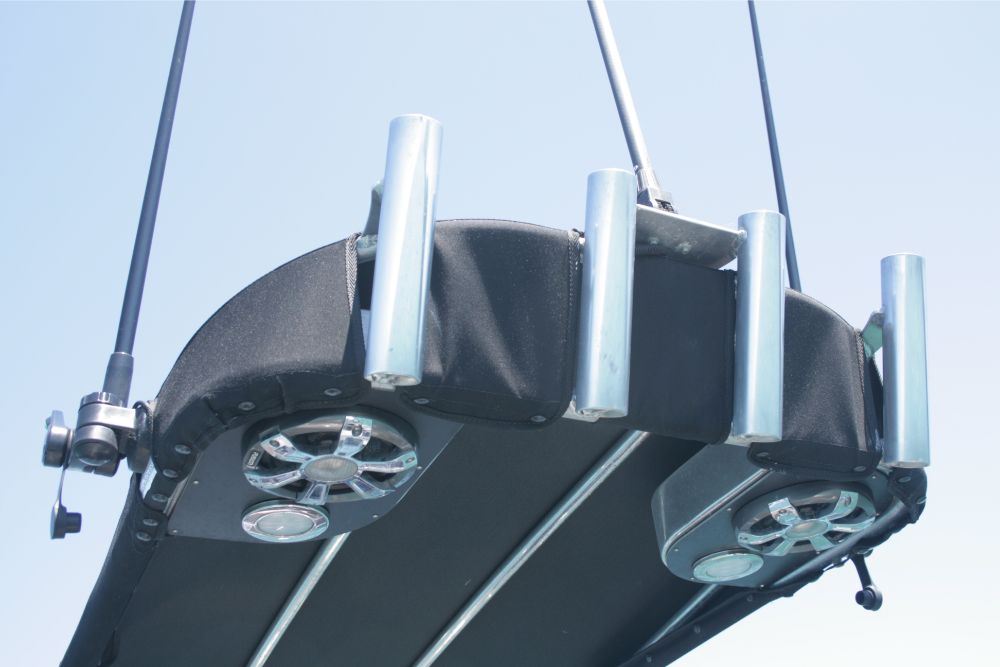 Outside the harbour in the typically confused chop, the 550 handled the bouncy stuff with aplomb. While there was an occasional bang, as one would expect, when charging directly upwind; at an angle, across the waves and downwind there were no problems at all. In fact, the handling was so smooth and predictable, we could literally tight turn at speed at any direction to the waves, without having to pick either our time or spot.
Not being a competent welder, I find the idea of a kitset aluminium rig intriguing rather than appealing. Others, lots of them, obviously disagree. Jarrod says that, while the turnkey options are becoming more popular, so, too, are the kitsets.
Having not seen one of these DIY vessels, I have no idea how they turn out. However, I can report that the turnkey versions are very impressive indeed. They look good, perform well, are innovative and come with a number of standard features that, on another brand, would probably be optional extras.
There is certainly a lot to admire here.
Make &Model: Purekraft 550 centre Console      
Manufacturer: Purekraft
Priced from: $67,716
Price as tested: $92,095 (alloy trailer)
Type: Centre Console
Construction: 5mm / 4mm
LOA: 5.61m
Beam: 2.12m
Deadrise: 18 deg
Height on trailer: 2962mm with t-top, 2205mm without t-top
Trailerable Wgt: 1361kg
Test Power: BF90hp
Propeller: 3B AL 13.25 x 17
Maximum RPM: 5900
Top Speed: 31.3 knots
Power Options: Outboard
HP Range: 80-115hp
Fuel capacity: 100L
Trailer: Purekraft
Notable Options on Test Boat
12" MFD, T-top with speakers & downlights
Maxwell RC6 anchor winch, Vinyl wrap,
Alloy trailer   
| | | |
| --- | --- | --- |
| rpm | knots | L/h |
| 1000 | 2.2 | 1.5 |
| 1500 | 3.2 | 2.7 |
| 2000 | 4.2 | 4.8 |
| 2500 | 5.0 | 7.5 |
| 3000 | 6.9 | 8.7 |
| 3500 | 10.8 | 12.6 |
| 4000 | 19.0 | 16.8 |
| 4500 | 22.6 | 18.9 |
| 5000 | 28.6 | 25.5 |
| 5500 | 28.4 | 33.0 |
| 5900 |    31.3 | 35.7 |