HMD's latest offering showcases the design features that make Purekraft models so impressive
Tauranga-based Hall Marine Design is, as its name so succinctly states, primarily a marine design company. It is, however, quickly building something of a reputation as a specialist, semi-custom aluminium boat builder, too.
After starting out with a range of kitset options, with 40 or more now on the water, in response to increasing demand they began offering turnkey packages. Five of these, marketed under the Purekraft label, have hit the water so far and many more are currently in the planning stages.
The hardtop Purekraft 700 is their largest to date with the others being a 650 Cross Cab, a 630 Hard Top and two 550 Centre Consoles. All feature the standard HMD hull but each has been specifically designed for a particular client. The 700, for example, is for a fishing-focused owner who likes to combine his love of bottom and game fishing with spending weekends cruising with his family.
An old fishing mate of mine was fond of saying that his boat might be a fishing boat but it didn't have to look or smell like one.
There is no doubt that this Purekraft 700 is primarily a dedicated fishing boat yet, sitting alongside the jetty at Tauranga's Sulphur Point ramp, it certainly doesn't look like one. There is, for example, virtually no bare aluminium in sight. It has either been covered in Seadeck or vinyl panels, painted or powder coated, or polished to a glass-like sheen.
The use of the Seadeck is particularly impressive. These good-looking, easy-to-stand-on panels cover the entire cockpit sole, the coamings, the transom top, the step-thru and the aft platform. Many are also embossed with the Purekraft logo. Vinyl ceiling and side panels in the hardtop are a definite step up from the standard frontrunner and are a feature usually found on far bigger — and far more expensive — vessels.
The level of finish is also exceptionally high for an aluminium fishing boat. The welds are almost invisible in many cases and the standard of painting is impressive. Even the integral handrails that run up the trailing edges of the hardtop and support the rocket launcher look like they belong and do not detract from the boat's overall appearance.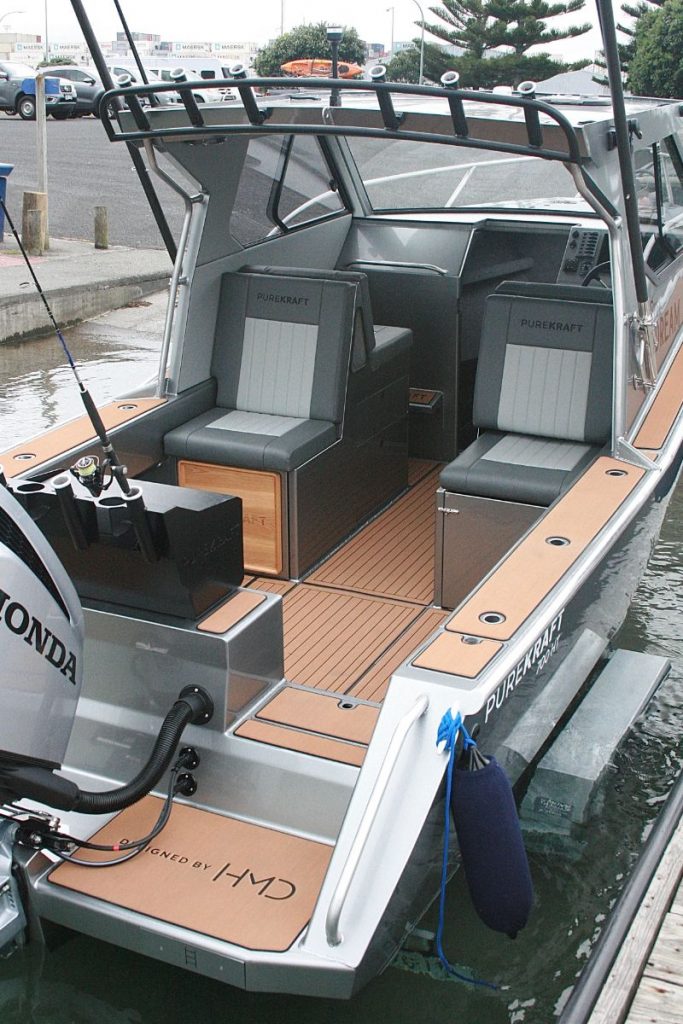 The Purekraft 700's transom is a thing of beauty and it is obvious that an enormous amount of thought has gone into its design.
HMD's managing director Jarrod Hall is one of those who prefers his transom walkthrough (and the now-obligatory livebait tank under them) on the starboard side. This gives him direct sight-lines into the water when collecting swimmers or divers and makes it easier to dock when approaching on starboard. The livebait tank features a hidden overflow under the duckboard and the often-dead space in the quarter alongside the step-thru has been cleverly used for a lined trash locker. A retractable dive ladder disappears neatly into the duckboard when not in use.
A striking black powder-coated custom designed and built bait station dominates the transom top. It is an innovative bit of kit. In addition to the HDPE food grade plastic cutting board, three rod holders, two drink holders and two knife slots, the station also has a pull-out drawer and a bottle opener, complete with 3D-printed bottle cap catcher!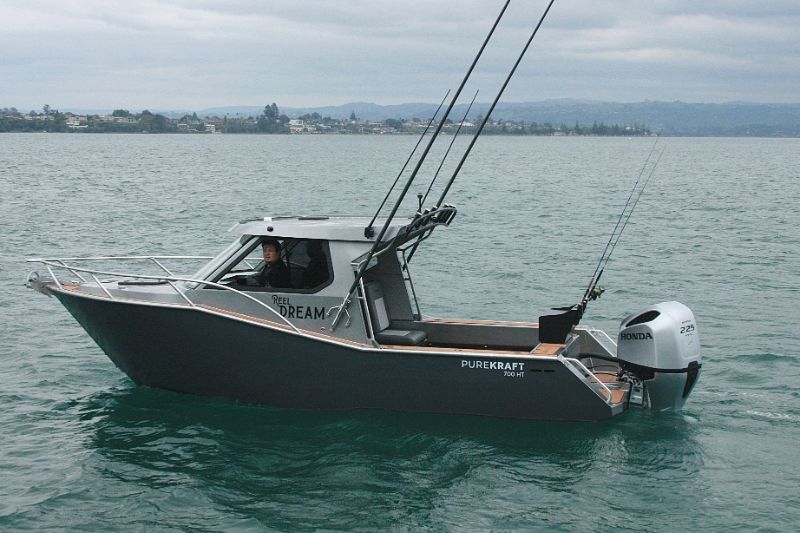 Alongside the bait station is a combination tuna tube/dive bottle locker. It has been carefully designed to take either two painted alloy tuna tubes, complete with quick release plumbing, or a pair of dive bottles, depending on how the owner wishes to spend his day.
The 700's dual batteries, isolating switches and the like are sensibly housed high in the transom, protected by a plastic hatch cover and safely out of harm's way.
With the 700's owner wanting a cockpit suitable for both full-on fishing and family cruising, Jarrod and his HMD design team have seized the opportunity to show how he can have both.
In addition to all those fishing features in and around the transom, there are also deep toekicks on each side, extra wide side lockers (with a cunningly-positioned opening in the forward part of the port one for stowing extra long rods and gaffs) and a fully-plumbed washdown hose to clean up any mess. There are also two large pull-out drawers, suitable for all manner of tackle, positioned between the two port seats under the hardtop. There are also three rod holders in each coaming and a further six in the rocket launcher.
When the fishing is done and its time to relax, the 700's cockpit transforms in a most remarkable way. The aft port seat tilts through 90 degrees, converting into an oak table with room underneath for a 55-litre chilly bin. Meanwhile, on starboard, with a push of a button, the aft seat hydraulically extends into a lounger and its base opens up to reveal a substantial 110-litre chilly bin on castor wheels.
There is also a handy cooker under the port crew seat for boiling the kettle or cooking the catch.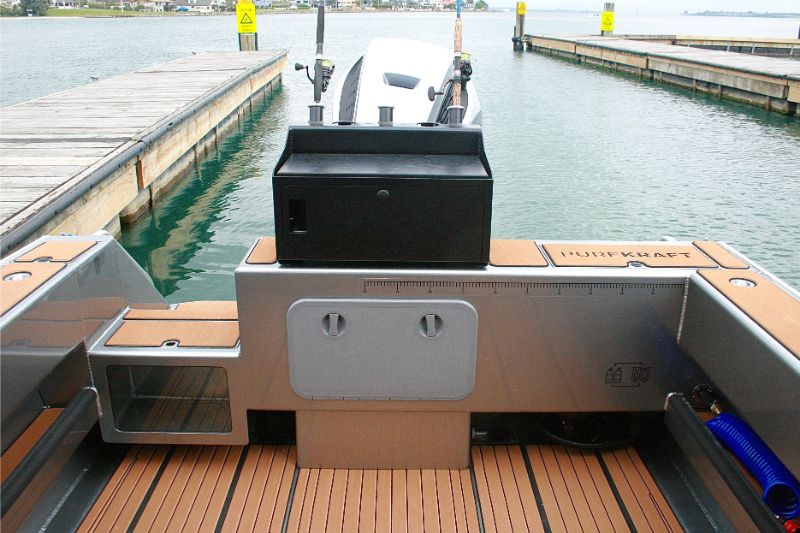 The comfortable king/queen seats are further enhanced by the well-positioned, Seadeck-covered footrests and, in the case of the skipper, a fold-up bolster that makes it equally as comfortable to stand as to sit.
Jarrod says the vinyl ceiling panels are not only more attractive, they are easier to clean and absorb less water as well. Also helping to ensure an absolute minimum of water retention under the hardtop is the brace of custom designed and built side windows that, when combined with the small ventilation hatch above the hem station, ensures really good airflow, even on the stuffiest of days.
From a driver's point of view, the helm is very nicely laid out. The single piece windscreen, unusual on this size of boat, ensures great visibility and the Garmin GPSMap XSV is easy to read both sitting and standing. All the necessary gauges and controls are within easy reach and one can quickly and simply control the Fusion stereo, Hella red/white overhead LED lights, Maxwell RC6 windlass or the Garmin VHF with a minimum of movement.
The Purekraft 700 also boasts a completely private, lockable cabin, thanks to an impressive-looking, sold aluminium, sliding door. Inside, there are thick, comfortable bunk cushions, well positioned back rests creating handy side lockers and an electric flush toilet.
Like all HMD designs, the Purekraft 700HT features a high bow, fine entry, 18-degree deadrise and a warping hull. A lot of attention has also been paid to weight distribution and it shows. Despite a trailerable weight slightly in excess of 2.5 tonnes, the use of robust 5083 aluminium, a substantial hardtop and a 300-litre fuel capacity, this 7.20m LOA vessel is capable of 35 knots or more (in one sea trial, it hit 38). This is despite being powered by a latest model Honda 225hp outboard, which sits at the bottom end of the 700's recommended horsepower range.
At cruising revs, the Purekraft delivers a respectable 22.8 knots at 4000rpm and 25.8 knots at 4500rpm. Consumption at those revs is also reasonable at 30.7 L/h and 35 L/h respectively.
In terms of handling, the 700 proves remarkably responsive throughout the range and, rather importantly for those chasing gamefish or looking to deliver a comfortable ride in rough weather, is able to stay on the plane at quite low speeds.
With correct weight distribution such a design priority, it is no surprise that the 700 is so well balanced. It turns effortlessly and corners tightly without any sign of untoward behaviour, even at high speeds.
For a hardtop model, it also surprisingly needs little thwart trim and, when reversing, shows no tendency to sea-cocking, even at very low speeds.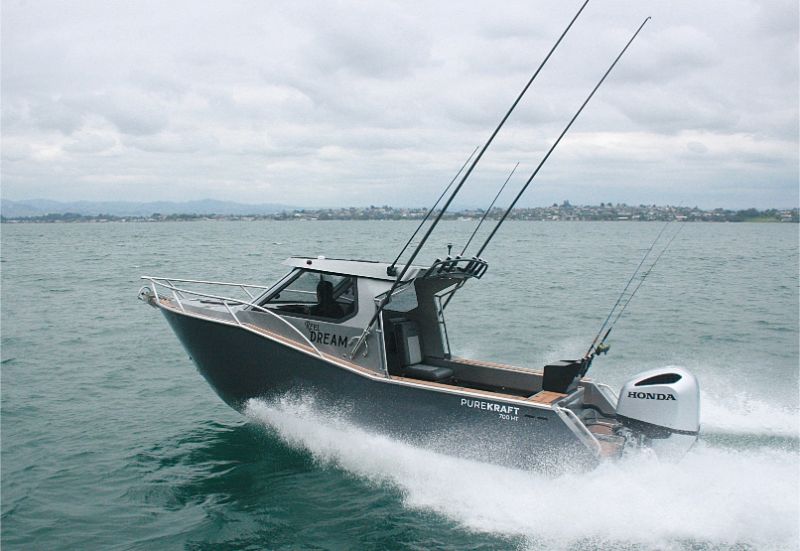 Model & Model: Purekraft 700HT      
Price as tested: $NZ200,000
Priced from: $NZ150,00
Type: Hardtop         
Construction: Aluminium 5083
LOA: 7.20m                        
Beam: 2.50m
Deadrise: 18 degrees    
Height on trailer: 3.20m            
Trailerable weight: 2590kg (steel trailer with fuel)
Test Power: Honda 225hp           
Propeller: 14 ¾ x 17" S.S, 3 blade
Power options: Outboard, sterndrive                       
HP Range: 225-250hp                
Fuel Capacity: 300L              
Trailer: Steel tandem axle / Optional alloy trailer             
Manufacturer: Purekraft Boats, 07 282 7188, [email protected], www.purekraftboats.co.nz  
Designer: HMD (Hall Marine Design)
Fuel capacity: 300 litres
RPM
Knots
L/h
L/NM
Range (NM)
1000
3.7
3.1
0.84
320
1500
5.2
5.5
1.1
240
2000
6.1
6.9
1.2
220
2500
7.4
12.4
1.7
150
3000
8.5
20.8
2.5
100
3500
15.9
25.9
1.7
150
4000
22.8
30.7
1.4
190
4500
25.8
35
1.4
190
5000
28.3
44.6
1.6
160
5500
32.5
57.3
1.8
150
6000
34.8
83.4
2.4
110