Designed specifically for catching big fish a long way from shore, Cold Steel, the latest Purekraft 770 is also Hyundai diesel powered.
Powered by a Hyundai SeasALL 270hp diesel inboard running a Mercruiser Bravo 3 leg, Cold Steel is Tauranga fishing entity Macca's 4th boat and the second he has had built specifically for him. It is his first Purekraft and he says he chose the local boatbuilder because his new boat had to be the "toughest" available. He also wanted it built to his specs and wanted to be able to work alongside the builder to get things exactly as he wanted them.
A man who loves to chase very big fish, including bluefin and broadbill, Macca wanted a boat that was specifically designed to get out there, do the business and handle the rough water that one inevitably encounters on the way back.

Although Macca's first love is obviously big game, he clearly enjoys other pursuits such as snapper fishing and diving, too. To accommodate these, Cold Steel has a large, fully-enclosed platform, protected by a substantial black cage-like pushpit.
The custom bait station has two hard plastic inset boards with tackle drawer under, that small sink on the starboard side and Purekraft's trademark bottle opener in the front. In keeping with the owner's love of broadbill fishing, there is also waxed thread on its own spool in the drawer.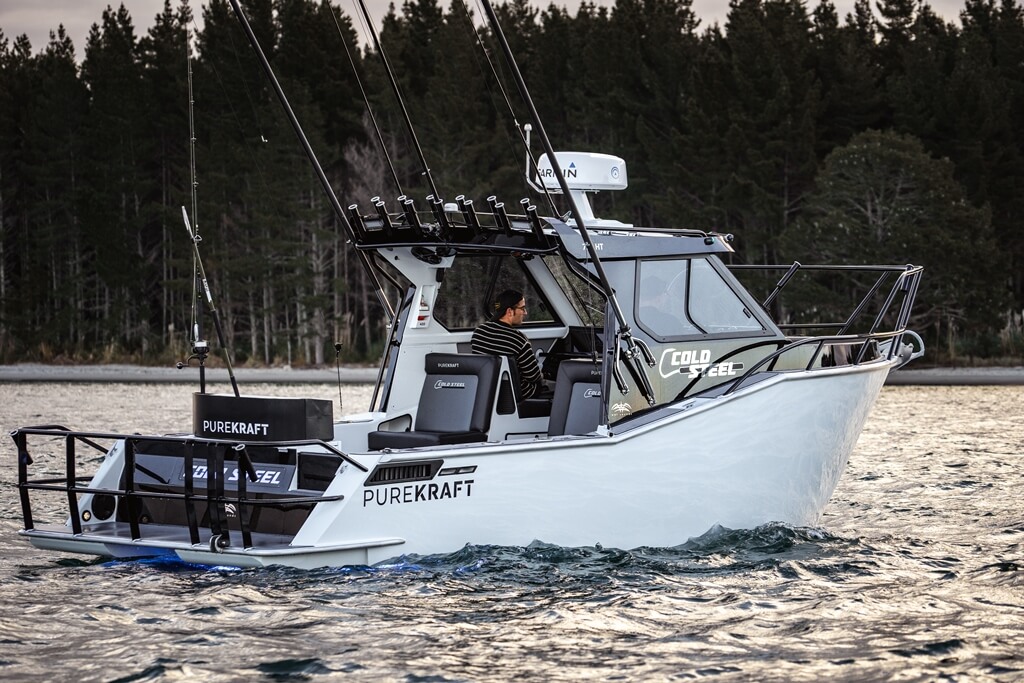 This "run things from the cockpit if possible" philosophy is also in play with a cockpit helm station, in its own locker, in the starboard side deck. Often seen on much larger vessels but rarely on one of this size, it includes both a gear/throttle lever and an autopilot control module.
Cold Steel's, rocket launcher contains 14 rod holders instead of the usual 6 or 8. Also mounted on the trailing edge of the hardtop is a Garmin VIRB camera. Connected to a powered mount, it can not only record the action taking place in the cockpit and "out the back", it also relays a real time feed directly to Cold Steel's twin Garmin 12" MFD screens.
Cold Steel's seating plan is typical Purekraft. Although, at first glance, it looks like a standard king/queen setup, it's a lot more sophisticated than that. On the starboard seat, the aft squab extends to produce a comfortable recliner. Under this is space for a substantial chilly bin: either a standard 150-litre or, for easier access, a 110-litre one on a trolley. On port, this space is used to house a powered Waeco 95-litre fridge freezer.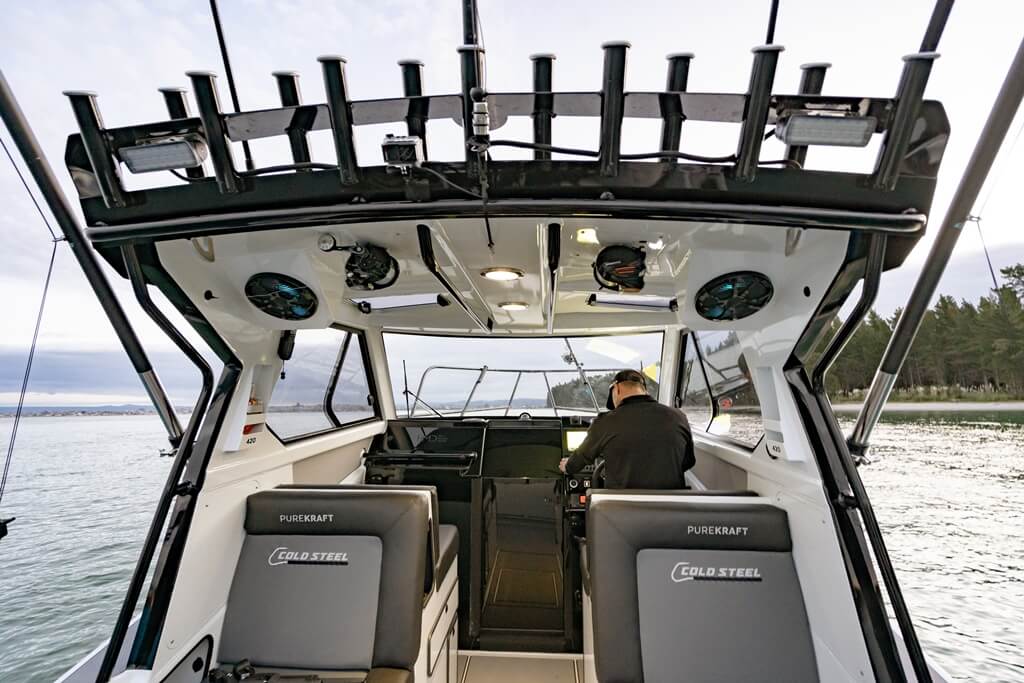 There is another hidden gem too: a 2-burner gas cooktop lives under the main passenger seat. It comes with its own LED light and is supplied by a gas bottle in a vented locker in the side bulkhead.
The cabin with its bulkhead to bulkhead squabs obviously sleeps three and has its own toilet. It also has a set of 7 Dubro rod holders in the ceiling and holders under the side lockers for Macca's swordfish rigs.
On most rigs, the foredeck and top of the hardtop are utilitarian places but little is as usual on this vessel. As well as the light bars and spotlights the forward section of the hardtop is flat, designed to be stood on and used, and even has a pair of drink holders to help ward off dehydration.
The foredeck, too, is purposely flat, designed for both fishing and baiting and protected by double-height bow rails. Summary
At 7.7m, Cold Steel is Purekraft's largest boat yet. It again illustrates that Jarrod Hall and his team of fellow naval architects are surely some of the most innovative and creative young marine designers around.
Powered by a Hyundai S270 marine diesel through a MerCruiser Bravo 3 drive, Cold Steel has a top speed of 34 knots.