STATUS QUO FOR 2021 PWC LINE UP
For 2021 there are not a lot of huge technological changes in the ski market, it's more about graphics and colours. The big three, Yamaha, Sea Doo and Kawasaki have all retained most of last year's models, but with some cool refinements and model name changes.
Yamaha has 15 models based on two engine platforms, in either supercharged or naturally aspirated mode, with the Superjet remaining as their only stand-up. Sea Doo have 12 models from their 300hp, 300 series to the 60hp entry level Spark. Kawasaki retain the top published horsepower of 310hp for their Ultra 310 series and for 2021 are offering 8 models, including the SX-R, the only other stand-up on the market.
YAMAHA ALL-NEW 2021 WAVERUNNER LINE-UP
Yamaha Motor New Zealand has announced the release of their largest ever WaveRunner range with the unveiling of their exciting 2021 model line-up. Headlined by the all-new GP Series race-inspired models, all-new VX Series recreational models and the much-anticipated all-new Yamaha four-stroke SuperJet stand-up, the 2021 range offers consumers more choice than ever.
Based on a common engineering platform, the VX and GP Series WaveRunners have received a complete redesign above the waterline, with an all-new deck, improved aesthetics, enhanced riding characteristics, increased storage and a range of industry-first features and technologies.
The new deck design provides improved ergonomics with deeper, wider and self-draining footwells, plus a new seat profile that is 3.8 centimetres narrower, delivering improved knee and foot grip, and enhanced rider comfort.
Storage has been increased throughout the line-up, with a new much larger watertight glovebox that comes with a built-in LED light, a dedicated area for your smartphone, a USB port and a 12-volt power outlet for increased usability and functionality.
The expanded front storage hatch includes a dedicated area for a cooler bag and a larger opening for easier access. The watertight under seat storage has also been enlarged with a wider opening providing additional practical storage to keep items safe and dry. Overall, storage volume has increased by 22%, delivering a massive 114 litres of usable space.
The cockpit has also received a complete redesign and technology upgrade with an all-new 4.3-inch multicolour LCD display screen and touchpad control system. Innovative features include built-in pin code security, eliminating the need for a keyless fob, customisable Drive Control allowing the rider to set top speeds at different increment, and the additional ability to select normal or slow acceleration options on the GP and High Output models.
A new multi-mount system positioned in front of the handlebars allows the rider to set up their own customised third-party devices such as a camera, GPS, fish finder, phone or portable speakers. 
And for the first time ever, Yamaha is offering a factory-installed, custom integrated marine audio system on the all-new VX Limited HO and VX Limited models.  The package includes twin, 4½ inch fully waterproof marine speakers, integrated 2 channel (50 watts per channel) amplifier, easy access control pad and an integrated low-voltage regulator to protect the battery.
Richard Shaw National Marine Manager, said "These new craft not only look fantastic with their striking angled paneling and lines, but with all their new features and technology upgrades, they are smarter and more intuitive than ever, which will be very attractive to both new and experience ride alike."
In addition to the all-new platform, the undisputed world championship winning supercharged Yamaha GP1800R SVHO, and its naturally aspirated partner, the GP1800R HO, have received several high-performance race-ready upgrades.
Visually the craft have received a more muscular looking design treatment, with edgy paneling, dark colour tones and eye-catching graphic kits.
With race podiums in mind, the craft now come with tilt-adjustable race-inspired, motorcross style handlebars, the industry's first Auto Trim function with Cornering and Launch Control modes for better turning and acceleration, a repositioned fuel tank for improved weight distribution and agility, and a new intake grate and upgraded jet pump for even more class-leading acceleration.
Richard said, "The GP1800R SVHO and GP1800R HO continue to be powered by the industry's largest displacement 1.8 litre, four-cylinder, supercharged and naturally aspirated marine engines, which when combined with the new performance features, will expect these craft to continue to dominate on and off the race circuit in 2021."
ALL-NEW SUPERJET STAND-UP
There has been rumours of a potential four-stroke SuperJet replacement for many years. Well those rumours have proven to be true, with the release of the all-new Yamaha four-stroke SuperJet, ready to challenge the best riders, freestylers and racers.
Combining the very torquey, lightweight and extremely smooth, Yamaha TR-1 marine engine with an all-new lightweight performance hull, the new SuperJet delivers an unbelievable power-to-weight and agile performance.
This craft is 60 kilograms lighter and 25 centimetres shorter than its competition and is a scant 31 Kilograms heavier than its two-stroke predecessor, ensuring this craft not only packs heaps of punch but can be thrown around for maximum freestyling enjoyment.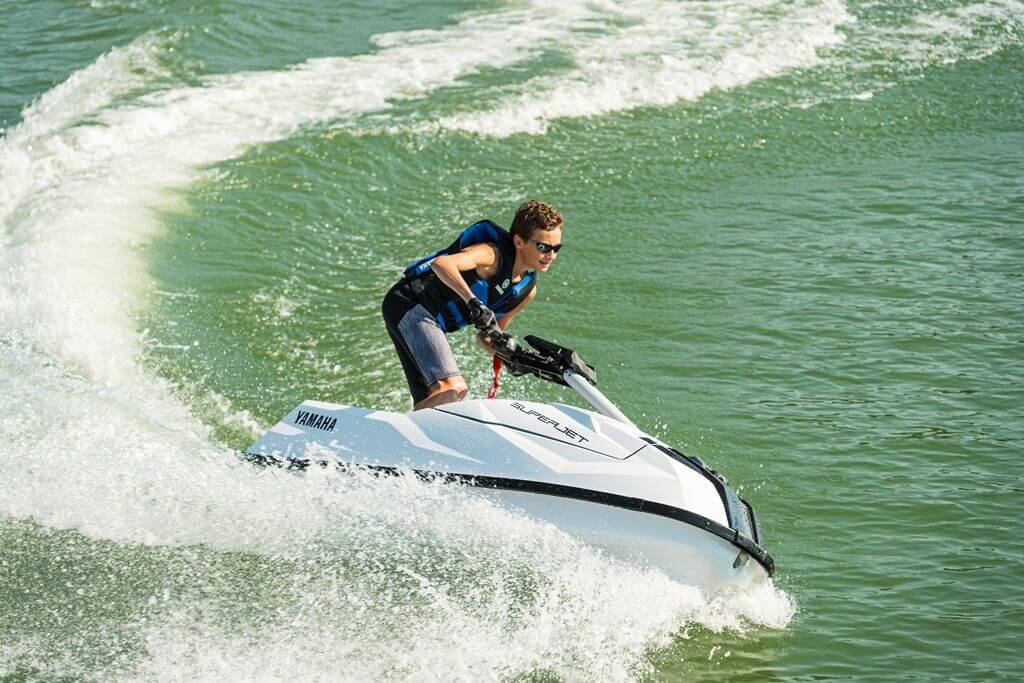 Richard said, "We believe this craft will appeal to a new broader audience of recreational riders who are looking for more physical and exciting ride that not only tests their fitness but satisfies their need for speed."
Feeding the TR-1 engine is a larger 18 Litre fuel tank that delivers plenty of range for the stand-up rider, with an easy-to-read Low Fuel meter placed conspicuously on the deck to ensure the rider can maximise their riding time.
For novice riders, there is now an L-MODE that reduces engine performance of the SuperJet to 85 percent or approximately 64 Kilometres per hour.
The new deck features a three-position adjustable handle pole that can extend up to 50mm in length, race-inspired handlebars, and a wide padded foot tray with an integrated reboarding holder.
SEA DOO RXP-X 300 HIGHLIGHTS NEW MODEL YEAR
A craft with a long, rich history, the new RXP-X 300 boasts numerous changes, most notably a new T3-R hull with a completely revamped, deeper-V design. Featuring a sharp keel with soft outer chines, the craft rolls intuitively into the turns as before but is even more aggressive in its approach. A new, "shark gil" feature mid-hull also regulates air flow below the surface for greater control at speed.
According to Sea-Doo, the new design provides greater stability at high speeds, a nod to both the race crowd and performance-minded enthusiasts, as well as chop-busting ability in rough water. The 2021 Sea-Doo model also trims an impressive 30 kgs from the craft's weight, a savings that contributes to a newfound boost in acceleration.
Other tweaks include a new seating configuration designed to make riders feel even more connected to the craft, a bold move given the previous RXP-X had arguably some of the best pure ergonomics of any craft on the market. It includes a rear bolster that can be adjusted up to 5" forward and back to fine tune the support to the rider in the saddle, even deeper knee pockets and a textured, tacky surface to prevent slippage. There's also an optional, quick-connect rear seat that can transform this solo performer into a two-up craft for broader recreational use. Other improvements include expanded storage, the LinQ accessory system, and optional 100-watt Bluetooth sound system.
A solution to debris in the pump that can plague riders in areas with heavy vegetation or seaweed has been introduced on the GTX Limited and FISH PRO, and is available as a factory option on other GTX models. Given the moniker Intelligent Debris Free (IDF) pump system, when activated the system actually disengages the driveshaft from forward and places it into reverse using a simple set of gears. Starting the engine then pushes debris back out of the pump cavity. All this happens at just the touch of a button, keeping riders out of the water and hands away from the pump area.
Also look for a wide, 7.8-inch full-colour LCD display on the flagship GTX Limited. The app-enabled Bluetooth-connected display integrates control of music along with navigation, weather and more and is accessed via handlebar controls, keeping riders always in control of the craft.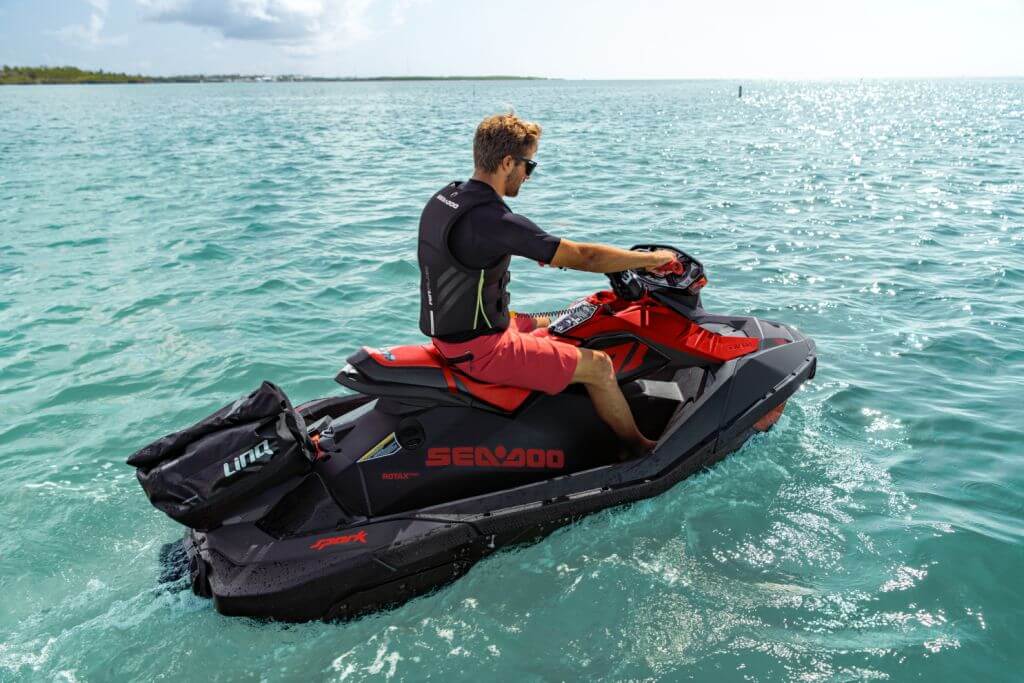 The LinQ accessory system also grows, with cupholders and a cooler extension joining the list. Also in the catalog are a handy lid organizer for GTI, GTR and WAKE 170 models, the aforementioned 2-UP passenger seat for the RXP-X 300, and Comfort Seats for SPARK models.
Finally, a reconfigurable Ergolock saddle debuts on RXT-X and GTR models. It enables these craft to transform from locked-in racers to relaxing cruisers with a flat lounge area while still on the water, and is tailor-made for leisurely recreational rides and coving.
Widely acknowledged as playing a fundamental role in the birth of personal watercraft, the latest off-spring of the Kawasaki Jet-Ski fleet are taking to the water ready for a new season afloat. With no less than eight models in the line for 2021, personal watercraft fans will be able to choose from both multi-seat models and the latest version of Kawasaki's engaging solo "stand-up" Jet-Ski.
Each model in the 2021 range is equipped with either a normally aspirated or supercharged four-cylinder, four-stroke specialised Kawasaki marine engine according to model, created for individual applications from entry level to the top of the range craft.
Conveniently grouped in three elements, the range comprises STX, Ultra and SX-R models with a menu of specifications and additional accessories allowing water sports fans to create a craft that suits their needs perfectly.
The STX160 three seater range comprises three craft with the recently restyled STX160 which will appear in a Gelcoat Crystal White and Sunbeam Red colour scheme. At the next level the STX160 X  – which for 2021 will feature an Ebony and Lime Green livery adds cruise control to the already impressive specification and, at the head of the STX range, the STX160 LX which includes such refinements as a luxury seat and Bluetooth enhanced audio system and will be available in an Ebony and Candy Lime Green combination. Calling on 152PS of thrust from their 16 valve, normally aspirated double overhead cam engines, the STX line is perfect for those new to personal watercraft or families who want an adaptable and fun recreational vehicle.
Moving to the highest specification, multi-seat Jet-Ski watercraft for the incoming season, there are no less than four Ultra craft for 2021 starting with the normally aspirated Ultra LX in Ebony and Riptide Turquoise as an entry point then the next level craft, the Ultra 310X in Ebony and New Citrus Yellow and the Ebony and Metallic Carbon Gray Ultra 310LX which benefits from supercharger technology. Finally, at the head of the head of the multi-seat fleet, is the Ultra 310R sporting an Ebony and Lime Green colour-way matched to a robust, reliable and responsive Supercharged, four-cylinder engine.
On its own – appropriately – is the lone Kawasaki solo "stand up" Jet-Ski in the upcoming range, the formidable SX-R. Packing a remarkable 1498cc four-cylinder, water cooled, normally aspirated engine secreted under its Ebony and Lime Green bodywork for 2021, this is a solo for the committed enthusiast who likes to carve the tightest turns and leave others in their wake.
| | | | | | | | | |
| --- | --- | --- | --- | --- | --- | --- | --- | --- |
| Model | HP         | ENGINE | CC | ASPIRATION | STORAGE | FUEL | WEIGHT | PERSONS |
| Yamaha |   |   |   |   |   |   |   |   |
| GP1800R SVHO | NA | 4-Stroke | 1812 | Supercharged | 107.5 L | 70L | 342 kg | Up to 3 |
| GP1800R HO | NA | 4-Stroke | 1812 | Supercharged | 107.5 L | 70L | 325 kg | Up to 3 |
| FX CRUISER SVHO | NA | 4-Stroke | 1812 | Supercharged | 166.6 L | 70L | 372 kg | Up to 3 |
| FX LTD SVHO | NA | 4-Stroke | 1812 | Supercharged | 166.6 L | 70L | 373 kg | Up to 3 |
| FX SVHO | NA | 4-Stroke | 1812 | Supercharged | 166.6 L | 70L | 371 kg | Up to 3 |
| FX CRUISER HO | NA | 4-Stroke | 1812 | Natural  | 166.6 L | 70 L | 380 kg | Up to 3 |
| FX HO  | NA | 4-Stroke | 1812 | Natural  | 166.6 L | 70 L | 379 kg | Up to 3 |
| VX LTD HO | NA | 4-Stroke | 1049 | Natural  | 113.9 L | 70 L | 360 kg | Up to 3 |
| VX LTD  | NA | 4-Stroke | 1049 | Natural  | 113.9 L | 70 L | 316 kg | Up to 3 |
| VX CRUISER HO | NA | 4-Stroke | 1049 | Natural  | 113.9 L | 70 L | 352 kg | Up to 3 |
| VX DELUXE | NA | 4-Stroke | 1049 | Natural  | 113.9 L | 70 L | 306 kg | Up to 3 |
| EX DELUXE | NA | 4-Stroke | 1049 | Natural  | 29.1 L | 50 L | 272 kg | Up to 3 |
| EX  | NA | 4-Stroke | 1049 | Natural  | 29.1 L | 50 L | 262 kg   | Up to 3 |
| EXR | NA | 4-Stroke | 1049 | Natural  | 29.1 L | 50 L | 245 kg | Up to 3 |
| SUPERJET | NA | 4-Stroke | 1049 | Natural  | None | 18.9 L | 170 kg | I only |
| | | | | | | | | |
| --- | --- | --- | --- | --- | --- | --- | --- | --- |
| Sea Doo | HP         | ENGINE | CC | ASPIRATION | STORAGE | FUEL | WEIGHT | PERSONS |
| GTX Limited 300 | 300 | 4-Stroke | 1630 | Supercharged | 98.9L | 70L | 385 kg | Up to 3 |
| RXP-X 300 | 300 | 4-Stroke | 1630 | Supercharged | 153.7 L | 70L | 354 kg | Up to 2 |
| RXT-X 300 | 300 | 4-Stroke | 1630 | Supercharged | 98.9 L | 70L | 376 kg | Up to 3 |
| GTR 230 | 230 | 4-Stroke | 1630 | Supercharged | 160.8L | 60 L | 351 kg | Up to 3 |
| Wake Pro 23 | 230 | 4-Stroke | 1630 | Supercharged | 98.9 L | 70L | 376 kg | Up to 3 |
| GTX 230 | 230 | 4-Stroke | 1630 | Supercharged | 98.9 L | 70L | 365 kg | Up to 3 |
| GTX 170 | 155 | 4-Stroke | 1630 | Natural  | 98.9 L | 70L | 352 kg | Up to 3 |
| FISH PRO 170 | 155 | 4-Stroke | 1630 | Natural  | 98.9 L | 70 L | 389 kg | Up to 3 |
| GTI 130 | 130 | 4-Stroke | 1630 | Natural  | 152.8 L | 60 L | 335 kg | Up to 3 |
| GTI 170 SE | 60 | 4-Stroke | 1630 | Natural  | 152.8 L | 60 L | 335 kg | Up to 3 |
| Spark & Spark Trixx | 60 | 4-Stroke | 899 | Natural  |  28.6 L | 30 L | 186-199 kg | 2 or 3 |
| | | | | | | | | |
| --- | --- | --- | --- | --- | --- | --- | --- | --- |
| Kawasaki | HP         | ENGINE | CC | ASPIRATION | STORAGE | FUEL | WEIGHT | PERSONS |
| Ultra 310LX | 310 | 4-Stroke | 1498 | Supercharged | 212L | 78L | 487 kg | Up to 3 |
| Ultra 310X | 310 | 4-Stroke | 1498 | Supercharged | 212L | 78L | 477 kg | Up to 3 |
| Ultra 310R | 310 | 4-Stroke | 1498 | Supercharged | 212L | 78L | 475 kg | Up to 3 |
| Ultra LX  | 160 | 4-Stroke | 1498 | Natural  | 200L | 78L | 423 kg | Up to 3 |
| ST 160 LX | 160 | 4-Stroke | 1498 | Natural  | 89L | 62L | 383 kg | Up to 3 |
| ST 160 X | 160 | 4-Stroke | 1498 | Natural  | NONE | 23L | 250 kg | 1 Only |
| STX 160 | 160 | 4-Stroke | 1498 | Natural  | 212L | 78L | 435 kg  | Up to 3 |
| SX-R | 160 | 4-Stroke | 1498 | Natural  | NONE | 23L | 250 kg | 1 Only |