On the Money
Australian builder Quintrex has the largest model range on the market, with around 100 boats listed on their website. Freddy Foote checks out one of their popular and versatile models, the 440 Renegade SC.
There are five different sized models available in Quintrex's Renegade range from the smaller 420 model, up to a 520 available as a side console. The Quintrex 440 Renegade is available in three configurations, centre console, tiller steer and the side console (SC) model I tested.
It's primarily an easy to launch, easy to operate and feature packed open fisher. And fishing is what we elected to do. It was reported that some exceptional trout were being caught at Lake Rotoiti in the Bay of Plenty, so a quick trip to meet Gary Hatton from Auckland Marine was undertaken.
Test day conditions were beautiful for boat testing. Lake Rotoiti was glassy calm, there were hardly any clouds in the sky and it was hot. But would the trout still be biting.
Once aboard, I was immediately impressed with the side console concept. It is simple yet functional and gives you more than enough room to fish.  The boat comes fully carpeted as standard and there are a whole host of additional options you can specify to fully bling it out to your liking, such as a bimini cover or live bait tank (which was already fitted to our test boat).
Aft, there is a raised platform, which incorporates storage underneath, provision for batteries and a live bait tank located in the port corner, as well as a dedicated space for a tackle box.
At the helm, there is pretty much everything you need. A compact glove box with tinted Perspex lid and provision for engine instruments/gauges and a healthy area for a multi-function display should you wish.
The seating configuration is made up of two pedestal seats, with additional seating space able to be utilised aft or forward. There are actually three different seating positions throughout the boat, so you can move the seats where you wish. You can also specify a pedestal style seat in the bow as an option.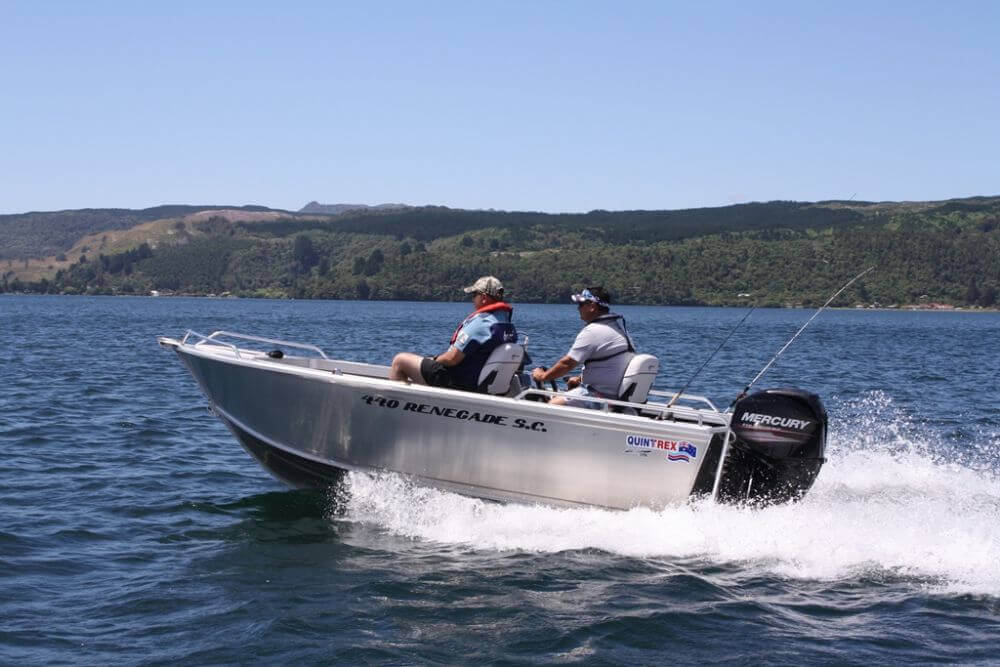 Up in the bow itself, there is an awesome raised casting platform, which we used a lot on our test day. Underneath there are four separate storage lockers, one with a rotationally moulded plastic bin. Forward there is a sizeable anchor locker, which we used to store our drogue anchor during our days activities on the lake.
Three of us fished very comfortably for a whole morning on the lake, mainly jigging for trout. When there was a strike, there was plenty of room for the other two anglers to wind up and store rods away quickly on the side shelves. Playing the fishing, the entire boat was easy to navigate and we were all able to stay out of each other's way.
When it came time to netting the fish, stability was awesome; never any time did I feel uneasy about two to one side bringing the fish aboard.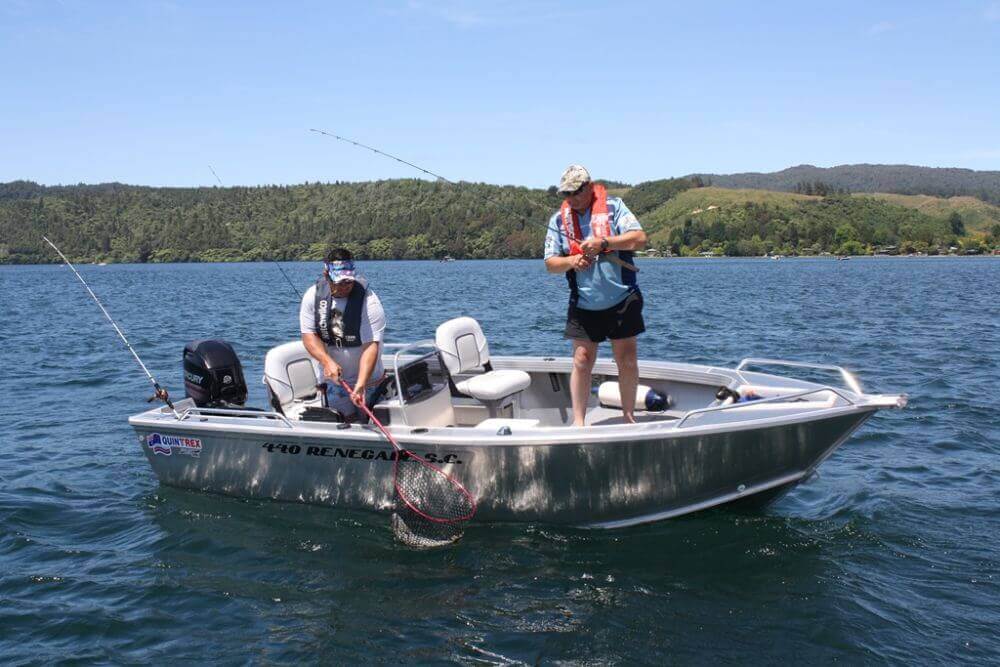 As far as performance goes, our test rig was fitted with a Mercury 50hp four-stroke.  Underway it topped out at 27 mph, using 16.5 lph from the onboard 50 litre fuel tank. At a comfortable cruise of 20 mph, it was consuming 10.5 lph.
On our test day we had three large adults onboard as well as a chilly bin, drogue anchor (soaked with water) rods, tackle boxes, camera equipment etc, so the boat was fairly well loaded up.
With a  slight chop on the lake in some places, the Renegade handled it very well. The boat felt rock solid when underway and kept us very dry when we shifted direction.
The hull is rated from 40hp through to 60hp. I felt 50hp was about right, but a 60hp outboard would be ideal. I think if you had a number of passengers onboard, plus gear then 40hp might be a little underpowered. However, if you plan to fish solo or with one other most of the time, then a 40hp outboard might be sufficient.
So what did I think? Well, I absolutely loved it. I've always quite liked Quintrex's, they're well appointed and a lot of the time you don't' feel like you're aboard a traditional tinnie.
I'm also quite a fan of small boats, and from the moment I got aboard the 440 Renegade I knew I would like it. It's packed full of great features, and uses every centimetre of internal space to the max.
It has everything you would need to be a great fishing vessel. Fitted with the rear casting platform, live bait tank, tackle tray and four rod holders, the 440 Renegade is built to handle reefs, estuaries and lakes.
Model & Model: Quintrex 440 Renegade SC 
Priced from: $25,990
Price as tested: $28,990
Type: Side Console Runabout
Construction: Alloy
LOA: 4.6m
Beam: 2.11m
Deadrise: Variable
Height on trailer: 1.7m
Trailerable weight: 600Kgs Approx
Test Power: 50hp four-stroke
Propeller: Mercury Spitfire 13P
Power options: Outboard
HP Range: 40-60hp
Fuel capacity: 50L
Trailer: Single Axle