The Quintrex 470 Coast Runner CV (customer value) is part of Quintrex's range of small runabouts, which are very popular in both Australia and New Zealand.
Freddy Foote tests out the latest version of the 470 Coast Runner CV, the new look model.
From Australia's largest aluminium boat builder comes the Quintrex 470 Coast Runner CV, a versatile and affordable package for the young family or those new to boating.
What Quintrex has done with its CV range is put everything into each boat that you will need to go boating, as well as a couple of extras – or as Quintrex calls it; instant boating.
This CV option comes with only the necessary boating accessories, and is a great way to get first time buyers into boating, and also gives them the option of adding things to meet their needs such as ski hooks, rear lounge seating, or a fish finder.
So as I asked; what is the difference between a regular Coast Runner and the CV model? Well; some of the basic differences between a Coast Runner and a Coast Runner CV are some of the safety features. The CV models feature basic flotation; which means that the hull is foam filled. A Coast Runner features level flotation; which will mean it has foam filled sides.
What basic flotation means is that foam blocks are placed under the boats floor, with fuel resistant blocks around the fuel tank and normal polystyrene further forward. Basically what this enables; is that if the boat does become swamped; it will remain floating and wont sink.
Level flotation means that the boat has extra built in bouyancy, so that even when swamped it will still float level the right way up.
The CV models also incorporate the side shelves in the cockpit which are ideal for rod storage, and bulkier items such as water skis. In the Coast Runner you get the moulded side panels which provide a little bit of storage space; and because you have the foam filled sides you do lose a little – a bit of a compromise really.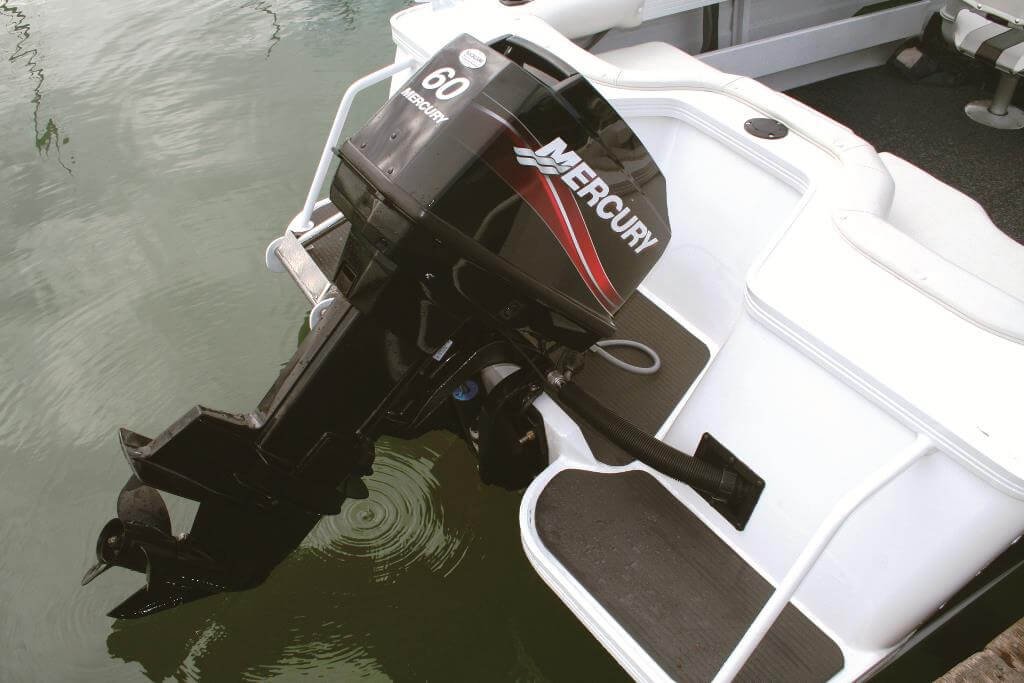 Quintrex's Coast Runner range has seven models ranging in length from 4.35m to 6.35m.
Seating in the 470 Coast Runner CV is made up of two pedestal seats forward, while a rear folding lounge seat with backrest is aft. This seat is fully removable, and quite easy to take out if you want to free up cockpit space for fishing.
Storage areas are plentiful for a boat of its size, with space available for'ard under the foredeck for jackets, bags etc. A huge glove box is positioned in front of the passenger seat and as well as being lockable is a great place to keep cellphones, etc. In addition, there are the large side shelves located on both sides of the carpeted cockpit.
Two open storage compartments are located immediately in front of the helm and passenger seats; and are also carpeted.
Further for'ard is the plastic moulded anchor locker that really quietens down the noise that can occur when underway in choppy conditions.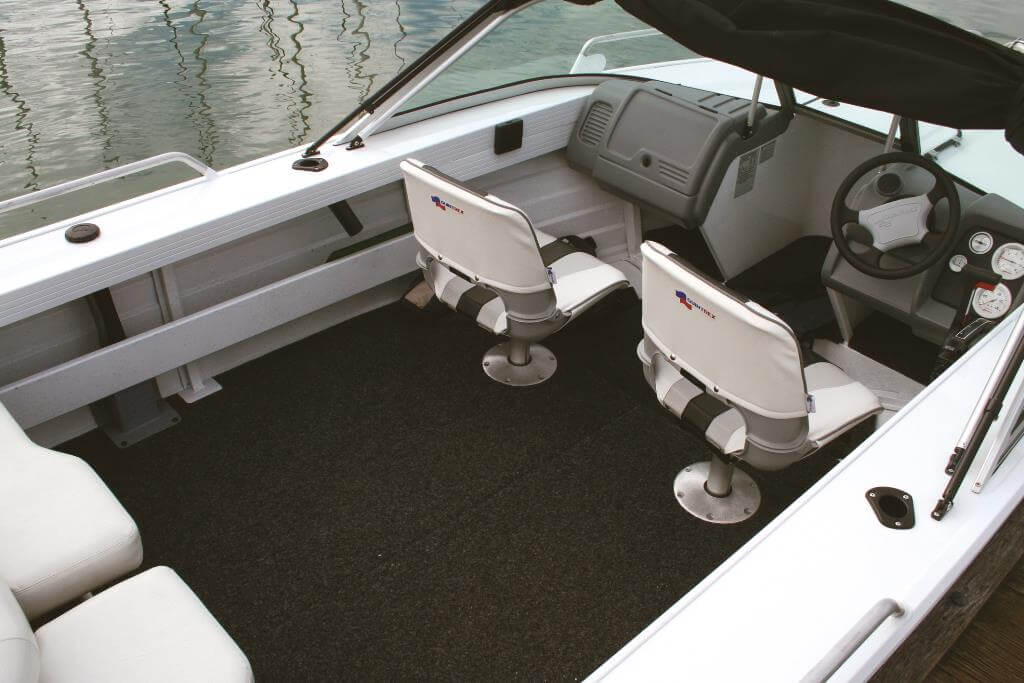 Access forward was via the split windscreen that was easy to get through, and has the new addition of a small hatch that lifts up, allowing you to get further forward and closer to the anchor well itself. The tidy and stylish Quintrex helm is a moulded plastic unit that houses the Mercury gauges. There is also more than enough room to accommodate a VHF or a small fishfinder fish finder if you wanted.
Test day conditions were mirror smooth, so it was hard to get a feel for the boat in rough water basically because there wasn't any!
The Coast Runner models feature Quintrex's famed Millennium hull with its flared bow. I've tested out similarly sized Quintrex models in varying conditions and the boats seemed to perform well. The hull will soften up the ride quite substantially and the flared bow ensures that it remains dry.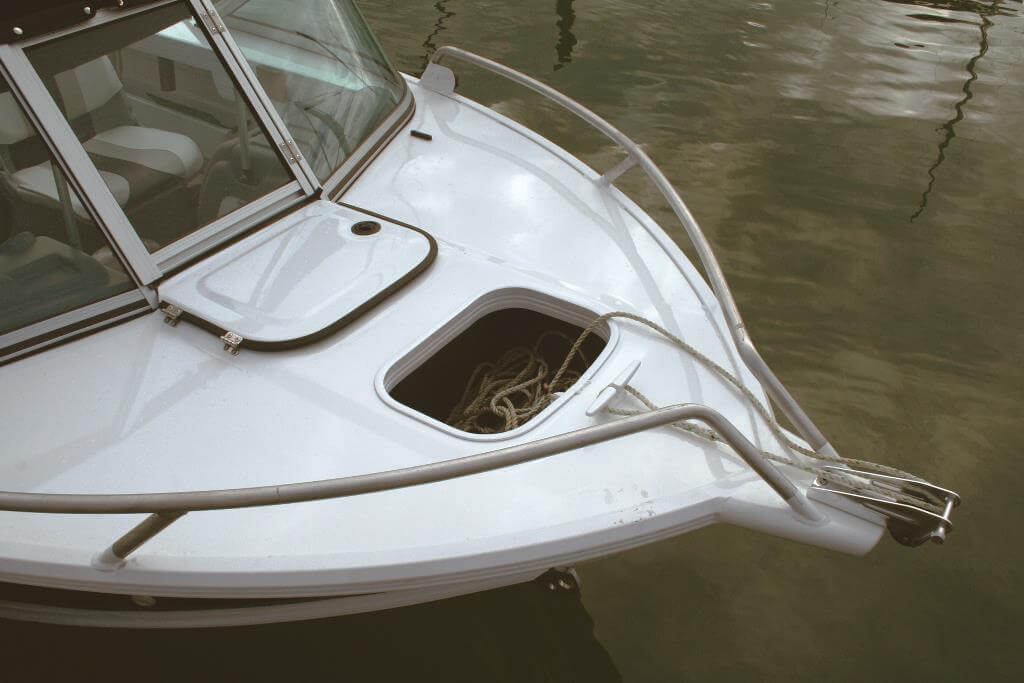 Realistically it's the kind of boat that will see you doing inshore boating; and if it does turn a bit rough, you'll be able to get home without too much worry.
The seating position was comfortable, with the steering wheel and throttle positioned well. However, I found myself either peering over the windscreen and through the canopy clears, or looking out below the top of the windscreen – the compromise you have to take sometimes to be out of the wind.
When I was brave enough to face the cold winter breeze I found the standing position really quite good. There was plenty of room to stand and the steering wheel and throttle was within easy reach.
Quintrex also builds its boats with what it calls the 'Maxi 3 Transom'. This has changed slightly from the original Maxi Transom, and now has more of a curved trailing edge which Quintrex claims aids the boat's ability to plane and increases buoyancy.
Like all others in the Quintrex Coast Runner range, it also comes with the Maxi Bracket, which is a simple way of being able to attach such things as a berley bucket, auxiliary motor bracket, live bait tank, or the boarding ladder that we had fitted to our test boat; most buyers of the range opt for two brackets, one on each side of the outboard.
Recommended power range for this particular model is from 40hp to 60hp, with our test boat being fitted with a 60hp Mercury two-stroke which is fed by a standard 70litre fuel tank. I've always found that small boats are fun to drive, and give you equally as much pleasure as a larger boat. The 60hp Mercury two-stroke saw the 470 get up to 32mph; and it happily cruised at around 26mph.
The 470 Coast Runner CV is a very popular model that suits a variety of buyers; those who are first time boaters, with a couple of kids and a small budget; or for a mum and dad whose kids have left home and a small easily handled boat is perfect for their boating needs.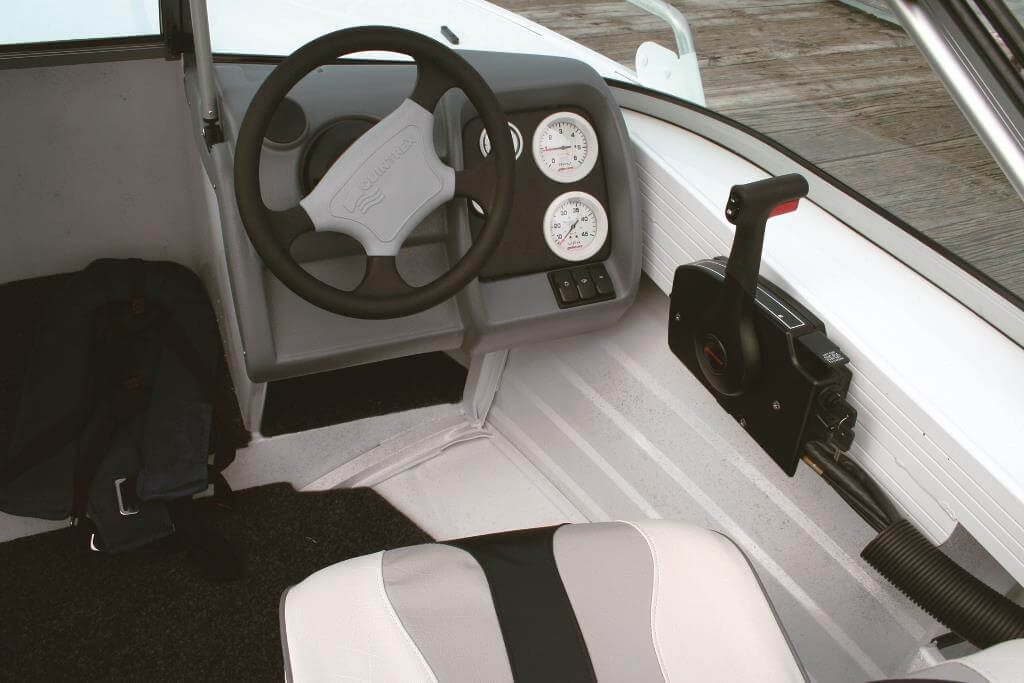 Quintrex offers something in between the traditional aluminium boat and typical fibreglass boats – where you get the durability of an aluminium hull and the plush and warm interior finish of a fibreglass boat.
The CV package is also great; essentially it takes all the guess work out of the purchasing decision; with everything that you're initially likely to need being included. So for those who are new to boating and a first time buyer, the CV range is perfect. Other benefits are that the boat is easily towed; so an expensive, bigger tow vehicle isn't needed, and the package price of $29,390 is great value for money.
Model: 470 Coast Runner CV
Price as Tested: $29,390
Packages From: $27,990
Designer: Quintrex
Material: Aluminium
Type: Runabout
LOA: 5.16m
Beam: 2.1m
Deadrise: Variable
Hull Configuration: mono
Trailerable Weight: 1000kg
Height on Trailer: 2.03m
Engine Capacity: 40-60hp
Power Options: Outboard
Fuel Capacity: 70L
750 rpm
 
1.5 mph
1000 rpm
3.0 mph
1500 rpm
4.5 mph
2000 rpm
6.0 mph
2500 rpm
9.0 mph
3000 rpm
15.0 mph
3500 rpm
21.5 mph
4000 rpm
26.0 mph
4500 rpm
28.5 mph
5000 rpm
32.5 mph