Quintrex is a brand that has been widely recognised on the New Zealand market for a number of years, and as an import has enjoyed a lot of success with kiwi buyers. The centre console Quintrex Legend models have proved very popular on these shores. Freddy Foote checked out the Quintrex 510 & 580 Legend models.
New Zealand's newest Quintrex dealer is Tristram Marine at Te Rapa straight in Hamilton, which has made significant gains for the brand. Since taking on the Quintrex just a year and a half ago, Tristram Marine has recently been named as Quintrex's International Dealer of the Year.
"We're very happy to have received the award. It's given due to a lot of merits, not just numbers of boats sold, but website design, professionalism etc," says Lance Fink, managing director of Tristram Marine.
Having been more widely known for its prestigious Tristram brand of fibreglass boats, Tristram Marine had been on the look out for an aluminium brand to complement its own range.
"The centre console range has been really good for us since we took on Quintrex – it's an alternative type of boat that hasn't been available so much in New Zealand. We think it's a concept that New Zealanders will love," says Lance.
The Centre Console Legend range has 6 models to choose from, the largest being the 620 and the smallest in the range being the 460. For our test, we decided to feature two models in the middle of the range, the 510 and 580, both with Yamaha outboards.
The first thing you'll notice with a Quintrex, and what I've always noticed, is its high level of finish and attention to detail. Quintrex seems to fit so much into each and every boat and then some, making them versatile, practical and excellent value for money. Given that Quintrex produces around 15,000 boats out of its Gold Coast factory every year, the company is certainly doing something right!
The layouts of the two boats are very much the same, with both sharing many of the same fittings and components. The major difference is in length and also the 510 is 90mm narrower, thus the slightly smaller internal room on the 510 model.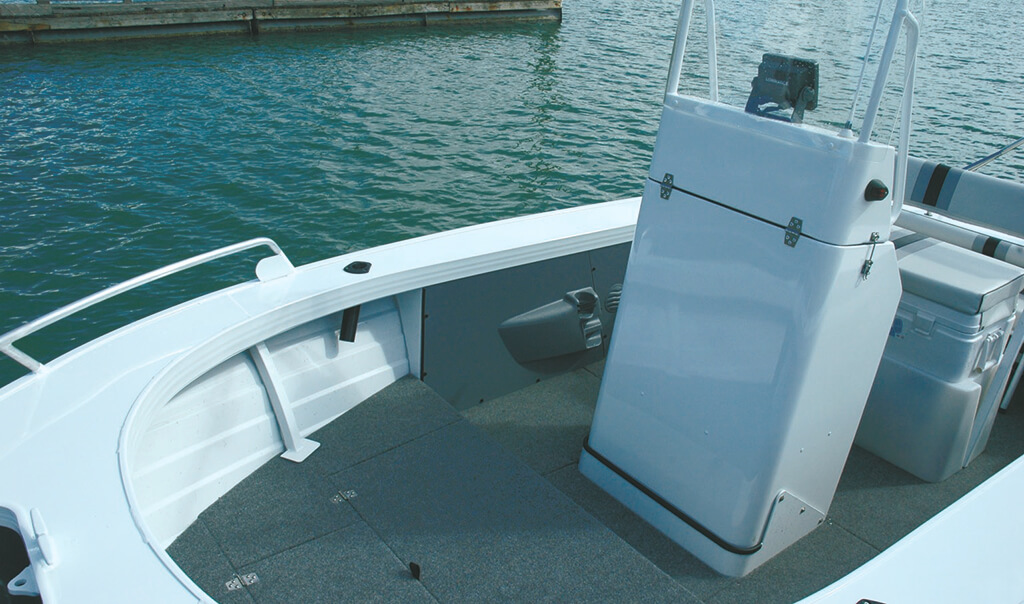 In the forward section, Quintrex has what it calls a casting platform, which is raised slightly above the floor of the boat. It incorporates a storage locker as well as an optional 38L live bait tank.
Both boats also feature Quintrex's new side panels, which give the boats a smart look rather than having bare metal or a plain carpeted side. The side panels are standard throughout the Quintrex range from the 460 through to the 540 models. Features of the panels include built-in drink holders, horizontal fishing rod brackets, cockpit lighting, a storage compartment, as well as an allocated space for stereo speakers if fitted.
Like we've seen in other Quintrex models that we've tested, the Legend range also comes fitted with the Maxi Bracket, which is a simple way of being able to attach such things as an auxiliary motor bracket, berley bucket, live bait tank, or boarding ladder.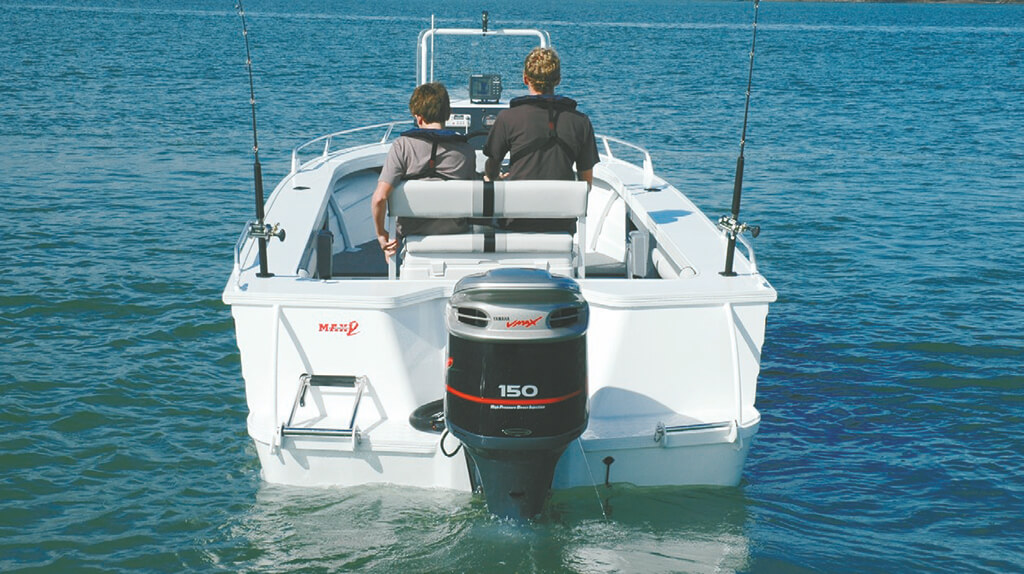 Test day threw us a real mixed bag weather wise; on arrival at the ramp we were greeted by heavy rain, forcing us to sit in the car for 20 minutes, waiting for it to clear – not ideal conditions for a centre console! Mind you, we weren't so much worried about the boats, but more the crew onboard!
Given that the boats are centre consoles, the helmsman and passengers are open to the elements somewhat, with the windscreen providing limited protection. I found the seated driving position really good, with the large bench seat being really comfortable, however the standing position I felt is just a little cramped for my liking. If it were for me, I'd be inclined to move it back about 100mm, to give me that little bit of extra room behind the steering wheel.
The dash area on both boats was tidy, and incorporated the Yamaha gauges and VHF, while above and protected by the windscreen was a Lowrance sounder. Mounted on top of the windscreen itself was a small navigation light. A really neat extra feature was that the console itself folds down simply by unhitching two latches on the sides, this enables the boat to be stored away in a garage where height might be an issue. Passenger comfort and safety was also notable, with a handy grab rail built into the console.
Storage throughout the boat was quite plentiful with a large amount of storage space available under the console, with storage down on the floor and a small shelf further up for smaller items.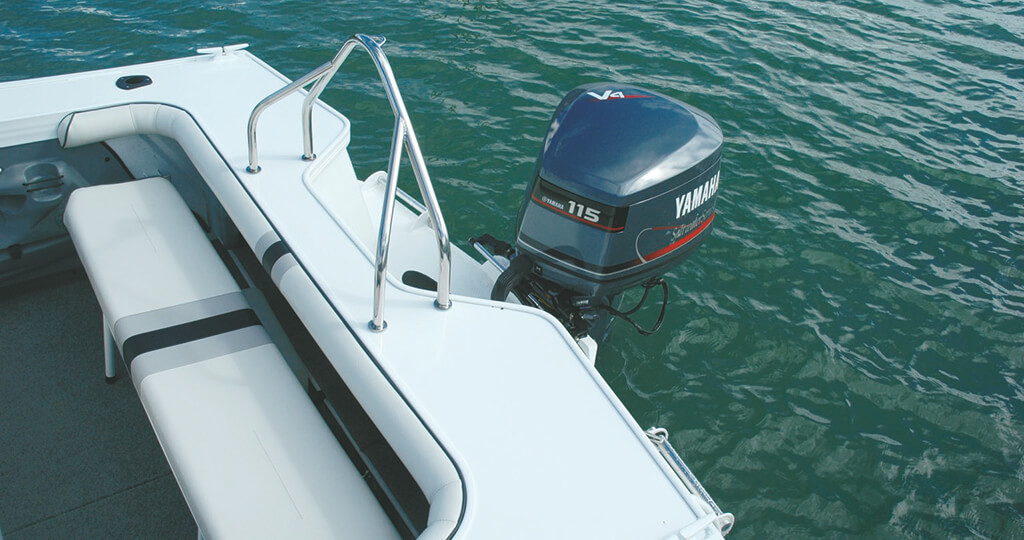 Both models came with a removable bench seat aft. The base of this seat can fold down to create more cockpit room for fishing, or it can be removed altogether. A backrest is built into internal aft coamings of the boat, and doubles as a padded thigh rest if you're hooked up on a big one and want the extra support.
Our 510 model was fitted with a ski hook, which has also been designed in such a way that the bait board simply fits over the top and locks into place.
The 580 Legend test boat was fitted with a Yamaha 150hp HPDI V-MAX direct injected 2-stroke and provided quite blistering performance. Acceleration out of the hole was excellent, and it's advisable to notify your other crew members as to when you're going to apply all the power! The 580 performed well right through the rev range, and flat out, gave a respectable 47.5mph@5400rpm. The engine was quite new, with only 7 hours on the clock in the hands of its new owner, so given a few more hours I wouldn't be surprised to see it crack the 50mph mark.
While I tested both of these boats on a very calm Auckland harbour, needless to say they went well. I did get the opportunity to test another 580 model on the Gold Coast last year, where we took the boat through a very rolling and rough bar. Going over the big rolling swell the boat performed well and, letting the flared Millennium hull do its thing, delivered a very dry and stable ride.
The smaller 510 Legend came rigged with a Yamaha 115 carburetted two-stroke, and although that's a tad more than the recommended maximum power, it's nevertheless a good all-round package. Obviously, for the price conscious buyer, you can fit a smaller motor and the 510 is rated for as little as 70hp.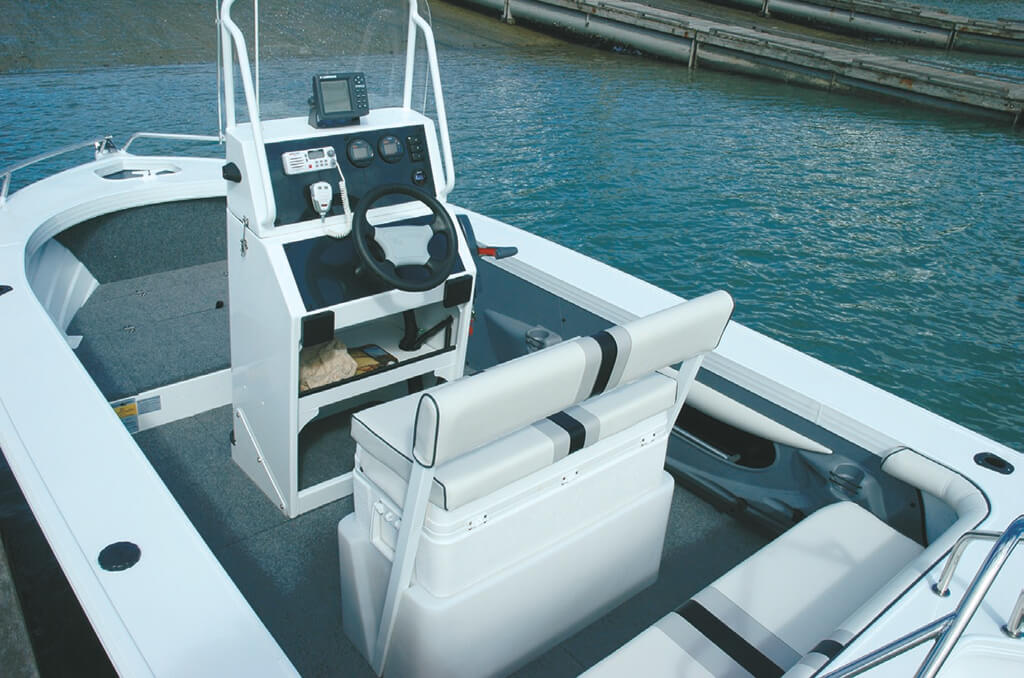 A speed run up Auckland's upper harbour saw the 510 reach 43.0mph@5400rpm.
Both boats feature Quintrex's maxi transom which provides excellent stability and aided the boats in getting up on the plane.
Another point I noticed was how well the boats track in corners. All of Quintrex's boats from 3.5m and above feature the 'T keel'. It is a single piece of extrusion built into each boat's internal hull, with a small exterior keel for structural strength. Basically when you put the boat into a turn it really holds on hard, like it's on rails.
All models come standard with the Maxi 2 Transom for extra buoyancy aft, and the Maxi Bracket, for adding berley buckets, auxiliary motors or ladders. The seating conceals a 94L fish box, and all hatches are alloy core, to prevent warping. Tristram also includes hydraulic steering, VHF, Lowrance sounder, Kingsway trailer and Vibra-stop as standard on all models it sells.
Each Quintrex boat that Tristram Marine distributes here in New Zealand is fitted with Tristram's own brand of trailer, called Kingsway, made just down the road by Voyager Trailers.
Overall, the 510 and 580 were great packages, and are the kind of boats that will suit the serious fishermen out there, who want plenty of space for around four people to fish comfortably and not get in each other's way.
"Quintrex pricing is very competitive and the boats have a lot of great features in them as standard. They look good – we bring all of our models in painted – and they perform well too," says Lance.
With nothing really else like it on the market, they offer a lot and have great appeal.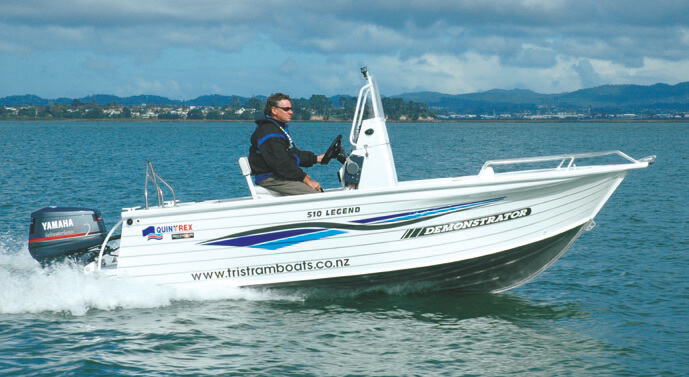 Model: Quintrex 510 & 580 Legend
Price as Tested: 510- $42,800,  580- $58,900
Designer: Quintrex
Material: Aluminium
Type: Centre Console
LOA: 5.26m  6.00m
Beam: 2.30m  2.39m
Hull Config: Concave V warped plane
Trailerable Weight: 1100kg, 1400kg
Engine Capacity: 70-100hp, 115-150hp
Power Options: Outboard only
Fuel Capacity: 95L, 120L
Make: Yamaha
Model:    115 2-stroke, 150 HPDI 2-stroke
Horsepower: 115, 150
Cyl. configuration:    V4, V6
Max rpm:   5400
Propeller: 19"pitch aluminium
Retail Price:  $13,226 ,$22,338