The Quintrex brand offers another dimension to aluminium boating to the kiwi boating public. Perhaps not as bare and a little more plush than some kiwi equivalents, they offer that little bit extra. Freddy Foote tested the new generation Quintrex 540 Spirit.
The Australian Quintrex brand has been available in New Zealand for a number of years, and the name has become known through its strong and growing dealer network and a large presence at boat shows.
Quintrex boats have a family fishing slant; and as a whole, are quite highly spec'd aluminium boats.
Andrew Hope of Auckland Marine – New Zealand's longest serving Quintrex dealer said "Quintrex's are really bridging the gap between the aluminium and fibreglass boat market. In the past you had your traditional aluminium tread plate floored boat, which was very functional but almost a little agricultural, and then you had your fibreglass boat which is at the other end of the scale. The Quintrex range sits in the middle."
Essentially, Quintrex gives you the best of both worlds – the lightness and low maintenance of aluminium combined with nice interiors with carpets, upholstery and a few finer appointments.
Quintrex is big on promoting the safety aspects of its boats, and the 540 Spirit model is no different. Quintrex boats have what the company calls 'level flotation', which provides reserve buoyancy for the occupants and their gear; and the company claims that its boats float right way up in the water. Another prominent feature is the self-draining sole through scuppers out the transom.
"We've found this model to be very popular with existing Quintrex owners. They'll start with a dinghy/Dory or a Coast Runner runabout, then the natural progression from there is into a cabin boat; a boat with a little bit more shelter, more space and will allow them to travel a little bit further," Says Andrew.
The 540 also features Quintrex's new side panels – a new feature that Quintrex introduced into its model line-up last year. I think they look good and give the boats a smart look rather than having bare metal or a plain carpeted side. If there is a downside, you lose the big side shelves that are usually a big feature on an aluminium fishing boat. However, Quintrex has actually, utilised this space for buoyancy; some you compromise a little bit of storage and practicality for safety and reassurance.
The side panels are standard throughout the Quintrex range from the 460 through to the 540 models. Features of the panels include built-in drink holders, horizontal fishing rod brackets, cockpit lighting, a storage compartment, as well as an allocated space for stereo speakers if fitted.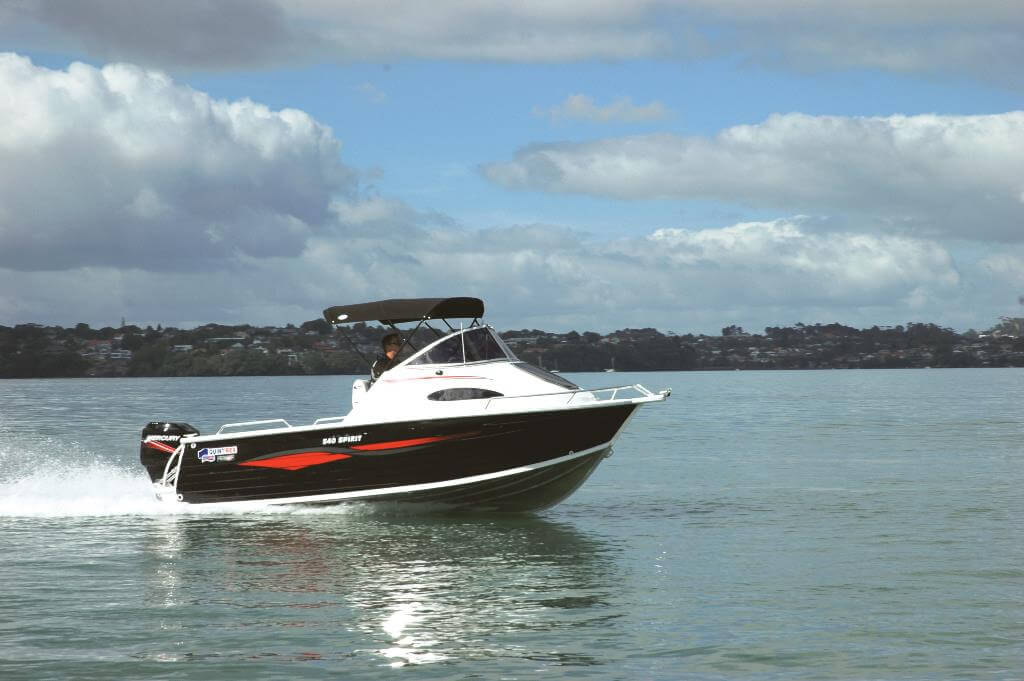 All models also come standard with the Maxi 2 Transom for extra buoyancy aft.
One of the big selling points on the Quintrex range is the transom feature known as the Maxi Bracket, which is a simple way of being able to attach such things as an auxiliary motor bracket, berley bucket, live bait tank, or boarding ladder.
The 540 Spirit sits in the middle of Quintrex's cabin boat range, with two smaller models; the 480 and 510 available below, while above sits the 580 before the range expands into the Offshore range which goes up to 6.7m.
The forward cabin provides an ideal place to stow gear, with a small amount of storage available under the bunk bases. Our boat just had the carpeted bunk bases; an option for bunk cushions or squabs is also available.
The 540 Spirit is a small cabin boat, so in a sense you wont use the cabin for much more than stowing a bit of gear, and somewhere for the kids to retreat when they tire of being on the water. A large hatch in the foredeck allows access to the anchor well to perform anchoring duties.
For passenger comfort, grab rails are available for the passenger along the inside edge of the cabin entrance and a small storage shelf is available along the port side.
The moulded dash is filled with engine instruments and switch panels; any extra electronics you might wish to fit would have to mount on a bracket above.
A removable bench seat aft has a base which can fold down to create more cockpit room for fishing, or it can be removed altogether. A backrest is built into the internal aft coamings of the boat, and doubles as a padded thigh rest if you're hooked up on a big one and want the extra support, although this padding doesn't extend further around the cockpit sides.
In the starboard corner, there is a small walk-through out onto the transom that leads to a boarding ladder. A small door slides neatly into place to close off the walkthrough.
Our 540 Spirit test boat was powered with a 90hp Mercury two-stroke outboard, the minimum engine rating for the model. It performed well, giving the boat a top speed of 40.0mph @ 5800rpm, and a comfortable cruising speed of 30.0mph @ 5000rpm. The 90hp engine was the perfect package for a boat of this size; an 115hp outboard can be fitted if you wish, and might be sightly better if you're looking at doing a bit of water skiing.
Test day conditions were beautiful, with a bit of early morning cloud quickly burning off to reveal some clear skies and mirror-like water on Auckland harbour. It was hard to believe that summer was officially over and autumn had begun.
Finding a bit of disturbed water, the 540 Spirit seemed quite confident in handling the swell and chop. The boat gives the feel that it has quite a wide 'footprint' and won't do anything untoward, while the famed Quintrex flared Millennium hull delivers a very dry and stable ride.
The driving position wasn't quite to my liking and probably the only thing I could fault with the entire boat. The seats were perfectly comfortable and again as on previous models feature the reversible backrest seats; so you can quickly transform the seat to face aft, somewhere to sit when you're fishing.
What I found was that the footrest wasn't positioned correctly, sitting in the seat, I had somewhere for my right foot to sit, but nowhere for my left foot as the footrest seemed to just end; not a major issue, just more of a inconvenience.
A curved windscreen provided plenty of protection from the wind, and the bimini top was also another great feature, very rigid and sturdy and didn't flap or make any noise while underway.
One other important point to note is also how well the boat tracks into a turn. This is something I have noticed on all the Quintrex's I've tested in the past. All of Quintrex's boats from 3.5m and above feature the 'T keel'. It is a single piece of extrusion built into each boat's internal hull, with a small exterior keel for structural strength. So when you put the boat into a turn it really holds on hard, like it's on rails.
As I've said before, in reviews of past Quintrex models, they offer a lot to the kiwi buyer and truly offer a point of difference. It's a very good entry-level boat for a first time boater, or for those who are wanting to move up and make the natural progression to a larger model.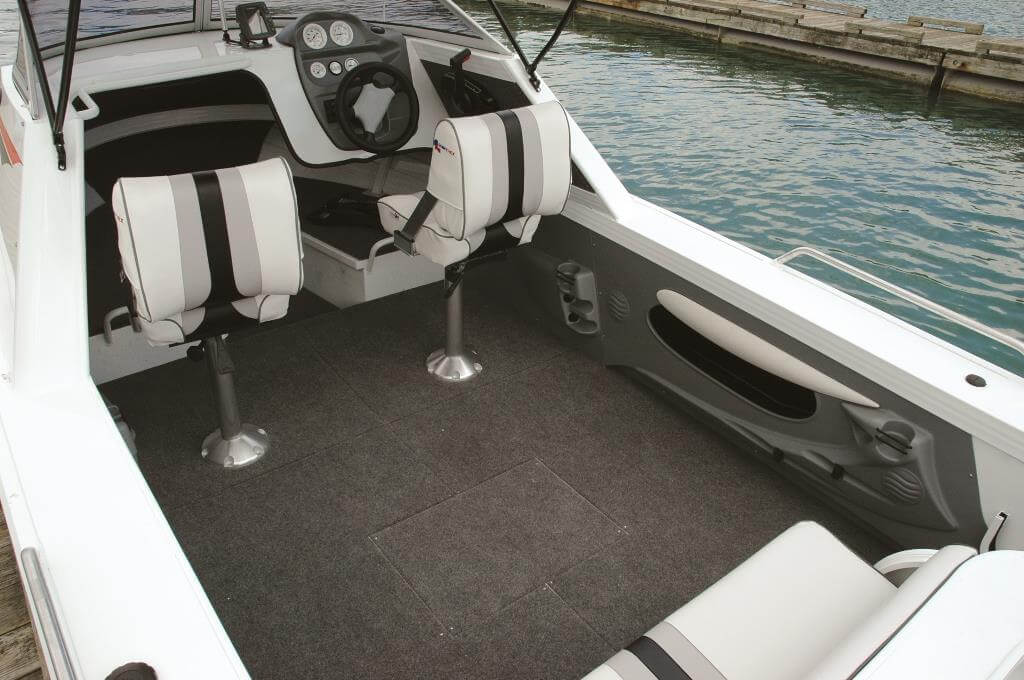 Obviously, for a boat of its size, it's going to be easily handled either by yourself, or launching with the family, and can be towed quite safely with the average family saloon and launched at a ramp or off the beach.
Also worth noting is the high level of appointments that are included in the standard package, these include: the fully painted hull, reversible seats, underfloor fuel tank, folding rear lounge and backrest, a VHF, Lowrance Sounder, 2 drink holders, auto bilge pump and wash deck, the maxi bracket, compass and navigation lights; some of which other manufacturers will have you paying extra for.
Its high spec'd interior will be well received by most boat buyers including women and children. Quite simply, it's an ideal all-rounder.
Model: Quintrex 540 Spirit
Price as Tested: $49,790
Packages From: $46,995
Designer: Quintrex
Material: Aluminium
Type: Cabin
LOA: 5.62m
Beam: 2.38m
Deadrise: variable
Hull Configuration: Moderate V
Trailerable Weight: 1100kg
Height on Trailer: 2.62m
Engine Capacity: 90-115hp
Power Options: Outboard
Fuel Capacity: 95L