Ramco Boats new Explorer 760 Hardtop opens a whole new world of boating pleasures to you. This is a boat that's designed by a blue water fisho for blue water fishos and there's no pretending anything otherwise. It may lack the frills the wife wants, but for anyone 'into' fishing and diving the 760 HT is your sort of boat. To be fair, being aluminium you can spec the boat totally the way you want it and that includes transforming it into a self-contained weekender.
Two metre swells off Pauanui. So what. Bill Mackrell reads  the waves, waiting for the crest, then thumps the throttle. The 4.3LX Plus MerCruiser feeds the power onto the Alpha One drive as almost eight metres of boat launches itself skyward, landing softly and in control. Humming along at 30 knots, It's only a short trip up the coast to his favourite crayfish spot. The 760 covers the few kilometres with ease.
A heavy swell rolling in from the east  makes the ride interesting, the deep vee hull slicing through the waves. There's a feeling of security and comfort from under the hardtop, giving you the impression you're in a much bigger boat.
Surprisingly, the hull runs quite flat and doesn't respond to too much trim. The extra forward weight of the hardtop and the fact that we only had 200hp on tap probably attributed to its flat riding angle. With more power, I feel confident the hull would break free easier and carry its weight better. It's not the sort of boat you toss around like a jetski, but when cornering hard its wide beam and length leaves it standing very level even in the tighest turn.
Weighing in at 2000 kg, the 760 is definitely in the heavyweight division of the trailerboat market and no effort has been made to cut corners in a quest to lighten the hull. After all this is a bluewater craft and weight never hurt a boat that's designed to punch through heavy weather.
The Ramco 760 is a move up from the 720 that I tested over the same piece of water more than a year ago. So it came as no surprise when we approached the Tairua bar with little trepidation and the throttles almost hard down. As it turned out, there was only a gentle but steep swell to contend with and, even on our return, the 760 never looked out of sorts.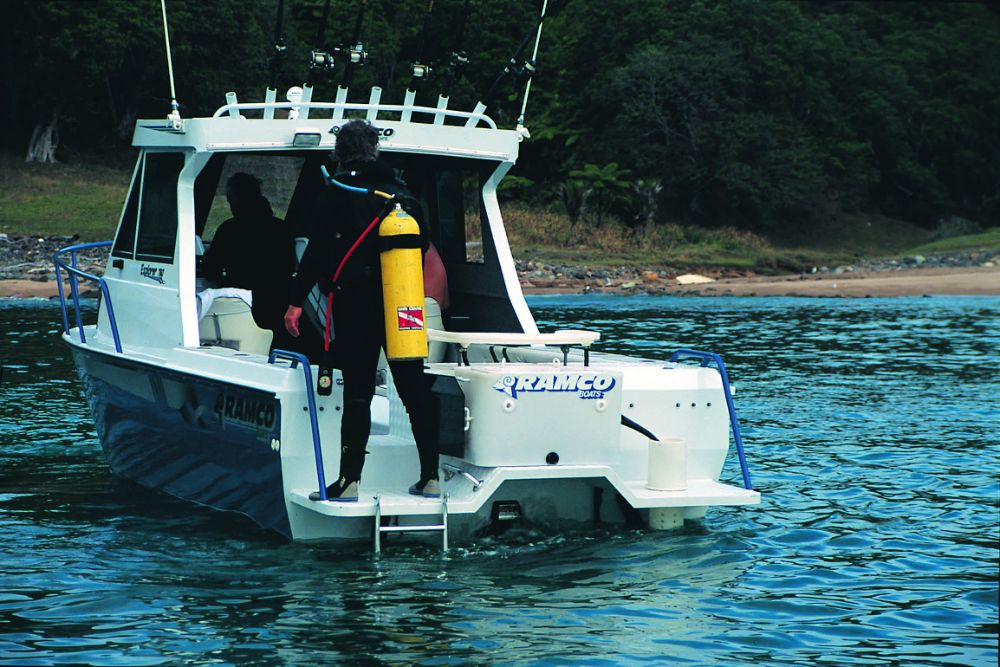 The Ramco 760 is bigger all round than the 720, although the layout inside the cabin is very similar and is available in either hardtop or open-cuddy versions.  If you are serious about your fishing and diving, and don't care too much about the sort of weather you go boating in, then I would recommend the hardtop. You certainly stay warm and dry, with the seven-piece armourplate glass screen looking after the spray and the odd green wall of water. There's a windscreen wiper to help you see when the going gets rough and sliding side windows assist with airflow under the hardtop.
The other big advantage of the hardtop is there's a place to put the rocket launcher, GPS, radar and plotter domes, VHF aerials, cockpit spotlight and handrails for
security when going forward.
Being aluminium, there is also the option to customise the layout. This extends to just how long or short you want the hardtop and side panels, or if you want a rear bulkhead and even a fully-enclosed wheel house. The whole forward cockpit area can be turned into a secure helm station with dinette and small galley
The large cuddy has sitting headroom for two to four persons and a full length vee berth. With infills this converts to a huge pad. In the centre there's the choice of a chemical or fully plumbed head. Storage is available in side shelves and under the squabs. The forward bulkhead has an access port to the anchor locker, to allow you to sort out the tackle should it build up as it drops from the fully-automatic Lofrans winch. This boat is set up so you don't need to go forward to do your anchoring, and in some of the sea conditions that it's destined for, who would want to?
Full fabric lining inside hides any hint of aluminium, giving a warm appeal to the area. A portside shelf incorporates a small gas burner, big enough to boil the jug, or a frypan with fresh fillets of snapper. If you want to lock the cabin, Ramco have introduced an interestingly shaped roller door that allows a very large companionway between cabin and cockpit. You won't knock your head when you head inside to the head, as it were.
The self-draining cockpit is massive, with a chequerplate floor and large holding sumps either side of the engine box. After all, this is a fisherman's cockpit and there doesn't need to be anything that's not necessary. Seating in our test boat, (designer Bill Mackrell's own), were twin swivelling bucket seats on high aluminium box bases and small aft-facing jump seats. The back seats lift off for storage access. With the custom option you can have just about any seating layout you like.
The helm is set up to take as many electronic extras as you want and in the case of our particular boat, we had a Raytheon colour sounder, electronic charting system and fishfinder plus an Apelco VHF to sort out our navigational and communication needs. And there was still room for more. Instrumentation is well catered for, with a large dash panel which incorporates all the switches and buttons that you need when setting up a serious fishing rig.
No problems in this boat stowing your mobile phone, keys, camera, charts etc., as there's a large area with high upstands forward of the passenger seat.
Other storage areas are in huge side trays either side that are wide enough to take dive bottles, boat hooks and fishing rods. Under the main floor there is another cavernous space, good for dive bottles and assorted gear.
The wide side decks with antiskid panels glued over are purpose designed for fishermen and have the added bonus of padded coamings and a deep recess below the coaming shelves. Ideal for bracing against when the kingies are running hard. This also acts as a launching platform for divers and if you haven't got a baitboard you can use it for that as well.
More and more boats of this size are being powered by sterndrives and the 760 is no exception. The MerCruiser V6 is covered by an alloy engine box, lined inside to deaden the noise and finished with a seat cushion. Above is a large optional baitboard and, on either side, hatches give access to the batteries and mechanical gear associated with the electrics and steering.  A walk-through transom gives access to the full width boarding platform and the drop down ladder. The divers along for the trip all commented on the ease of getting back aboard and the open space of the cockpit when gearing up before the dive.
The hull is built strong to handle the sort of abuse that Ramco know it's going to get. The underwater running surface is 5mm aluminium plate, with 4mm on the sides and all the deck and super structure is 3mm & 4mm.
The 760 is aimed at the sport-fishing market, but it is also ideal for a big family who appreciate that boating isn't always going to be in calm water. Customised, this would make a great weekender. Launched in June 1997, twelve 760s have been built to date, the majority being cuddy cabins. The hardtop adds $2500 to the price but it makes a very different boat out of it that you would probably use more through the year.
If it was me, I would go for the MerCruiser V8 Magnum as I felt 35mph just wasn't enough. I would expect around 50mph from the Magnum and a boat that would handle even better than it already does.
The ability to customise is certainly an advantage that fibreglass boat builders can't offer and this is also a major plus for a boat of this size. It's a big boat that comes with a big reputation from the country's biggest aluminium boat builder.
And yes, that favourite crayfish spot delivered as promised!
Model: Explorer 760 HT
Price As Tested: $90000
Price Boat Only: $43000
Designer: Bill Mackrell
Materials: aluminium
Type : Hardtop
LOA: 7.60m
Beam: 2.50m
Hull Configuration: Deep vee
Deadrise at Transom: 21 degree
Trailerable Weight: 2000 kg
Engine Capacity: 200 – 300 hp
Power Options: outboard, sterndrive or jet
Fuel Capacity: 240 litres
Cockpit Length: 3.35 m
Cabin Length: 2.00 m
3000 rpm @ 18 knots                      (20.7 mph)
3500 rpm @ 22 knots                      (25.3 mph)
4000 rpm @ 25.5 knots                  (29.4 mph)
4500 rpm @ 30 knots                      (34.5 mph)
NOTABLE STANDARD EQUIPMENT
240 litre fuel tank, deck hardware, rod holders, live bait tank, bilge pumps, navigation lights, washdown pump, single burner cooker, bowsprit, dive ladder,
OPTIONS ON TEST BOAT
Bowrail, burlet bucket, carpet, fishbin, rocker launcher, chemical toilet, trim tabs, Marlin Lofrans windlass.
Make: MerCruiser
Model: 4.3LX / Alpha One
Horsepower: 205
Cylinder Type: V6
Displacement: 4.30 litres
Max RPM: 4800 rpm
Propeller: Mirage Plus 17"
Retail price: $16082
Make: Voyager
Model: CH 102
Braked: Hydraulic override
Suspension: Spring
Rollers: multi roller
Retail Price: $7000
Std Features: Submersible lights, wind-up jockey wheel.