Ramco has a tradition for building family based fishing boats, but with the new stylish Ramco Predator 620, they have turned the tables with a serious sportfishing boat that has some family boating compromises.
Our bright yellow Ramco Predator 620 was the first of this new dedicated fishing boat from Ramco and at the time one of only two rigged and awaiting owners. Cliff Gadsby of Rotorua Marine & Leisure supplied the boat complete with a Mariner 115 4 stroke. It has a distinctive style all of its own that is a totally new look for Ramco. Similar in size to Ramco's Sportfisher 650 and Fishmaster 600, the most conspicuous difference is there's no raised foredeck or noticeable cabin. There is also a pronounced Raised sheer line for'ard, which gives the boat a bullish appearance and is only found in one other Ramco, the big Sportsman 8500HT. The reason for the broad flat deck and wide sidewalks, I was told, is to allow fishermen to utilise the forward area for fishing. Anti skid deck tread covers the entire area and there is nothing in the way to catch your feet on.
A high alloy split rail gives added security if you are up there working a big King or Trev. Our test boat was fitted with a fully automatic Quick windlass, which allowed all the anchoring chores to be carried out from the helm. The Sarca anchor pulls up into the especially designed bowsprit so there's no need for an anchor hatch. If you don't have the windlass option then a standard anchor locker is fitted. However, while the style may be very well targeted to serious fishermen, there are some unexpected internal comforts that still make it a practical family boat as well. Under the foredeck is a surprisingly large space with full-length berths and an area that with an infill makes-up to a huge accommodation area. While the low profile deck obviously cuts back on sitting headroom -there is still space for 2- 3 adults- inside it provides a great dry storage area.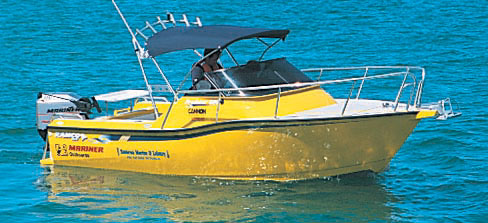 Ramco finish off the cuddy cabin with a full fabric lining so there's little obvious aluminium to be seen. There is an option for a head under the centre squab and a roller door or clip-on canvas if you want security and/or privacy. There are solid rear bulkheads with a raised central panel to stop any water entering the cabin sole. Storage is provided in short side trays either side and in shallow recesses under the squabs. The bulk of the space under the berths is taken up with built-in positive buoyancy. The Predator 620, like most of the larger Ramcos, passes the stringent CPC flotation criteria, which requires a boat, complete with engine, to stay afloat when fully flooded. When you talk about a boat that's primarily designed for sports fishermen then you know even before you get aboard that the cockpit will have come in for special attention.
In the case of the Predator 620 it's all about space and providing a fully workable area. It's a 3- 4 fisherman cockpit, which is extended in area by the especially designed foredeck platform. Being a fisherman himself, designer Bill Mackrell knows what's needed and has gone for the simple yet practical approach. Firstly there is the full self draining floor with generous scuppers to keep the chequerplate sole water-free. The coamings are at the right height for stand-up fishing and the wide flat side decks don't have rails or raised deck fittings to get in the way. As the foredeck area is also designed to be used, the access to the side decks is unobtrusive and the optional rocket launcher is of such a substantial size that it makes a firm handhold. It's also plenty strong enough to use as a tow point for a wakeboard. It can also be folded down if you have a height problem when parking the boat.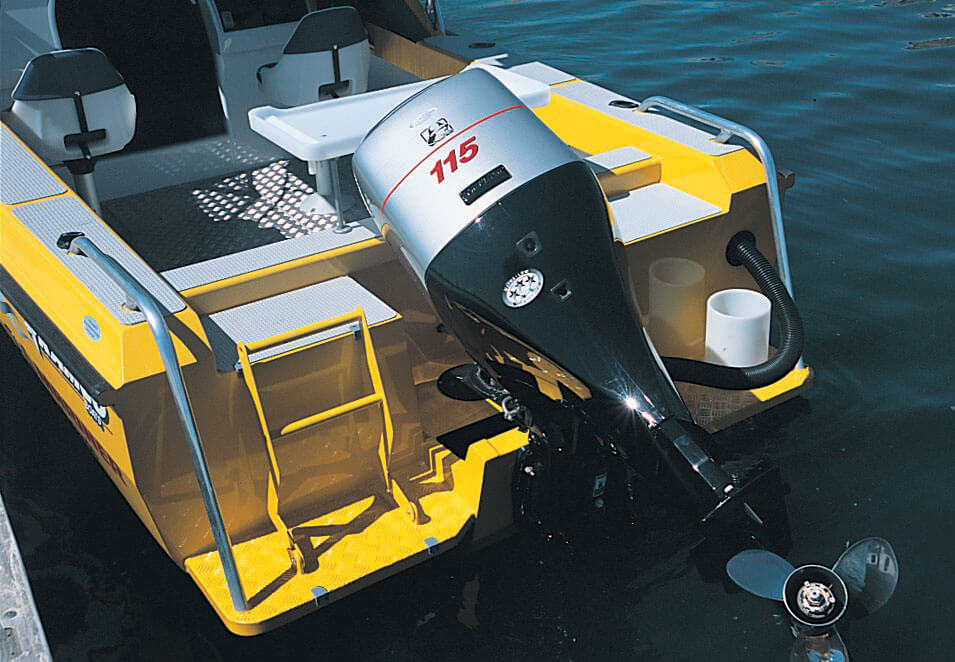 Over the transom is a built-in berley pot to starboard, a drop-down ladder opposite and a detachable baitboard in the centre. We had a Cannon downrigger mounted and ready for use by Cliff after my test was finished. With no underfloor storage you're going to need to bring along your own fish bin, as the space is again used for buoyancy either side of a 170 litre fuel tank. Rod storage is provided either in the rocket launcher or in side racks. A trio of So Pac hatches open under the aft deck to further storage areas and the twin battery set-up, complete with a battery isolating switch, which is a standard item in all CPC rated boats. Standard seating is twin MTI pedestal mounted bucket seats, but like all Ramcos there are plenty of other options with king/queens and a fullwidth rear bench. The bench is available in one- or two-piece and doubles as a wet area for bait or the day's catch. Being a fishing boat there's a good chance you are going to put in a fishfinder at least, so make sure you buy a bracket mounted one, such as the Bottomline Sidefinder Tournament Master GPS/sounder fitted to the test boat. The Predator dash is a basic flat panel around the helm that is suitable for instrumentation and a few switches but not ideal for flush mounting. Anything such as a fishfinder or GPS/plotter can be nicely mounted above the dash.
A couple of small sidetrays give you space for small items such as car keys, wallet, cellphone and handheld VHF. Considering that this is a boat that is destined to get used in some harsh sea conditions it comes standard with a 4 mm plate bottom and 5mm option. This also provides a stiffer and heavier boat, which does a lot for its ride in choppy water. During my test time in the Predator I managed to find some smooth water on the inner Tauranga Harbour for the GPS runs to a short sharp chop off the Mount. Nothing big, but the sort of water that can make riding in a lightweight low deadrise alloy boat uncomfortable. Not so in the Predator 620 that provided a comfortable run in the moderate conditions and even when I pushed the throttle to a maximum 5800 rpm @ 37.5 mph, the boat was smooth and predictable. Despite the high profile forward sections there was a noticeable amount of spray being picked up and flicked back against the screen, especially in the quartering sea. Adding more engine trim helped but effected the balanced ride of the boat. It corners like on rails and doesn't suffer any excessive heel while at the same time maintaining good power without labouring out of the turn. The underwater sections are smooth with a 17 degree deadrise and no strakes.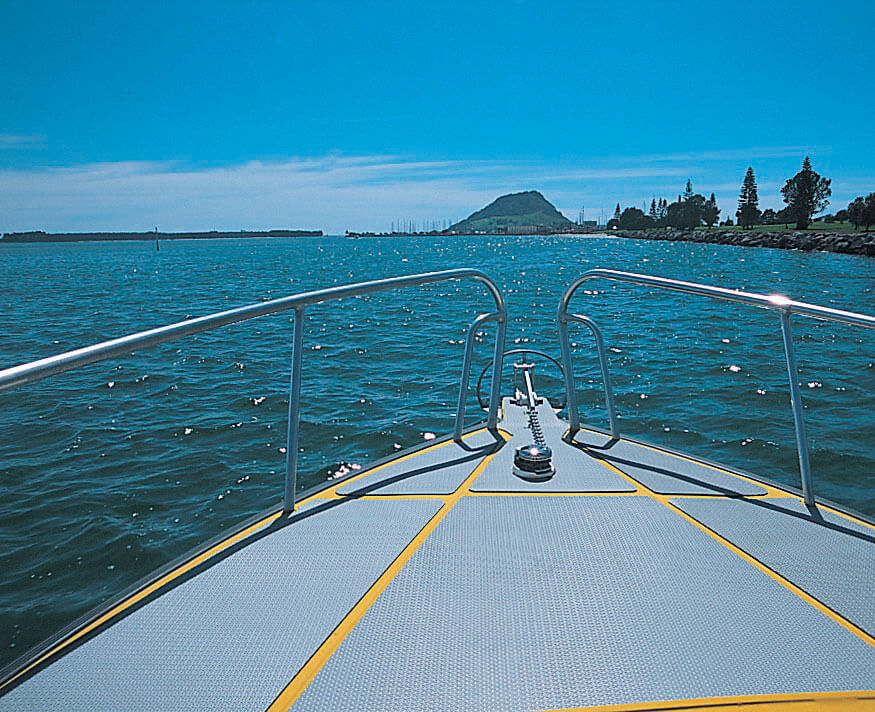 The boat is rated to 175hp, so the Mariner 115hp 4-stroke we had on the transom was really at the lower end of the power options and even though it ran close to 38 mph it would safely handle a 130hp – 150hp engine, which I feel would be a better combination. Acceleration was sluggish, which seems a trait of most 4-strokes, but it soon picks up speed in the mid range and reached maximum rpm after some serious over-trimming. At 5400 rpm it ran 34 mph with the engine on 1/2 trim. With a little coaxing and the engine out to maximum on the trim gauge I managed to crank the Mariner to 5800 rpm. Overall the Predator 620 presents a new look for Ramco. Whether it will be successful or not, only time and sales will tell. It's certainly a boat that serious sportfishing boaties will consider and yet does have the 'creature comforts' to make it suitable for a keen boating family.
Model: Predator 620
Price as Tested: $66,000
Price Boat: $25,002
Designer: Bill Mackrell
Material: Aluminium
Type: Cuddy Cabin
LOA: 6.21 m
Beam: 2.30 m
Deadrise: 17 degrees
Hull Config: Moderate V
Trailerable Wght: 1540 kg
Height On Trailer: 2.30 m
Engine Capacity: 100 – 175 hp
Power Options: Outboard only
Fuel Capacity: 170 litres