Mike Broome left the cold Kiwi winter behind for a classic Rarotonga Fishing Experience and came away totally sold on this small island paradise.
Today would 'freeze the balls off the proverbial brass monkey'! Why on earth wasn't NZ closer to the other Pacific Islands when the great plate shift took place? I'm not bashing my beloved country but when it's too early to ski and the rain and cold keeps coming – man could I use some good old 'laying in the sun holiday! Why don't we drape a bloody great bubble over the whole island and have the Government set up heating fans? Leave the South Island as it is – they're acclimatised!
They come up to Auckland wearing (still!) stubbies and jandals, moaning about the heat even in winter! I suppose it's like arriving in a sunny Pacific Island in their winter and the locals all have cardigans, wrapped up against the ferocious 21 degrees Celsius, and all the while I'm trying to figure out just which way around I'm supposed to wear a g-string pair of togs my wife thankfully bought me! Gawd! Do men who don't actually go in for the Hero parade wear these? No matter which way around you try to make them fit, they just DON'T!
Anyway, where was I? Oh yeah, that's right – the Rarotonga fishing experience. Don't give me Fiji, the kids and the girls love it, but where is the incredible fishing? My idea of fishing is not some reef fish weighing in at 5 grams and stretching flat out to 4cm! Four times I have had to endure a holiday there. I love the relaxation but only for a day or two before boredom sets in; I even managed to commandeer a resort manager's boat and his two crew once.
Not quite my fishing destination, although I must say I like the weather, people, and everywhere I have stayed although I really do think 'Speedos' are for those men with an athletic figure and should not be worn by middle aged men drinking mai tais!
I hear it said if you go north of Fiji you can catch some decent fish – but on a writer's budget it just ain't gonna happen, least not without being tricky to get to and twice the price!
To make the most of the Rarotonga fishing experience, Vanuatu was just the ticket! Giant trevally and excellent food! Popping with the locals, (I mean this as fishing terminology you junkie fiend you!) was definitely the best way to go, and with their French history, grain fed beef (that means very large and tender steaks) and abundance of Spanish lobster, I would recommend anyone to go! Raro? Well, up until last week, I was, quite possibly, one of the very few amongst my circle of friends who had not visited the island. When I say island, it's not a very big one, roughly the size of an old 50 cent piece!
You could drive around it three times for $20 worth of gas! Not in a V8 of course (I didn't see any of those), but they do have tiny weeny Nissans! Yep, no way you would ever lay eyes on one of these in Auckland! And for very good reason, the buses and trucks just wouldn't see you let alone feel you as they minced you up and spat you out!
Rarotonga Fishing Experience – Let's Go Fishing
Brilliant! Brilliant! Brilliant it was! The Rarotonga Fishing Experience has just became interesting. I had the chance to check out two local lads on two very different boats at either end of the island. Captain Moko won it hands down! In Captain Junior's defence though the morning fishing was hitting its strides and while I had great success in the morning with Moko the evening fish with Junior just didn't happen.
Let's talk Captain Moko. Apparently a legend in the tribal dance kit, Moko has been fishing (apart from the internationally acclaimed dancing) all his life! He operates the Tangaroa, an Osprey 6 metre, out of Avana Harbour and it was with him that I got my taste for Rarotonga fishing.
7am and I stepped aboard. This is the good part of the Rarotonga Fishing Experience. Moko had the baits and lures ready and off we headed through the reef and into some pretty big seas! Wind at 27 knots, swell around 3m – you can get the picture!
This is the thing about fishing Rarotonga though. 100m offshore and we're into 300m of water! 1km offshore and you are in 700-1000m! This is game fish heaven! No sooner had we set the gear (6 rods and reels) near the harbour's first F.A.D. (see pic) and we were hit! We landed a nice mahi mahi and set off up the island towards town.
I have to say not many boats went out this day, probably two or three including us, but after an hour the wind did seem to subside and I even managed a picture or two of our accommodation from the water.
Moko (means gecko in Rarotonga – not sure the connotations here) is one very experienced skipper! After observing another boat inside us, he waited until they had passed his favourite spot 'x' before telling me to get ready! "We're going to hit the same spot Havoc, so lookout!" "Ah yeah Roger that, Moko"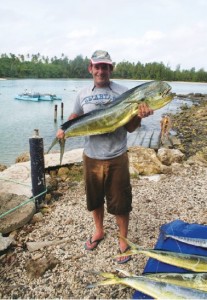 Before I could have changed gears in my convertible Nissan hire car we were hit! All 6! Supermen we are, but superhuman? Not quite! After trying to decipher a cross between Rarotongan and Maori war cries I
missed the apparently vital rod, and it was 5-1 to the fish! Gathering my thoughts and speaking a mixture of Swahili and public bar I managed to wrestle a smoking reel and rod from the holder and then hung on! Moko grabbed another and while I managed to boat one, we still had 4 on the go! Mahi mahi were leaping out of the water all over the show! They really put on an aerial exhibition but once we had them set to hook we knew we were on a roll.
1 – 1 to both men and fish! On my second fish, and Moko had his to the gaff, I did ask if he needed a hand, but in true 'skipper' fashion he declined, only to lose it at the boat! 1 – 2 to the fish! Without going into the next half hour we managed to boat four! 4 – 2 to me and the Captain! Not bad even if we do say so ourselves! Four mahi mahi and a small wahoo! Wa-hoo!
Arriving back at base, word had already been spread around and diners were salivating at the black-board menu at The Moorings! Jill's crumbed mahi-mahi, fresh wahoo and yesterday's tuna were on the lunch menu and I can only say one word! Damnbloodyheavenlydelicious! If a smaller boat seems off-putting, don't let it! The 150hp Honda and the Osprey handles like a dream – it tracked true and at no time, despite the rough conditions, did I feel the need to 'go for the wheel' when we were both fishing hard-out! Loads of room for three fisher people, skipper and perhaps an observer! Just don't be surprised if your charter is postponed though, I may have to kick you out 'cause I'm going back to fish with this guy – anytime! Not just because we had a great day, but because you just know when a skipper will deliver the goods if the fish are there.
All in all I found the Rarotonga Fishing Experience a pretty great place to holiday and fish. I think I'll head over again in marlin season, although there's nothing quite like dodging our blessed winter.