It seems like a lifetime since Rayglass launched the very first of its flagship 730 Legend series hulls, but in fact it was only in 1995. Barry Tyler was the lucky journalist who got to cover the debut of this now 'legendary' model, just five short years and six model sizes after Rayglass first entered the New Zealand market; and now Rayglass Boats has reached yet another milestone – with the production of its 200th 730 Legend model. Barry Tyler went back for another look.
Just as I was honoured then to have covered the launch of the very first Rayglass 730 model, so too I am equally as honoured today to have been asked by Rayglass Managing Director Tony Hembrow to return to the 'motherland' to share in this momentous and very proud milestone for the entire tight-knight Rayglass team.
Okay, timing is everything and flights and schedules dictated I was forced to make the trip from the land of the NRL, sunshine and shopping centres (and no bloody rain!), and arrive just prior to the 200th actual example having been produced, but to me it mattered nought. The 200th 730 was more symbolic than anything else, as for me it typified what the Rayglass principles/goals/achievements are all about – evolution, longevity, quality, professionalism, and dedication to the long-term focus and game-plan of the company. As a company it has not sat back and rested on its laurels – Rayglass has continued to aspire to even greater heights, as it continues its relentless growth as a world-class manufacturing and retail company.
When in 1990 Rayglass Boats produced its first boat, the pro-active Hembrow had a vision even then of building, within five years, a full range of boats right up to this magnificent 730 Legend model.
It is history of course that this boat, the self-proclaimed flagship of the fleet, has been a supreme and unqualified success right from the word go. The 730, the first of the now legendary 'Legend' Series, was completely new from top to bottom. An evolution of all the company (like all its boats, it was a team effort with ideas/layout/design) had learned in that initial five-year steep learning curve, it is supremely obvious now that at the time – it was way way ahead of its time!
Crammed full of innovation, Rayglass' strategy was to build the best boat, not copy someone else's. I well remember Hembrow commenting at the time of launching, "It is not every day that something like this, aimed at all sectors of the recreational market (fishing, diving, skiing and cruising), comes along. We took a gamble introducing a very original cockpit concept, but the buying public has confirmed we made the right decision for in the 16 weeks following the launch of the first boat, our company has produced 14 boats to fill initial orders. That was over and above the production of the rest of our range of boats, so it gives you an idea of just how fervently the boating public has embraced (and continues to embrace) the concept."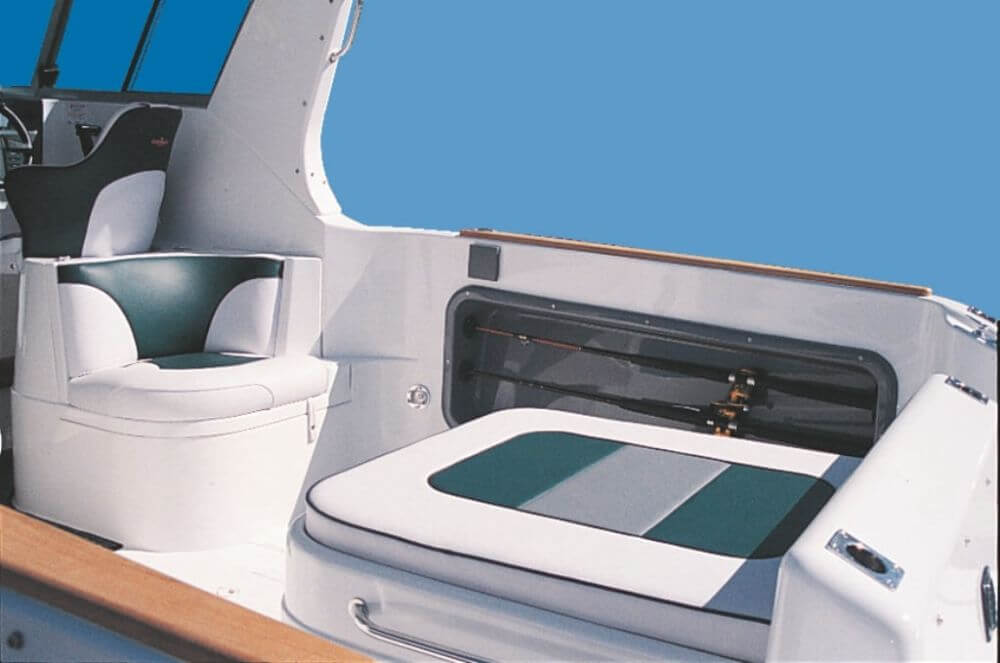 Considering the period, the hull construction at the time was another typical Rayglass innovation, for the complete boat was built in just three mouldings, the hull, the deck and the interior. Sealed and glassed together, Rayglass then added yet more innovation with its revolutionary RPF (2-pot Endurathane – impervious to water and fuel) foam that was injected into all available cavities, that provided buoyancy, rigidity and the added bonus of sound-proofing. Rayglass was the first NZ production boatbuilder to do it – since then of course a lot of the other manufacturers have followed suit.
My first impressions of the latest 730 example, were of a boat that quite obviously has stood the test of time, verified over the years by the fact it has been arguably the most 'awarded' (Boat Shows/Industry awards), 'decorated' trailerboat ever produced in New Zealand. But Hembrow insists with pride that rather than being ahead of his competitiors, "this is a package, a boat, motor and trailer combination that just really works!"
The ultimate tribute to the design expertise of the team, that no dramatic profile changes have been required in order to retain that 'modern' look, Hembrow matter-of-factly likens the 730 to the Porsche example, "We tend to think of this model in the same vein Porsche look at their iconic 911 model – they never really ever changed a hell of a lot of the overall package, they just keep continually making 'little' changes. That is what we have done with this boat, no actual model change, just continual little changes, probably well over a hundred over the years, that keep it at the forefront of technology as well as styling. Every year we are using something better, whether it be better hatches, better fittings, better quality this or that, something different comes on to the market and we make the change to incorporate it," Hembrow explained.
My response – how refreshingly different, for there aren't many manufacturers on either side of the Tasman who one, make this commitment, and two, like Rayglass, have a full-time 'tooling' department! "In the last four years for instance, as well as subtle cosmetic changes to current models, Rayglass has also introduced new 1950, 2150, 2300, 2800 brand-spanking new models – one per year to replace older models." Hembrow noted.
There were then, many subtle visual differences from the first model I tested, and some not so subtle, for the most dramatic, visible change (as from 1999) was the fully enclosed hardtop – one of the most stylish and 'in proportion' examples I have seen. Interestingly, this is now the 'norm' for specification, for although it is still available, Rayglass hasn't sold an 'open' configuration for over two years. When I ventured out onto Auckland Harbour, I soon found out why!
Down to innovation, if you ever wanted a classic example of what I have just alluded to as regards being ahead of its time, there are many boats today that still do not boast an engine bay even remotely approaching the level of 'user-friendliness' of this example. A full liner, sublimely easy access for maintenance, special tool-box and battery apertures, water channels, a low-profile engine cover – all this present day specification was introduced in this model, nine years ago!
The seating arrangement was another classic example, and at the time (of the original launching) there was no other boat anywhere in the world, with the same style of all-encompassing seat configuration. If ever I was to design my 'perfect' boat, it would surely have a seating configuration exactly like this one. This boat is a true offshore boat, but it is also very much a family day boat or a one-couple overnighter, and as such you need ample storage provision. These seat bases, and what is available in the cabin, certainly admirably address this mandatory pre-requisite.
Hand in hand with the storage aspect goes the creature comfort requirements in a boat that will be travelling long distances in rough seas, and here again this seat design is at the right proximity to the helm, at the right height for outside visibility, supportive, and most importantly, comfortable. Even the dash, although modified from the original 1995 model, boasts triple layers for instrumentation, switches and a serious electronics package. A helm station needs to be easy to read and operate, and this is!
Down below in the light and well ventilated cabin, again because of the restraints of the area, not too much had changed structurally, just subtle little cosmetic changes to enhance its user-friendliness. Biggest feature in here was of course the separate full-height head and shower, but there was also a galley that included a two-burner stove, sink and bench-top, hot and cold water, and 45-litre refrigerator, and of course the huge vee-berth that slipped the 730 nicely into an overnighter guise. As Hembrow emphasised at the very beginning, this is a boat that is all things to all people, and a measure of that success surely lies in the fact that even today, Rayglass builds a 730 every 10 days!
The Rayglass 730 Legend started out in life as a petrol sterndrive example, but such was its adaptability that over the years the model has also appeared with diesel jet, petrol jet, diesel sterndrive, and single and twin outboard in both 2- and 4-stroke. What Hembrow is most excited about though is the advent of the Mercury 4-stroke Verado outboard range, and he sees the 275hp model as being perhaps the perfect engine package for this boat. "We reckon the new 250hp and 275hp Verado engines will be just fantastic! We are building a 730 on the line at present, to take a 275hp, and I am certainly looking forward to my first outing," he enthused.
What we ended up with in our test boat though, was nothing to be sneezed at, a 300hp 5.7-litre V8 MPI Mercruiser 350 Magum engine / Bravo One sterndrive package running a 17″pitch 3-blade Mirage stainless propeller, that produced a top speed of 40.2 knots (48.5mph) in what were decidedly sh…y conditions. Sorry for the vernacular folks, but I just have to get a dig in about the typically-diabolical Auckland weather. My lightning trip over to NZ consisted of a window of three days to do the test and yes, day one, then day two, and then day three – it rained, and it blew a bloody gale! In the end I either did the test in pouring rain and 35, gusting 45 knots of wind – or I went home empty handed.
Needless to say, I had no choice. The pics could wait for a later date, but we had to do the test. Out into the bay we went. I looked over at Adam Wickes and rather than a look of disappointment between the eyes, he had a grin from ear to ear. This (weather) was precisely what this boat was built for, and it all came flooding back to me just how good this hull was in inclement conditions. One of my more pleasant life-time memories is catching my one and only marlin, during a day out in another 730 (coincidentally the same 'game' boat that was traded just three weeks ago, on a new 730 Hardtop). Bobbing around in the washing machine that was the outer reaches of the Manukau Bar, it felt so safe, so solid, and so comfortable in a pursuit that probably even the Rayglass team didn't envisage at the time of design.
Initially, I must say I wasn't looking forward too much to the trip up the inside of Rangi (Rangitoto Island) in the huge seas that were whipped up by the 'light zephyr' of a breeze, but once out in amongst it my reservations were quickly dispelled. While I wouldn't suggest the boat handled like it was on rails (it couldn't possibly in those conditions), it was still very much the consumate handler – it just did everything precisely the way a good handling boat should. The directional stability was good, it was rigid and quiet, courtesy of the underfloor foam, it was surprisingly (for the conditions) dry, and best of all the hardtop kept us nice and warm and cosy in what Wickes felt was an 8-degree day! I should point out too, we were the only people mad enough to be out on the harbour that day; but we were literally 'having a ball' in the conditions.
Say no more, this was and I am happy to say definitely still is, a most genuine bluewater hull – in capability in adverse sea conditions, in specification, and in creature comfort. Yet when it gets into the calmer waters, tickle the trim and you have a veritable rocket under your bum – playful and well mannered, it gets up and really boogies!
In this day and age most boats by and large handle and perform fairly well, and really it is only innovation that separates the really good from the not so good combos. The Rayglass 730 Legend I am happy to say was one of those 'really good' examples of innovation coupled with ability, and the fact Rayglass has been able to not only keep a single model going for nine years, but also keep it at the pointy end of the market, is an absolute credit to the entire Rayglass team. This boat has that X-factor!
Model: Rayglass 730 Legend
Price Std BMT: $95,696
Price as Tested : $128,434
Designer: Rayglass Boats
Material: Hand-laid GRP
Type: Cabin / Hardtop
LOA: 7.47m 
Beam: 2.45m
Transom Deadrise: 23 degrees
Hull Configuration: Deep-V monohull
Trailerable Weight: 2850kg approx.
Engine Capacity: 205-400hp
Power Options: Outboard or Sterndrive or Jet
Fuel Capacity: 300-litre underfloor polypropylene