At first glance when I saw the new Legend 2350 at the New Zealand Boat Show earlier this year I didn't really see a lot of difference between that and the Legend 2500.
So is there?
While apart from the obvious size difference, the new Rayglass Legend 2350 retains the same external appearance and cockpit layout of its larger brothers, the Legend 2800 and Legend 2500. However, it's not until you step aboard that the changes are obvious. The basis of the new Legend 2350 is the well proven hull of the Legend 2800/2500 which has been shortened by 150mm (5.9") from the Legend 2500 and while the cockpit dimensions are retained, the cabin area is completely different in layout and size. Gone is the separate head compartment and galley, with the 2m berths now extending right from the forward to the aft bulkhead, but from the helm aft to the transom, nothing has changed.
It was also necessary to shorten the foredeck area and reshape the windscreen and hardtop so it was more in balance and in keeping with the size of the boat. With the shorter hardtop and lower windows, everything certainly looks in proportion on the Legend 2350.  
"We wanted to offer a boat that had all the same characteristics of the 2500, but in a smaller and lighter package, that didn't require a big 4WD to tow it or the extra expense of an electro hydraulic braking system. It was also important to retain the offshore ability of the Legend 2500 in the smaller package, so owners could still 'go out wide' with confidence and in comfort", said Rayglass sales manager, Scott Little.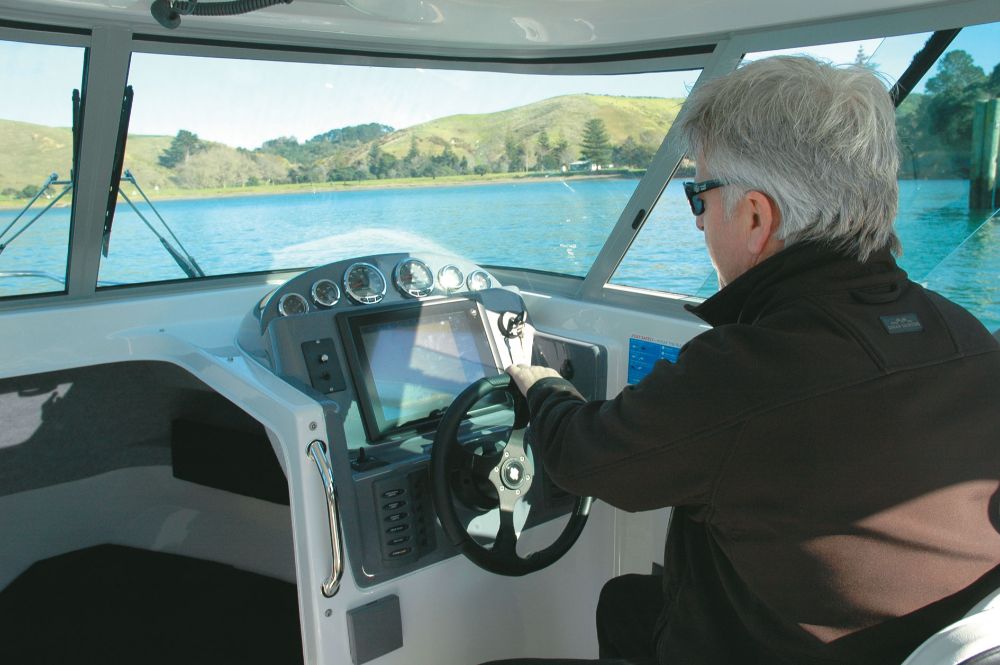 At 7m overall, the Legend 2350 falls right into the hardtop slot that was missing in the Legend line up, between 8.7m and 6.7 m. Up until now the Legend 2300 filled that gap but it was not available as a hardtop model. The Legend 2350 not only fills that void, it now gives Rayglass a four-boat Legend hardtop range , plus still retains the smaller open cabin models for those who don't want to go to the full all-over protection.
The dimensional differences between the 2500, 2350 and the 2200 are quite significant. The 2500 for example is 7.7m overall, the 2350, 7m and the 2200 a little smaller at 6.70m, although all three retain the same 2.45m beam. Weight wise – boat,motor,trailer package – the 2500 is around 3000kg, the 2350, 2500kg and the 2200 around 1950kg.
While the 2500 and 2350 are both available with outboard or sterndrive power packages, the 2200 is strictly for outboards only.
Inboard, outboard, diesel or petrol, anything is possible with the Legend 2350. With a boat this size a sterndrive is a well suited option and the new generation of compact, lightweight and highly efficient diesel engines are well worth considering.
The first Legend 2350 launched was powered by the newly uprated Tier 3 MerCruiser Diesel TDI 3.0 litre V6, a 260hp direct injection engine, based on the VW diesel. Like all Rayglass boats, the sterndrive package fits unobtrusively in the transom area and protrudes marginally more into the cockpit working space than the outboard version. I have always been impressed with how Rayglass 'hides' its sterndrives and consequently is able to offer a large boarding platform area that's just not possible with an outboard.
The new Mercury Diesel TDI V6 – MerCruiser Bravo 3 powered Rayglass 2350 is a very slick package. Top speed is 37.8 knots @ 4000 rpm, with a fuel consumption of 54L/h for 1.43 L/NM. Optimum cruise is 21.5 knots @ 2750 rpm with a fuel burn of 26L/h for 1.21L/NM.
For comparison, we also tested a second 2350 powered by a Mercury 250hp Verado. Although its top speed is a faster 42.2 knots @ 6000 rpm, its fuel consumption at full throttle was 92.8L/h for 2.2L/NM. During our test on a calm Auckland Harbour the boat felt just right at around 5000 rpm with a speed of 33.5 knots with a burn of 59.6L/h for 1.78L/NM.
We ran a 17" Enertia high-rake 3-blade stainless Mercury propeller which was perfectly matched to the Verado 250 as an all round mid range option. However if you went up to a 19" pitch you would see the speed increase by a couple of mph, but at the expense of your mid range cruising fuel consumption and speed. It's all a matter of compromise and in a boat like the Legend 2350, it's not all about speed.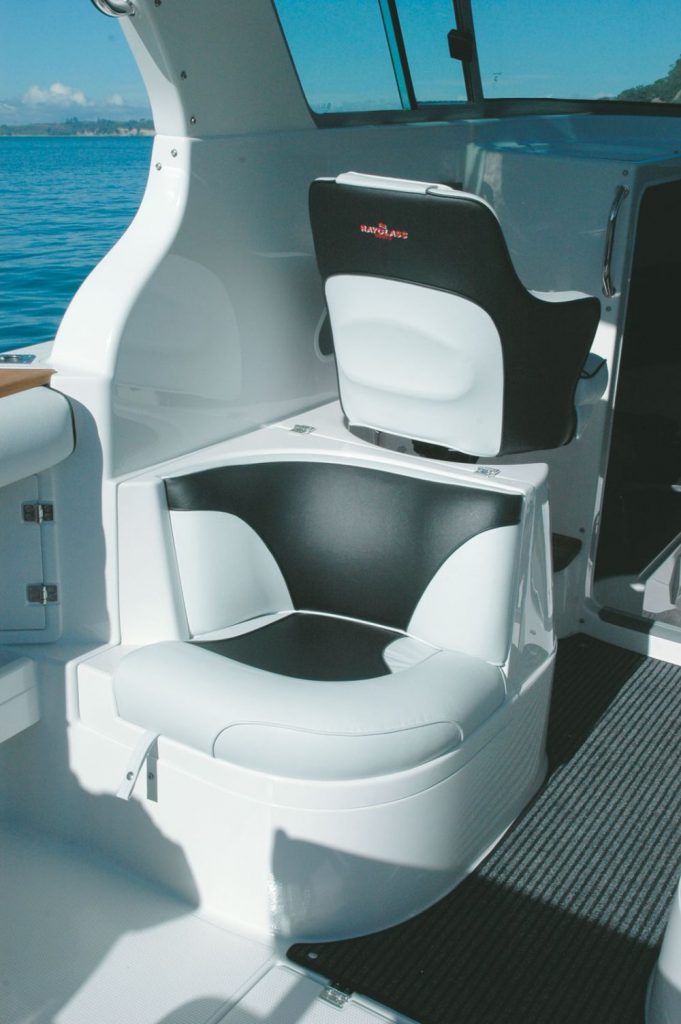 Comparing the diesel version with the outboard version, it is notable that at 33.5 knots, the diesel goes 35% further on each litre of fuel, and as diesel costs about 32% less than petrol, the diesel sterndrive burns around 60% fewer dollars' worth of fuel per nautical mile. Against that, of course, must be weighed the number of hours operated per year and the extra purchase cost of the diesel, resale values, etc. – all in all a tough call!
I didn't get the chance to try the 'new' hull in rough water, but had some fun tossing it around at speed and playing with the trim in the calm. The Lenco tabs proved very fast and very efficient and when worked in conjunction with the engine trim, you can really quickly and easily set the boat up for optimum ride. Extremely aggressive downturned chines not only disperse the spray, they also hold the boat up in hard fast turns, with no excessive heel and assist in the good stability at rest. It's a very forgiving hull, with no vices. Mercury's DTS (digital throttle and shift) brings the precision of digital, fly-by-wire technology for instantaneous throttle response and silky smooth shifting.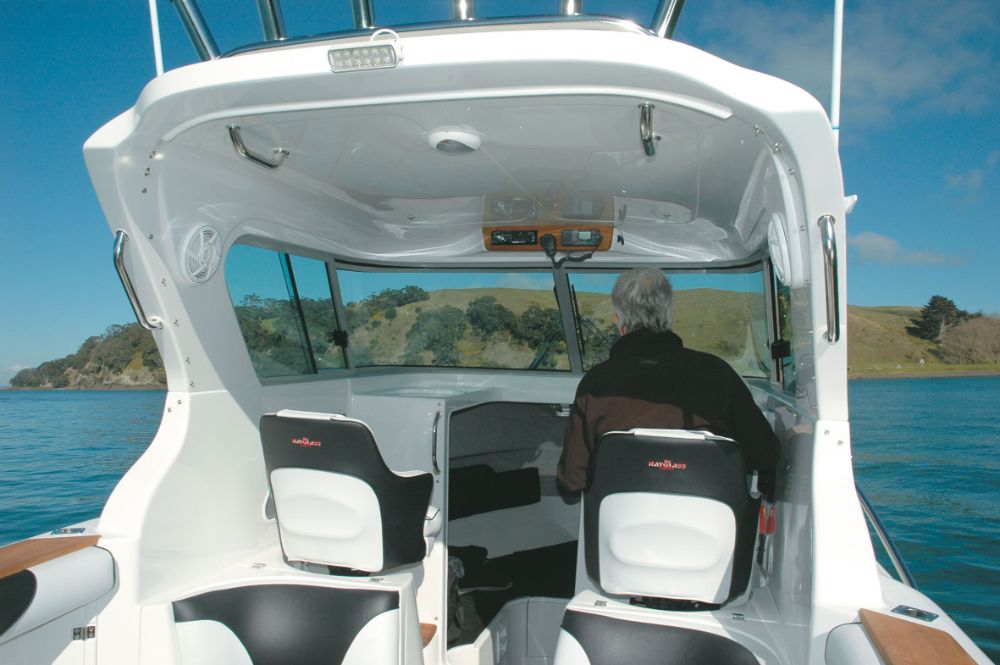 Day Tripper or Overnighter
While the Legend 2350 doesn't have a full galley and separate head space like the Legend 2500, it's still quite suitable as a weekender. The cabin is simply appointed and offers plenty of space, with excellent sitting headroom and full-length berths. An infill is available to change the layout from a pair of singles to a very large double. An overhead Maxwell hatch lets in extra light and ventilation and offers some access through to the anchor locker, although with a fully automatic system there's hardly a need to go forward.
An electric macerator toilet is situated under the front squab and a clip-on curtain adds some privacy. There's even a specially moulded toilet roll holder and LED lighting throughout. Storage is plentiful in full-length side trays and under both side squabs, plus the whole space is fabric lined so there are no signs of raw fibreglass anywhere.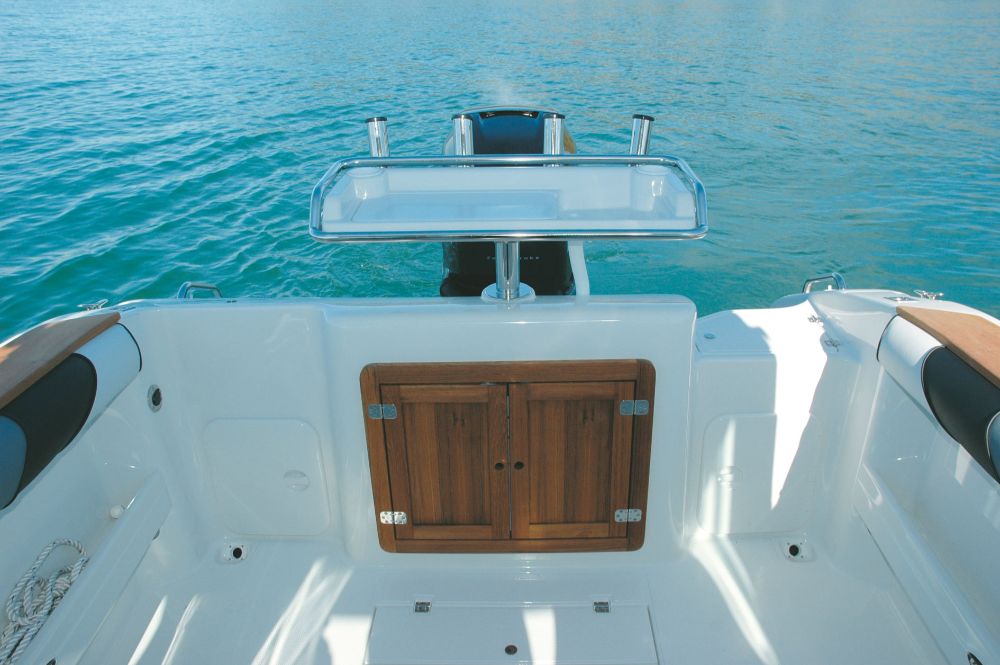 The saying…'If it aint broke, don't fix it' certainly applies to the Legend 2350 cockpit, which  is unchanged from the Legend 2500. From the large dash and helm area to the transom lockers, the cockpit is functional, practical and, what I really liked, easy to clean. Soft curves and no edges or crevices to hold water or fish scales, plus two very large drain ports – one in each aft corner – make this a dream to clean. These drain ports can be blocked off if you are backing up on a big fish.
Rayglass understands that this is a boat that will be used by fishos so has allowed space for an MFD screen of up to 12". Our boat was fitted with the very latest Garmin 8012 fully intergrated multi-touch MFD which was extremely easy to use. The anti-glare and LED backlighting makes it easy to view in bright sunlight and the auto-dimming provides outstanding visibility at night. I like the fact that everything is available on one screen and at your fingertips; various sonar technologies, integrated autopilot, connectivity, apps, engine data and multi-media. The pinch to zoom is a cool feature.
The split-level screen offers space for plenty of instruments, switches and controls, such as the SmartCraft gauges, Maxwell anchoring controls and Lenco trim tab rocker switches. A compass is standard. There's good standing headroom at the helm, with excellent all round visibility. The all-GRP hardtop is fitted with safety glass screens, with a set of wipers to help keep forward vision clear when the weather turns bad and sliding side windows let in a little extra flow-through ventilation.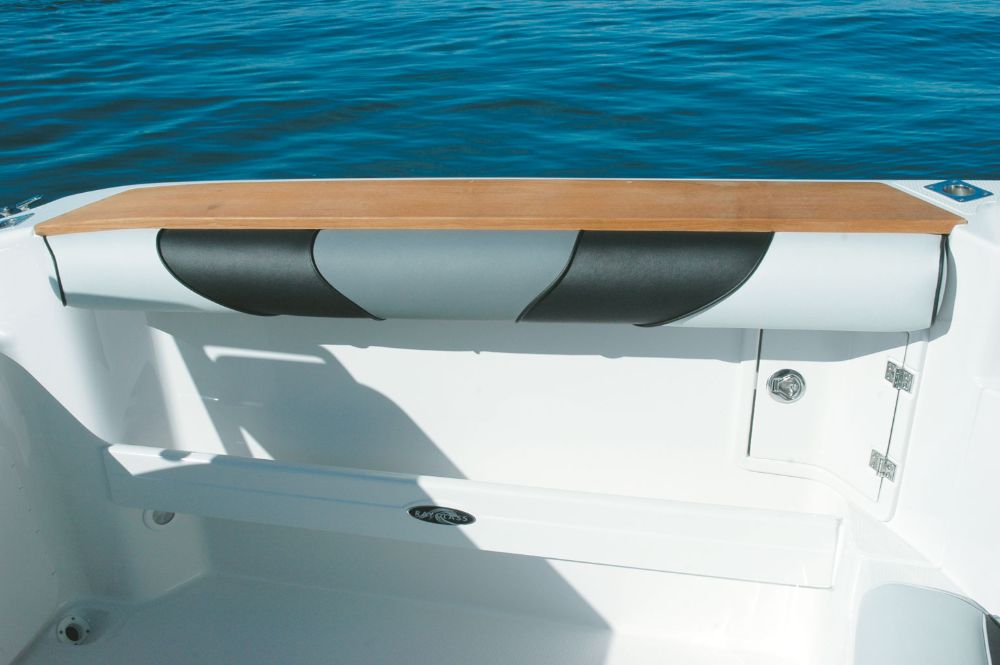 Seating options are minimal as the forward seat bases, with upper & lower back-to-backs, form part of a large one-piece moulding. However, if you want more, then a removable aft bench seat is available. Rayglass was the first to design big volume storage spaces under the lift-up forward seats and the Legend 2350 carries on that tradition. When you add to that the two huge 260-litre underfloor storage bins, plus side shelves and lockers for'ard and aft, the available storage space in the Legend 2350 is exceptional.
Wide, padded and teak covered side coamings, lockable rod lockers, flush-mounted and overhead rod holders, LED cockpit floodlight, a huge central bait board, sink with freshwater option for hot and cold water and livebait tank are all things that are going to please anyone buying this boat for fishing. If you have a sterndrive model, then the bait board can be fitted to a stainless D-rail across the transom.
In the outboard version Rayglass fits the 250 litre stainless steel fuel tank well back under the transom, with the two storage bins forward. This is done to compensate for the extra weight of the hardtop and balances the boat better, according to Little. In the sterndrive version, the fuel tank goes forward to amidships, leaving space for just one 260-litre storage bin.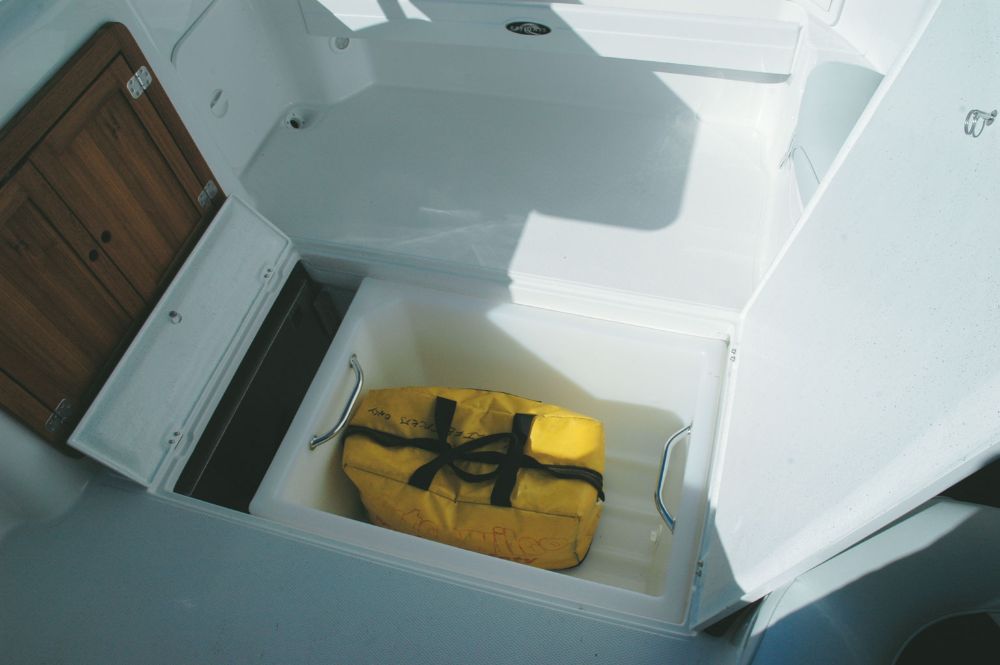 The Legend 2350 is designed as an all-round general purpose family boat, but is also targeted at fishos who want to go bluewater fishing. It does it all in a neat, compact package that still has the feel of a big boat.
"Sales since the release at the Hutchwilco New Zealand Boat Show have been very pleasing and our order book is full for this year", says Little. He adds that they knew there was a gap in their line up that needed to be catered for and the Legend 2350 has certainly filled the spot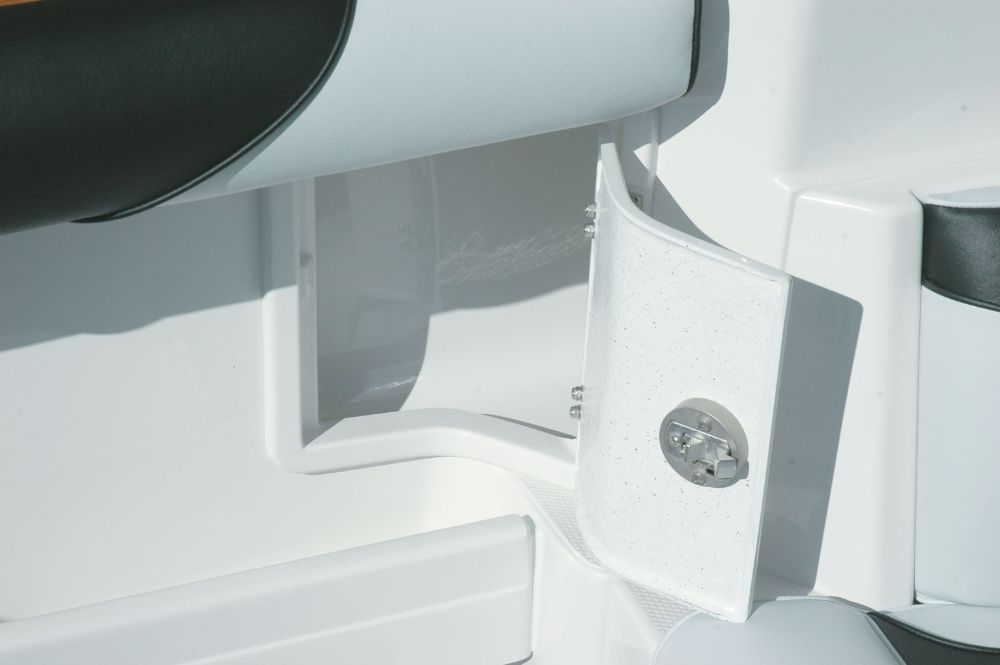 Model: Rayglass Legend 2350
Price: POA      
Type: Hardtop
Construction: GRP
LOA: 7m
Beam: 2.45m
Deadrise: 23 degrees
Height on trailer: 3.2m (with rocket launcher)
Trailerable weight: 2500kg (est)
Power: Outboard/sterndrive
Power options: 200-300hp
Fuel capacity: 250 litres
Notable Standard Items on Test Boat
Full fibreglass internal liner, toughened glass screen, CPC rated, electric toilet, compass, brass keel strip, single wiper.
Notable Options on Test Boat
Garmin 7012 MFD, Maxwell RC6, Icom VHF, Pioneer stereo with Bluetooth.
Make:  Mercury
Power: 250hp
Model: Verado
Cylinder Config.: 6 in line
Displacement: 2.6 litres
Max rpm: 6000 rpm
Propeller: 17" Enertia 3-blade s/s
Make:  Hosking
Braked: hydraulic override
Suspension: leaf springs
Rollers: multi
Std Equipment: Guide poles, GRP mudguards, LED lights.