Having spent many hours over many years driving Rayglass 8.5m Cabin Protectors, Barry Thompson was keen to find out what the all-new Rayglass Protector 9m had to offer and was it really any better than its smaller predecessor.
If I had to pick just one Kiwi boat that has made a significant impact on the world market it would have to be the Rayglass 8.5m Cabin Protector. Not since the halcyon days of the earliest America's Cup series in Auckland, has a boat gained such prominence, that in my mind unquestionably deserves the title of this country's most successful locally designed and built hull….ever!
While some would suggest and quite rightly so that there are plenty of boats on the market that have sold a lot more, none come close to having the recognition overseas that the Protector has achieved. Released in 1997 and with several hundred on the water, of which at least 2/3rds are overseas, the well proven Protector 8.5m has for many years been the first choice of professional sailors and services such as police, customs, Coastguards and superyacht owners.
Always aware that good things don't last forever, Rayglass has for some time now been looking to offer a new and upgraded version of the 8.5m. So in early May when I got a call from Protector marketing manager, Lyndsay Turner, to review the first of the all new 9m Cabin Protectors, I jumped at the chance.
When he remarked that in his opinion it's one of the best, if not the best 9m RIB on the market, then you need to take notice. There's probably no one else around who has the wealth of knowledge that Lyndsay has on big cabin RIBs and if the sales of Protectors over the years are anything to go by, it's obvious that he knows what he's talking about.
First thing he pointed out was that the 9m doesn't replace the 8.5m, it's simply another model in the eight-boat range. Mind you, after experiencing the new boat I can see it being responsible for a drop in sales of its smaller brother, if for no other reason than it's quite simply a better boat. That's not to say the 8.5 isn't a great boat, it is, but the 9m is even better! While the two boats certainly look very similar, they are really very different, with a complete new set of hull and deck moulds produced to build the 9m. They both carry the same 3m beam when the Hypalon tubes are inflated, the weight difference is only 250kg between the two boats and the height on the trailer almost the same. The difference is the overall length, with the 9m being 500mm longer overall.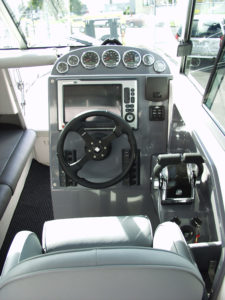 That extra length has been distributed through the forward deck area and cockpit, with each getting just a little more space, while the cabin size is the same as the 8.5's. The basic layout of the 8.5 has been retained but again there are quite a few neat changes that make the 9m different.
Of significance in the bow is the auto under bow anchoring system, which in the past was only offered as an option. Now it's standard. This certainly is a big improvement over the 8.5, which had the anchor tackle in a floor locker and at best a capstan mounted on top of the forward towing post. Now it can all be done from the helm with a fully automatic system, something that you would expect on a boat of this size.
Our boat was fitted with a Maxwell RC6-8 auto rope and chain package with ???m of anchor tackle, which drops into a raised anchor locker. Any water that's trapped in the foredeck area is expelled through large side scuppers. A stainless handrail offers some security if you are in the forepeak area.
Rayglass has retained the same cabin styling, complete with a lockable front entry door that is designed to withstand complete bow immersion. Inside, the layout remains simple with twin 2m fore and aft berths and copious storage both behind and below. There is a fully plumbed head under one of the berths.
The cockpit has been given a tweak and the extra length is certainly noticeable. The helm seating now features a pair of Softrider seats with adjustable bases so you can as easily stand or sit to drive, whatever suits. The rear facing side seats are now larger, which is an improvement on the 8.5, plus there are larger storage compartments beneath. The dash has been laid back a lot more so the instruments present themselves at a much better angle. There is enough real estate for a 12" MFD screen plus all the necessary instruments and switches.
The hardtop and cabin top have a few styling changes but still retain the side sliding windows, safety glass forward screen and 1.92m headroom .
The rear of the cockpit can be left entirely open or you can add a couple of bin seats that fill the space across the transom. They offer huge storage capacity and they do increase your seating from four to seven. There is further storage in a massive floor locker, which is situated just ahead of the 495-litre underfloor fuel tank. The engine protection bar and towing post are standard. While you can clamber back aboard from the water sing small moulded pads either side of the outboards, a better access in my mind would be an optional over tube side boarding ladder, which can be easily fitted and stowed away when not required.
"We did a lot of research with our customers to see what they liked or didn't like about the 8.5 and incorporated a lot of those ideas into the new boat", says Lyndsay.
The new design now allows for the engines lower units to be tilted completely out of the water at the transom, which in the 8.5 required extra spacers to be fitted.
If there is one thing I know about Protectors is that they love horsepower. The more they get the better they go. But conversely, even with minimal horsepower – if you can call 300hp minimal – they still perform great.
The 9m power package is extensive from twin 150hp to 300hp outboards or a single diesel or petrol sterndrive. The new Cummins TDI diesel sterndrive package is one of the favoured options already. While boat number #1 was fitted with the very latest twin in-line four-cylinder Mercury 150s, most owners I would suspect would opt for a pair of 225hp or more.
If you have a need for speed then a pair of 300hp outboards would return a speed around 65mph. However twin 150s still give the 9m a top end speed of around 50mph. With a bit of work on props and engine heights you may even get more. Interestingly, while the speed difference between the 9m and 8.5m is negligible, I would suspect the 9m's handling and overall performance in a rough sea would be even better.
To a point, there is no substitute for hull length and while Rayglass spent some time trialling new designs up to 10m, they found that 9m was the magic length for best overall performance and handling. While we only had flat calm water I am confident that the Protector 9m would be a beast in the rough and I can't wait to try it out.
The twin 150s gave the 9m great acceleration throughout the power band and a comfortable and economical cruise around 4000 rpm @ 35mph. At WOT it was 100% predictable when tossed hard into a turn and retains a solid footing on the water without excess heel. The 520mm wide inflatable Hypalon pontoons do a great job of keeping the boat level as well as adding a lot to the soft ride.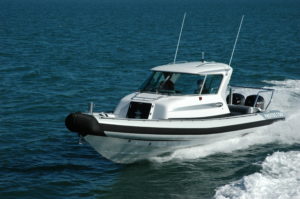 Our test day was one of those cold, crisp Auckland afternoons, with clear blue skies and glassy smooth water, hardly something that you would want to test a boat like the 9m Protector in. However, that didn't worry me as I have done many hours in the 8.5 model and most of those at high speed in Poker Runs. If there is one thing I can confirm is that the 8.5m is an awesome beast in the moderate to rough water. It's not hard to understand why they have been so popular with government and professional organisations. How many of us have accepted a tow from a Coast Guard Protector?
The Rayglass 9m Cabin Protector has been an instant success, with boats already sold and in use in the US and Europe. Aimed at not only the light commercial areas of the industry, the 9m Cabin Protector is also pitched at superyacht owners and those who appreciate the fine attributes of the Protector design as a pleasure boat. Like the 8.5 it is ideally suited as all-weather transport for those who have their holiday homes on an island or places like the Marlborough Sounds where access by water is the only option.
I have done a lot of fishing from a friend's 8.5m and it's great, so I reckon the new 9m would be just as good. Same goes for anyone looking for a seriously cool dive boat, with its big cockpit and low freeboard.
Overall, the Rayglass 9m Cabin Protector is everything the 8.5m is but better and I am convinced that it will achieve the same international success as its predecessor….and maybe more.