I can't think of another Kiwi trailer boat that has the iconic name and heritage that the Clipper 24 has. I am certainly not alone and today Clipper 24s are well sought after by boating enthusiasts for restoration.
One such person is Hamilton-based Greg Dutton, who says he fell in love with the Clipper many years ago and always had in his mind that he would one day own one. "I have always had a soft spot for the Clipper, especially as it relates back to about the same era as my father, Rollo was building boats.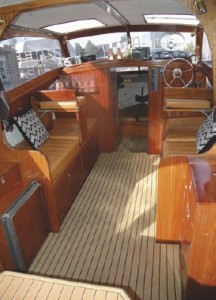 "I always felt it was the Rolls Royce of trailer boating so when a mate rang me and mentioned one he had seen for sale in Wanganui, I decided the time was right and I bought it", adds Greg. What Greg purchased was far from a finished boat. What had obviously started as a restoration project for someone was still in its early stages, with a lot of timberwork to finish and the engine out and the sterndrive stripped. Another one of those many unfinished projects!
What he found out after was that a previous owner had bought the Clipper and intended to take a chainsaw to the top, strip the interior bare and convert the once proud Clipper into a fishing boat. Fortunately it only got as far as stripping out some of the interior cabinetry before the owner that Greg bought the boat off got hold of it.
It was in really average condition when Greg first set eyes on it, but he felt the basic hull and machinery was still quite good and easily restorable back to its original condition. Although the builder's plate was removed, Greg estimates that his Clipper was built around 1979/80 and was one of the last of its type made, before the factory closed in 1980.
First job was to repaint the hull and Greg also had to strip the antifoul before taking the boat back to an all over white and varnished finish. The very large side and front windows were all crazed and so these were all replaced with new panels. Greg decided to leave the circular Clearview windscreen wiper rather than go to the more conventional and modern wipers. "I felt that the Clearview was very much a part of the Clipper style so I didn't want to change it," said Greg. The sun had got to all the facias and exterior varnish work so all that needed to be redone.
While some of the interior varnish work had already been restored to its former glory by the previous owner, there still remained a lot to do for Greg.
"Clippers are all about mahogany timber joinery and high gloss varnish, and it all takes a lot of looking after it you want to keep the boat in pristine condition", adds Greg.
Power is a Volvo 260 DP, which is based on a Chev 350 that runs through a Duoprop leg. As far as Greg can tell, this is the original engine and drive that came with the boat when it was new. Greg called on Mark, a very experienced mechanic at Rollos Marine, to totally overhaul the leg and engine, before replanting it back into Benedictine. To date the engine and drive have run faultlessly. Top speed is around 40 mph The engine is fed from a pair of the original stainless underfloor "40 gallon" fuel tanks. While the drive system came in for a rebuild, not so the wiring and electronics.
"I simply pulled out every wire, light fitting and electrical components and started from new," says Greg. This included a Lowrance 9" screen, Lowrance LVR250 VHF, Fusion AM/FM 700 and LED lighting throughout. The facia was left the same and Benedictine still runs the original Volvo Penta controls, "I didn't want a 'concourse elegance' finished boat, rather something that looked good, was practical and retained as much of the original as possible", says Greg.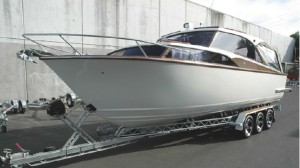 As Greg is the owner of DMW Trailers, Benedictine was always going to have a new and more modern trailer under it. Greg sold the original lattice work framed trailer, complete with twin pads for the boat to rest on and a drop-down locking pole at the bow and replaced it with his own version of a retro trailer. It still looks something like the original trailer but with a more modern design and fit-out.
With an all-up towing weight of 3280kg, Benedictine is a big rig to tow, so Greg added a Sensabrake system to the 700kg triple axle trailer and an electric winch. The original trailer required the boat to be floated on, but the new DMW trailer has 56 rollers, making launching and retrieving really easy.
Nothing much has been changed in the layout, apart from in the forward cabin where the small vanity unit to port has been replaced with a series of storage shelves. The forward cabin has quilted headliner and side panels, which is carried right through the boat. Other than that the twin berths with a central infill, enclosed head and side shelves, have remained the same.
The Clipper 24 was an early example of a hardtop boat, with 1.92m headroom, and the layout reflected the overnighting concept that the brand became best known for. While you could certainly catch fish, they were not really designed as serious fishing boats, but rather luxury weekenders that offered all the comforts of a small apartment.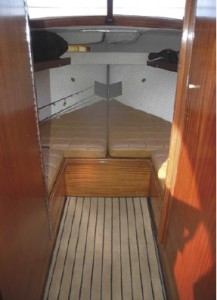 Either side of the main cabin are fore-aft loungers that by simply folding back the front bench seats can be transformed into two more berths. Very ingenious and forward thinking and certainly makes this a very easy boat to sleep four people on.
At the rear of the cockpit is the engine box, with room either side giving access to the after-market boarding platform. Greg says when he fishes from the boat he spends most of the time on the boarding platform and it works well.
Launched in November 2013 under its new name, Benedictine, Greg and his wife have had plenty of cruising, overnighting and trout fishing on Lakes Karapiro, Arapuni, Tarawera and Rotoiti. Plans are to extend that onto the Hauraki Gulf and the Bay of Islands, and even as far as the Marlborough Sounds.
In 1980 a Clipper 24 with basic standard equipment, including engine and trailer, retailed for around $52,000-$55,000. If you are looking for a Clipper 24 today, then expect to pay anything from around $35,000 to in excess of $100,000, depending on the condition.