Author : Barry Thompson
Riviera 445 SUV is marketed as a vessel that combines the high performance, blue water cruising abilities of the classic flybridge with the fish raising abilities of the Offshore Express, and the single-level leisurely, entertaining features of the popular Sport Yacht series.
It is encouraging to see a company such as Riviera prepared to make changes and try something different. While externally the 445 SUV doesn't look like a radical departure from the norm, it has a very different interior and the concept behind the boat is interesting.
Riviera's director of brand and communication Stephen Milne said the 445 SUV was in all respects a true embodiment of Riviera heritage.
"By this we mean that all the familiar and reassuring aspects of proven Riviera boatbuilding are there; purposeful lines, hefty scantlings, the solid feel in a seaway, spacious layout and Euro-style luxurious décor.  And of course, a full no-nonsense Flybridge-scale cockpit".
"Like our Sport Yachts and the newer Flybridge models, the SUV embraces a single, much larger, flexible saloon seating design that multi-functions for any requirement. In reality it is the ultimate day boat, but with excellent overnighting accommodation options" says Milne.
The 445 SUV is the first in a whole new series and according to Milne we can look forward to larger models being released in the future. He adds that the 445 SUV is a design that has been very much dealer and customer driven, with particular input from Kiwi Riviera owners.
The styling is somewhat different to what you would normally expect in a Riviera, be it a sport yacht or flybridge and has been greatly influenced by international yacht interior designer Giorgia Drudi. She has created a whole new-look palette of calming yet warm colours in champagne, crème, straw, manila and burnished orange; in surfaces of laminate, leather, suede, mirror, American oak, plush sisal carpet and subtle waffle fabric textures. Beach house is one description, with a cool, friendly and easy going layout that makes you feel relaxed. There's no formality about the look of the SUV, rather one of freshness and fun. The hard-wearing Amtico surface flooring and durable easy to clean fabrics help towards the boat's practicality and durability. The light coloured American Oak timbers, painted surface and a subtle dash of colour, present a contemporary and somewhat Italian style look to the interior. Something that will not go unnoticed with younger buyers.
However the great thing about choice is that you can still have the exotic timbers, such as cherry or teak and more up market soft fabrics, while still retaining the same functional layout.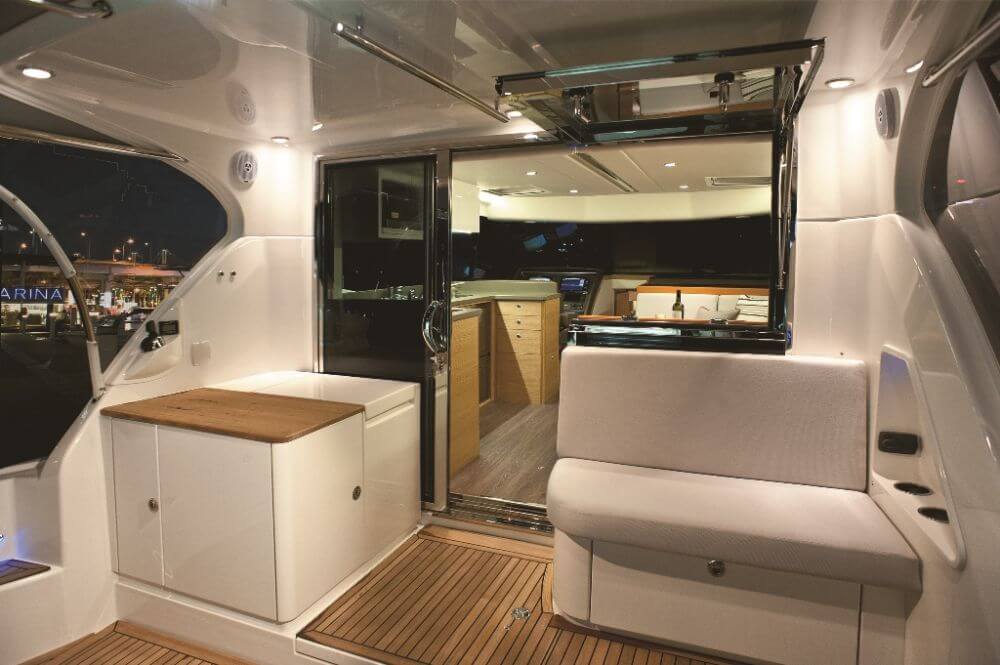 "We are currently working with a prospective owner for an all Cherry and leather interior, which will make it feel more like a flybridge boat interior, but for our first boat we wanted to make a statement and show people the concept as we envisaged it", says Milne
The layout design is not available for change and when you step aboard and see how the designers have worked the space, you would be hard pressed to make it any better. It's all about the best use of the area and in the 445 SUV they have done an outstanding job.
I found it interesting to discover the helm on the port side, which is the reverse of most boats built in this part of the world. Certainly a point of difference for the SUV.
Riviera has also given the helm a seriously retro styling and has packed everything you need in a compact space. Boat #1 had a pair of Raymarine 12" hybrid touch screens recessed into the top of the two tier facia. Easy to read and certainly easy to use.
Port side aft is the large fore-aft galley with plenty of bench space on the Corian surface and room for two to work comfortably alongside each other. Storage lockers above and below handle all the necessary galley equipment and the 445 SUV comes standard with a convection microwave, F&P two burner ceramic cook top, double door fridge/freezer.
Opposite, the U shape settee with large drop down table can be called upon to provide another accommodation space and there is drawer storage below the soft comfortable squabs. The fold down table can be extended to handle at least seven for dinner. Forward is a fold up TV – a lot cheaper and more compact than a pop unit – which can be viewed right back into the cockpit. Great for watching the latest V8 racing or footie match from the cockpit.
A fore-aft handrail recessed into the cabin top is a nice touch, as are the hidden pelmet lights and the twin overhead hatches. Overall the saloon is a very social space with close to 360 deg unrestricted sight lines. Air conditioning is standard in the saloon area but only an option in the accommodation spaces forward.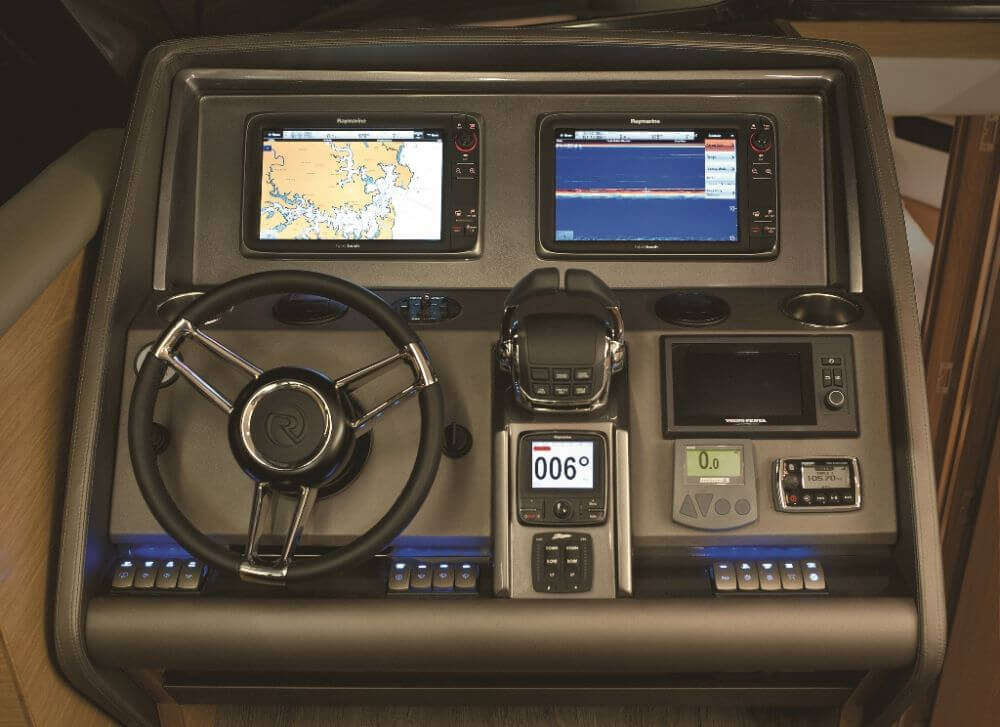 Step outside and the 445 SUV has a cockpit that says lets party! On the raised forward section is an aft-facing mezzanine lounge seat to starboard with conveniently positioned drink holders and Fusion docking station plus a fridge, ice maker and teak servery area opposite. On the port side there is also a set of controls for docking or backing up on a fish. Riviera has made good use of the available opening between the saloon and cockpit with a full width glass sliding door and large awning window.
The entire aft section of the cockpit sole can be raised on electric actuators for ease of access to the engines. All available space under the coamings and across the transom has been taken up with storage lockers, plus there are a couple of large wet bins in the cockpit sole. The centre of the transom also houses the bbq, sink unit and trash bin.
Fisherman will like the uncluttered wide side decks with recessed cleats and flat areas, plus the full width moulded boarding platform to fish from. Moulded steps either side of the cockpit lead to wide side decks that feature plenty of well placed robust handrails for security. The foredeck comes complete with a large sunpad just waiting for those hot summer days.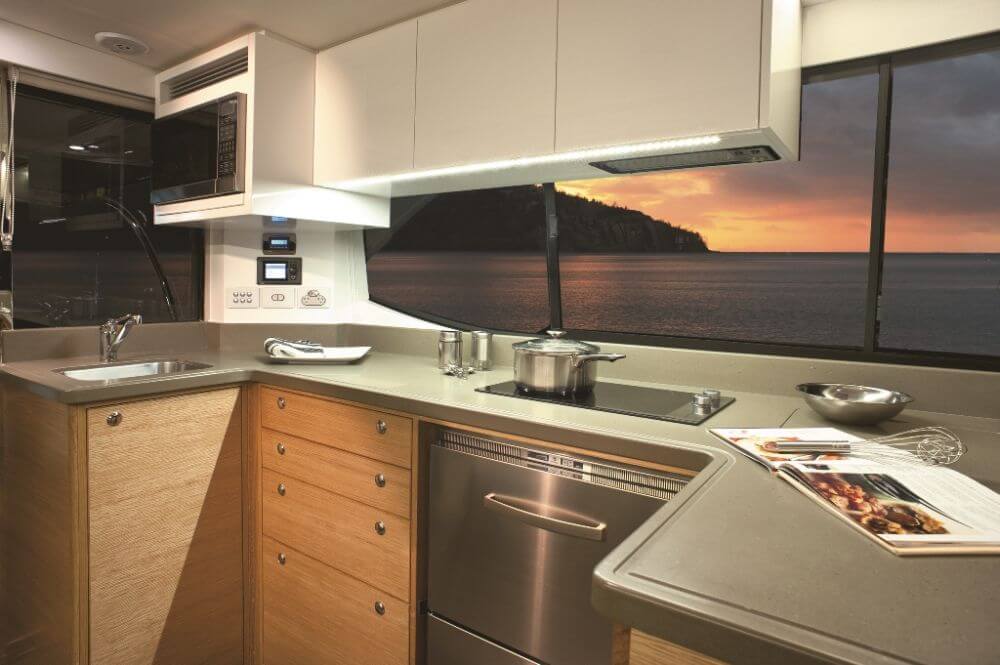 One of the biggest advantages of any pod drive system is that the bulk of the engineering machinery can be positioned well aft, rather than amidships, as shaft drives dictate. This means the SUV has the advantage of extra accommodation spaces and consequently larger cabins.
The accommodation areas forward closely resemble that of the 43 Flybridge with the same base bulkhead layout but with some refinements. The two cabin, two bathroom concept has been tweaked and the result is a larger master cabin, the guest aft cabin now has the innovative ability to include the day head as an ensuite and both cabins benefit from more storage space and larger lockers.
Below decks there is sleeping accommodation for up to six in the two large cabins. The forward master stateroom features a queen sized 2m long double-bed, with a cedar-lined hanging wardrobe, extensive overhead and under berth storage and an en-suite bathroom. Access around either side of the island berth is good and extra light and ventilation is provided from an overhead deck hatch.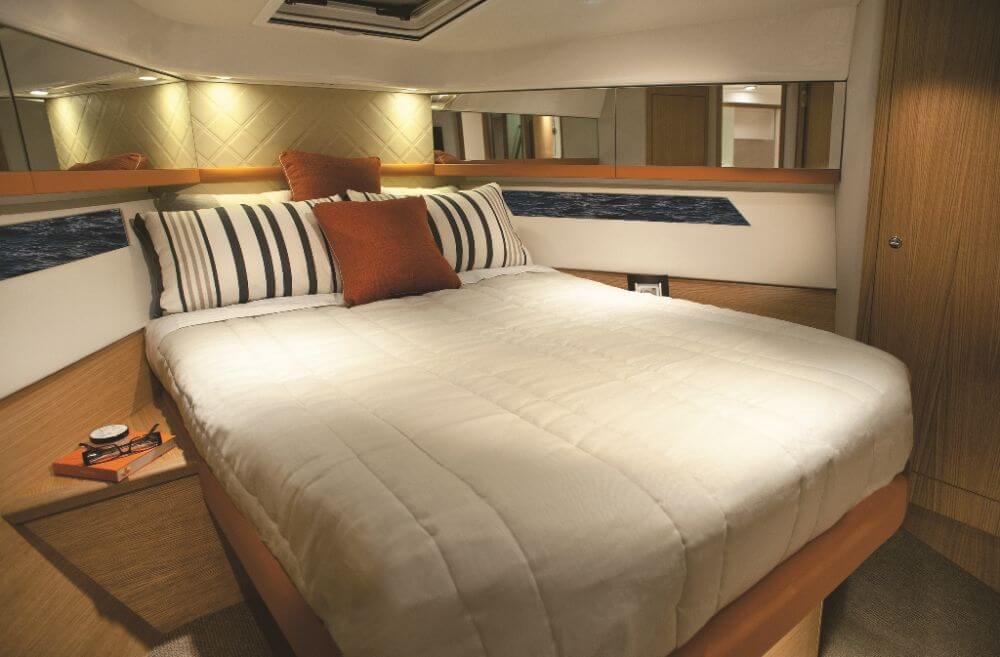 The two staterooms are separated by two generous bathrooms, a guest/day head/ensuite to starboard and the master ensuite for'ard, to port. The en-suites each come with a raised ceramic bowl on a Corian bench, walk in shower stall with glass doors and Vacuflush head.
The guest stateroom aft features three single berths, one single along the outboard hull side and two athwartships with storage underneath. There are a number of accommodation layout options such as the twin singles on tracks to convert easily to a double or even the third berth being replaced with a settee. There is plenty of space and storage in this cabin, good sitting headroom, a hanging locker, drawer cabinet, flat screen TV, plus reading and overhead lighting. Huge side windows with round opening ports offer ample natural lighting and extra ventilation. It's a great cabin for the kids to retreat too when you need some 'adult' time up in the saloon.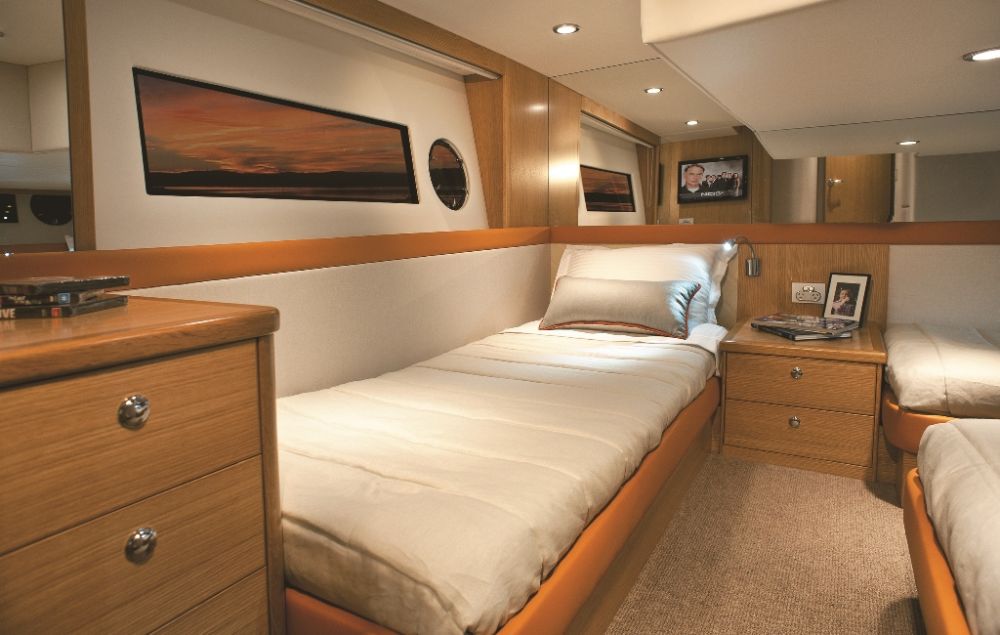 The 445 SUV is based on the same platform as the 43 flybridge that has proven an extremely popular model for Riviera with close to 40 sold since it was introduced in 2010. The SUV CAD technology designed hull has a 14.5° deadrise at the transom and a reputation for a soft ride and excellent sea keeping attributes.
"The SUV has been built using hand laid GRP hull which is solid below the water line and structural core material on the hull sides, main deck and hardtop, as well as precisely fitted lightweight resin transfer moulded components so we have a boat of great strength where required with lighter weight components to avoid excessive weight.  These elements combine to aid overall performance,"says Milne.
The 445 SUV is also a little lighter than the 43 Flybridge, with 13750kgs dry weight compared with 14200kgs.
The 445 SUV has been designed around a pair of Volvo Penta 600s @ 435hp and they really work a treat. They are perfectly matched, quiet, smooth and offer all the power you would ever need for the boat. On a calm Sydney Harbour I saw the GPS top out around 31 knots, but Milne informs me they have seen 33 knots. The ride is soft and the steering effortless. In a long lopping swell off Sydney Heads, the 445 SUV simply ate up the miles and I would have been quite happy to carry on up the coast back to Riviera's home base at Coomera, Qld.
Making A Statement
With the 445 SUV, Riviera move into new space that not only broadens their range and options even further, it opens up an entirely new raft of potential buyers. Whilst in some ways comparable to a 44 Sport Yacht, there's almost a $Aus100,000 difference in the base price, which certainly puts the 445 SUV into another price bracket. As part of a growing Riviera fleet, the 445SUV is a fresh approach that perfectly brings together the various design disciplines into one common vessel. If new boats and innovations are needed to sell in today's market, then Riviera certainly have a winner in the new 445 SUV.
Boat Design Name: Riviera 445 SUV
Year Launched: 2011
Designer: Riviera
Interior Designer: Giogia Drudi
Builder: Riviera
LOA: 14.46m
LOH: 13.61m
Beam: 4.57m
Draft: 1.20m
Displacement (dry): 13750 kgs
Max Speed: 31 knots
Cruise Speed: 26.7 knots
Construction: GRP/Foam Core
Fuel Cap: 1800 litres
Water Cap: 460 litres
Engines Make: Volvo Penta IPS 600