Text By Mark Rothfield
Photography: Jeff Webster
Riviera's new 50 SMY is brimming with features, combining attributes of a luxury passagemaker with the performance of a sports motor yacht.
As 25 knots of salty southerly peppered our bow, whipping up whitecaps across the bay, sailors of yore would've been bracing their breeches and holding on to their oilskin hats for dear life.
Aboard the new Riviera 50 Sports Motor Yacht (SMY) however, merely a faint air-conditioned breeze wafted across our faces while we sipped a chilled mineral water and charged headlong into the tempest at around 30 knots (55.5km/h).
It's testament, I should add, to a glass-wrapped flybridge that cocoons its occupants in comfort at all times, on a vessel of 50ft 7in (15.4m) in hull length.
Of course, boating life isn't always sunshine and roses  – even in 'beautiful-one-day' Queensland, and especially not in the southern states. An expedition yacht like the 50 SMY will inevitably encounter some rough stuff, so it's good to know she's equipped to take it.
The enclosed bridge isn't just the top storey, but also the top story for a design that started life as the single-level 505 SUV then seamlessly melded the headline features of Riviera's SMY collection. It adds a fifth living zone, quiet and spacious, and a commanding view of the surrounds.
Among other key elements aboard the 50 SMY are a sports cockpit, mezzanine seating area, internal staircase, and a full-beam master stateroom as the centrepiece of a three-cabin, two-bathroom accommodation plan.
Weight differential is less than one might imagine  – only about a tonne  – which suggests careful attention was paid to the laminate.
It all very much lends itself to equal parts family cruising, fishing and entertaining, combined with highly efficient planing performance and the ability to run long distances at displacement speeds.
The large-volume hull, first conceived in 2019 for the 505 SUV, makes an exceptional platform for the 50 SMY, and the two sister ships share a number of common attributes on the lower level.
Stepping aboard, our test boat has the optional hydraulic swim platform fitted, which enables push-button launch and retrieval of its 3m RIB tender. The platform sides extend forward along the aft quarters to protect the topsides.
Dual transom doors then lead to a well-appointed cockpit, with a barbecue-wetbar to port, 130lt fridge-freezer opposite, and underfloor lockers. Our test boat's owner had chosen dealer-fitted synthetic Permateek for the platform and cockpit, favouring its durability.
The raised mezzanine seating area, while first seen on the 505, actually drew inspiration from the 64 Sports Motor Yacht. It works exceptionally well here, doubling the outdoor living space and blending like a back porch with the saloon. Really, if cruising is as much about the destination as the journey, here's the place to kick back with a coffee or glass of red while anchored in a sandy bay. The port settee can house a full-length fridge inside its base, while the starboard lounge converts to a double pad.
Properly wide sidedecks and raised bulwarks connect the foredeck, which in turn employs the sunpad cushions and tender cradle found on the SUV. The bowsprit flows into the flared hull  – a cleaner, leaner look than a protruding sprit.
Linking the mezzanine with the saloon are a tempered glass door and awning window. The U-shaped galley resides aft and to port, where it can efficiently serve meals to hungry guests in the mezzanine and forward dinette. There's room for a twin-ring electric cooktop, microwave, dishwasher, dual-drawer fridge-freezer, stainless-steel sink, plus storage cabinets and drawers above and below the bench. A freezer is located opposite.
From here, the sister ships differ. Where the SUV has offset lounges to allow for the lower starboard-side helm, the 50 SMY's lounges face each other, forming a circular socialising hub that's large enough for eight occupants. Where the SUV's aft lounge sits, the SMY gets an internal timber stairwell with inbuilt liquor cabinet and glass storage. There's no safer way to transition to or from the upper bridge.
Our test boat has white Corian benchtops, walnut trim and cream furnishings, lending a luxurious car-like vibe along with all the comforts of home.
That includes down below, where a full-beam master suite is bathed in light from large hull windows, and has a queen-sized island berth, chaise longue and vanity. While you have to step down to cross sides, stooping is not required. Within the same private cabin are an en suite and a walk-in robe.
The VIP stateroom is forward and there's a guest cabin to starboard that can accommodate either a single bed or double bunks. Both offer good headroom and airiness.
The test boat's owners, coming up the range from a Riviera 43, were convinced to buy off the plan after seeing overlays of the 50 SMY with Riv's 47 and 52 Enclosed Flybridges. The comparative living space tipped the scales.
The flybridge has solid glass on three sides, but remains open on the aft overhang  – optional clears can then fully seal this section. The side windows slide open, plus you have twin sunroofs overhead, so it can really open up to the breeze.
At the same time, you can close a hatch over the stairwell to reduce engine noise and prevent falls. It's a security feature, too, when locking the boat.
The aft dinette lounge is huge and converts to another sunpad. It has a wetbar and optional joystick opposite, or you can specify an additional helm station.
Set to port, the main command centre offers twin pedestal-mounted leather seats and places controls, screens and switches close to hand and in clear view. Attention to finer details like the stitching is impressive.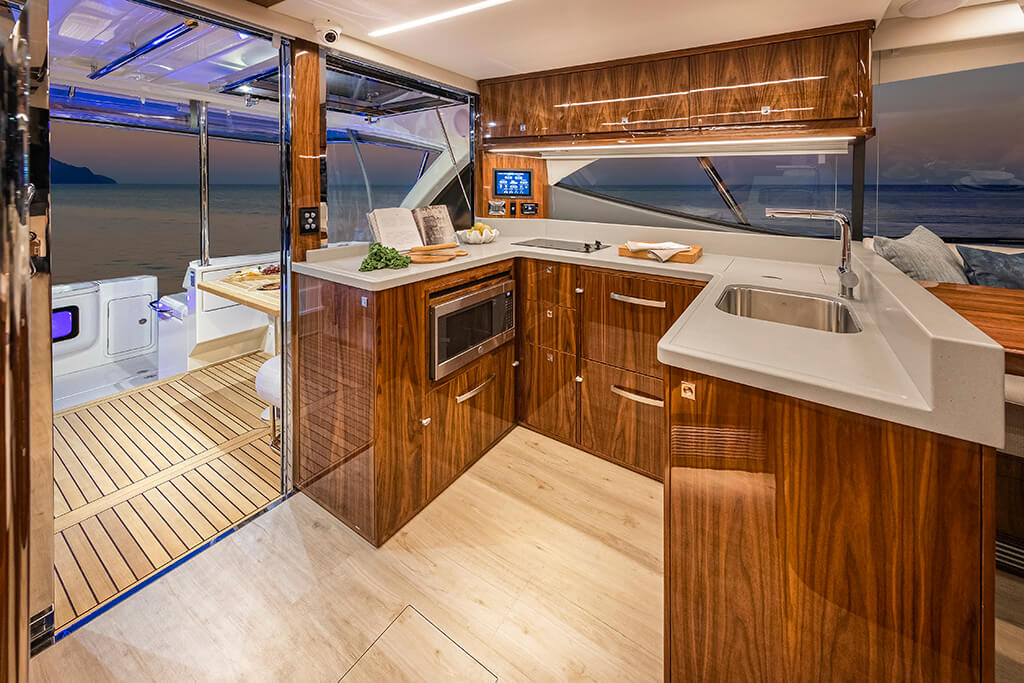 From here, we summoned the twin Volvo Penta IPS 950 diesels that are specified as the optimum power match. The 505 SUV's standard plants are D8 IPS 800s delivering 600hp apiece, whereas the SMY gets the upgraded D11s (725hp) due to the boat's greater weight and windage.
A shaft-drive alternative is also offered for the SMY, employing twin 800hp MAN diesels. Thanks to vee-drive gearboxes, the engine locations and weight distribution remain largely unchanged. Servicing won't be an issue either, as the engine room boasts almost full headroom and considerable width.
In terms of fuel efficiency, the MANs have an edge at displacement speed, achieving a range of 2060nm (3815km) compared with 1750 (3241km), based on the same 3300lt capacity.
The pods win the planing battle, gaining three extra knots at top-end  – 33.7 knots (62.4km/h) compared with 30.6 knots (56.7km/h)  – and being more fuel miserly. Word is, though, that a new MAN powerplant may address this difference so it will come down to personal preference.
Plant the throttles on the Pentas and there's a slight linger on hole-shot as 25.5 tonnes of hull builds steam. Give her a little run-up however, and the mid-range thrust makes its presence felt quickly and maintains excellent momentum through turns.

You're not penalised for going faster if sea conditions allow, as fuel-burn ratios remain relatively constant through the rev band from 1900 to 2560rpm. Noise- and ride-wise, the cruising sweet spot is around 25 to 28 knots (46 to 51.8km/h).
We drove both with and without the optional gyro and found the 50 SMY handled well either way, as auto trim tabs also assist in levelling the ride and maintaining track. The benefit would be more appreciable in displacement mode or at anchor.
In the hours we spent aboard, it was hard not to be genuinely impressed by the overall performance, finish and finesse. The marriage of SUV and SMY has afforded lots of big-boat features, with multiple living areas and a tremendous amount of practicality and versatility.
At the time of writing, there was a quite lengthy waiting list for new builds, so pricing will vary on delivery timing. In round numbers, let's say $2 million base price  … good value for a boat that, even in a gale, makes life a breeze.
Model: Riviera 50SMY
Type: Flybridge
Construction: GRP
Displacement (Dry): 25,500 kgs (depending on engines)
LOA: 17.02m
LOH: 15.43m
Beam: 4.96m
Draft: 1.34m
Power: 2 x 725hp Volvo Penta D11 IPS 950.  
Decking: Permateek
Fuel Capacity: 3400 litres