Riviera will showcase seven models, including the all-new 505 SUV at the prestigious Miami Yacht Show in February 2020.
This exceptional display will be headlined by the keenly awaited world premiere of the all-new, ingenious Riviera 505 SUV. A further six models will make their first appearance at the Miami Yacht Show. These include the Platinum Edition 6000 Sport Yacht and 4800 Sport Yacht Series II, the graceful and superbly appointed Belize 66 Daybridge, the sporty and adventurous 575 SUV and 395 SUV and the new style flybridge 39 Open.
Riviera Australia owner Rodney Longhurst is immensely proud of these yachts, hailing this generation as simply the finest Riviera's created as the company prepares to celebrate 40 years of boat-building excellence and the launching of almost 5,600 yachts in 2020.
"I am proud to say that our current model range of 20 individual yachts is the most refined that Riviera has ever created. This truly is testament to our team's in-depth research and development processes and the relentless pursuit of quality and excellence," he said.
 "I am very much looking forward to 2020. We have three world premieres scheduled for the year as part of our 40th year celebrations which all start in February in Miami, Florida.
Riviera 505 SUV – World Premiere
Having created a unique market segment with the SUV Collection, Riviera has taken this to a higher level with the all-new 505. This multi-functional cruising yacht integrates a number of the distinctive Riviera "big-boat" attributes while staying faithful to the SUV pedigree.
This ingenious cruising yacht boasts a three-stateroom/two-bathroom configuration with full-beam master stateroom, along with a raised and fully covered mezzanine seating area that redefines luxury and privacy.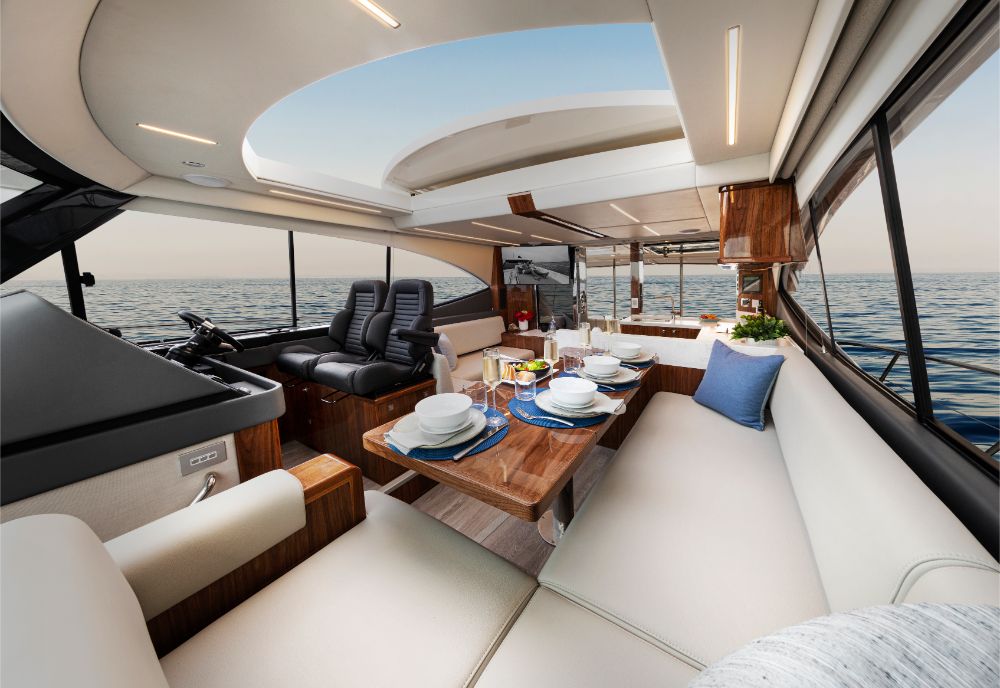 Here, there are two supremely comfortable built-in lounges either side – the starboard seat can fold out to become a daybed. While the hardtop extends fully over the mezzanine, twin sliding sun hatches allow filtered light and air to flow from above. The mezzanine is a cool, calm and protected place to read, relax and enjoy alfresco dining and entertaining.
Standard power is twin six-cylinder Volvo Penta D8 IPS 800 turbo diesels developing 600hp (441kw) apiece, mated to joystick controls (helm and cockpit) and twin 16-inch Volvo Penta Glass Bridge screens. The power plants may be upgraded to optional 725hp (533kw) D11 IPS 950s.
"Whether it's fishing, diving, paddle-boarding, or simply relaxing with family and friends in the total luxury of the mezzanine, the new 505 SUV offers the best of all worlds.
 "We look forward to showcasing our latest yachts at Miami Yacht Show from February 13 to 17, 2020 particularly to see so many premiere models," Mr Longhurst adds. "This will allow all boaters to experience for themselves our superior new models that are among the very finest in the world."