Beauty, Brains and Brawn
Riviera's new 6000 Sport Yacht is an elegant, sophisticated and capable addition to the company's stylish cruiser line-up.
By Mark Rothfield
Some are born with beauty, brains, athleticism and wealth, while others have it thrust upon them. The new Riviera 6000 Sport Yacht is both.
As the immaculately conceived, genetically engineered offspring of the five-year-old 5800SY – the prettiest thing to come out of Australia since Elle Macpherson – the 6000 started life in excellent shape. A modernisation makeover conducted under the perfectionist gaze of Riviera chairman Rodney Longhurst and resurrected CEO Wes Moxey has now iced the cake.
The 6000's epiphany was 38 boats in the making, for that's how many 5800SYs were constructed from 2009 onwards and spirited to all corners of the US, Europe and Australia. Each was progressively more refined than the previous, but such is the 6000's level of sophistication that it arguably transcends its status as a 'boat' and becomes a 'craft', in the same manner that Dame Joan Sutherland was more diva than mere opera singer.
There's an air of exuberance about it; an exultant sparkle that smacks of star quality. Its transom is as pert as Nicole Kidman's. It has the poise of Geoffrey Rush, the presence of Kate Blanchet. It grips the curves like Kylie's gold hotpants.
Which all may come as a culture shock to those whose perception of Australian panache extends no further than Hoges' work shorts or Steve Irwin's khakis.
Yes the 6000 is tough – Crocodile Dundee tough – but it's not rough. It resists the blue-collar blandness of Australian culture and dares to harbour a vision reaching beyond the horizon – and even beyond its own marque.
When you consider that more than half of Riviera's production is exported, it makes sense. It, nevertheless, blurs the lines of national identity – salesmen were repeatedly asked during the Sydney International Boat Show (SIBS): "Where was this built?"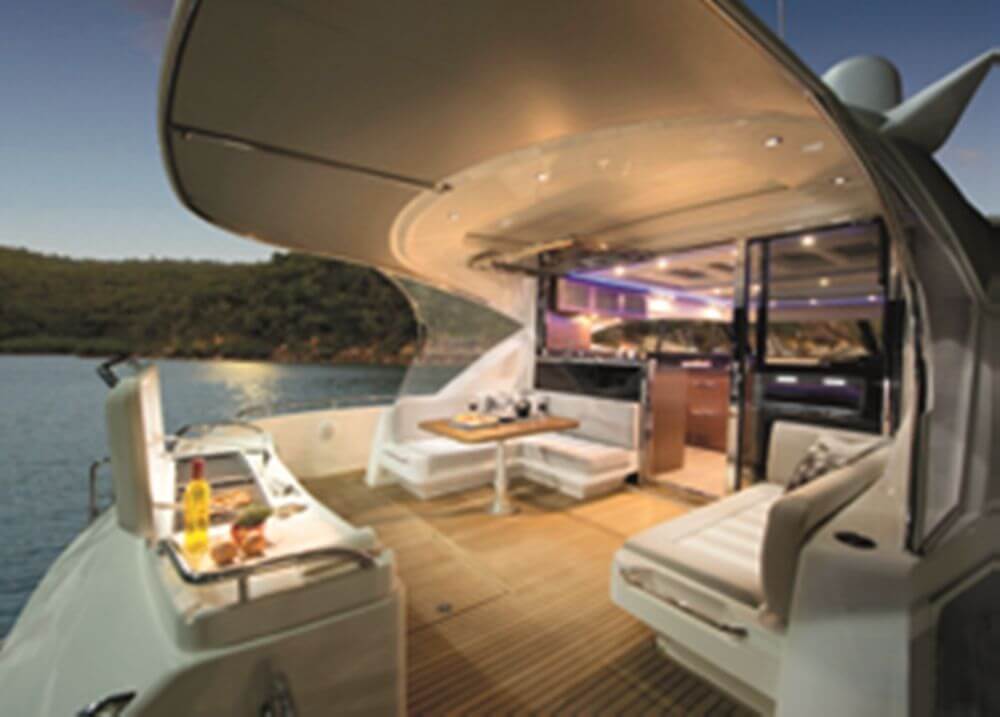 The answer is "here" but also "there" and "everywhere", since the 6000 clocked more frequent flyer miles than Julie Bishop, even before leaving the factory. With British-inspired styling, Swedish motors and air-conditioning, Swiss electronics, Dutch sunroofs and electrical systems, Italian leather seats and an American generator, it's truly a world boat.
Of course, the notion of 'globalism' necessitates a chameleon-like ability to tailor layouts and fitouts to suit multicultural tastes. There is a myriad of furnishing options and a choice of at least four timbers – cherry, walnut, teak or wenge. The latter is perhaps too dark and exotic for our tastes, but European and Middle Eastern buyers love it.
The test boat was rendered in satin-finished walnut accompanied by light vinyl flooring, biscuit-coloured furnishings and charcoal accents; more Jaguar than Holden Commodore. Customers coming from a 51 Flybridge took one look during SIBS and specified the exact decor combination, as did the owner of a not-so-old 5800SY, who already wants to update.
The 6000 shares a common hull and various other aspects with the 5800. The garage is unchanged, swallowing a 3.2-metre RIB, while the aft boarding platform lowers for launching – weight limit is 350kg. At anchor it doubles as a teak-lined beach, a place to park the deckchairs while water laps your toes.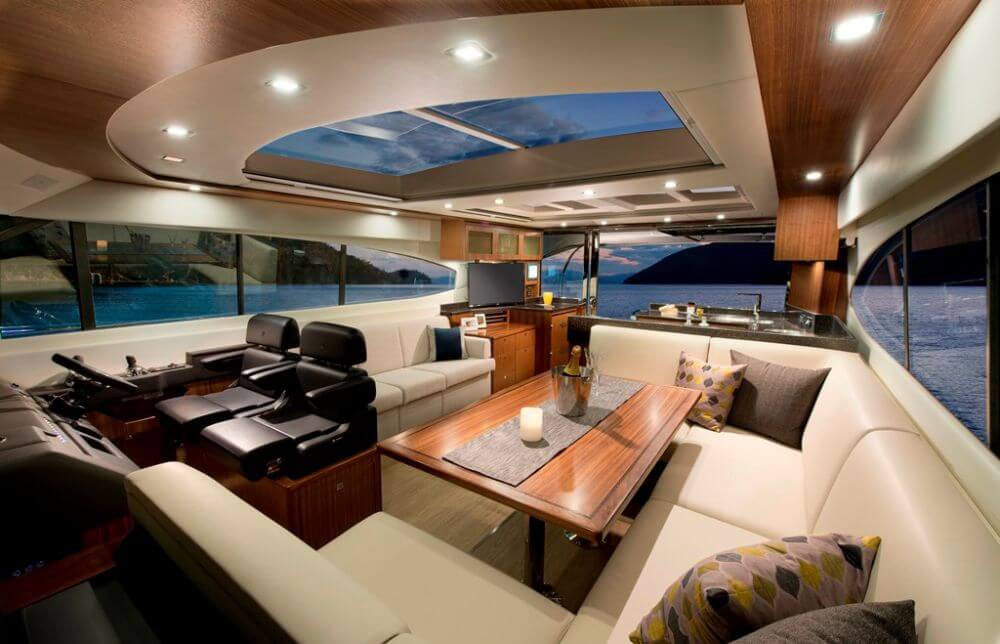 Wide walkways, with bulwarks and hip-height handrails, also remain. Once forward, there's an integrated anchor system with Muir windlass that is both practical and eye-pleasing. A spacious sunbed has elevated backrests if you like to read, and iceboxes if you prefer to relax.
Hull refinements begin thereafter, most noticeably with the addition of a keel – Volvo originally spurned this, but Riviera has since crafted a keel that doesn't interfere with the pods. Turning and tracking are tighter and at rest the hull rides true to the pick.
New swept-back topside windows afford a sportier look, complementing the superstructure's lines.
Where the barbecue was previously positioned forward and to starboard, the designers gained 300mm of space by placing the grill and amenities aft in place of the rear lounge, bringing the total cockpit area to a Strictly Ballroom-like 10.5 square metres. The hardtop overhang has been extended and carries a shorter awning and side clears, as well as integrating a new electric sunroof.
Step inside and the galley has been moved to port to improve traffic flow, with dishwasher drawers beneath and fridge/freezer in the starboard cabinet directly opposite. Other features include a convection microwave, four-ring electric stove and soft-closing drawers.
Skylights now richly illuminate the aft area of the saloon. For night there are LED downlights throughout, plus concealed blue mood lighting. Forward is a Webasto sliding sunroof that, with the addition of opening side windows and the aft hopper window, creates one big breathy indoor/outdoor world.
Also new is the bar area to starboard. A table and two seats make a nook for laptop work or a light breakfast, yet by swinging the table into the settee base it converts quickly into a three-seater lounge. A 40in LCD TV has a hinged arm that's programmable to face either the lounge or the elevated U-shaped dinette to port.
Moving below, you come to the 'atrium', a corridor conflux with a bright, tall and crisp architectural feel. It's the perfect entrée to a large-volume and luxurious accommodation zone.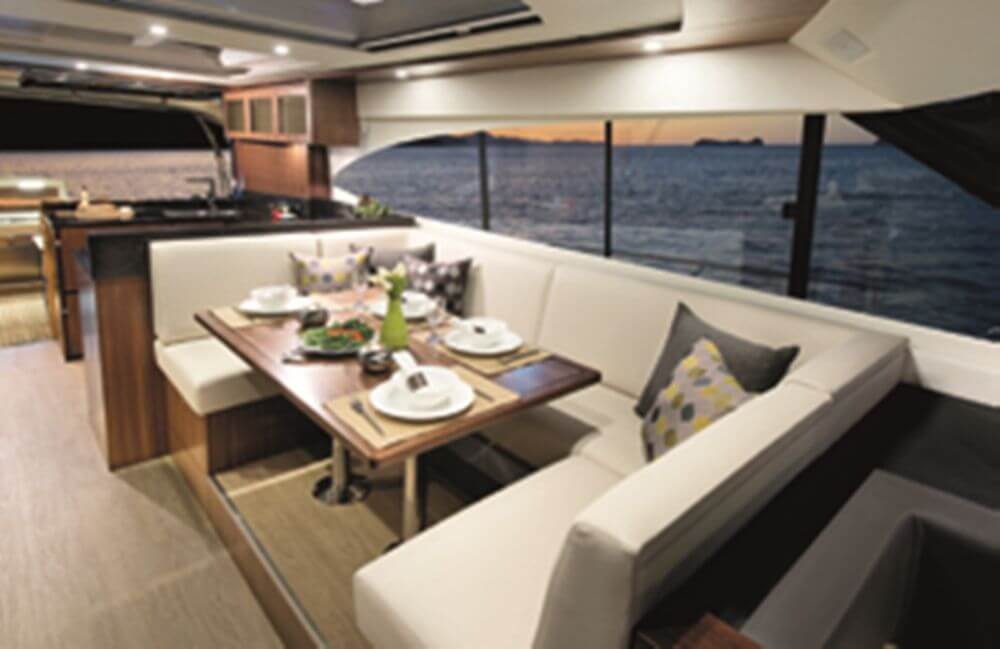 The VIP cabin is forward, boasting a queen-size island bed, en suite with walk-in shower, generous robes and angular timber bedhead panels that can be mood-lit for added romance. Cue Barry White.
To starboard is the day head, shared via two-way doors with the 'midship cabin – here, in turn, you find twin single berths.
Layout choices exist for the atrium lounge adjacent. It can be an enclosed fourth cabin with Pullman berths; it can be an office space; it can be a lower galley for those who prefer more saloon space. On the test boat it was devoted to a lounge that converts to a spare bed, creating a perfect place for teens to play computer games.
The laundry is also located here, so guests can do their washing without invading privacy.
Previously, the full-beam master cabin had a bureau built aft and a smallish en suite set forward. On the 6000 the bathroom now consumes the entire portside area and is resplendent with high-class tapware, heated towel rail, Italian ceramic tiles and a frameless glass shower door.
To preserve the bedside view through the topside windows, as well as modesty when the head is being used, the bathroom has privacy glass that turns, electrically, from transparent to translucent.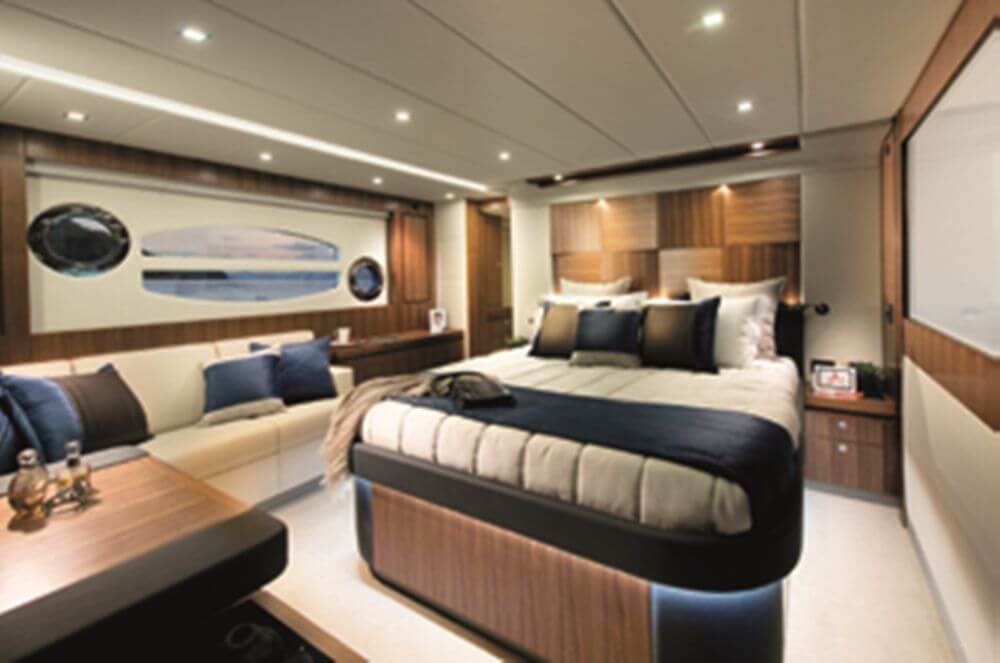 For those wanting a conventional full-beam master cabin, a presidential layout is available in which the bathroom shuffles forward into the atrium.
Indulgent touches include a king-size bed, L-shaped strip lighting continuing from the ceiling to side panel, and a Samsung home theatre with concealed speakers. From a practical sense there's now walk-in access to the utility room (cum crew cabin) and onwards through a water-tight door to the engine room.
The early 5800SYs sported triple IPS 600s, but the introduction of the 10.8lt 950 (725hp) option has allowed a twin installation. It's a vastly superior power package, not least because three's a crowd in any engine room. Servicing access is improved and maintenance checks are further simplified by clear strainers and accessible dipsticks.
Being commercially rated, the 950s simply purr when the 6000 is underway. Seriously, it is quieter than most enclosed flybridges. Even when Mad Max-ed at 31 knots (57.5km/h), pulling 2570 revs and with the sunroof agape, there's barely any noise … just pleasant conversation and sweet fresh air.
At 19 knots (35km/h), with the diesels spinning at 1900rpm and drinking just 150lt/hr in total, it remains whisper quiet at the helm. Throttle response, too, is sharp and the high-sided hull brushed aside some sloppy seas off Sydney Heads with ease.
Those considering ocean legs may be disappointed in the modest (250 to 300 nautical mile) range from the 2650lt tank, but it reflects the fact that sport yachts are often embraced by buyers who are inclined to coastal hop.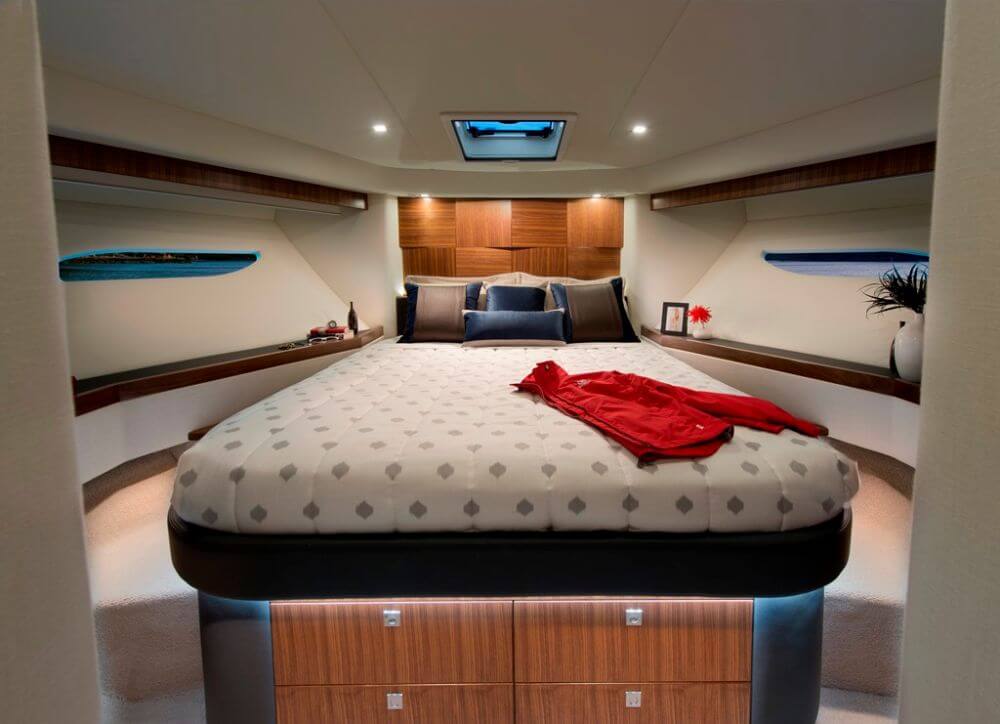 Ease of operation is paramount in this case, and the Riviera doesn't disappoint. A clever flip-up cockpit docking station is one thing – the joystick also invites the autopilot to the party to allow high-speed steering in lieu of the helm.
Small things amuse small minds, I know, but to hoon around Sydney Harbour with a joystick is to relive one's misspent youth playing Pacman. The big hull responds like a runabout, then instantly holds the new heading once you've let go.
An automated trim tab system remains vigilantly active, adjusting the ride to counter swells and gusts. A dashboard display shows tab positions, but otherwise the driver needn't spare it a second thought.
The automotive-style dash bears no analogue gauges; just two 17-inch screens representing the latest Volvo Penta Glass Cockpit technology. It's as elegant as it is simple, integrating Electronic Vessel Control systems with navigation data, depth, autopilot function and camera vision (including the engine room and boarding platform).
Folk needn't lean forward to use the touchscreen mode – instead they can scroll with a 'mouse' control located at elbow level, aft of the joystick.
Similarly, the electrical management is centralised and simplified, with the use of CZone panels located at the saloon door, helm station and master suite. You can preset lights and entertainment functions to customise your onboard experience, or retain manual control over individual circuits.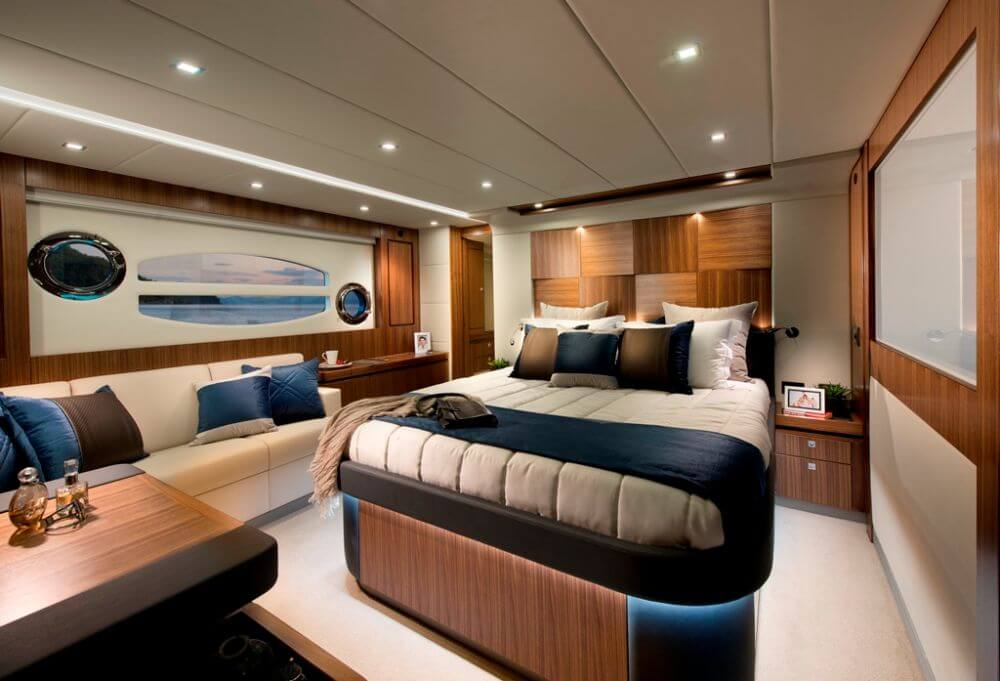 Hit 'dock unattended' as you leave and it switches off all non-vital systems … another thing less to fret about. Mastervolt also supplies batteries, battery chargers and an inverter.
In short, the 6000 Sport Yacht heralds a new era in sports yachts and a new area for Riviera. Its SY sisters will, almost certainly, morph into this more curvaceous, avant-garde and universally appealing form.
It's a boat the company could only have dreamed about several years ago while in receivership. Now, people are again viewing sports cruisers as viable alternatives to waterfront duplex weekenders – the market sweet spot is 50 to 65 feet (15 to 20m), in the $1.2million-plus price range and, in this domain, Riv's new managers seem hellbent on being the best, not the biggest.
The 6000 reflects the construction quality and dealer backing for which Australia is renowned, and the best of British styling. I wondered, though, has it forsaken its Riviera roots to the point of alienating domestic fans? Is it, dare I say, too 'Pom' for its own good?
For this conundrum, I invited the most 'ocker' bloke I know to take a look. He's a plumbing salesman who, style-wise, is the juxtaposition to the 6000; the yin to its yang. The man commits the fashion faux pas of combining slippers, socks and track pants, however he is also an enthusiastic fisherman and dyed-in-the-wool Riviera flybridge tragic.
"So what do you think?" I asked, after a lingering lap of the interior. He scratched his bald head, drank in the saloon then replied: "It doesn't look like a Riv, but it feels like one … I think I want my ashes spread from it."
Boat Design Name: Riviera 6000SY
Year Launched: 2014
LOA: 19.3m
Beam: 5.38m
Draft: 1.36m
Displacement (dry):  25,750kg
Max Speed: 31 knots
Construction: GRP
Fuel Cap: 2650 litres
Water Cap: 800 litres
Engines Make: Twin Volvo Penta IPS 950 diesels (725hp)
Gearboxes: IPS
Drive Train: IPS Pods
Base Price of Boat: AUD$2,130,000
Price As Tested: AUD$2,258,000