There is an awful lot to admire about the way that the members of Riviera's executive team go about their business. Despite Riviera's suffering as badly as anyone during the recent GFC, they continued to keep their focus firmly on the things that matter: developing new and better models; designing new and better ways of doing things and keeping in touch with the demands and wishes of their customers.
They are now, with their well-publicised tribulations behind them, reaping the benefits of that approach and their new Riviera 63 Enclosed Flybridge is a great example. Encompassing the very best of Riviera, it is not only packed full of innovative new features; it also has a surprisingly high level of customisation.
The Riviera 63 Enclosed is available either as an Open model (with a fixed bimini for shade) or as an Enclosed Flybridge. The Open debuted almost a year ago, at the Sanctuary Cove Boat Show and the first Enclosed Flybridge, Bleue Serene, was ordered shortly after, by a keen Auckland angler. The reason we know he is such a keen angler is because his custom-designed game chair totally dominates the lower level of Bleue Serene's not insubstantial cockpit. In addition, there are 20 rod holders close at hand (four in the coamings, six in a secondary "rocket launcher" between the cockpit's upper and lower levels and a further 10 in the 'rocket launcher proper, at the back of the flybridge).
A quick look around the working section of the cockpit also reveals several other dedicated fishing features: an under-sole insulated fish bin connected to an icemaker (which automatically fills the bin when turned on); a centrally mounted livebait tank in the boarding platform; a removable pushpit complete with bait station; pull-out tackle tray lockers and a large freezer. There are also three cockpit sole hatches that can be totally air-sealed at the touch of their buttons, to ensure that absolutely no water gets through, even when the cockpit is totally awash.
However, although Bleue Serene initially gives the impression that she is an out-and-out sportsfisher, that is only part of the picture. As Adam Wickes from R Marine (the New Zealand Riviera agent) explains, Bleue Serene's owner has two great loves: sportsfishing and cruising with his young family.
The beauty of the Riviera 63 Enclosed Flybridge is that it effortlessly caters for both. When the family is aboard, the game chair, the baitboard and the rods all disappear, but they can be quickly reinstated when the mates come along for an extended fishing trip. Like many modern flybridge cruisers, the Riviera 63 has a split-level cockpit, designed to cater for both watersports and entertaining at the same time. The lower level is the "working" section and here one finds everything one needs to fish, dive, cook, clean up and connect to the outside world.
On the boarding platform there is a removable pushpit, complete with baitboard, for those who like to get close to the action when bottom fishing. There is also a centrally mounted live bait tank that is pressure fed while underway. Those wanting to get in or out of the water can use the drop-down ladder to starboard, neatly hidden under its own hatch when not in use.
Access to and from the platform is via an opening section of the transom (also on starboard) that is thoughtfully large enough to accommodate any big game fish that may need to be brought on board. A handy pull-out shower close to the transom door means swimmers, divers and those fishing on the platform can clean up before moving further into the boat. The transom features a barbecue module, complete with sink, hot and cold water and some cleverly positioned lights in the lid for night-time cooking. There is also a bank of four drawers and a cupboard, all of which are bound to prove useful when either cooking or fishing.
On the port side of the module are the three controls for the blow-up air seals that protect the under-sole stowage areas. When activated, they ensure that the below-decks areas stay completely dry, even when the cockpit is fully submerged.
Riviera has also installed very handy opening lockers on each side of the lower cockpit. At first glance, these appear to be standard passive lockers with hatches that pull open and lie flat on the floor. They are not. Instead, the locker tray has been attached to the hatch and, when it is opened (the stops are at about 45 degrees) the contents of the locker are right there and easy to access.
On Bleue Serene the starboard of these lockers contains the shore power cables and the port a handy pressure washer. At the front of the lower cockpit (under the mezzanine seat) are a double freezer bank and a handy set of tackle drawers.
With a superbly appointed cruiser like this, it is hard to choose a favourite spot. Nevertheless, I suspect many will plump for the upper section of the cockpit. This mezzanine area will be a wonderful spot to relax in at the end of the day. Protected from the elements by the flybridge overhang, it is open enough to attract a cooling breeze on a hot day. With facing bench seats either side of a Riviera table (complete with stainless steel bottle and glass holder), it is also handy to the ship's galley, thanks to a large, opening awning window.
In true Kiwi fashion, the galley is aft on Bleue Serene and, thanks to the awning window, snacks, refreshments and even substantial meals can easily be passed straight from galley to table. There is also mood lighting throughout the cockpit to enhance the alfresco atmosphere.
Bleue Serene also features an advanced C-Zone control system, situated just inside the entrance to the saloon. From here one can control almost all of the Riviera 63's various electrical and electronic systems, including the new Switch glass panels. These have been installed on both sides of the saloon, in the awning window and main saloon door and on the sides of the flybridge.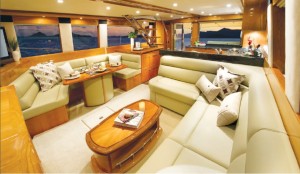 In "normal" mode these glass panels look like normal windows, allowing people to see in and out. Touch the right C-Zone screen panel, however, and the selected glass window or door goes black, ensuring complete privacy. In true C-Zone style the system is childishly easy to operate and one can choose to darken all the windows on board, just the windows in one area or even a single window. Bleue Serene is the first boat in the Riviera range to be fitted with Switch glass and, given the benefits (for example, one has no need for blinds or curtains), it is unlikely to be the last.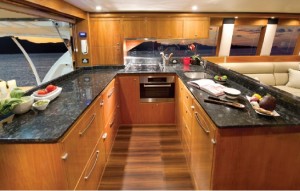 Bleue Serene's U-shaped galley is all one could ask for in a vessel of this size and fit-out. Charcoal Corian benchtops perfectly complement the high-gloss polyurethaned teak timber work and brushed stainless appliances. A pair of Riviera Vitrifrigo fridge drawers live handily under the large aft bench and there is a brace of matched freezers below. An induction cooktop, complete with extractor fan, is accompanied by a Miele convection/microwave oven and a Bosch dishwasher. 
There is also a trash compactor, removable sea rails, a cleverly hidden pantry that rises from the benchtop when required and a Zip Hydro tap unit that instantly delivers either chilled or hot filtered water. There is also a wealth of handy stowage in cupboards and in the set of deep soft-closing drawers.
As Adam explains, there are definite "his" and hers" areas in and around the galley and, to show me what he means, he takes a couple of steps across the companionway to the bar area with its beer fridge drawers, dedicated drinks lockers, icemaker and, again rising at the push of a button, a delightful pop-up glass stowage unit.
As one moves forward into the saloon, the high-gloss teak is complemented by a brace of white leather settees. The one to port is L-shaped around a two-toned coffee table. It faces forward towards the TV and features large, handy stowage drawers underneath. Over on starboard the U-shaped settee wraps around the dining table. Behind is an unobtrusive locker that holds placemats and, on a clever sliding shelf, special racks for platters.
On such a large boat, one might think there is no need to worry about finding places to stow things, but Riviera's designers have taken the opposite approach. They have ensured that available spaces are used in the best possible way and that not one is wasted. For example, above the port settee is a secure locker for the gold game reel sets while much of the entertainment system (the bits that do the work rather than those that need to be seen) is in its own locker behind the TV.
One would expect a vessel such as Bleue Serene to boast a real "bells and whistles" entertainment system and it does not disappoint. When not in use, the Samsung TV hinges forward to reveal the Sky decoder, a fax machine and the satellite connections. A portable keyboard allows the TV to be used as a computer screen and it is all married to a multi-zone Bose surround sound system.
Bleue Serene's master cabin is to port down the short companionway from the saloon. It is accessed through double opening doors and features an island queen berth facing aft, a large mirrored headboard and both a rectangular fixed window and a round opening porthole (alarmed so that a warning sounds if it is not properly closed when the engines start up).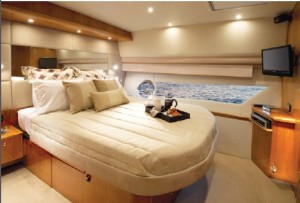 There is plenty of stowage, too, in wood-lined wardrobes, in vanity units on either side of the berth and under the bed. This latter is accessed via a gas strut that lifts the entire bed base, revealing a huge hold fitted with sets of large drawers. The area is ideal for things not needed on a daily basis and is a huge improvement on the old "empty space" one so often finds there.
A TV is mounted high on the aft bulkhead and is complemented with another Bose unit in its own cabinet. Access to the ensuite is also through the aft bulkhead and, again, there is plenty of handy stowage throughout, including in the full set of drawers beneath the vanity. There is a stand-alone shower box, a stylish raised sink unit, a VacuFlush toilet and, thanks to the judicious use of mirrors and lighting, a very light and airy feel.
Across the hallway is a utility room with still more freezers, lots of pantry space and a range of appliances, including a breadmaker. There is also a day head (a slightly smaller version of the ensuite) and a Pullman-style kids'/crew cabin on starboard. Like all the cabins, the latter has its own air conditioning and TV/entertainment system, including a Fusion unit with iPod-connectivity.
The guest cabin is in the fo'c's'le and again features an island queen berth (this time facing aft), plenty of stowage (including a brace of hanging lockers) and its own ensuite. Bleue Serene also has an in-built vacuum system for ease of cleaning and, thanks to a large battery bank and substantial inverters, can run on 240 volts in "quiet ship" mode if required.
Access to the flybridge is via an unobtrusive teak and stainless steel air bridge above the bar. Although gamefishing is high on Bleue Serene's agenda, the helm station has been set forward in conventional style (there is an aft docking/fishing station on the platform overlooking the cockpit). Serviced by twin Pompanette chairs, the helm has been designed to hold three 12" display screens. In this case, they are Simrad and controlled from the Simrad OP40 panel, which has been handily positioned close to the skipper's left hand. Also close at hand are the levers for the Twin Disc QuickShift gear and throttle controls, the Muir windlass, the C-Zone system and the spotlight, trim tabs, bow thruster and VHF.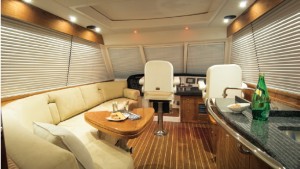 leue Serene also boasts a full camera system, an intercom capable of connecting the bridge to both the galley and engine room, a separate flybridge sound system and a handy "glovebox" complete with a pair of 12V charging outlets. The flybridge also doubles as an entertainment centre (after all, who doesn't want to be up here while underway) and as a "captain's cabin" when there is a professional skipper on board.
Amenities here include a wet bar, designated bottle and glass stowage, plenty of general stowage, another fridge drawer (under the second helm chair) and even an insulated beer locker.
There is also a large settee (occupying the entire port side) that can easily seat five or six. The accompanying Riviera table is capable of dropping down and, with the help of an additional squab or two, converting into a comfortable skipper's berth. Again, thanks to the Switch glass panels on both sides, there is no need for curtains or blinds and, when privacy is not a priority, the all-round visibility is excellent. Ventilation is also not an issue. The side windows open, as does the large sunroof, there is another awning window aft, spacious aft doors and, if all that is not enough, air conditioning as well.
The aft or poop deck features a handy two-person settee and is ideal for those wanting to watch the fishing action below, those on "fin watch" when game fishing and those just wanting to enjoy the view.
Standard power on the Riviera 63 Enclosed is a pair of Caterpillar C18 Acert diesels, each of 1015hp. This obviously wasn't considered adequate by Bleue Serene's owner and he has, instead, opted for a brace of MAN V12s, each producing 1550hp. These are housed in a very classy engine room that is accessed via one of those mezzanine seats in the cockpit. Once opened, this hatch reveals a handily positioned fire extinguisher and a pair of ear muffs on its underside, another great use of otherwise dead space.
The engine room is immaculate, with raised chequer plate walkways and Riviera's new full liner system keeping everything tidy. Keeping the giant MAN diesels company are a pair of 22.5 kVA Cummins Onan generators (set so they run alternately), a watermaker, a dive compressor, holding tanks and a full fire fighting system. There is also a manual over-ride for the Twin Disc QuickShift system, if required.
Powerboat-like performance
After an extensive examination of Bleue Serene's many on-board attributes, I was, not surprisingly, exceptionally keen to check out her on-water performance. It is not every day that one gets control of more than 3000 horsepower, even if only for a short time. Leaving her base at Westhaven marina, Bleue Serene effortlessly glides through first the five-knot zone and then the limited-to-12-knots section of Auckland's Waitemata Harbour. While the vessels around struggle with the wakes thrown up by the various ferries, Bleue Serene is completely unfazed. From her two helm chairs, Adam and I converse at a normal volume and have no trouble keeping an eye on the surrounding traffic. More out of interest than necessity, we turn on the AIS system, allowing us to identify all of the commercial vessels by name and at a reasonable distance.
Once clear of the restricted areas, the helm is pushed forward and Bleue Serene responds like a horse kept corralled for too long. There is no noticeable "hump" to navigate over; rather, Bleue Serene accelerates in an even and relentless fashion rather like a 747 gathering speed along the runway. It is hard to determine when we move from displacement to planing but I suspect it is rather early.
Once running along at cruising revs, Bleue Serene proves as nimble as she is quick. Most 18- or 19-metre vessels I have driven have been reasonably sedate – comfortable and steady, but hardly frisky. Bleue Serene is comfortable and steady all right but she is also lively. In short order she hits her top speed of 35.1 knots (at 2350rpm) and once there, she performs like a ski boat.
Hard turns at top speed are not usually required on these types of vessels but, should the need arise (for example to avoid something in the water or to get quickly to a work-up), Bleue Serene will respond without a blink. As we played around in the area off Rangitoto Light, there were grins on both our faces and, I'm sure, some very startled local fishers watching on from their far smaller vessels. No matter what we tried, Bleue Serene performed flawlessly; even crossing our own wake at speed (that being the roughest water we could find) proved to be a total non-event.
Our final test before heading for home was to check how this dedicated gamefisher, complete with boarding platform, would handle being reversed at speed. With Adam at the controls and me watching from the aft deck, Bleue Serene reversed at an impressive 6.1 knots! Yet, even though the lower section of the cockpit was completely flooded, the aft section of the vessel remained buoyant and safe and, when we later checked, all the underfloor lockers remained completely dry, thanks to their air seals.
There is no denying that Riviera's latest is a superb addition to the company's already impressive line-up. Whether in family cruising or hard-out fishing mode it is superbly "fit for purpose". Although Bleue Serene's owner was not on board for our test drive, I suspect his grin would be at least as wide as ours and definitely a lot longer lasting – and so it should be, for he has a truly magnificent vessel.