When Ray Haddrell first heard of plans for the 64 Sports Motor Yacht two years ago, he told Riviera CEO Wes Moxey, "Give me a call if you ever do an SUV version". Rayzaway is the culmination of that first phone call. Barry Thompson got to experience this stunning new Riviera SUV flagship immediately after its release at the recent 2021 SCIBS. 
Having owned six Rivieras before their latest acquisition, Ray and Jenny Haddrell from Melbourne, Australia, are the first to own a 645 SUV. It will be the seventh consecutive Riviera the Haddrells have owned and their largest. They are very familiar with the SUV range, having previously owned a 565 SUV and a 575 SUV.
Released at the 2021 SCIBS, the 645 SUV is also the biggest and most sophisticated SUV the company has ever built and is the flagship of a family of six SUVs. The SUV is described as a crossover between a 4WD and a sedan when it comes to cars. Riviera describes the SUV as a crossover between a flybridge cruiser and a sport yacht. The SUV provides all the attributes and amenities of a one-level sport yacht, with the internal single-level, enhanced by the spacious indoor-outdoor alfresco deck lifestyle features. 
The 645 SUV is available in two editions – the Classic and the Newport. Rayzaway is based on the Classic, which features elegant interior furnishings, a versatile foredeck entertaining space and four-stateroom accommodation. The Newport includes a distinctive Tungsten silver hardtop, a spacious foredeck sun pad, avant-garde saloon features and three-cabin accommodation with lower-deck lounge space.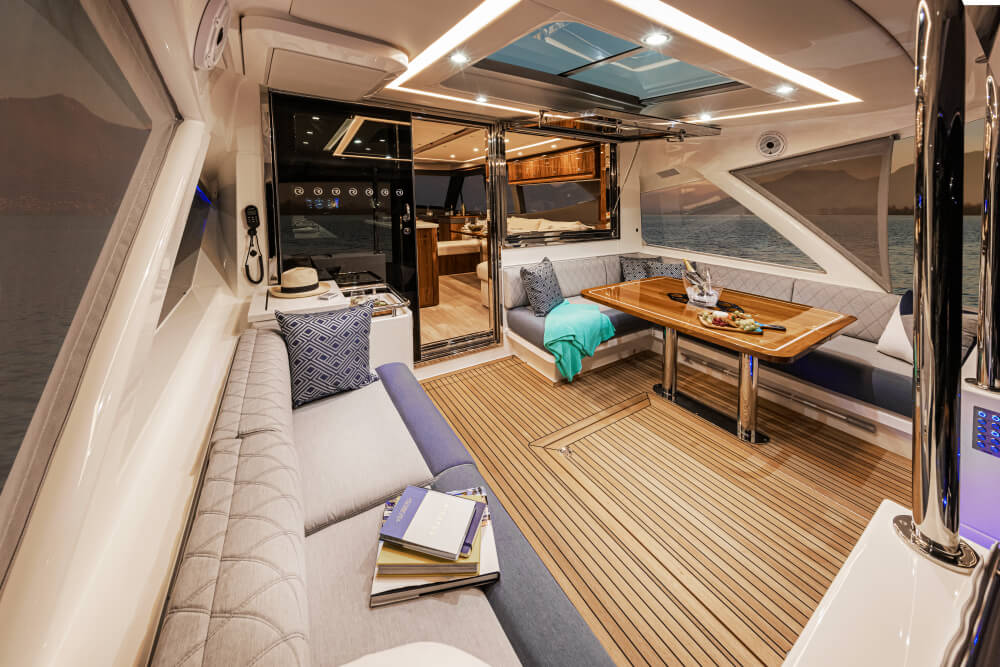 The 645 SUV is more than just a more significant 575. It has a very different layout, including an alfresco-deck dining area, bar, foredeck entertainment area, and island galley. The alfresco deck is the entertainment and living epicentre of the 645 SUV. The semi-enclosed space offers a lounge to port that converts to a double daybed, an L-shaped lounge to starboard, which includes a generous drop-leaf teak table. They also provide even more accommodation space for those extra guests. (not sure what this means).
If you are into watersports and fishing, then the 645 SUV has that covered. A rise and fall hydraulic swim platform double as tender storage and your fishing platform. The layout includes an optional three-seater transom lounge or live-bait well and optional awning extending from the hardtop. The cockpit also comes with a fridge/freezer and a double Southern Stainless bbq, plus triple hatch access in the teak sole.
A few steps up from the cockpit is the 645 SUV's entertainment and living epicentre – a semi-enclosed alfresco deck offering a plush lounge to port that converts to a double daybed. Alfresco living and dining are enjoyed in the L-shaped lounge to starboard, including a generous drop-leaf teak table. When the alfresco deck is opened up to the saloon and galley, the single-level living plan can be fully appreciated.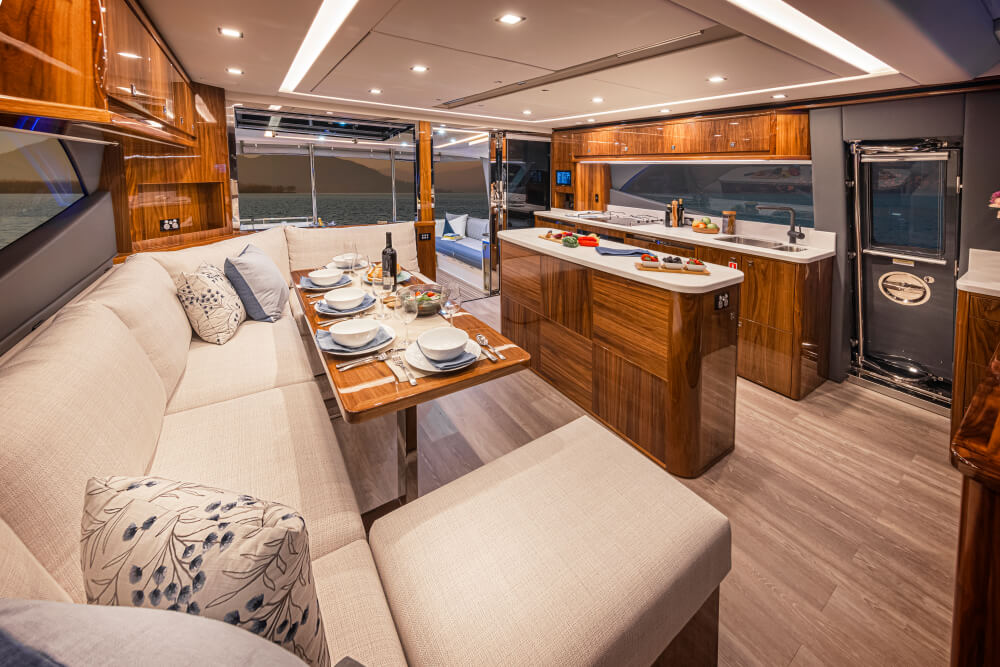 The foredeck zone is a unique entertainer space, providing plush lounge seating for up to 12 people, an insulated ice bin, stereo and locations for fenders and ropes. Four carbon fibre poles hold up a large sunshade, and the Newport Edition has a bigger table and larger sunpad. (This is in twice. See below).
The saloon is surrounded by high profile windows, making this a warm and friendly space. The galley is along the port side with a large island bench that provides more than enough space for two or more people to work side-by-side, prepping, serving or cooking. A walnut dining table is concealed behind the lounge and can be deployed simply by moving away four cushions and lifting the table up and out.
The helm on the centreline offers the option of two or three forward-facing luxurious leather helm seats facing three 24-inch screens and comprehensive system controls.
The forward starboard corner of the saloon can be a relaxing lounge, a workstation or a beautifully appointed cocktail wet bar.
The saloon includes a side saloon door leading to generous walk-around side decks and a foredeck that is a separate, lavish entertainment hub. The foredeck zone is a unique entertainer space, providing plush lounge seating for up to 12 people, an insulated ice bin, stereo and locations for fenders and ropes. Four carbon fibre poles hold up a large sunshade, and the Newport Edition has a bigger table and larger sunpad.
The 645 SUV offers the largest SUV accommodation with the choice of three or four staterooms with three bathrooms plus an optional lower lounge and crew cabin, utility room or additional accommodation.
The full-beam master is immersed in light and fresh air from large hull windows with integrated portholes. There is a central island berth with a chaise lounge to port, storage unit and hanging locker to starboard. The aft ensuite is very generous with a large shower, head and vanity. It also doubles as the entrance to a utility room which is personalised to suit an owner's needs. This space includes a water-tight door to the engine room.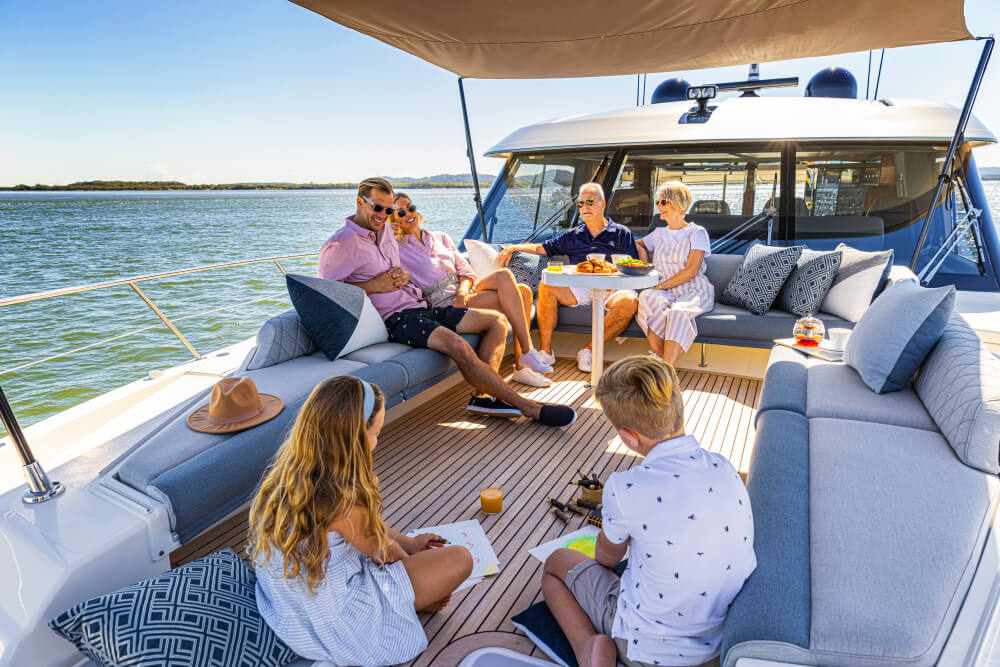 The layout lends itself to suit three couples with two more cabins with double berths. Forward is the VIP guest cabin, which includes a queen-size island berth with easy side access and an ensuite. The second guest stateroom to port has two single berths that slide together to form a double berth and has ensuite access to the day head. Directly opposite is a fourth stateroom with twin crossover berths. In the Newport Edition, this is configured as an atrium lounge.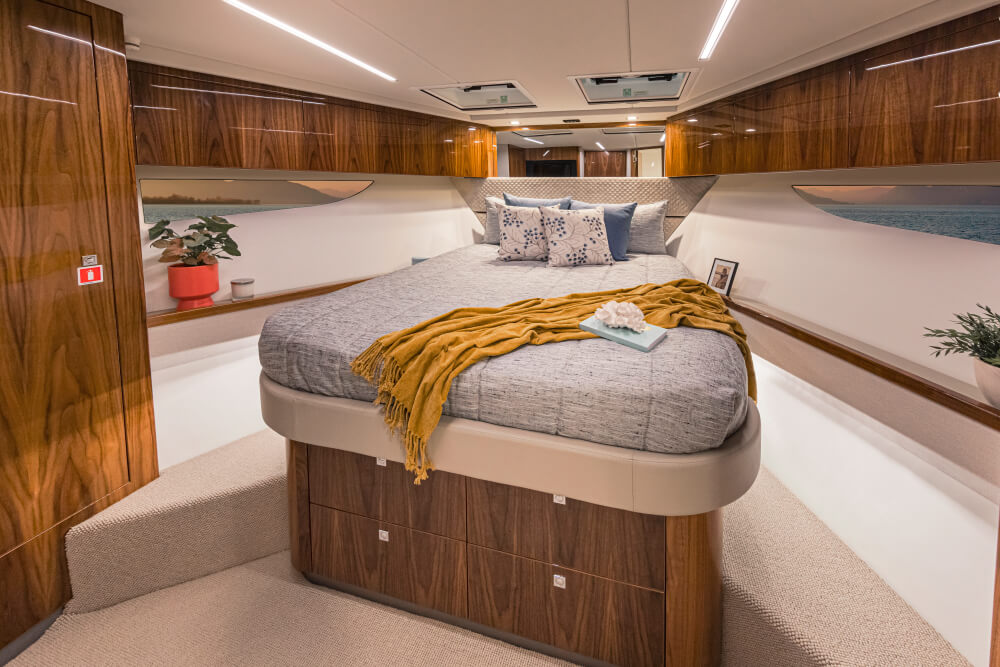 You have a choice of a pair of MAN V8 1300 (956 kW) or MAN V12 1550 (1,140 kW) diesels that deliver their power to the water through Twin-Disc MGX 5146 gearboxes onto Veem five-bladed propellers. The 1300 engines in Rayzaway delivered a high cruise speed of 28 knots, and when I punched the throttle all the way, I got 32 knots on the GPS. I am told that the optional 1550s provide a cruise speed of about 30 knots and wide-open throttle around 34 knots. 
If you like to cruise at a more leisurely speed of 18-20 knots, the 1300hp option is an ideal choice with a range of more than 500nm and fuel consumption of a conservative 12 lpnm. If you favour towing lures, then at around 900 rpm, fuel consumption drops to under five lpnm, and your range increases to over 1200nm.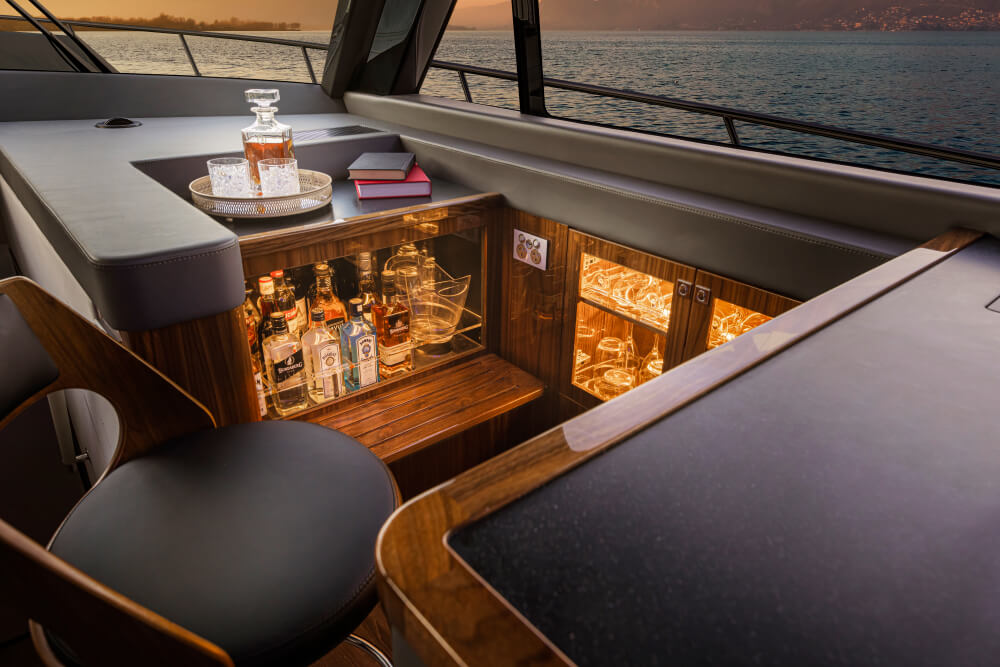 Layaway is fitted with a pair of Humphree 0.8m2 Carbon Fins, with Active Ride Control plus Humphree Interceptors. With the Humphree Active Ride Control system, the Interceptors associated with the fins are instantly actuated to optimise the running trim and list angle – all in one system. And boy, does it work!
At 30 knots, I threw the 40,000 kg Riviera 645 SUV into the most brutal turn I could. Two things happened. Firstly, the boat stayed almost perfectly level with minimal heel and secondly, we only scrubbed off about 1 knot in speed. Impressive!
With the Twin Disc Express Joystick System (EJS) seamlessly marrying the hydraulic thrusters with Twin Disc gearboxes, control at the helm is effortless. Manoeuvring the 645 SUV at low speed when coming into a fuel dock was effortless with EJS. All Riviera MAN-powered yachts come with a five-year engines limited warranty, further supported by Riviera's seven-year structural and two-year express limited warranties.

As is usual when reviewing boats on the Gold Coast, it's firstly a smooth cruise on The Broadwater and then out through the seaway to the open ocean. However, as it was blowing over 25 knots outside the seaway, we opted to stay within the harbour. While I have no doubt the boat would have handled it, the Riviera team still had a lot of system checks to do before the Haddrell's took delivery of their brand new boat at the end of the week.   
The ride and handling of the 645 SUV are impressive. While there is a meaty and solid feeling to the boat, it delivers a soft, smooth gentlemanly experience. The acceleration is exceptional, with 39 seconds from zero to 30 knots. Once on the plane, the Riviera 645 SUV runs with about 3-deg of trim. It is a true thoroughbred on the water. The twin MANs deliver in every aspect, and if it had not been for the atrocious weather along the coast, I felt like I could have headed north to the Whitsunday's or maybe even east and back to New Zealand. 
The 645 takes the SUV Collection to a new level with even more space, performance, cruising range, accommodation and luxury. Riviera pioneered the SUV concept in 2012 and has since continually refined this design, crafting more than 170 yachts ranging from 39 to now 64 feet.

Model: Riviera 645 SUV
Builder: Riviera Marine
Priced From:  AUD $3,295,000
Price As Tested: AUD $3,714,315.
Type: Sedan Cruiser
Construction: GRP
Displacement (Dry): 39,970kgs
LOA: 21.23m
LOH: 19.41m
Beam: 5.80m                         
Draft: 1.62m                         
Power: 2 x MAN V8 @1300hp
Propellers:  Veem 5 Blade
Gearbox: Twin Disc MGX 5146                          
MFD: 3 x Raymarine Axiom XL 22
Autopilot: Raymarine Evolution
Underwater Lighting: Aqualuma Gen 4        
Entertainment: Fusion
Cockpit Flooring: Teak
Anchor Winch: Muir
Stabilisers: Humphree Fins
Interceptors: Humphree                  
Fuel Capacity: 5850 litres or 6500 litres
Water Capacity: 750 litres
FUEL & PERFORMANCE DATA
RIVIERA 645 SUV
Fuel capacity:
5850
litres
 
RPM
Knots
L/h
L/NM
Range  (NM)
900
8.7
40
4.6
1272
1100
9.5
108
12
515
1500
18.3
197
11
543
1700
22
276
13
465
1900
24.6
344
14
418
2100
28.3
436
16
379
2300
30.6
507
17
353
2350
31.3
520
17
352