Riviera has unveiled plans for the new 50 Sports Motor Yacht (SMY) that redefines the form, function and feel of the quintessential blue-water yacht.
 The Riviera design team in collaboration with 4D Designs have created the 50 SMY, a remarkably spacious new yacht and brimming with unique features. This sophisticated new design draws on the heritage of Riviera's larger and very successful 64, 68 and 72 Sports Motor Yacht models. 

Among the key sports motor yacht design elements are a foredeck that transforms from tender storage to sunlounge, a sports cockpit, an all-weather mezzanine seating area that affords alfresco dining and entertainment, a stately three-sided glass-enclosed flybridge, and a full-beam master stateroom as centrepiece of a three-stateroom, twin-bathroom accommodation plan – all in a hull measuring 15.4m in length.
"Our sports motor yacht design is in a league of its own, as they bring many different yacht designs together for the first time in one yacht. A Riviera SMY has the attributes of a passage maker, pilothouse, motor yacht, and convertible sports fish, all in one.
"The new 50 SMY has considerable internal volume for its size, with multiple living areas and a tremendous amount of practicality and versatility," Riviera owner Rodney Longhurst says of the 50 SMY.
Sydney Australia couple Darrel and Linda Hall were quick to pre-order a new 50 SMY ahead of its formal announcement, one of many purchasers to do so off the plan. She will be their fifth Riviera in the past 10 years.
"We wanted to go to an enclosed flybridge," Darrel explains. "We go boating with our kids, who are both 19. They bring along friends, so the extra living space you get with an enclosed flybridge is a real bonus – it's a place to escape to so easily with an internal staircase, and you have the ability to be higher and to see further ahead at sea."
A new breed of motor yacht
The exterior of the 50 SMY is all about the harmonious marriage of the handsomely sweeping superstructure – unmistakably Riviera in its profile – with the sporty, large-volume hull form. She makes a grand statement of both grace and purpose.
The 50 draws inspiration and innovation from the popular SMY Collection with its 64, 68 and 72 models – most notably in the cockpit, mezzanine and foredeck configurations that consequently look right at home in the 50 SMY.
As one of five distinct yet integrated luxury living zones, the saloon also offers two opposing lounge areas that can seat six to eight guests in total comfort.
Linda Hall says this arrangement was a major drawcard: "The social areas of the new 50 SMY look beautiful," she says. "There's the cockpit, mezzanine, the almost circular seating arrangement of the lounges in the saloon, the flybridge offering additional onboard space, and the generous downstairs accommodation.
The design team has also excelled with the accommodation plan with a full-beam master suite bathed in natural light from large hull windows, a queen-sized island berth, chaise lounge and en suite. Guests are afforded a VIP stateroom with ensuite/day head forward and twin bunk cabin, all with exceptional headroom and airiness.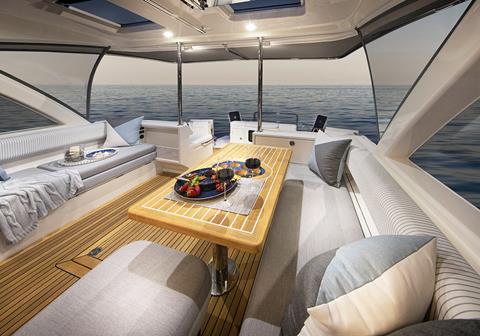 The flybridge pampers its occupants in complete comfort while being open to the extended awning – strata glass clears can then fully seal this area. An optional aft helm is available for convenience when fishing.
From here, the captain can summon the choice of either Volvo Penta IPS or MAN V-drive propulsion. The proven and highly efficient power and drive options are twin diesel Volvo Penta IPS 950 (533kW/725HP) or twin diesel MAN i6-800 (588kW/800HP). Both deliver smooth, strong-mid-range thrust and top speeds of over 30 knots.
The Riviera 50 Sports Motor Yacht will have her official premiere in late August 2020 and will debut at Fort Lauderdale International Boat show in October and the Sanctuary Cove Boating Festival in November. Private inspections can be arranged with Riviera representatives via RivieraAustralia.com