The Robalo 247 is an extremely versatile bowrider that packs more features into its size than many larger volume boats. It is the largest model in the trio of dual console boats from this highly respected US builder.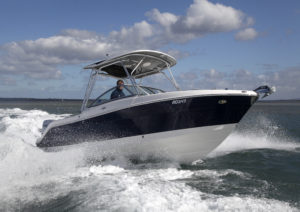 We know many veteran boat owners who prefer dual console boats made by fishboat builders, rather than a similar boat made by a sportboat builder. Sounds odd, doesn't it? We'll explain later. The Robalo R247 certainly qualifies as belonging in the salty category. At 2,268kg dry, with a single 300hp engine and a 22-degree deadrise at the transom this is a boat not afraid of lumpy water offshore.
Buy the optional towing pylon and use it for all manner of water sports in smooth water and it will be happy as well. No matter what you or your family would like to do, the Robalo R247 can probably oblige. Our test rig was set up by Queensland Robalo agent, Sirocco Marine North and rather than the single 300hp package, a pair of Honda 150s was chosen. The difference is amazing, with an improvement in both handling and performance. The boat felt perfectly balanced as we cruised around the calm waters of the Broadwater. The Seastar hydraulic power assist steering helped make driving effortless. I just love the quiet hum of twin 4 stroke outboards – the Hondas were certainly quiet – and it's comforting to know that you have twins on the transom to get you home, no matter what the conditions.
Top speed with the twin Honda 150s is around 45 mph. With a 526 litre fuel tank you've got plenty of fuel for extended cruising, and let's face it, the cost of fuel is really a minor item in the overall cost of running a powerboat.
If you want more power then you have the option of twin 200hp outboards, which will increase your top end speed to around 50 mph. In case you want a sterndrive, then forget it, Robalo makes outboard powered boats only.
The Robalo R247 is designed to be a versatile utility boat for all manner of missions including cruising, fishing, waterskiing, diving, or just blasting around.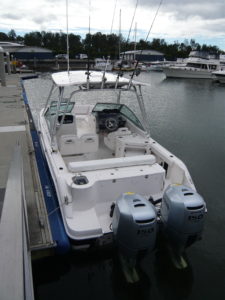 The GRP Targa hardtop is optional and you can also have a soft top bimini. There's a neat storage net above and space provided for extra electronics such as a VHF radio or a sound system. Built-in LED lights illuminate the cockpit at night.
By building this dual console on a centre console hull, Robalo has at once built a boat that can be used for offshore fishing but also for near-shore or even inland lake water sports. By making things like livewells and towing pylons optional, you can outfit the boat to any specific sport or passion. It is a "utility" boat which simply means it has lots of uses and can be used for most anything – fishing, skiing, wakeboarding, scuba diving, cruising, sunning, or just anchored off the beach enjoying the sunset.
Only a few builders use Kevlar in the keel to protect against the puncture wounds that submerged objects can inflict on fibreglass boats. But when it comes to dual console boats of this type we can't think of any other builder that uses it.
Robalo prides itself on being able to say "yes" rather than "no" when prospective customers ask for some customisation. The builder has several option packages available that are designed for specific activities or to enhance certain areas of the boat. It also has a laundry list of options. Two of the most important items on a boat are the helm and companion seating. Most builders give you only a couple of choices. Robalo has three multi-purpose seat choices on the R247.
We have not gotten into comparing storage among boats, but the folks at Robalo have, and they claim that their R247 has more storage than anyone else. It certainly has a lot, including a large compartment in the sole that will hold wake or kneeboards. Most storage compartments on the R247 are insulated and self-draining and serve triple-duty as fish boxes, beverage coolers, or just plain old dry storage.
The standard boat is actually set up pretty nicely for inshore fishing. The standard 40-litre cooler in the transom, port quarter, doubles as a livewell with LED lighting inside. There's a built-in knife rack and even stainless tube toe rails either side should you need to get serious when bringing in a decent fish. Across the transom in front of the outboard well is a 105-litre fish box, which can also be for fender and line storage for the cruisers, or a place to stow towing gear for those who are into water sports.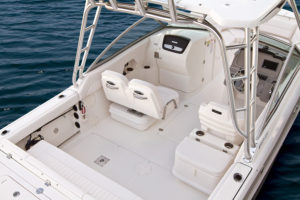 There is also a 100-litre fish box in the casting deck and to starboard, another 100-litre box. All of the fish boxes have overboard drains. There is lockable rod storage in the cockpit sole and there are four stainless steel rod holders in the gunwales aft, with rod racks under, that come with soft pads already built-in for the reels.
Not surprisingly, Robalo has tilted its standard equipment to the fishermen, but don't let that bother you. If you want to use the boat for water sports there are several options available. With single-engine rigs there is a ski tow pylon available, or if you are really gung-ho, then go for the Wakeboard/Fish Tower.
The R247 is all about using the best of the space available and right from the anchor locker to the transom ladder, a huge amount of thought and detail has gone into the layout and equipment.
There is an anchor roller, bowsprit and scuff plate enclosed out of sight under a hatch and space has been provided for an optional capstan. Twin deck openings beneath the hatch allow ease of access to the deep anchor locker.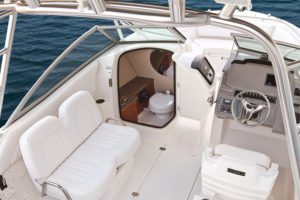 There is a casting platform forward with insulated compartments under all hatches. This means that they can be used for fish boxes, coolers, or just for storing stuff. They all drain overboard.
A filler cushion is standard so the whole bow area can be transformed into a sundeck. The cushions are plush and there are backrests on the front of the dual consoles.
There is plenty of storage room in the starboard console forward of the helm. There is an optional rack here for tackle boxes and the standard stereo is mounted here to keep it out of the weather. The door to the compartment also serves as a windbreak for the walkthrough.
To port is the head/changing room. Standard equipment includes a Porta-Potti, mirror, locking door and
light. Robalo offers a "Comfort Package" that includes a teak and holly sole, cabinet with solid counter top, sink, faucet and storage. We strongly recommend this package if you are into family boating.
We like the helm console layout on the R247. There is a large space in the centre for a chartplotter or fishfinder, which on our test boat was Garmin GPS Map 5208 MFD, plus a pair of Garmin GMI/10 engine management gauges to one side. Rocker switches have icons and breakers and a compass is standard. The custom-made helm seat is substantial and comes with a standard bolster.
Standard to port is the conventional "back-to-back" seat, which in this case is adjustable fore and aft. Optional is a double-wide seat that swivels around to be part of the cockpit action, or a fine place for a spotter, or to be part of a dining settee. A seat with fish box/cooler is also an option here. Abaft the helm seat is an aft-facing seat with cooler under as standard. Or, you can go for the optional wet bar which includes a large Igloo cooler, sink with faucet and fire extinguisher.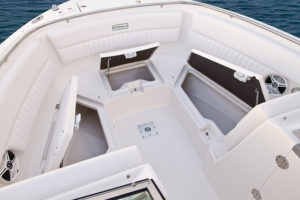 There is a foldaway transom seat, which is optional, with a standard livewell/cooler in the port quarter and a large fish box in the transom forward of the outboard well. All upholstery is Robalo/Chaparral own brand called Dura-Life Max vinyl, which is claimed to be 75% more UV reflective than any other brand.
Over on the transom is a three-step-boarding ladder with its own GRP hatch cover so it doesn't get in the way when not required.
There are many fish-and-ski boats on the market that had their origins in sportboat hulls. The R247 is not one of those and that is precisely why some owners prefer the more salty lines of this boat. Since boats signal one's view of the boating world, if not one's position in it, fishing orientated owners of the R247 would probably see the boat as a utility craft that signals offshore fishing, rather than lakeside tubing.
Then conversely there are those who may never stand a rod in a rod holder and be equally pleased with the boat as a cruising, party, or tow-sports machine.
In profile the Robalo R247 looks sleek and modern, yet she is traditional enough to fit in most anywhere. The windshield looks low for this size boat, because the freeboard is relatively high and the cockpit is deeper than what you may be used to.
It would be fair to say you would be hard pressed to find another dual console boat of this size that compares. Kevlar reinforcement and stainless steel hardware are all a cut above. A have-it-your-way options list is accented with three multi-purpose seating layouts, a clever wet bar, custom tackle centre, livewell, special electronics and an assortment of custom tops and towers. We defy you to find a dual console with more storage. Overall a superb boat that gives a whole new meaning to versatility.