Demeanour grew out of owner Don Yule's desire to have a boat that he could use both as a cruiser for the family as well as an all out 'blokes' fishing boat. In the Robson 1131 powercat he feels he has achieved that. 
The owner initially talked to the designer about building a 10m trailerable fishing boat, but as time went on his ideas changed and what was to be a fairly clinical unpainted alloy cat, grew both in size and status. "The boat underwent a total transformation from my original conception and I am certainly glad I made the decisions with the designer and builder when I did, otherwise I don't think I would have ended up with what I really wanted", said Don.
Demeanour is a three-cabin boat. There are two identical single 2m plus berth cabins that recess back under the saloon sole, plus a main double cabin forward in the port sponson. There is one head/shower compartment on the starboard side shared by all cabins, and this is used also as the day head. Although fairly simple in finish, it's a practical and roomy area that is accentuated with a carbon-fibre vanity and toilet seat, plus American cherry timber accents around the deck head hatch.
A queen size double berth and an athwartships single make up the third cabin. With the double berth only 300mm above the tunnel roof there is little storage here, but other areas have been well used. With the starboard side sofa in the saloon also converting to another large single, Demeanour provides beds for six quite comfortably.
All the trim is American cherry with timber reliefs throughout the soft fabric and vinyl linings, which have been kept in light tones to give the impression of a much larger space. Dark colours in the narrow sponsons of a powercat can really 'close' an area in and diminish the spaciousness of the layout.
The soft curves and shapes of the interior joinery have been achieved with the use of 8mm Multipanels from Gibson Timbers. To give a solid, old style look, the exposed alloy ring frames are clad in Multipanel and then painted along with the rest of the interior.
To be used for both serious fishing and family cruising, Demeanour's saloon and cockpit layout reflects those needs. Central in the saloon is a large helm that is complete with some of the latest electronic options from Simrad. There is a single helm seat on a Softrider pedestal, which is placed to provide full 360-degree visibility. With no rear bulkhead, the skipper has full visibility through to the transom when backing up on a fish or manoeuvring the boat into a marina. It proved to be a good driving position during our trials.
However, if you are more comfortable controlling the boat closer to the transom then a set of secondary controls at a second station are conveniently located beside the aft galley. Interestingly, there were no wipers, with the owner content with Rainex to keep the 8mm toughened glass windscreens clear.
To port there's a small flat screen TV and entertainment centre plus drinks locker concealed within the timberwork, a double settee, a table and an aft galley. Opposite are a wine locker and glass holder, plus a settee that converts to an extra berth. The fridge/freezer is built into the timber joinery aft of the settee and in easy proximity to the galley. There are also deep storage areas behind both settees.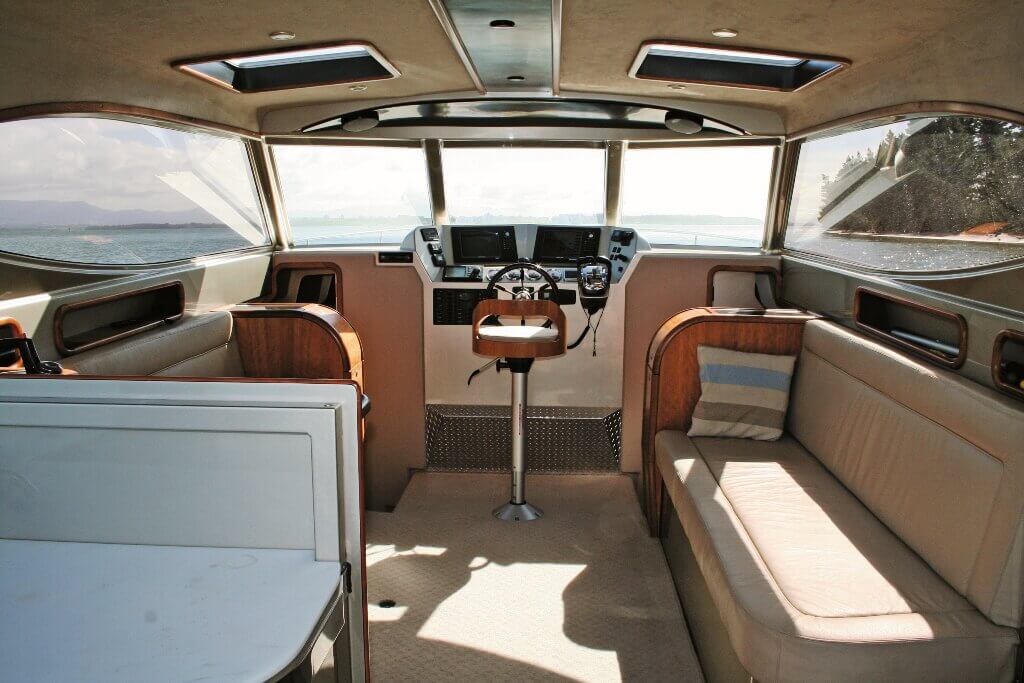 Don didn't place a huge emphasis on the galley, rather preferring to do most of the cooking in the cockpit with a Sovereign BBQ. The galley does still have all the necessary cooking equipment such as a microwave, oven and hob, plus a large carbon fibre vanity top that is completed with a clear glass finish.
One of the modifications done during the build process was the removal of the port side bulkhead, which has been replaced with a huge lift-up window on a gas strut. This opens the boat up tremendously and works well to bring the saloon and cockpit together.
"Being aluminium it was just a case of me getting the skillsaw out and removing the alloy plate that the builders had already welded in. They weren't happy at first, but it seems to have worked well and had no effect on the structural integrity of the hull', said Don.
A four-leaf stainless steel bifold door was chosen so that the least amount of door was protruding into the cockpit when open. To port is a filleting table and stainless steel bench top with sink unit, gas locker storage and a slide out stainless steel BBQ.
The cockpit is designed for fishing, with a fully insulated freezer and chilly bin, live bait tank, flush decks with recessed auto cleats and a very wide transom opening between the outboards. Self-draining scuppers take care of any water that may come into the cockpit.
Built by Duane Hawkins of Hawkins Engineering & Marine, this is the fourth vessel to be built off this design and while all of the vessels have been outboard powered there is a diesel sterndrive due to start construction in Fiji. A symmetrical-hull planing catamaran, Demeanour is alloy plate and stringer construction with folded and shaped longitudinal girders and folded transverse stiffeners providing a very strong, light backbone. 
The transom is 6mm with the hull bottom 5mm and cabin, sides, soles, cabin and hardtop all 4mm plate. Overall displacement is 6800 kg.
The construction material is supplied to the builder as a pre-cut kit created from a CAD cutting file. With this kit all of the alloy required for the construction of the hull, decks and cabin is supplied pre-cut on a pallet with assembly diagrams and 3D images to assist in the construction of the vessel, as well as the standard set of plans.
The builder commented that the cutting file from which the alloy plate is cut was very precise with a perfect fit and assembly of the boat down to within a few mm. "I was very impressed with the accuracy of the cut plate and it certainly made my job a lot easier", said Duane.
When first spotted at the recent Auckland International Boat Show it was the subject of continuous praise for its very high standard of exterior finish for an alloy boat. "It took a little more time than usual to achieve the finished effect which is far superior to what most builders of a boat this size would attempt, but we had an owner that desired it and we were able to deliver", said Duane.
Demeanour was painted by Tauranga based Marine Reflections, using Lechler marine paint that combined over 15 coats of Porsche silver with a custom gold pearl – overall, a concours d'élégance finish.
Demeanour is powered by twin Suzuki DF300 outboards, but there is the choice of a wide range of engine sizes from twin 250 – 350hp outboards and no problems if you go for a sterndrive option. Don wanted the outboards for performance, economy and ease of installation, plus leaving a lot more space down aft for storage space.
Our test venue was a calm Tauranga Harbour and a very rough sea through the entrance and off Mount Maunganui. This is home territory for the boat and it was designed with the sort of sea conditions expected in the area. By the time I got aboard the vessel had already clocked up 500 nautical miles since February.
26 knots in a 1m to 2m-side swell off Tauranga Harbour proved no issue for the cat and there was none of the slamming noise or reverberation though the hull that you might have expected from an alloy boat of this size. When pushed hard into a head sea, the hull behaved itself and while we had to slow for the conditions, I felt we could have cruised all the way to Mayor Island without any issues.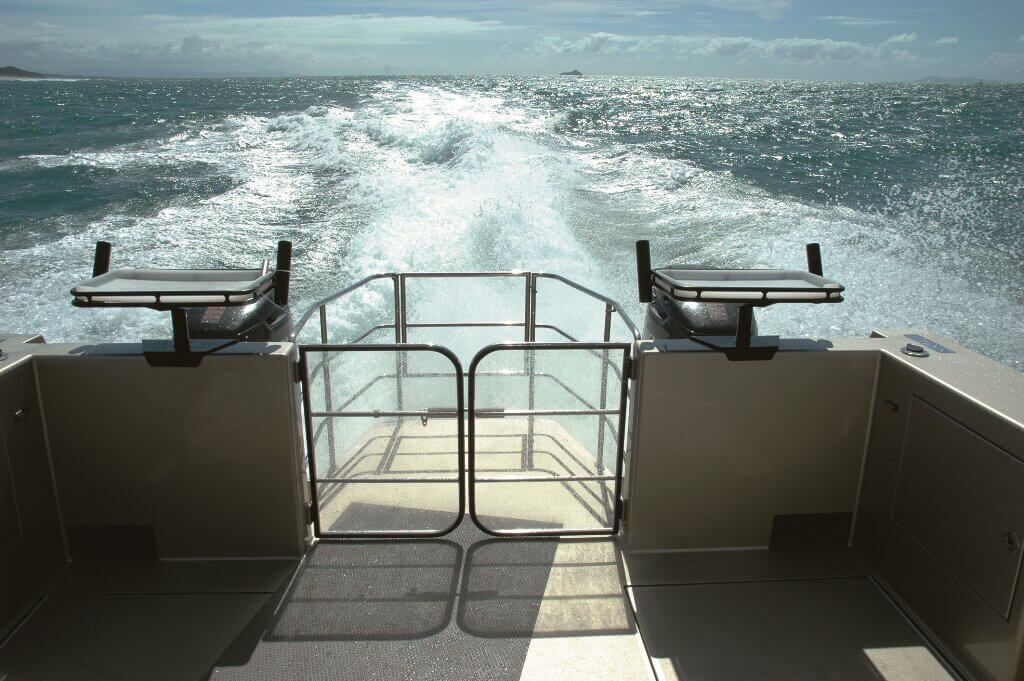 Holding station beam-on in the biggest swells we could find also proved once again just how stable a powercat is in this sort of water. The same could also be said when we turned sharply with very little heel to upset the balance of the ride. Turning and heading back past the Mount and into the calmer waters of Tauranga Harbour, the Robson 1131 came into its own. Cruising at 4000 – 4500 rpm at around 25 knots, Demeanour loved it and the more the throttles were pushed down the better it liked it. There's plenty of natural lift forward to keep the bows up. Not that this is a boat designed for high performance in rough seas, but it was nice to know that should the occasion arise the hull would certainly handle it.
During the test we recorded the following cruise speed figures; 5000 rpm / 107 L/h @ 31 knots for 3.4 litres per nautical mile; 4500 rpm / 75 L/h @ 25 knots for 3.0 litres per nautical mile; and 4000 rpm / 63 L/h @ 21 knots for 3.0 litres per nautical mile. For those into their game fishing, Demeanour recorded 13 L/h @ 7 knots/1600 rpm for 1.9 litres per nautical mile.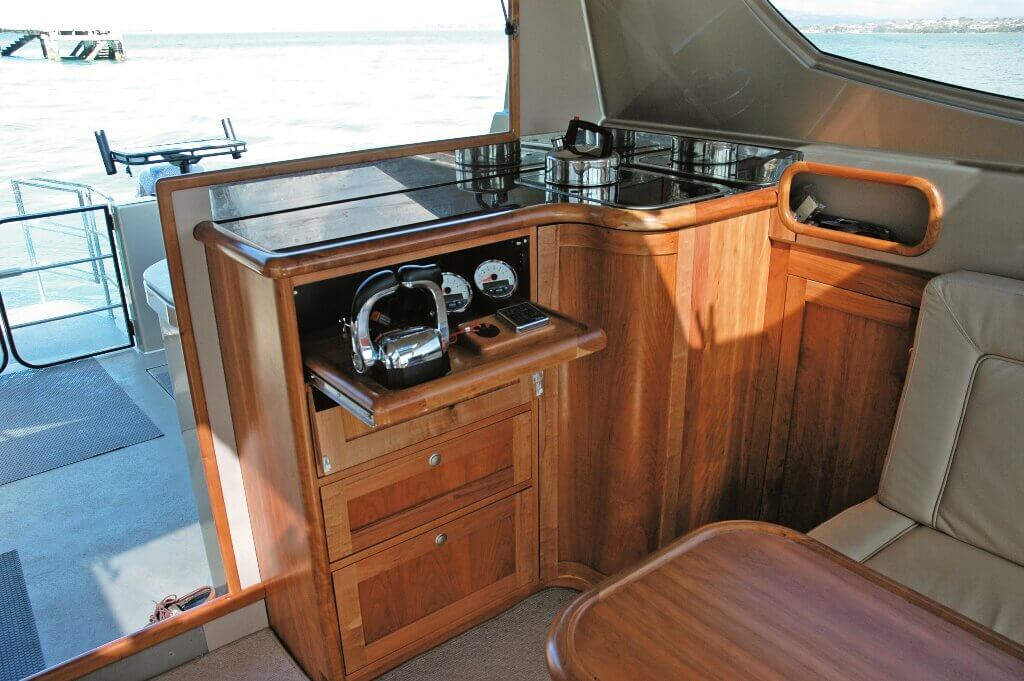 In the calm water we were able to get the GPS to notch right on 40 knots @ 6250 with a full load of fuel and water, but Don has seen 41 knots when Demeanour was lightly laden. "It's not really an issue how fast it goes, it's what it is like at cruise speeds and so far I have been extremely happy with both the performance and fuel economy", said Don.
Don said that he is exceptionally pleased with the boat and doesn't see anything he would change if he built another one. With both builder and owner working closely over an extended period, the result has been harmonious for both. "The design is great, the build and finish outstanding, the boat works well and it will handle just about anything you can throw at it. What more could I ask for!" said Don.
Design Name: Robson 1131
Boat Name: Demeanour
Builder: Hawkins Marine & Engineering
Designer: Scott Robson ( scott@robsondesign.co.nz )
Interior Designer: Rebecca Hawthorne
Year Launched: 2008
LOA: 11.36m
LWL : 10.35m
Beam: 3.72m
Draft: 0.5m
Displacement: 6800kg
Max Speed : 40 knots
Cruise Speed: 25 to 30 knots
Fuel Cap: 950 litres
Water Cap: 260 litres
Construction: 5mm / 4mm alloy
Engines: 2 x Suzuki DF300