Author : Barry Tyler
While prolific catamaran designer Roger Hill has designed a significant number of hulls in the 12-14-metre size range, few are ever even remotely close to each other in layout, power or appointments. Hill's latest Roger Hill 13.8m version to hit the water was for a couple whose number one priority was creature comforts – and therefore the parameters were extended in a way seldom seen in a vessel of this size.
Put it down to Hill's seemingly endless portfolio of ideas, but perhaps more realistically put it down to what over the last few years is an increasingly more discerning band of seafarers who more than ever know exactly what they require in a boat, and are prepared to pay for it. Purchase a 'production' vessel and you are very much governed by the constraints and parameters of the more cost-effective style of mass-produced hull, deck and flybridge configurations. Enlist the services of a predominantly custom designer like Roger Hill however and virtually the sky is the limit.
Raptap's owners, a semi-retired dentist and his lovely lady, with thoughts very much on his full retirement, had dabbled a little in smaller boats over the years but now was their one opportunity to finally realise the boat of their dreams. They had decided on exactly what features and above all what level of specification they wanted – so they could literally set off into the sunset and travel unimpeded where and when they wanted to – in complete comfort as well as luxury.
That was the theory anyway, but as with all good theories there would always be some pitfalls along the way, as designer, owners and builder all worked toward accommodating each and every requirement of two owners who in effect were striving for an extension of their own home. The end result was nothing short of spectacular, in fact well above the standard of specification and presentation of your typical 12-14m vessel, but of course this did come at a cost I will allude to further on in the story.
Trade-mark Roger Hill Design
My first impressions of Raptap were of a vessel unmistakably of Roger Hill's design, perhaps the only really visibly obvious difference with this model over earlier models being the aft flybridge overhang which stretched right aft so as to fully cover the entire cockpit area. Very easy on the eye, the lines of the three levels of topsides, cabin and flybridge were very much in 'sync' with each other.
Boarding was user-friendly courtesy of the full width boarding platform, which in itself was somewhat of a rarity as traditionally the central tunnel of most catamarans is higher than it was in this particular instance, and often splits this platform. Another pleasant surprise here was the size of the rear cockpit. Well protected from the elements as I say, by this huge flybridge overhang, this teak lined area provided space for huge storage and refrigeration modules each side of the saloon entry doors, along with an equally grandiose transom module that housed the obligatory BBQ and tackle boxes. Neat moulded steps led you up onto the walkways each side, but interestingly while there was certainly room for it, there was no seating of any description in this cockpit area.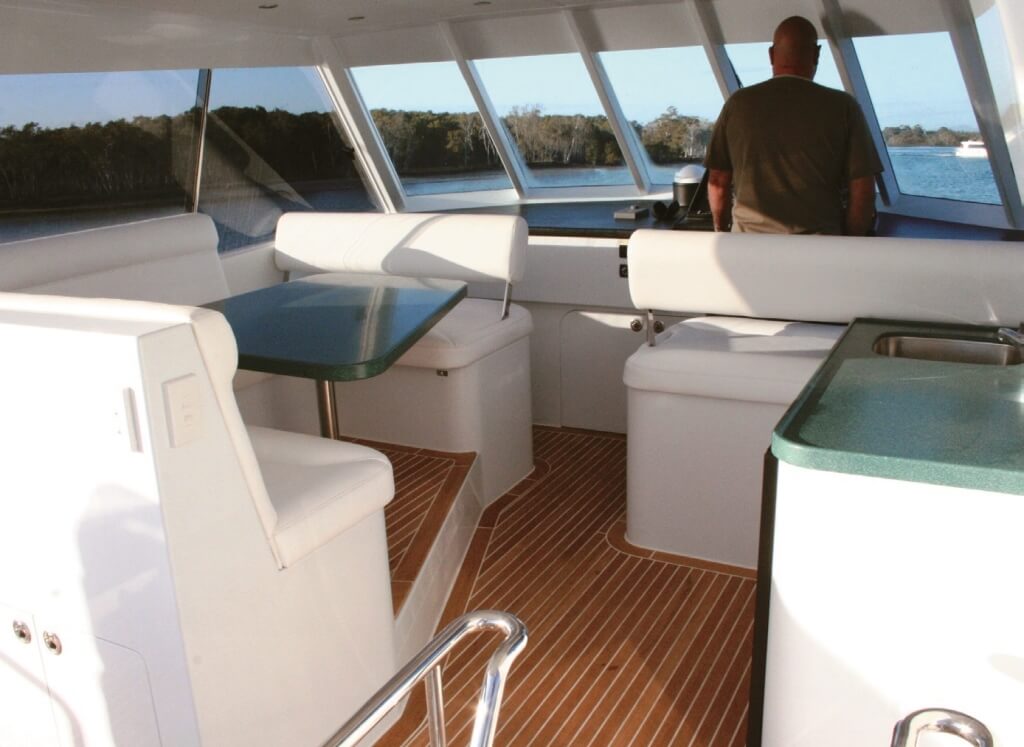 The neat stainless steel and teak step assembly led you up onto a flybridge level that courtesy of this aforementioned overhang, was huge in area – big enough in fact to house the Davco davit, a cradle-mounted 3.4m Gemini inflatable and if you required it, a jet ski as well. The 'hard-top' flybridge was enclosed on three sides and I would venture to suggest the interior size of this coupled with the generously-sized U-shaped guest settee, would be the precise reason there was no seating below in the rear cockpit. This couple intend spending all their time on this level.
With this settee being the dominant feature, naturally Raptap was right hand drive. A two-person helm module offered good visibility to all corners of the vessel, and the designer even found space to include a sink and refrigeration module to the side and in behind this helm seating. The instrumentation and indeed the entire dash presentation was for me however, a slight disappointment in the context of the specification and presentation of the rest of the vessel. Certainly nothing wrong with the integrated C120 Raymarine electronics package, micro Commander remotes or the Yanmar instrumentation, but it all seemed a little cramped and unspectacular – as I say, in the context of the presentation of the rest of this flybridge level, and indeed the rest of the boat as I was about to discover.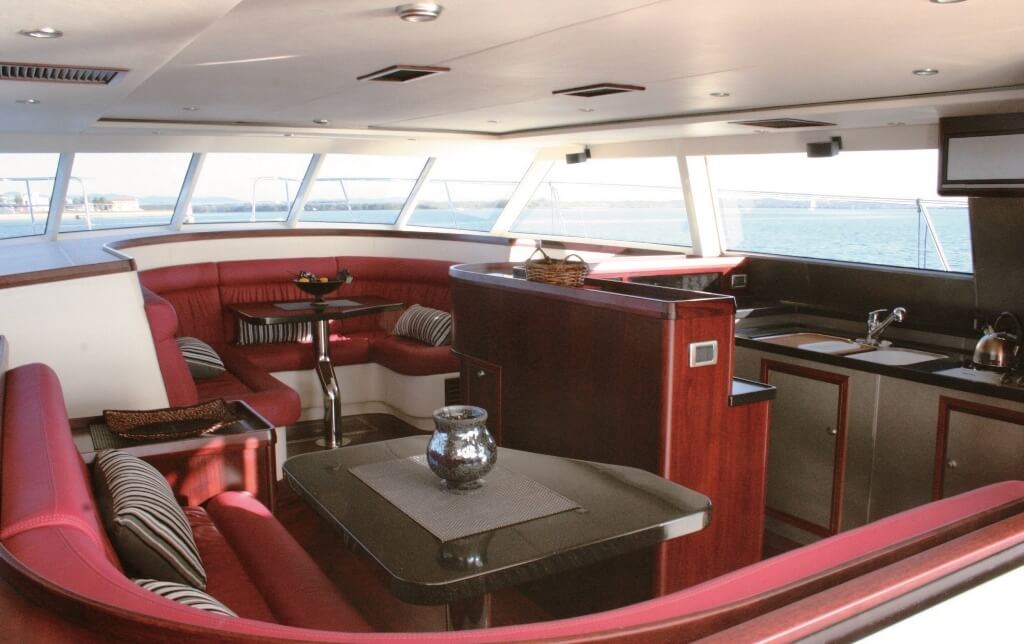 Time we had to kill before the rest of our party turned up for our test day gave me the perfect opportunity to enjoy a thorough and uninterrupted tour of the interior of Raptap. "Wow" was my first reaction upon entering a saloon that suggested immediately that this boat was something very special. Opulent was more the word, for there was a standard in here not expected in a vessel of this size.
The galley was aft and to starboard and was very stealth-like in appearance, the patterned stainless steel theme providing looks as well as practicality in a 'kitchen' that would keep the most discerning of gourmet chefs more than happy. Heaps of storage, bench space, cupboards and drawers, twin sinks, servery, house-size refrigerator, generous freezer provision, range hood, convection microwave oven, four-burner gas stove, coffee-maker – not so much an overkill as simply addressing the owners' requirements that this boat be an extension of their own home. 
Modern was a word that sprung to mind to quantify the galley appearance and this theme was certainly maintained throughout the saloon proper. Décor was the darker jarrah hardwood intermingled with appealing plush maroon leather dining settees. White vinyl ceiling and wall panels added the final touches of real elegance to this area. Even the layout was very much a break from tradition, with not one but two dining settings provided. The 'day-time' setting was aft, and up front and virtually scalloped into the bulkhead was the rather striking 'mood' setting of a U-shaped settee around the Corian dining table – a very romantic and appealing spectacle! 
While the saloon caught my attention I admit to expecting a little lower specification below decks – how wrong I was! As with most catamaran configurations there are a number of different cabin layout options along with discretionary 'room' to include a little owners' flair along the way. In this instance, with extended family in mind, our owners opted for a 'three double and one single' layout, with the décor theme in tune with that of the saloon.
While the saloon was modern, luxurious was justifiably the buzz-word below.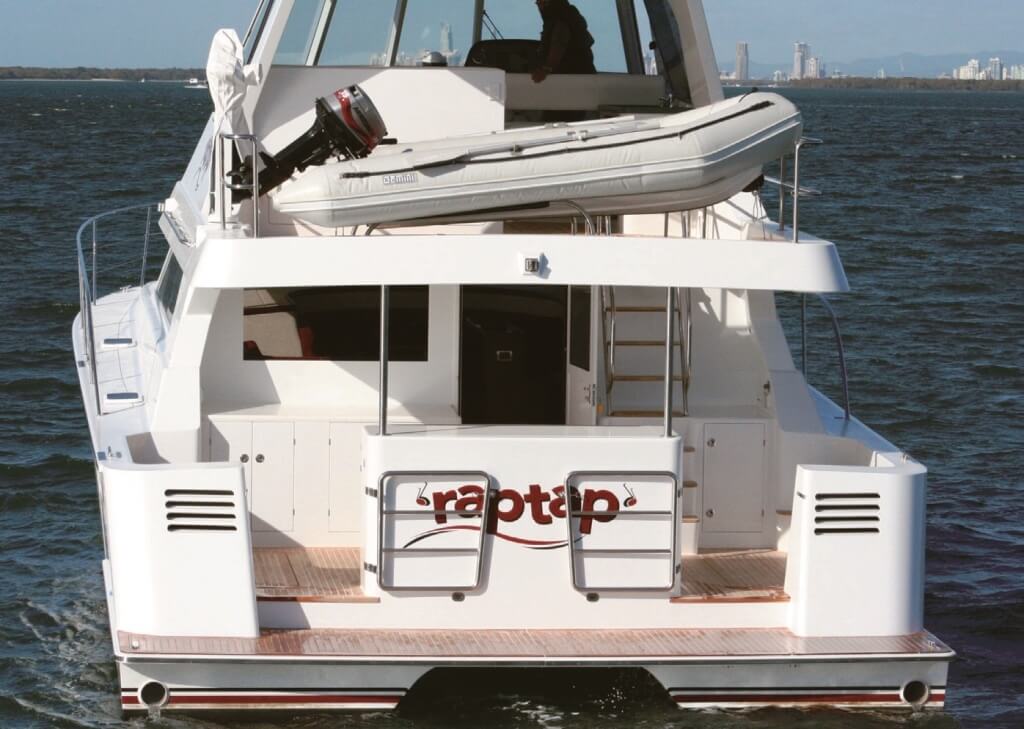 The ensuites had tiled floors, Corian-topped vanities, solid jarrah doors and glass panelling between the separate showers and the Tecma heads. Three of the bedrooms featured conventionally-placed king-single or queen-sized berths in generously sized rooms. Wardrobes, mirror, drawers, overhead ventilation and good lighting were all 'standard issue'. The owners' cabin was however an entirely different story – with the focal point a massive four-poster bed across rather than fore and aft, which took pride of place in this room. Very impressive, I mean, how often do you find four-poster beds in a 13.8m catamaran?
Raptap was built by Steve Braedyn of Custom Boatworx, of an 'interesting' composite of foam panelling, cedar planking, plywood and GRP with woven rovings, that gave it not only immense strength but in theory it also should have provided a significantly lighter design payload of around 12,000kg at lightships. Should have, being the operative statement, for it was somewhat of an annoyance for designer Roger Hill (it is well documented how 'insistent' most designers are when it comes to the all-important weight factor) to find out that air conditioning, heavier wood, glass panelling, four-poster beds, an inflatable, a watermaker and a multitude of other discretionary items (how could you not have any of those, I ask!) had all been added to the original plans, that increased the displacement figure up to around 16,000kg.
As such, and I hasten to add that there is a trade-off involved, the twin 370hp LYA-Series 6-cylinder Yanmar diesels through 2:1 ZF gearboxes and conventional shaft drives to the 21 ½ x 21 ½ Performance propellers inside a typical Roger Hill tunnel cavity within the hull bottom – in this instance returned a top speed of 21 knots. I say trade-off, for a sister-ship I went aboard a while back was right on the design weight of 12-tonnes, it sat 100mm higher in the water, and it reached a top speed of 25 knots. 21 knots however lies very easy with these owners for in their own words they are not the slightest bit interested in running at full speed wherever they go. Theirs is an idyllic cruising boat, to be enjoyed at cruising speeds – which in this case was still a most respectable 15-16 knots!
As already noted, mechanicals included the 14.7kW Cruisair air-conditioning system, a Fisher Panda 12kVA genset to power the 1,100Ah of Mastervolt batteries through two Mastervolt Mass Combi 2000 inverter/chargers, and an Australian made Hydrive hydraulic steering system around in-house engineering by Steve Braedyn. While Raptap carries a significant fuel payload of 2500 litres, the 900 litres of fresh water is supplemented by a cruising-obligatory 100 L/h HRO watermaking system. Deck equipment included a serious winch in the form of a Maxwell Liberty RC 2500 attached to a stainless steel Sarca anchor.
This was one of the most appealing vessels it has ever been my pleasure to go aboard. It was opulent yet it had warmth. Its appointments were perhaps to an overkill level but once again in the context of the owners' criteria – entirely appropriate. The downside of course was the very influencing weight intrusion which basically transformed the boat from a high-speed model into a cruising model. And of course in a boat such as this the price certainly got away on them a bit – but at the end of the day the owners got exactly what they wanted for their retirement package. Presentation was superb, as was the standard of workmanship – I couldn't find any defective workmanship anywhere. And no, perhaps surprisingly under the circumstances, there was no pronounced pounding up the tunnel of the hull, as a result of the lower waterline! In fact, just how pleased the owners were could be summed up by their response when I asked the question, "What would you change in your boat? What would you do differently, now that the boat is in the water?" Their prompt reply: "Nothing!"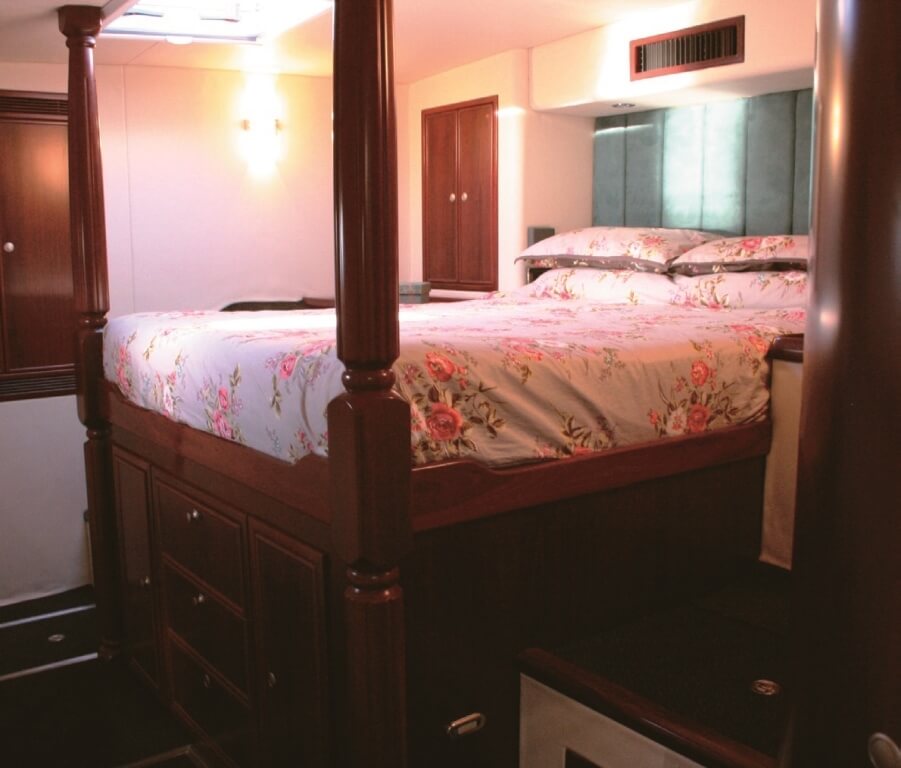 Boat Design Name: Roger Hill 13.8 Power Catamaran
Year Launched: 2007
Designer: Roger Hill
Builder: Custom Boatworx
LOA: 13.8m
Beam: 5.57m
Draft: 1.05m
Displacement: 16.4 tonnes
Max Speed: 22 knots
Cruise Speed: 16 knots
Construction: foam, cedar, plywood, GRP
Fuel Capacity: 2500 litres
Water Capacity: 900 litres
Engines: Twin 370hp Yanmar