BUILT TO CRUISE
By James Hill
Whether it's a nostalgic yearning for traditional craft or just an appreciation of their practical features blue water-boaties will nod with approval when they see the Sabre 48 Salon Express.
This handsome American cruiser is a fine example of the 'Down East' breed of motor yacht that has long held a market niche in the US amongst power cruising enthusiasts. The design inspiration comes from the traditional lobster fishing boats found in Maine, the far north-eastern Atlantic state with a rich tradition of boat building and fishing.
The Sabre boatyard is based in Raymond, Maine and has been building boats for over half a century. The Sabre 48 Salon Express is typical of its current range that blends both traditional elements and a modern technology.
The traditional woodworking skills of Maine are evident in the beautiful wooden interior of the Sabre 48 motor yacht. Indeed, the whole timber interior is hand-built into place.
However, beyond this warm wooden heart the Sabre 48 is very modern deep Vee craft with hull/deck constructed with vacuum infused e-glass and vinylester resin for strength and longevity.
The Sabre 48 is also fast enough to get you to favourite anchorages quickly with twin Volvo Penta IPS 700s (550hp) that delivers an impressive performance across the power range.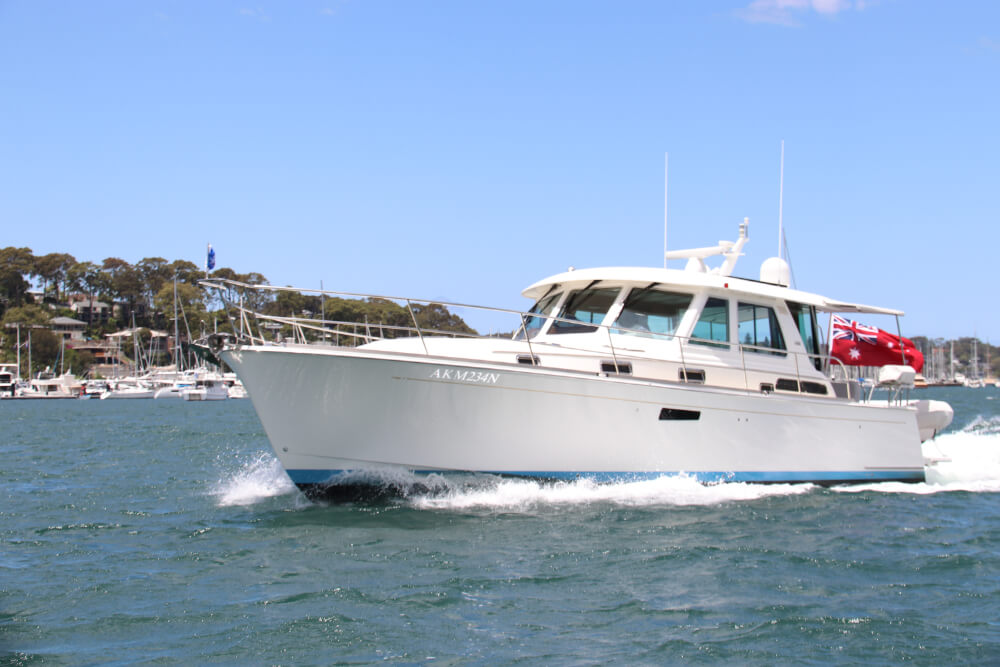 The company has gone over to pod drives for all its models 38ft – 66ft which eliminates need for rudders or for bow/ stern thrusters.
Recently I had the pleasure of test running a Sabre 48 Salon Express in her home waters of Pittwater, Sydney. At 52ft overall the Sabre 48 is a just-right size for coastal cruising in this part of the world. She's big enough to comfortably tackle a cruise from Sydney right up north to Cairns, or down south to Hobart.
Indeed, her owner had planned to do the latter when the boat was launched early 2020 but subsequently stopped by Covid travel restrictions.
From the moment you step aboard the Sabre 48 your aware she goes beyond the scope of just being a bay cruiser. She's a motor yacht well suited to offshore passages with features like the safe walk-around deck protected by raised bulwarks and solid stainless-steel rails. The sliding door next to the helm is another sensible feature for longer range cruising.
The saloon deck design is also very practical for extended stays aboard. There' s a flybridge option too on this model but the single-level suits what a lot of people are looking for now as the helm station is well protected and keeps close to the social-heart of the boat. Especially on a long-haul offshore trip this 'down station' keeps you comfortable and out of the elements of sun and weather.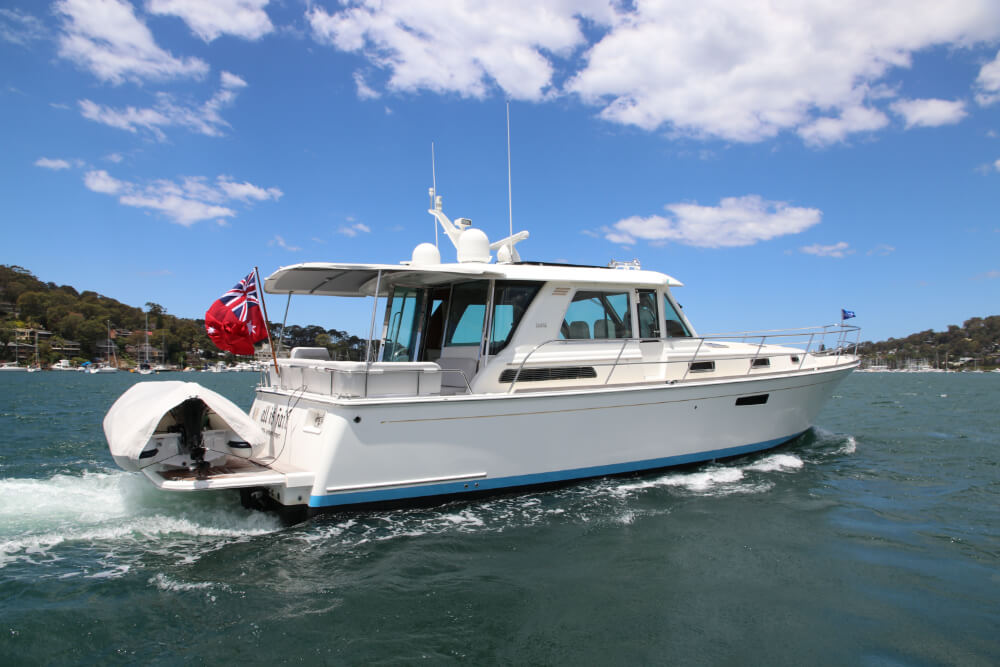 Leaving our berth at the RMYC Pittwater it was immediately apparent how user-friendly this craft is for cruising. The high cabin roofline and big windows provides excellent all-round vision. There's even rounded aft corner windows to prevent a blind spot in that direction!
An extended sunshade brow over the front windows prevents reflective glare and ensures for'ard vision is excellent. And if you run into spray or rain the Sabre 48 is equipped with variable speed, triple windscreen wipers and freshwater windshield washers.
At the helm station it's all very comfortable with twin Stidd deluxe helm seats and a  teak wheel with IPS joystick on the helm sea armrest.
My host for the day was Jed Elderkin of E Marine who has been the local importer of the Sabre and sister brand Back Cove since 2006. He knows these brands inside out and delivered some 55 of these boats in that time. And that includes a few repeat buyers like the owner of this boat who has previously bought another Sabre model.
Like many Sabre customers the owner of this boat is an ex-sailor and that's been a common theme in the Sabre brand story. The company started out as a sailing yacht builder but later moved into the powerboat field when it launched a fast trawler-style motor yacht in 1989.  Since then, Sabre evolved into a specialised builder of a fast motor cruisers with the classic, clean look of the Down East style craft.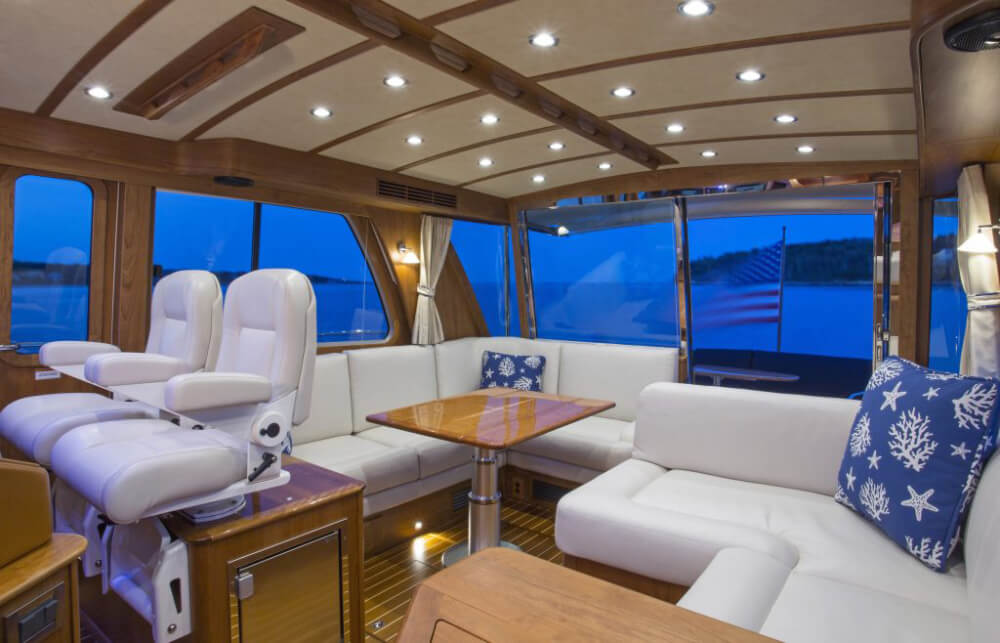 After 1994 the company also moved into a new range of small to medium single-diesel engine cruisers called Back Cove. These are similar in style but while Back Cove goes from 34-41ft the Sabre pitches to the bigger size market with a range from 38 – 66ft.
ON THE WATER
With some sunny weather adding sparkle to Pittwater, it was a great opportunity to take this big American boat for a run up the bay to the Broken Bay entrance. Sea conditions were quite calm but in just below a metre swell the Sabre 48 delivered a very comfortable ride cruising at a fast clip of 22 knots.
Taking the wheel, I felt immediately at home as the Sabre 48 just powered along with the Volvo Penta diesels doing a relaxed 2200rpm.
A large steering wheel and good all-round vision makes it just so easy to steer especially whilst the Interceptor trim system automatically looks after the trim. There's also an Active- Ride option to vastly improve pitch and roll but we didn't need that on our run.
The large leather-padded console is remarkable clean thanks to all readouts and controls being on the twin Garmin 8617 multi-functional displays. This Garmin Glass Bridge System lets you run the chart plotter on one screen whilst all the engine information RPMs, fuel usage, temp etc displays on the other.  The touchscreen is a delight to use and the big letter/number readouts perfect for people like me who need glasses!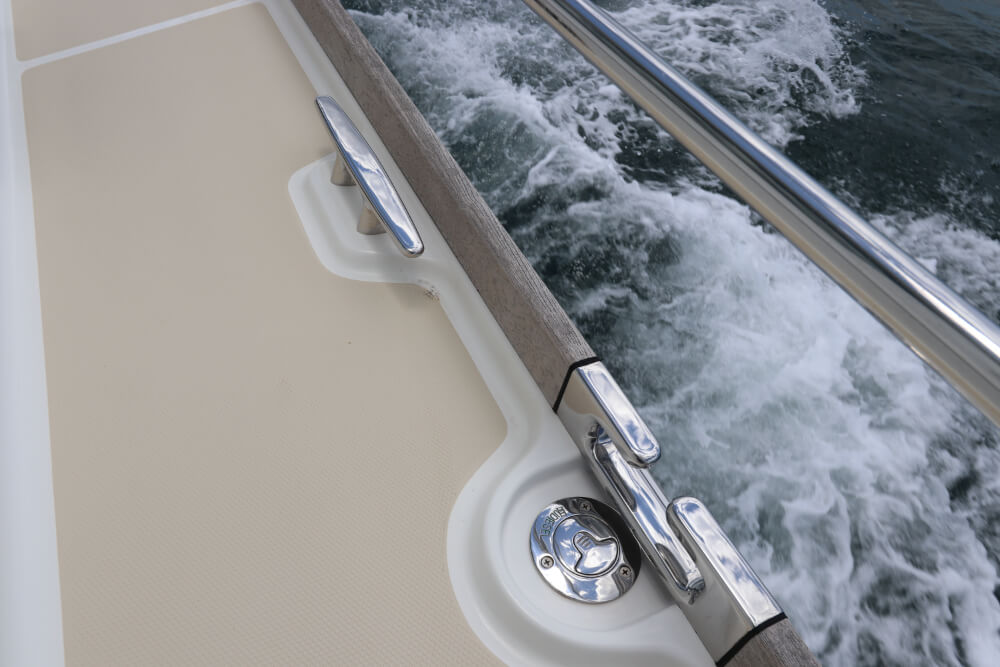 Back in calm waters we opened the throttle and got a top speed about 34 knots which is impressive for such a large motor yacht.  However, it's the mid-to-low speeds the Sabre really stands out. At the 8-knot speed limit she tracked along beautiful with very little wake and the twin diesels using only 20 lph. That's a cruise range of 822 nautical miles!
Throwing the big Sabre through some faster turns she handled this smoothly in a very steady, composed manner. It was an impressive display of the twin duo-prop Volvo Penta pod drives and the well-balanced Vee bottom hull.
I think the Sabre's good handling is a tribute to her designer Kevin Burns. 
The hard chine hull has a sharp 23-degree Vee deadrise amidships that flows to a moderate 14 degrees at transom.  This ensures she works well both at fast and slower speeds. Also, with the hulls designed around the twin pod drives being aft (under cockpit) she's well balanced to start with.
As we returned to the marina, I noticed another great feature of the Sabre are the hull side rubbing strakes which will protect the boat alongside a dock.  Also, the IPS Joystick control comes into its own here enabling us dock without needing to juggle between main engines and thrusters.
Getting ashore is so easy thanks to the extra wide (optional) hydraulic-lift transom platform. This can be lowered into the water to act as a swim platform, or better still to float-off the outboard powered RIB tender.
INTERIOR REPORT
Now let's run through what's on offer for living aboard.                       
Entering via the portside stern door you find a delightful cockpit area with rear lounge and removable table offering seating upwards of 8 people. It's an appealing area to relax, or simply enjoy an alfresco meal with an overhead canvas awning, lit at night by LCD lights.
Entering the saloon via the big opening glass doors you discover a spacious living area of pure elegance. The interior is very much classic motor yacht with crème leather upholstered lounges and American cherry wood panels complimented by varnished teak and holly floor. A key feature is the large L-saloon lounge and folding table for meals or drinks which seats 6 adults comfortably.
There's an electrically operated window behind the lounge so you can enjoy fresh air from the cockpit. There's also a two-seat lounge to port that runs electrically on rails so it can become part of the lounge seating area. Behind this is a 'secret entrance' to the utility room under the saloon. This can be a paid-crew cabin, or a place for the kids to get away from the adults. The test boat had it configured as a laundry with separate washing machine/drier plus a double bunk and utility bench.
Another surprise is the galley-down layout which follows the traditional thinking of having the galley out of the main traffic area and those dirty dishes out of sight! For an explorer/cruising boat it also means there's room opposite the helm station for a 'first mates' 2-seater lounge plus a proper navigation table.
The galley offers a long work bench that suits regular cooking aboard. It has solid surface counter tops, big stainless sink with cover and pull-out faucet. It also has good natural lighting thanks to the open space above and a big hull window.
Standard fitments include a large stand-up stainless-steel refrigerator and freezer plus an induction cooktop. There's a convection microwave, soap dispenser and plenty of cupboard and draw storage.
Opposite the galley is the spacious master cabin with queen island bed and large en-suite bathroom with a cherry bench top. An attractive feature of this and the double berth Guest cabin on the same level are Japanese Shoji sliding doors and portlight screens. Both cabins have flat flooring around the island berths so it's easy access in the berths just like home.
The lower level also has a guest bathroom, and another great feature is the added soundproofing around this part of the hull, so you don't hear the dreaded 'chine slap' that happens in some mooring situations.
It goes without saying Sabre come standard with reverse-cycle heat/air conditioning with 4 zones. There's also a Fusion Black box sound system with Bluetooth and flat screen TVs in both sleeping cabins and the saloon. Another nice touch is LCD diming lights in the sleeping cabins and galley. There's also illumination on the main circuit breaker board.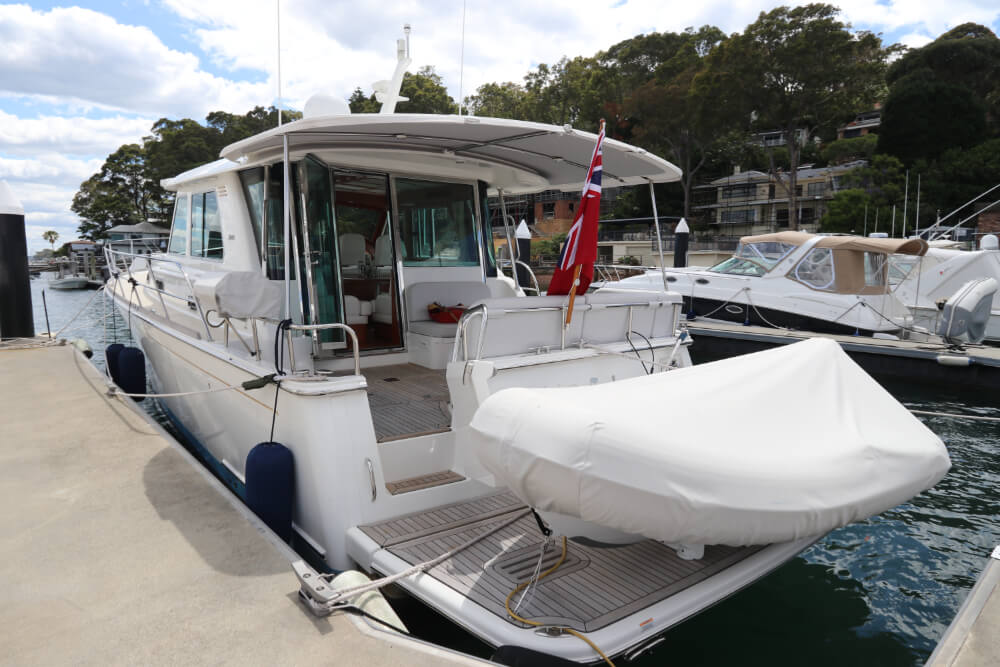 SUMMARY
The standard inventory of this Sabre motor yacht is too long to list here, however you probably by now get the picture this is a high-end motor yacht. The quality of finish is top draw and attention to detail very impressive. Yes, you pay for that for about A$2.4m landed in Australia but it is a top-level product.
What I particularly like are thoughtful features you normally don't see like the two electrically retractable 21.3m shore power cords in the transom, hot and cold transom shower and anchor locker with anti-slam latch.
The Sabre 48 also looks the part of a proper seacraft with her big 12in stainless steel deck mooring cleats for'ard and amidships plus large bollard cleats aft. She provides direct hatch access to the engine room via the cockpit and an Onan 13.5kW generator is standard along with dual Racor fuel filters.
The test boat has a few custom additions including Garmin Glass Bridge, Garmin GMR radar and Garmin GDS 25 premium sonar. She is also equipped with rooftop solar charging with hinged panels for easy cleaning and removal. However, my favourite is the Chock Master pin-drop dinghy cradle with wireless remote so you can have the RIB tender in the water and ready to use, James Bond style. To my mind this completes the picture, of the perfect boat to fulfil that wish-list cruise to the Great Barrier Reef you always said you would do.
MODEL: Sabre 48 saloon express
LOA: 15.93m
LOH: 14.48m
Beam: 4.67m
Deadrise: 14 deg
Displacement (1/2 load).17,010kg
Engines: Volvo Penta IPS 15/700
Drive System: IPS
Fuel capacity 1892 L
Water capacity 606 L
Holding tank capacity 265 L
Headroom (max) 1.98m
Air draft (w/mast). 4.32m