If ever a RIB could unequivocally justify being given the luxury label, it has to be SACS. Built in Italy, a country known for creating supremely elegant design icons, the SACS range of RIBs deserves to be included.
Described as sporty, sleek and streamlined, every boat in the SACS range is a masterpiece of Italian craftsmanship. If there were ever a boat that deserved the supercar of the sea mantle, it would be SACS.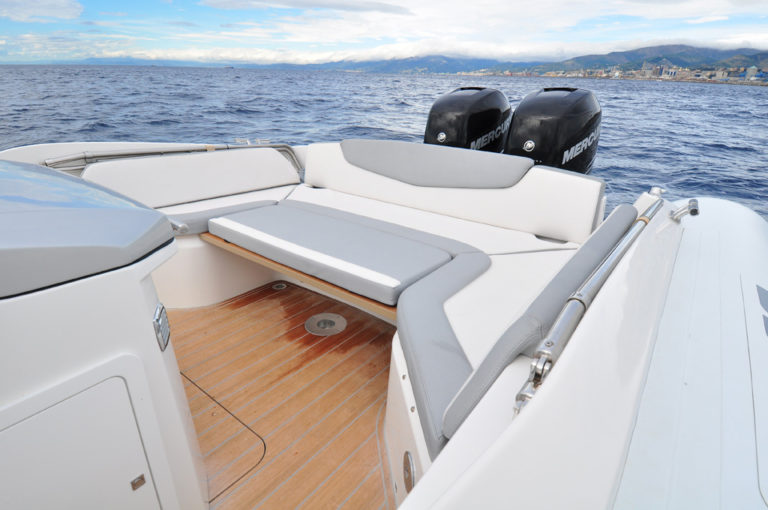 Now represented in Australia by SACS Marine Australia, this category-breaking brand offers discerning owners that certain something more: European elegance, aggressive lines, premium finish and powerful performance.
At the recent Sanctuary Cover International Boat Show, the company displayed a number of their latest models, amongst them the Strider 10. The Strider 10 is one of nine models in the Strider range, from 8m to 20m. They are designed as both superyacht tenders or day boats. Overall SACS offer a total of 20 boats from 6m to 22m in three different model groups.
The Strider 10 is designed with ample space on deck so you can make the most of your time onboard. There are a generously-sized table and wet bar behind the centre console, plus a convenient WC and dressing room hidden in the centre console. Impeccably crafted for comfort, the Strider 10 offers owners the choice of colours and finishes so you can place your mark on your boat.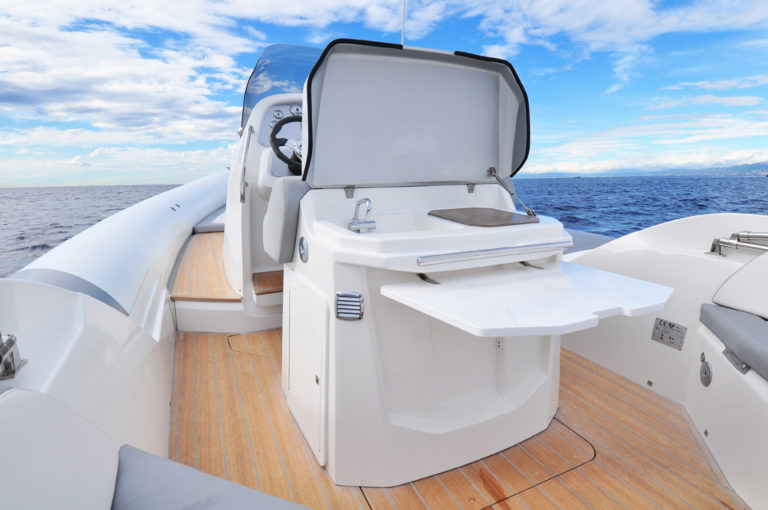 The SACS Strider is Spacious & Relaxing
The layout features a forward sun pad with storage and anchor locker under. The anchoring system is all recessed into the hull, so there is no obtrusive warp coming over the Hypalon tubes. Anchor launching and retrieval are all done from the helm. A foredeck pad with twin cleats is incorporated in the bow section of the tubes, ideal when you tie up behind your motor yacht.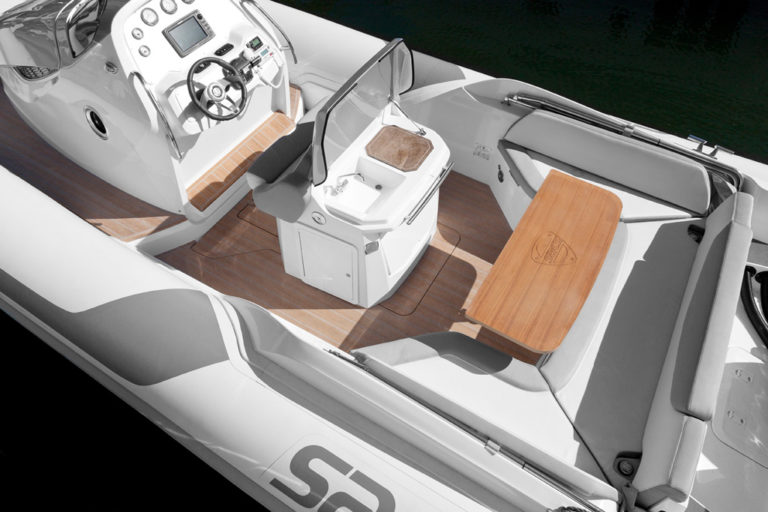 There is wide access down either side of the console on the teak decks to the aft area that has been masterfully designed to make the best use of the space available. No, there are no live bait tanks or bait stations. This is not that sort of boat. Rather it boasts fore and aft sun pads to relax and enjoy a beautiful day on the water. If the sun gets too much for you, there is a fold-up bimini on stainless stays for extra protection.
The U-shape lounge aft is well utilised as a dining area, with seating for at least six. This is easily transformed into the rear sun pad by dropping the table down. A central console doubles as the helm seat and galley. There is a sink with fresh water and provision for a small cook top. This can all be hidden away with a drop down lid. To one side is a pullout fridge, the other storage and aft a fold up fibreglass table.
The double helm seats have bolsters so you can drive either standing or seated, behind an extra large console with Perspex screen protection. A full array of instruments is flanked by a large MFD on the glare-free facia. Engine levers, VHF and anchor controls are all positioned below and easy to hand.
One of the very cool features on the Strider 10 is the console hood that lifts to expose a surprisingly large cabin space. Inside is a double berth, with a removable central squab that has a toilet under.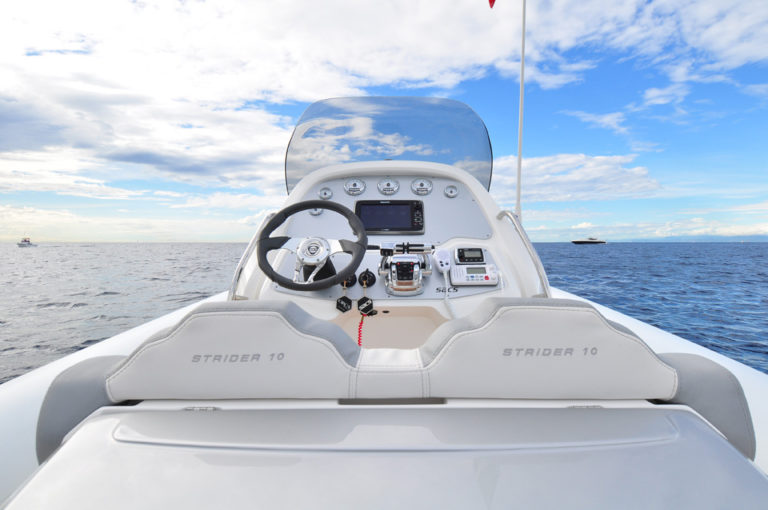 The SACS Strider Proves To Be Dry & Stable
The Strider 10m is based on a deep vee grp hull, designed by award-winning designer, Christian Grande, who has injected passion and personality into each model. The low centre of gravity and wide Hypalon tubes equate to an extremely stable, quiet and dry ride. The Parma-based designer-enriched SACS boats with distinctive cues drawn from automotive influences.  SACS boats are all designed using the latest CAD/CAM technology and interfaced with advanced milling cutting equipment. The result is quality and customisation of the highest standards.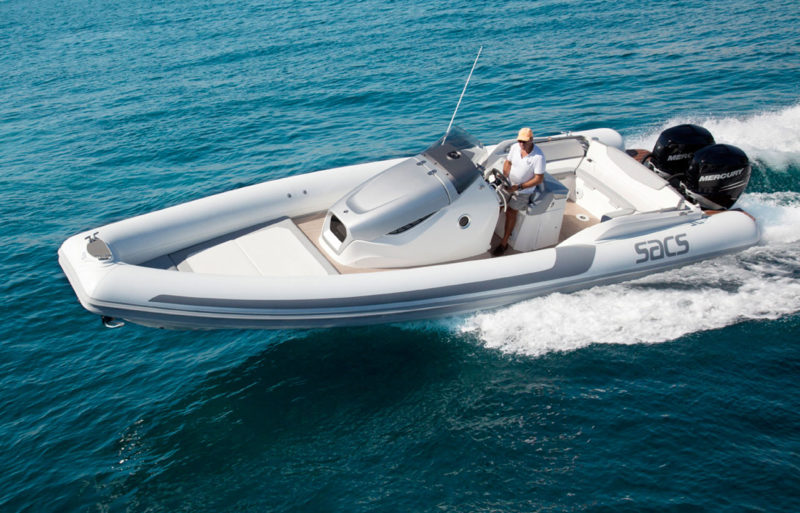 Maximum power is 600hp, from twin outboards, which gives the Strider 10m both an economical cruise speed as well as plenty of power if you want to goi fast. Boarding platforms either side of the engines provided easy access to and from the water. A clip on stainless ladder is also available.
The SACS' philosophy is that the RIB is no longer a mere means of transport but becomes the fulfilment of a dream and a way of asserting one's personality. The SACS range preserves the practicality and purpose of the RIB, with the fastidious Italian attention to detail that elevates them to a statement in style.
The SACS Strider 10 is a luxury RIB that fits almost any lifestyle, with standard features that most of the competitors only offer as options. If you already own an Italian car, yacht or just love everything about Italy, then you need to add a SACS to your collection.