The Hutchwilco Converter is a wet weather jacket that can be inflated to a buoyancy vest and is very popular with PWC riders.
In Part Two, we look at the wide range and styles of lifejackets and buoyancy aids suitable for adults.
Lifejacket technology has come a long way – the bulky, ugly, orange lifejacket is a thing of the past. Radical changes in lifejacket design – extra large armholes, shaped fit, flexible panels, pockets, inflatables and more comfortable materials – make today's lifejackets easy to wear.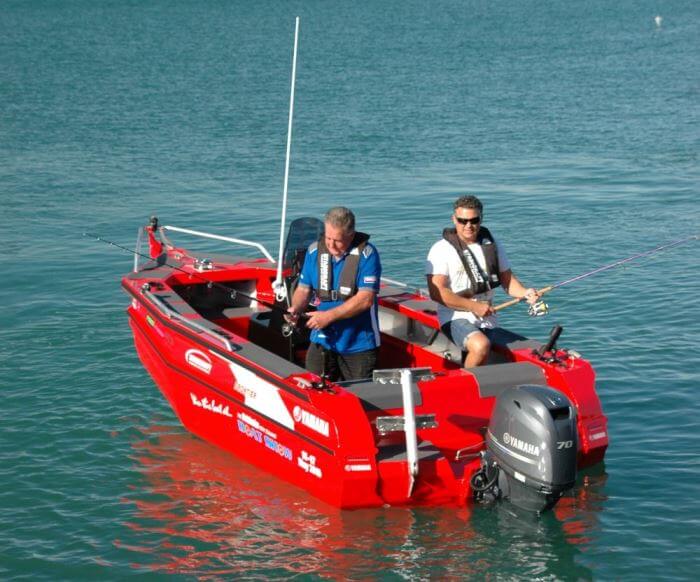 Selecting the best lifejacket for the boating activities that you enjoy can be a daunting challenge. There are a wide variety of different lifejackets, but that's a good thing, because there are a wide variety of types of boating.
Firstly what are the rules regarding lifejackets? In New Zealand you must carry a correctly sized, serviceable lifejacket (also known as a personal flotation device or PFD) for each person on board a pleasure boat in New Zealand. This is a legal requirement, and this rule applies to all boats, including tenders and larger craft.
You will need to check the regional council bylaws for the requirements that apply in the waters in your part of New Zealand. Some bylaws go further than maritime rules, making the wearing of lifejackets compulsory for all on board small craft.
Maritime rules provide that it is the skipper's legal responsibility to ensure that lifejackets are worn in situations of heightened risk, such as when crossing a bar, in rough water, during an emergency, and by non-swimmers. Lifejackets must be stored so that they are immediately available in case of a sudden emergency or capsize. Children should wear lifejackets at all times in boats under 6 m.
Australian laws are somewhat different and may vary from state to state. In Queensland, NSW and Victoria for example, it is compulsory to wear a lifejacket when crossing a designated coastal bar in an open boat that is less than 4.8m, if you are under 12 years old (from 12 months old and up to, but not including, 12 years old) in an open boat that is less than 4.8m in length and underway.
Legislation also requires that boat owners or skippers must give each person on board information about where safety equipment is kept and clearly sign where lifejackets are stowed. However whatever the laws, the best and safest thing to do is just wear your lifejacket at all times when aboard a boat!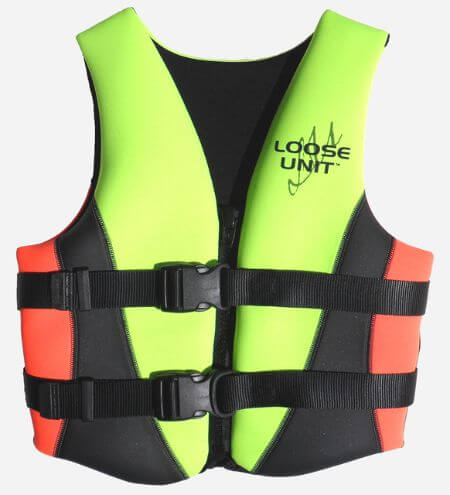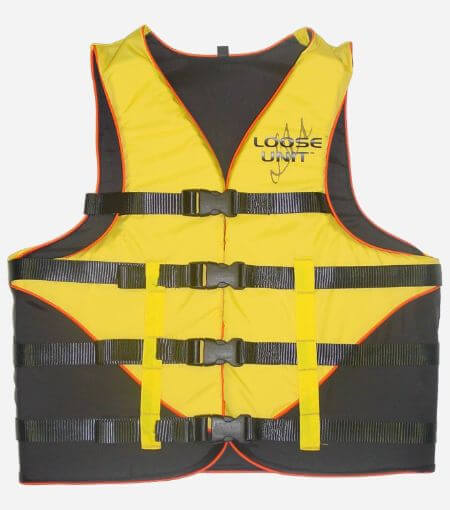 Inflatable lifejacket are generally built to one-size-fits-all standards. Inherently buoyant foam vests are made to fit a range of chest sizes, so if you haven't got any idea of your measurements, you should check with a tape measure.
Most drownings in boating accidents involve craft under 6m, and as both NZ and OZ has many thousands of recreational trailer boats on the water every weekend, the importance of wearing a lifejacket is so important.
Most accidents occur suddenly with no warning. There may be no time to grab a lifejacket unless it is close at hand, and it is extremely difficult or impossible to put on a lifejacket securely in the water.
Some lifejackets provide more than flotation. They allow a person in the water to keep still, thereby conserving energy, which will help to delay the onset of hypothermia. The body loses heat through water three times faster than out of the water. Closed foam-type lifejacket also provide protection thermal protection on cold days or prevention from injury in collisions.
There are basically five different types of lifejackets for recreational boating, but they come in a variety of ways and each has its own specific type designation code.
Type 401 – Open Waters Lifejacket
These are designed to keep the wearer vertical in the water, and to hold a person's mouth and nose uppermost if they are unconscious. The two versions available are inflatable, or with semi-rigid foam flotation.
The ones with foam flotation are rated as having a minimum buoyancy rating of 100 N (adult size). These jackets are cumbersome and uncomfortable.
They are not suited to continuous wearing on a pleasure craft, but because they are designed to hold an unconscious person's head and face clear of the water, they are best suited for emergencies such as abandoning a vessel.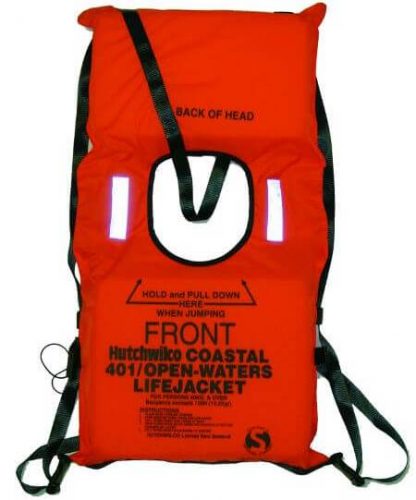 Inflatable Type 401 Lifejackets
The inflatable 401 lifejackets must provide 150 N of buoyancy, and are fitted with either a water-activated inflation mechanism, or a manual pull cord to inflate. They can also be inflated using a mouthpiece.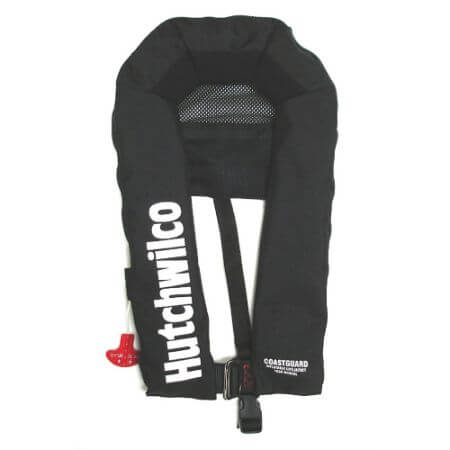 These jackets are also designed to keep a person's head and face clear of the water, and are comfortable and convenient to wear. They can be fitted with a safety harness.
Inflatable lifejackets are becoming increasingly popular with boaties, as they are more comfortable than other lifejackets. As well as being very light to wear and less restrictive, they also have considerably more flotation than foam lifejackets, and exceed buoyancy requirements.
Manual inflatables require the wearer to pull a tab to inflate the lifejacket, and automatic lifejackets inflate as soon as they are immersed in water. A 'pouch'' style inflatable lifejacket is also available.
While inflatable lifejackets have many advantages, they do require regular servicing and users should check them frequently to ensure the gas canister is not expired, is properly screwed in and not rusted, and that the mechanism is serviceable.
Inflatable lifejacket are generally built to one-size-fits-all standards. Inherently buoyant foam vests are made to fit a range of chest sizes, so if you haven't got any idea of your measurements, you should check with a tape measure.
Type 402 – Inshore Waters lifejacket
These provide at least 71N of buoyancy and must have a buoyant collar to support the wearer's head. They are quite comfortable to wear continuously while boating, and are the most common lifejacket found on recreational craft. However, while they must not allow the wearer to tilt forward of vertical, they are not designed to keep an unconscious person's head and face above water.
This type of lifejacket must be marked "May not be suitable for all conditions". The effectiveness of this lifejacket is considerably reduced in rough or breaking seas or surf. The lifejacket will give support in the water for an extended period.
This type of lifejacket normally relies on plastic clips and adjustable straps to secure it. These straps must be fastened securely and there is some tendency for this type of lifejacket to ride up on the wearer. A crotch strap is advised if the wearer may be using the lifejacket in rough water.
No collar is fitted to a buoyancy vest and it has a lower buoyancy rating than a lifejacket. It is designed for use in aquatic sports, such as dinghy sailing.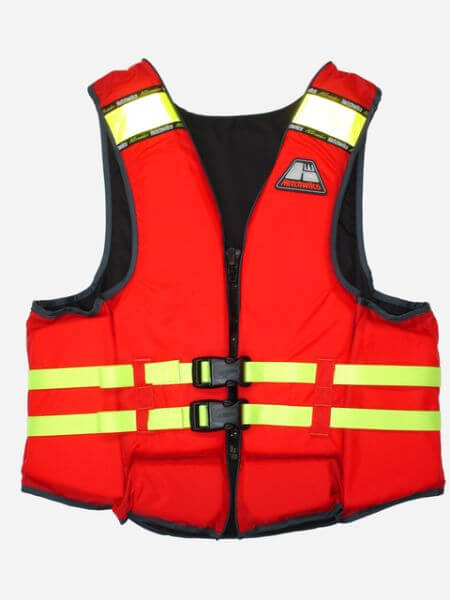 This particular type of lifejacket (adult size) must have at least 53 N of buoyancy. While wearing this type of lifejacket will not provide the same level of support or safety provided by other models, it is necessary for specialist type sports to have the most appropriate lifejacket for their purpose.
Type 404 – Buoyancy Aid Wetsuit
A wetsuit with added buoyancy in specific areas. These are very expensive and suitable for some sporting activities.
Type 405 – Buoyancy Garment
This standard is the same as type 403, but is not required to have reflective tape or be brightly coloured. They are often used in specialist sporting events, but where lack of bright colours may compromise safety, a type 403 lifejacket should be used.
Type 406 – Specialist Lifejacket
These include the various specialist lifejacket designs that are used for rafting, jet and power boating racing, or kayaking. The devices will be marked to indicate their intended application, that they are not intended for use at night, and that they may not be suitable for all conditions and should be used where early rescue may be anticipated.
Both the rafting Type 406 and jet and power boat racing Type 406 have a minimum buoyancy of 100 lifejacket and will generally be fitted with a collar to support the head of the wearer floating in the water.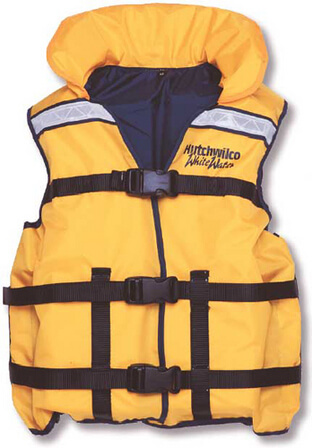 The kayaking Type 406 has a minimum buoyancy of 50 N and will not generally have a collar.  It's suitable for use in multi-sport kayaking and kayak racing, white-water kayaking, and sea kayaking.