The popularity of mid pilothouse motor yachts is catching, especially for those looking towards chartering for the America's Cup and beyond. Ruben Jane is the collaboration between owners, designer and builder and the result is an outstanding example of custom boatbuilding.
Then the owners of Ruben Jane started looking for an ideal corporate charter boat for the America's Cup as well as a generous size family cruising boat they went looking overseas. Seeing what they liked, they then approached Bob Salthouse with their ideas.
The owners commissioned the design and had Cookson Boats of Auckland build the hull in composite. They then set up a boat building company and over the next three years built and launched this outstanding mid pilothouse motor yacht.
Under the able leadership of boatbuilder Antony Pike and in close consultation with Salthouse, Ruben Jane has been altered both internally and externally from the original design concept during the course of the building programme. Harsh lines have given way to softer curves and a more modern ambience is evident throughout the boat. Yet in some areas there is still a hint of traditionalism and old world charm that interacts nicely with the modern approach.
Ruben Jane's volume allows the separation of modestly sized staterooms, one each for the owners, a separate guests cabin and all with their own en-suites. They are gracefully finished with dark teak timbers with light burr oak inlays, with the attention to detail carrying through to artificial suede wall and ceiling panels and luxurious deep pile carpet. Interestingly, the walls are made up of dozens of individual suede covered panels, which are held in place with Velcro and easily removed should access to wiring etc be necessary.
All the doors have radiused heads rebated into a mushroom style doorjam, with oak inlays. The teak margins on the floor between the carpet and suede walls are a nice touch and highlight the carpet and teakwork, rather than burying the whole lot into one.
The staterooms are noticeable for their exceptional head height and spaciousness with storage areas provided in hanging lockers and deep drawers.
Each en suite is decorated in a highly lacquered white finish with granite vanity tops and mirrors. Teak and burr timbers add the natural look and complement the modern with the traditional.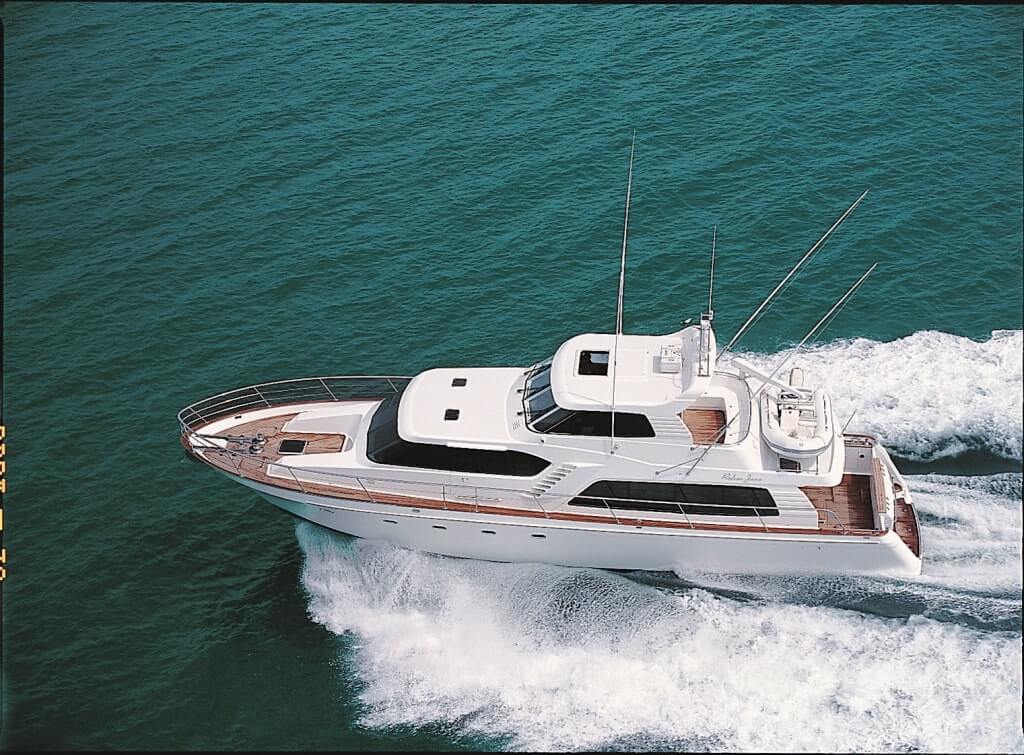 The starboard side guest cabin is finished with two large L shape berths, each capable of sleeping two and like the rest of the accommodation area and bridge deck is fully air conditioned.
The curved companionway is lit by downlighters and leads up to the main saloon, which on board Ruben Jane is regarded as the quiet area. A place to simply relax on one of the two beautifully trimmed leather lounge suites, that are undeniably cosy. Sliding doors either side gives access to the wide bulwarks and when closed is a flush fit with the outside of the cabin. They are also finished with oak panels and despite their rather commercial presence, are neatly tailored into the design and not obtrusive. Built to MOT standards they come with splashboards 300mm above the deck!
Being a mid pilothouse motor yacht, the fully enclosed bridge is also designed to accommodate the unexpected overnight guests and becomes another day room when passage making. Specified with just about every electronic navigation aid you can image, Ruben Jane is a boat that is heavily into electronic computerised systems. Double PC screens actively work together to fully inform the skipper of not only navigation requirements, but also engine monitoring data and a through a surveillance camera lets him stay in visual contact with the boarding area at all times.
Everything from pyrometer temperatures of the twin Scania diesels to the water temperature under the keel can be displayed on one screen, whilst at the same time on the adjacent screen a full GPS plotter can be in view. Technology is such that boats like Ruben Jane in not so many years will probably only need a couple of PC type screens and do away with everything else to access all the necessary navigation and safety data. The soft green leather fascia is definitely not low-key, yet in some ways it is basic in its simplicity.
A secondary helm station in the cockpit is fitted with a remote control steering system, an autopilot, depth and wind instruments and is handy when backing up to the marina or working a marlin.
To starboard is a large lounger that converts into a double berth and opposite another soft leather settee. The double helm seat is a particularly interesting feature, that by the flick of a lever converts from forward to aft facing and yet at all times allows a padded seat cushion for the skipper. An overhead sliding hatch mounted on mainsheet travellers for ease of operation, has two locking positions when open and not only lets in light and ventilation, is also an ideal place to stand when spotting for fish.
Further ventilation is provided with vertically operated sliding side windows, which along with all the windows are constructed of toughened glass. Complex elliptical shape corner glass panels required the special know how of Hamilton based Temperbend to achieve the desired result.
The floor is handlaid solid timber, using teak with burr oak inserts that leads out onto the open aft deck. An area to relax in the summer, it also gives access to the 300kg hydraulic davit necessary to lift the Zodiac 3.8m tender into and out of the water. With the tender removed, a secondary ladder access to the bridge is exposed, which allows the skipper to access the bridge without having to disturb the owner and guests in the saloon.
The dinette/galley is spacious and retains an air of elegance found throughout all areas of the vessel. The focus is on relaxed living without compromise. A Blake Twigden original graces the forward bulkhead and helps to set the mood. A high-tech stereo system transcends the inner sanctum of the entertainment locker with a myriad of self adjustable speakers throughout all cabins.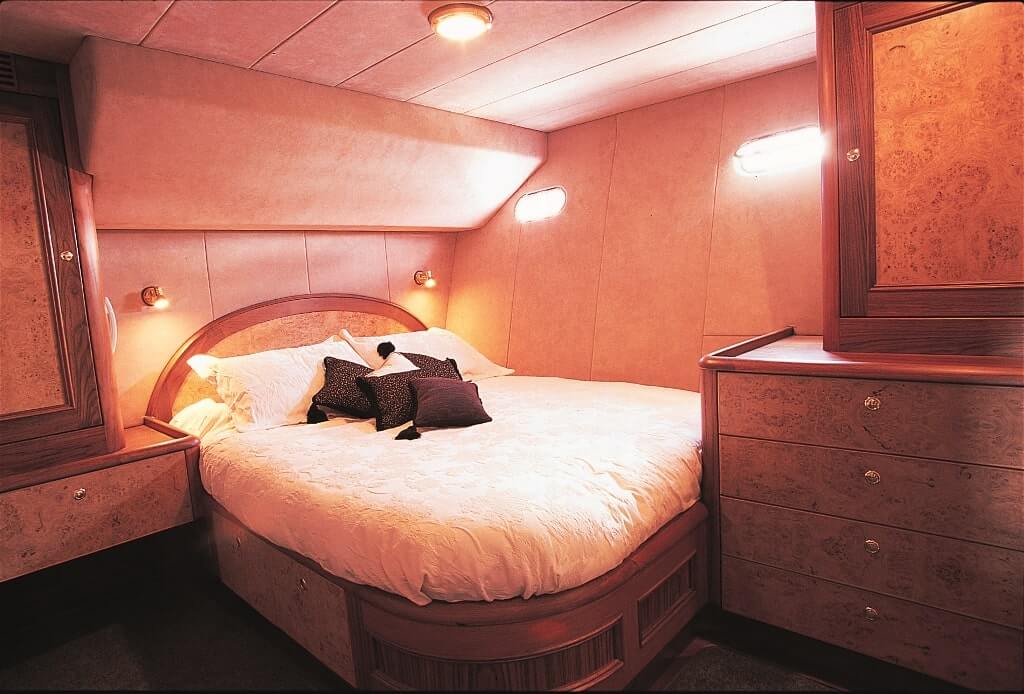 The TV, which is hidden from view until it rises automatically from within a port locker, is also interfaced with the engine monitoring system and even allows guests to watch someone in the cockpit fighting a marlin. Wooden panelling keeps items such as switch panels, the drink locker, entertainment systems and clothes dryer out of sight until required.
A port side settee has a freezer beneath and a huge four way adjustable half moon shape table opposite can be re-positioned at the right height for a coffee table or formal dining area. With the addition of loose chairs there is space to seat 8-10 for dinner.
The galley is certainly more than capable of handling big crowds and there is no shortage of storage areas beneath the large granite vanity top. A 16 kVA genset helps run all the electrical equipment, including a microwave, dishwasher and fridge, freezer units. Ventilation is provided with a ceiling fan above the hob and vertical sliding side windows.
The cockpit is designated for fishing with Ruben Jane equipped with gamepoles and a fighting chair, although according to the builder that's certainly not a pre-requisite of the owners. A toilet and shower compartment in the cockpit means you can no all the business without having to go inside the internal living areas.
External fridge and freezer units are complemented with plenty of deck storage lockers and there is even a pull-out custom made stainless bbq hidden from view in the transom. Twin automatically locking transom doors are mounted on mainsheet travellers and with no floor runners, make for a very clean transition from cockpit to boarding platform. To assist in docking, a capstan is mounted on either side deck.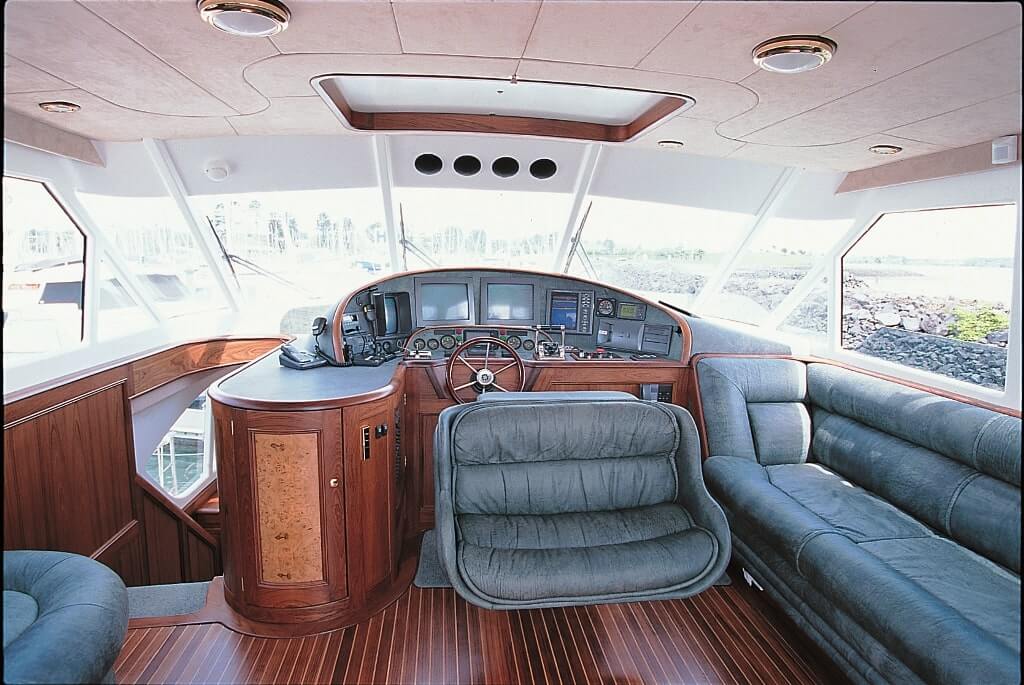 Ruben Jane is powered by a pair of 500 hp Scanias capable of giving a top speed of 23 knots @  2200 rpm, cruising at 20 knots @ 2000 rpm. Based on using 90% of the onboard 5800 litre tankage. Ruben Jane has the capability to cruise at nearly 20  knots @ 2000 rpm for over 560 nm.
A big roomy mid pilothouse motor yacht, Ruben Jane is a fitting testimony to the versatility of designer Bob Salthouse and the craftsmanship of builder Antony Pike. Between them they have produced a timeless memorial to vision and style.
Name of Boat: Ruben Jane
Builder: Xerxes Marine
Designer: Bob Salthouse
Interior Design: Antony Pike
LOA : 19.5m
Beam: 5.5m
Draft: 1.3m
Displacement : 26 tonnes
Max Speed: 22 knots
Cruise Speed: 20 knots
Construction: Composite
Fuel Capacity: 5800 litres
Water Capacity: 1200 litres
Year Launched: 1998
Power: 2 x Scania 500hp