Halcyon VI is the second Salthouse 65Q with a layout that differs considerably from the first 65Q launched late last year.
When you scroll through the Salthouse Marine website there is one word that comes up that optimises the company's approach to building boats…flexibility. It says in the preamble: A Salthouse is best described as a semi-production, high performance motor yacht of exceptional quality and performance. The crafting of every Salthouse is focussed on providing a vessel that is specified and personalised to a client's exacting requirements. Whatever the intended destination and purpose of the chosen vessel, each reflects its owner's prerequisites and desire for the perfect personalised craft. The all-new Halcyon VI reflects that statement unquestionably.
Although it is known for its innovative attitude, when the company first announced it was building a quadruple IPS-powered Salthouse 65, many eyebrows were raised. However, the first Q65 was not only an unqualified success; it has now been followed by Halcyon VI, both of which have been purchased by Australian owners.
While Halcyon VI looks very much like A'Lura (Q65 #1) from the outside and has a near identical engine room, the rest of the boat goes right back to Salthouse Marine's focus on flexibility. Halcyon VI has a completely different internal layout from A'Lura, which is especially noticeable in the saloon and cockpit areas, plus the forward accommodation sees larger cabins with increased headroom. The accent on A'Lura was unquestionably on serious sport fishing and with Halcyon VI it's more about comfortable cruising and entertaining.
The owners' concept for the boat was for outside dining, to the extent that there is no inside table at all. The separate alfresco dining area is very much a feature of modern day Salthouse designs. In Halcyon VI the owner has capitalised on the space to present a large U-shaped dining area with a handcrafted feature table and easy access to the galley via the drop-down window.
Halcyon's owners have gone for an external day head and large storage locker to starboard, with the BBQ, freezer and fridge built into the central island area of the transom, which in the previous Q65 was a bait station. Full clears and fly-screens plus the extended flybridge overhang provide the necessary protection from the 'bugs' and weather, plus the area is also treated with an air conditioning vent which will provide some relief in the hot weather.
Overall, the design provides a more sweeping and uncluttered cockpit, albeit the same size as the previous Q65, with great entertainment space and open living.
Another major change is that Halcyon VI has a portofino stern and the swim platform has been lowered to be closer to the water.
Halcyon VI is complete throughout with high gloss American cherry which has been quarter sawn to bring out the rich texture and produce a pattern of the inner tissues of the timber. There is a certain stylish elegance displayed in the saloon that embraces the blend of natural light and soft lighting with the contrasting dark wood and the light-coloured upholstery. The finish and presentation is impeccable and noteworthy for this acclaimed builder.
Against the forward bulkhead the owners have chosen to utilise the space for storage, with lockers that include an area for the drinks and glass storage, and the entertainment system. The spacious saloon features several seating areas, perfect for intimate conversation or a convivial gathering of guests. The space usually taken by the table has a small ottoman which doubles as a coffee table. A large flat screen retractable TV is hidden away until required and while the view from the soft loungers is exceptional, venetian blinds drop down for that added privacy.
The galley aft is the more traditional style found in Salthouse vessels, but has the addition of a large under-bench pantry. There is also a convection microwave, F&P dish drawer, trash compactor and convection oven under the large Hi Mac Sea oat quartz bench top. A full-size stainless Samsung double fridge/freezer is situated opposite and alongside, the circuit board and switch panel are tastefully concealed behind a smoked glass panel.
Halcyon VI is the second Salthouse (and only the second boat in New Zealand) to be fitted with the new BEP Contour Zone. A solid state, networked power control and monitoring system, it features a user friendly display interface based on a 3.5" daylight viewable screen with an intuitive keypad and menu setup (See sidebar). Compact and easy to use, the new Contour Zone is designed to totally replace the conventional switch board.
Descending the staircase to the accommodation area, you find a three-cabin layout with an owners' stateroom to port, guest cabin to starboard and a large VIP cabin forward.
The guest cabin has twin 2m berths as well as a writing bureau with fold-out stool and access to a cavernous storage compartment for dry goods and assorted gear. As in all the cabins, headroom is exceptional. Due to the extra space made available by the installation of the IPS drive system, the rear bulkhead is positioned more than 1m further, which adds this extra length to the accommodation area. The four engines are mounted back under the cockpit sole, leaving copious space forward for storage and dedicated engineering and working space below decks. Salthouse Marine has certainly planned the use of the area well, with a focus on home comforts and space.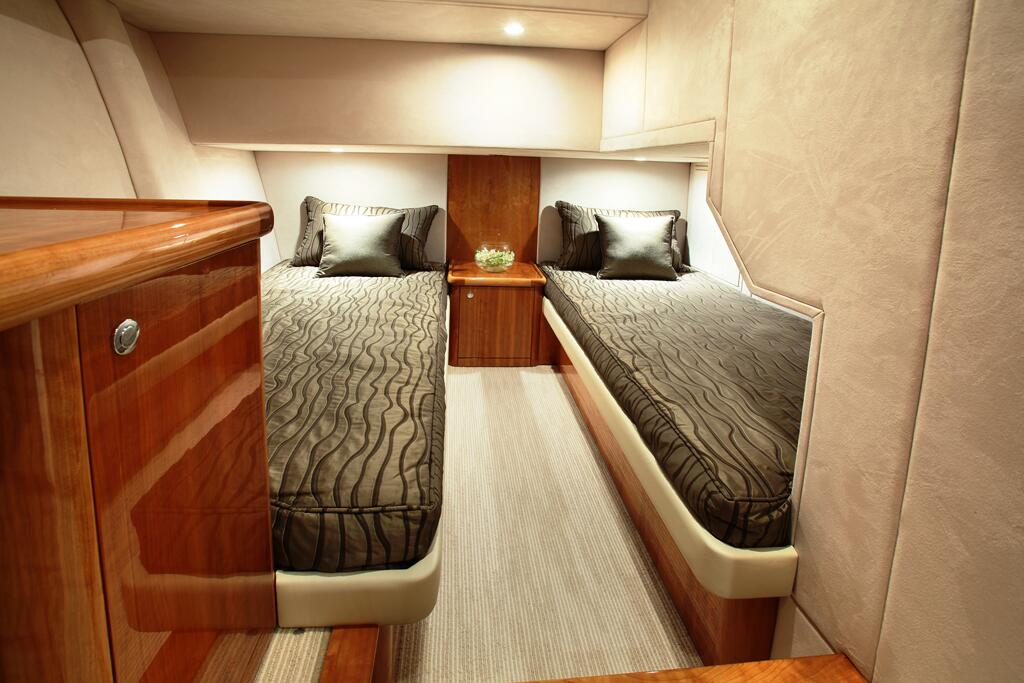 A queen-size berth in the VIP cabin is surrounded either side with storage shelves and lockers, plus drawers beneath. An overhead hatch and side ports provide natural light.
The décor of the owners' stateroom, like the other cabins, echoes that of the saloon – simple yet elegant. A queen-size berth fills the central area but doesn't crowd what is a nice open cabin. Overhead and lower cabinets plus a deep hanging locker provide ample storage. Both the master stateroom and VIP cabin have their own en-suites, complete with large shower stalls and curved vanities with sunken bowls. The flexibility of the layout is certainly appreciated by clients when it comes to planning the accommodation.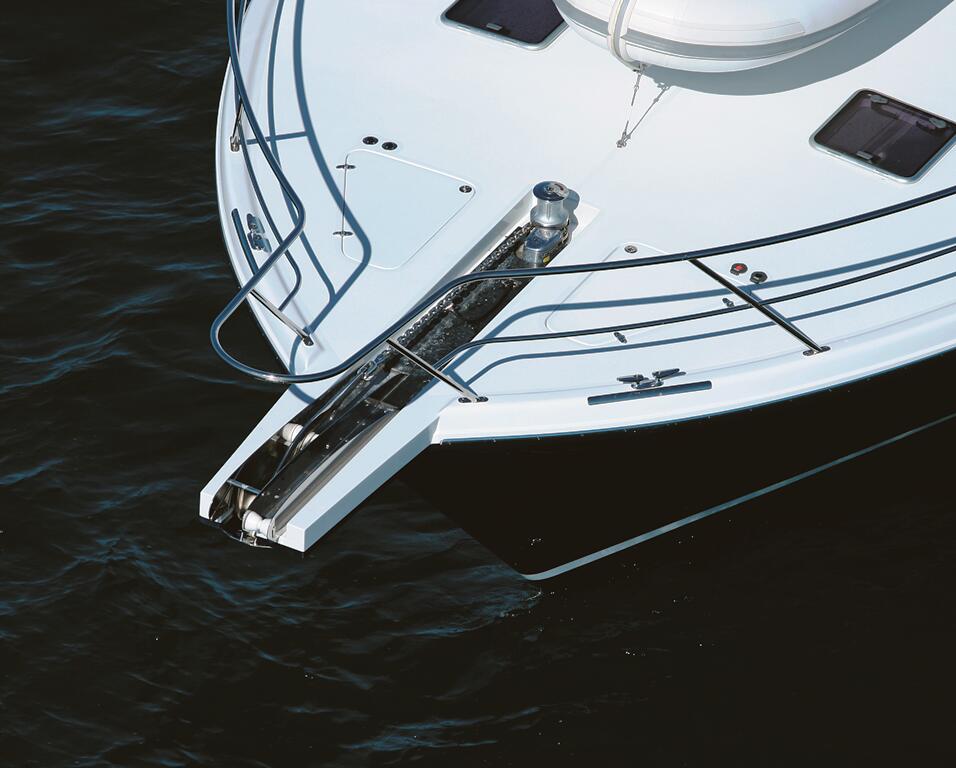 Since this is an enclosed flybridge design there is always a lot of attention given to the bridge access, either from the cockpit, saloon or both. In the case of Halcyon VI that's strictly an internal thing. A wooden handrail curves around a wide stairway to a flybridge that is the command centre of the vessel.
The full-width helm is well equipped with three navigation screens as well as all that is necessary to provide the information and systems to keep the four Volvo Penta IPS engines running smoothly.
Twin custom-made SMG helm chairs are supported with a starboard side bench seat. As this is certainly going to be a serious entertainment and social area, Halcyon VI has a wetbar and fridge plus a lounging settee that also converts to become an extra double berth. Aft on the upper deck, a full beam teak slatted bench seat is finished with removable cushions and there is a second set of controls to assist with docking.
Our outing on Halcyon VI was carried out on a very gusty Auckland Harbour. Right from when we left the protection of the Orakei Marina we could appreciate the smooth and silent ride.
The hull is extremely efficient and easily driven. The warped planing hull with fine entry bow and flat aft section provides excellent fuel efficiency. This combination of technology and efficiency produces exceptional performance from a hull that can comfortably handle most sea conditions.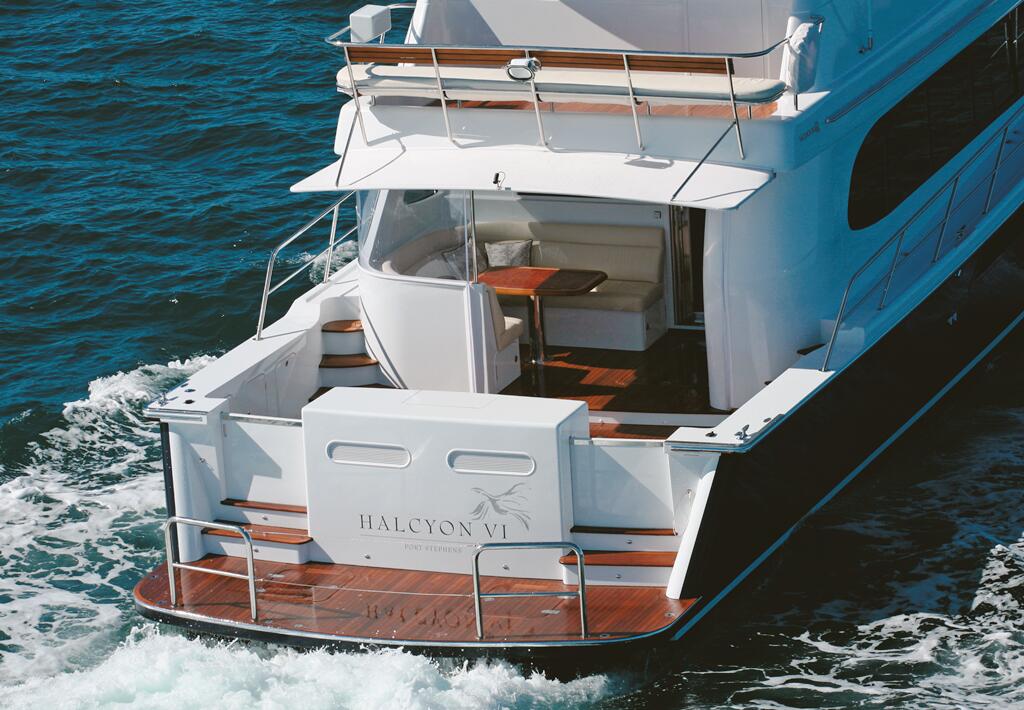 Testimony to that claim is the fact that most Salthouse boats sold to Australian clients are delivered 'on their own bottoms' with the trans Tasman route taking in a stop at Lord Howe on the way to either Brisbane or Sydney.
Halcyon VI and the recently launched Salthouse 57, Hotspur, are scheduled to complete the Tasman Crossing to arrive in time for the Sanctuary Cove International Boat Show in May.
True to form, the Volvo Penta IPS makes the boat feel so nimble that it's hard to imagine you are actually in a 65-footer. Backing up or close manoeuvring, it's only a touch of the controls and you can place Halcyon VI right where you want it.
Fuel consumption at 1000rpm is 0.50 litres per nautical mile @ 6.85 knots, at 2200rpm/ 2.45 litres per nautical mile @ 14.50 knots and at 2800rpm, 2.58 litres per nautical mile @ 23 knots. Flat out at 3500 rpm we saw close to 31 knots for a total consumption for all four engines of 4.09 litres per nautical mile.
The hull and deck is built and certified to Lloyd's Register standard. Hand-laid end-grain balsa and fibreglass composite provides a high strength to weight ratio with all the inherent benefits of sandwich construction and the added benefit of exceptional compression properties. This technology reduces weight, providing increased fuel capacity and longer-range cruising, plus higher speeds using less engine power and better overall operating economy.
Halcyon VI displaces 36,500kg, compared to over 40,000kg for A'Lura. This has resulted in an increase of 2-3 knots and the T2 propellers (the smallest available for the Volvo Penta IPS) have been changed to T3s. Top speed is just under 31 knots when fully laden. In heavy ship mode, Halcyon VI runs at 3400 rpm and reaches maximum 3600 rpm in light ship, with a further 1 to 2 knots speed gain.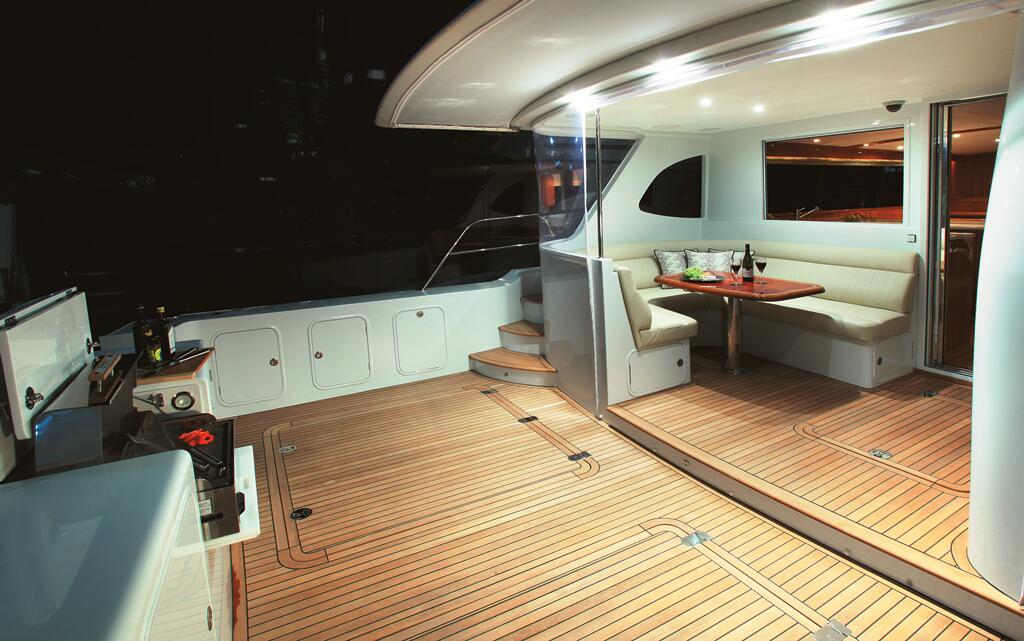 With Halcyon VI, Salthouse Marine has once again shown its skills as a versatile and flexible semi-custom builder that has embraced the latest technologies with proven boat building practices.
While interest in Q65 #3 is strong, it seems that Salthouse Marine will be busy for some time with conventionally powered vessels. Currently under build are three Salthouse 68s, all with MTU 2000 engines. However, with the release of the Volvo Penta IPS 800/900, Salthouse Marine is talking to clients about a variety of engine options, including twin IPS 800s in a Salthouse 50 and triples in both the Salthouse 65 and 68.
Halcyon: Ancient Greek legend. In the context of the legend, the halcyon is a type of kingfisher that builds its nest by the sea; seas remain unusually calm during its nesting season
Design Name: Salthouse Q65
Boat Name: Halcyon VI
Builder: Salthouse Marine
Designer: Bob Salthouse & Salthouse Marine Group Design Services.
Interior Designer: SMGDS
Year Launched: 2009
LOA: 21.2m
LOH : 19.1m
 Beam: 5.60m
Draft: 1.20m
Displacement: 36500kg (Full)
Max Speed: 33 knots
Cruise Speed: 22 knots
Fuel Cap: 5600 litres
Water Cap: 1000 litres
Construction: FRP with balsa core composite
Engines: 4 x Volvo Penta IPS 600 @ 435hp ea