Savage boats have been available in New Zealand for a number of years now. Savage is one of those brands you don't hear about so often, although the boats sell very well.
Freddy Foote checks out the Savage 580 Blue Water Cuddy Cabin; this particular boat fitted with a whole raft of extras and a hot engine option.
Savage is an Australian brand that operates under the Mercury Marine/Brunswick banner and has a broad range of aluminium boats, in the form of runabouts, cuddy cabins, bowriders, centre consoles and dinghies, to name a few.
The cuddy cabin range has five models; a 500, 520, 540, 580 and a 600 that is a plate boat, the smaller models being pressed. The main features of the cuddy cabin range are that they boast large fuel tanks, roomy cabins and wide walk-through decks.
This particular boat is the new demo boat for Savage parent company Mercury Marine, which plans to use it for a variety of applications, from family days out; towing tubes and biscuits.
As well as being a hull to test engines and componentry.
One of the biggest features of the boat and something that has always drawn a lot of interest from prospective buyers, is the walkthrough forward deck; a feature that isn't seen so often on an alloy boat. The walkthrough is roomy and easy to open, and provides plenty of space to perform the anchoring duties when need be. A separate, smaller hatch is available further forward for the locker.
The cuddy cabin was fairly compact and probably not the kind of area that you would spend much time in. However, it's a great place for gear storage and the kids would probably retreat in there.
In the cockpit, the twin pedestal seats on swivels were comfortable and had a great elevated seating position. Extra passenger seating is available aft in the form of an upholstered bench seat which can easily be dropped downwards when you want to fish, or be removed altogether.
The boat was carpeted throughout – an option on this particular boat. It's a great option if you want to have the boat a bit more family orientated, as the carpet does 'warm' the boat up a bit. The other option is to have a vinyl floor, which would be the preferred arrangement if fishing is your aim.
Large side shelves run the full length of the cockpit and are long and deep enough for any number of items, such as rods, gaffs or skis.
A small storage pocket is located up by the passenger seat and is a great place for those smaller items like cellphones and keys.
Extra railing is a great feature part way along the top of the coamings; I'm surprised that we don't see this feature more often on boats. I can see it being a great help when you're trying to manoeuvre the boat onto a trailer in strong winds or handling the boat in the shallows off a beach. Cup holders and rod holders also complement the coamings.
Savage is another one of those manufacturers that combine the best from both worlds of boating; that being incorporating a GRP or fibreglass cabin top onto an aluminium hull.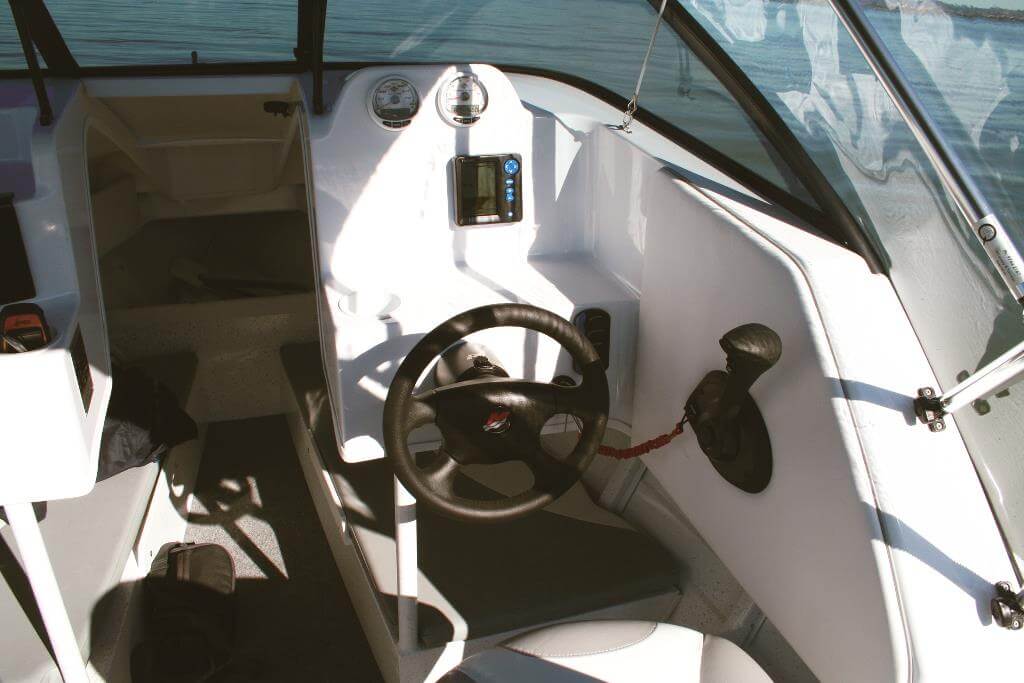 The fibreglass finishing gave the boat a really nice look, and the actual visual difference between the painted aluminium and fibreglass was pretty hard to spot.
For a boat of its size and purpose I thought it went quite well. Our test day conditions threw a bit of a mixed bag at us, with mostly flat water combined with a few rolling swells and shorter ferry wakes.
The keel consists of an aluminium extrusion which runs right down the centre, making the boat track quite straight and hold on hard in the corners. The 580 is still a 'tinnie' so if you're looking for that quiet ride of a glass boat, you're not going to find it here. However, it performed as expected and delivered quite a comfortable ride.
We boated with the bimini cover up and forward clears in place, as it was mid July after all and just after the big storm there was still definitely a nip in the air. Negotiating some of the wakes and swells on Auckland harbour, I chose to stand for extra visibility and even with the bimini cover up I still had good headroom, even for someone who is around 6'1".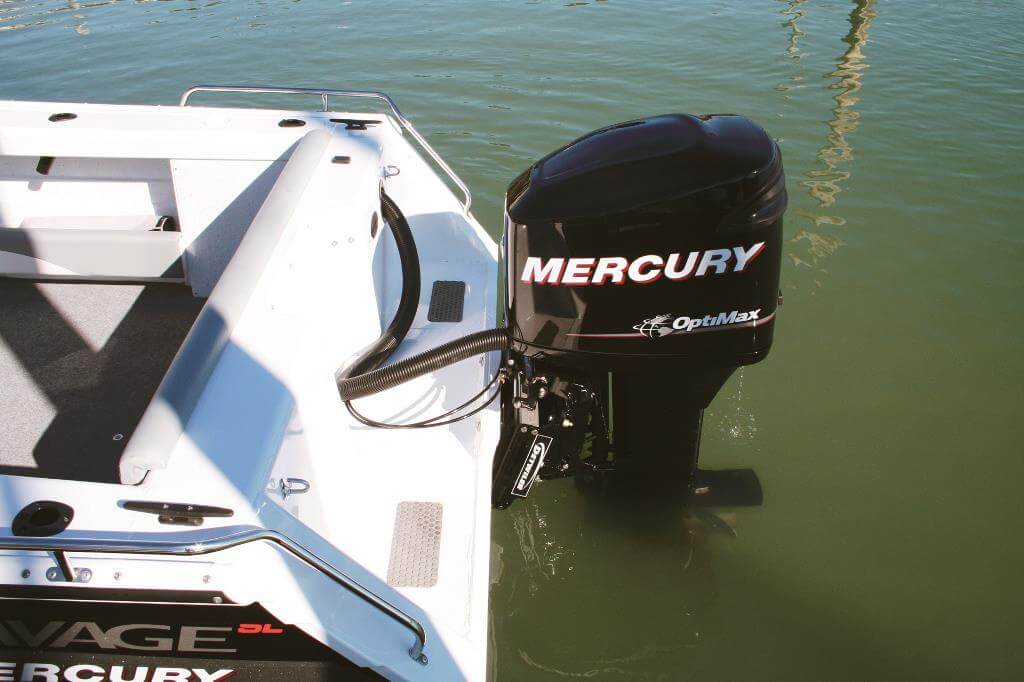 As tested, the boat was reasonably well spec'd – the only things missing were a transom door and bait board.
It's not often you come across an alloy boat that is knocking on 50mph, particularly one that is just shy of 6m. However, this was one of those occasions. This particular 580 Blue Water was fitted with the latest Generation II Mercury 150hp OptiMax. As you might expect, the 150hp engine certainly provided more than enough horsepower for the hull and helped the boat to just over 48mph @ 5500rpm; the boys at Mercury told me they reckon it probably is a bit of overkill, but being resilient petrolheads they couldn't resist showing off their new wares.
This particular engine is one of the first of the new and much talked about OptiMax engines that we've managed to test on a boat. The engine has received a lot of refinement and has improved in areas such as sound levels being reduced, a new cowl for improved air intake and look, new engine management systems and an upgraded gearcase.
Obviously a 150hp engine isn't going to be everyone's cup of tea and not in everyone's price bracket. The 580 is rated for outboard engines as small as 90hp and surprisingly to me you can even bolt a 175hp on if you wish. But my choice would be a 115hp, and with some of the modern four-strokes producing great low-down torque these days, a 90hp would be good, too.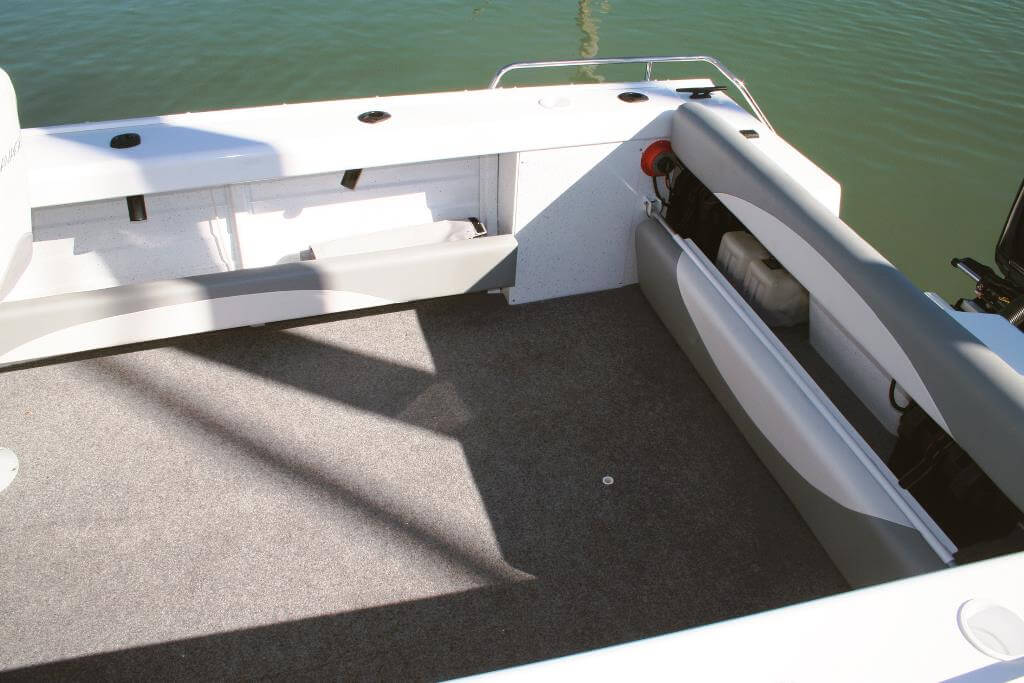 Launching and retrieving the 580 was pretty easy with two of us, and given the right ramp conditions and facilities could be a one person affair as well. Savage boats are shipped into New Zealand without trailers and upon arrival are fitted up with custom made Hosking multi-roller trailers.
Overall the 580 Blue Water is a very well appointed boat, albeit that it has been very highly spec'd with a number of extras by the team at Mercury Marine.
It was pretty hard to fault, with only a couple of small things that I could see being improved. There was nowhere to hang onto for the passenger, so a handrail of some kind would be a welcome addition, as too would footrests of some description for not only the skipper but passenger also.
But overall, a pretty good package, well constructed and finished. It's the kind of boat that can be kitted up to suit a number of applications or be multi-purpose. So if you're after a blokes' tinnie that will also keep mum and the kids happy, then this is one such model you should look at.
Model: Savage 580 Bluewater
Price as Tested: $56,000
Packages From: $45,000
Designer: Savage
Material: Alloy Hull/GRP Cabin
Type: Cuddy Cabin
LOA: 5.95m
Beam: 2.40m
Hull Configuration: medium V
Height on Trailer: 2.50m
Engine Capacity: 90-175hp
Power Options: Outboard only
Fuel Capacity: 200L
| | |
| --- | --- |
| 550rpm | 2.5mph |
| 1000rpm | 5.0mph |
| 1500rpm | 7.0mph |
| 2000rpm | 10.0mph |
| 2500rpm | 17.0mph |
| 3000rpm | 24.0mph |
| 3500rpm | 30.5mph |
| 4000rpm | 36.5mph |
| 4500rpm | 42.0mph |
| 5000rpm | 46.0mph |
| 5500rpm | 48.5mph |
Speeds recorded on a Lowrance GPS and rounded off to the nearest 1/2 mph.