The Scorpion 195XS is a dedicated tow boat that brings back some fun to the family ski boat market.  
If you are looking for an affordable inboard powered family-style recreational ski boat, then you are probably going to need to look at offshore brands. Unfortunately, that market has all but been deserted by local Kiwi production grp builders and those that are more family runabouts which you can ski behind. If you are a serious rider, then there is always the likes of inboard ski/wake boats from brands such as Malibu, Nautique and Mastercraft, but that is a whole different market and one that is a lot more expensive. 
While there is a wide choice of family-style inboard ski boats from US manufacturers, thanks to Jamie Black of Mt Maunganui based Sportcraft Marine, there is now a more local choice, with the Scorpion brand now added to the mix.
To be fair, the Scorpion is not a new boat; in fact, it has been around since 2000 when it was released by the Australian builder Savage, as the 195. It was the first fibreglass boat for this hugely successfully alloy boat builder, and it proved an instant success. In the first year, over 80 were sold, and the Aussies loved them. 
Well, things changed over the years, and Savage was sold to rival, Quintrex, and the fibreglass side of the business ceased. In 2019, Jamie sourced the bowriders, had six boats built and although there was a Scorpion 195XS – the new name for the Savage 195- at the 2019 Hutchwilco NZ Boat Show, it has not been until now that the first finished boat has been available.
"When we got the first boat delivered from the factory it was still set up for a 200hp Mercruiser 4.3, which had since been replaced by the 200hp-250hp Mercruiser 2.5 V6, so the first thing was to get the bigger engine package to fit in the same engine space", says Jamie.
This wasn't an easy job as the top of the new engine encroached on the engine lid, so some alterations were needed to make it fit. It seems to have worked well, and there is still plenty of storage space on either side of the engine. The V6 4.5-litre engine package offers both Alpha and Bravo legs in the 250hp model, but only the Alpha 1 in 200hp.
The Mercruiser Bravo 3 leg was a perfect match for this the boat as it provided exceptional power from a holeshot and there was no propeller feedback when underway. The dual counter-rotating propellers, give you excellent steering control, both at speed and when idling into the ramp. The extra blade on the propellers indeed showed when taking the Scorpion 195XS onto the plane at a lower speed, plus there was minimal bow rise.
Mercury says the Bravo 3 in a single application, such as our Scorpion 195XS is good up to about 56 knots, so we were well within the range at our max speed of 48 knots. Our Smartcraft said we were burning 75 lph @ 5200 rpm. Dropping back to 4000 rpm, the pace slowed to 38 knots and the fuel was back to a conservative 39 lph. 
The whole engine and drive package makes the Scorpion 195XS fun to drive, and for a novice boatie, you are not going to get into too much trouble…even at speed. At mid-range on the choppy Tauranga Harbour, it offered a comfortable dry ride.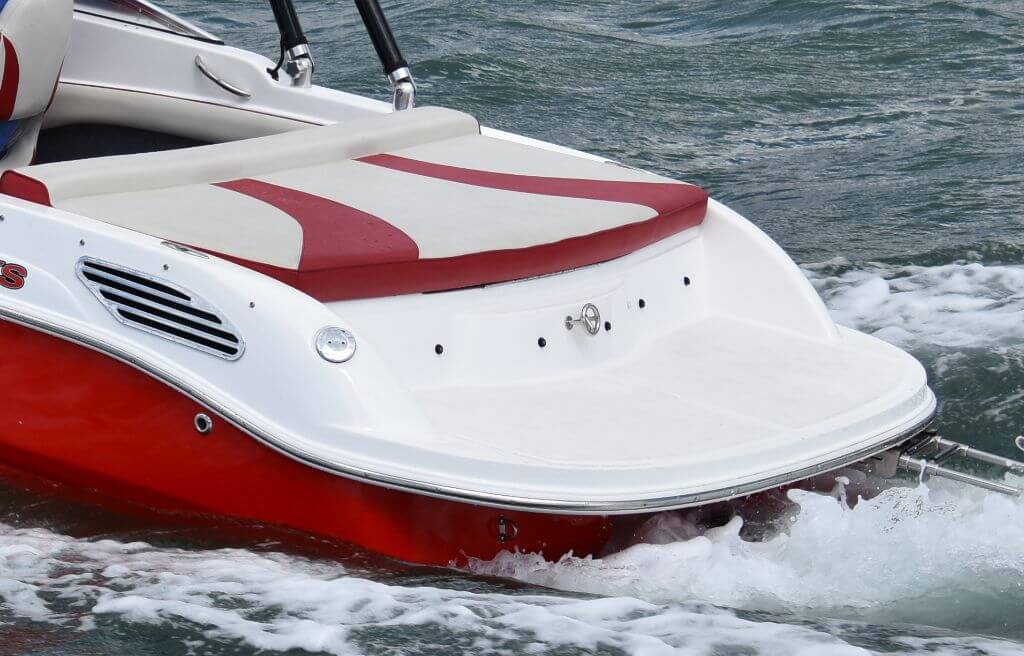 Jamie was quick to show me the benefits also, of DTS, which is perfect for a small ski boat like the Scorpion 195XS. So what you ask is DTS? Simple, it stands for digital throttle and shift. SmartCraft technology is the backbone of DTS, which delivers precise control and total vessel integration. However, it is the Smart Tow option that works so well for the Scorpion 195XS. It takes the guesswork out of pulling skiers, tubers, and wakeboarders, by allowing you to create a custom launch profile for each rider. There are up to five different settings, so once you have logged in a particular rider, you simply punch the throttle and go. The DTS system will automatically run the boat to your pre-determined criteria. Your rider will enjoy a perfect launch speed and towing speed every time. 
While we didn't tow anyone, I could certainly appreciate the benefits of having DTS with the Smart Tow package.
 The layout is typical of most bowriders, with forward seating for a couple of adults, but underway this is usually the domain of the kids. There is storage under the squabs, a removable tonneau cover and a small anchor locker in the forepeak. 
There is a compromise when you put a sterndrive in a boat this size and as you eliminate a lot of cockpit space. However, what the gain is, is in seating, with the Scorpion 195XS providing five dedicated spaces. Okay so no room to fish, but then this isn't a boat you own to go fishing. Although the front open bow makes it great to fly fish and soft bait from if you need a fishing fix. .
Forward are twin fully adjustable bolstered bucket sets and across the transom a bench seat for three. I liked the fact I could sit low behind the screen or using the bolster get up high enough to look over it when I wanted better vision. Another plus is the large aft lounger, which is essentially the upholstered engine cover. It also works well as a staging platform when you are putting on your skis or board. The swim platform is all part of the deck mould so is an integral component in the stiffness and strength of the boat.
There is storage on the forward passenger side with a lockable glove box which is also where the Fusion stereo head is mounted. Another small aspect I liked was the proliferation of large cupholders, eight in all. More storage is available inside trays and in a deep wet locker under the cockpit sole.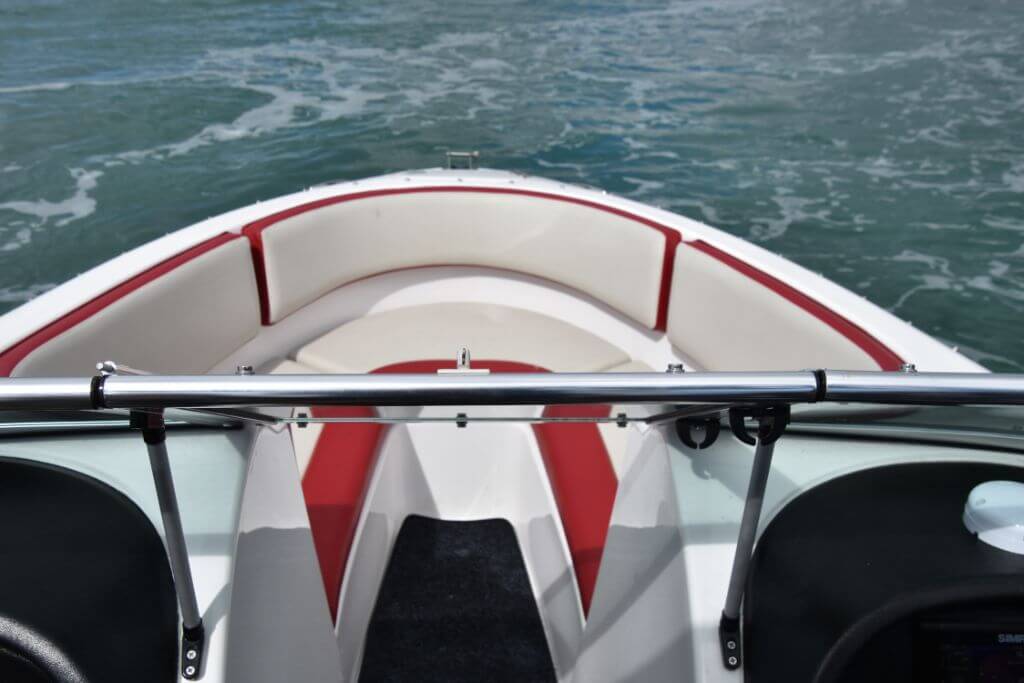 The dash was fitted out with the latest Simrad GO7 linked into the Mercury Smartcraft system. Everything is close at hand, and there is even an adjustable steering wheel to help make your driving position more comfortable. There is also rocker switches for the blower, nav lights, bilge and horn.
The forward-facing Reborn wake tower is a serious piece of kit and not only comes with a pair of wakeboard racks, but also a rear-view mirror, lightbars and a quad set of marine  speakers. This certainly makes a statement and lets anyone on the water know you are serious about your water sports. 
The Scorpion 195XS is available in three configurations. The standard package ($61500) has a soft fold-down bimini top, Mercruiser 4.5 litre 200hp/ Alpha 1 drive and a single axle trailer. Then there is the Wake Pack, which adds a Fusion stereo and speakers, wake tower and ski mirror for $65500 or the top of the GS195XS which comes with a Mercruiser 250 with DTS and Bravo 3 leg, plus more speakers, front-facing lightbar, a pair of wakeboard racks, a tandem trailer and a price of $78,000. 
If the Scorpion 195XS is a little too big for your needs, then Sportcraft Marine also offers a smaller Scorpion 175XS which comes with the same engine and drive package plus all the options for $73,000. As all-around fun ski boats, the Scorpion 195XS and 175XS are excellent options and worth looking at.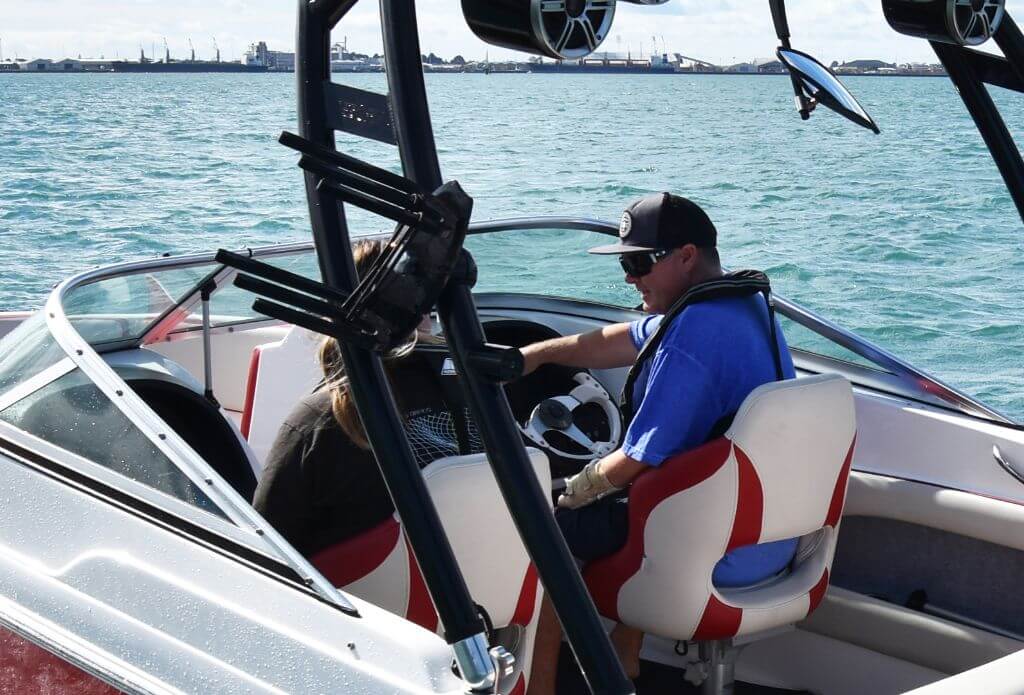 Boat Design Name: SCORPION 195XS
Year Launched: 2020 
Builder:  Sportscraft Boats 
Price as Tested: $78,000
Priced From: $61,000
LOA: 5.86m 
Beam: 2.25m 
Deadrise: 21 deg                    
Trailerable weight: 1500 kg (approx)
Height on Trailer: 1.9m (Less wake tower)
Power Type: Sterndrive Only
Max Horsepower: 250hp
Test Power: Mercruiser V6 250 DTS
Drive: Mercruiser Bravo 3
Propeller: 24" pitch
Max Speed: 44.5 knots  
Construction: GRP 
Fuel Capacity: 100 litres