If you are seriously into your fishing then you owe it to yourself to check out the Scout 222 Sportfish. Barry Thompson spent a day in the Hauraki Gulf,  doing what the boat's designed for… fishing. Not only was the fishing a success, but he also came away with a whole new respect for centre consoles.
Back in mid 2010 I had my first experience with the American built Scout boats, when I tested the 262 XSF, a 7.98m twin engined centre console fishing machine and while it was certainly a stunning package, it was perhaps just a little too big and pricey for the majority of dedicated fishos. So when the opportunity to test a very similar but smaller version came along I was certainly keen to have a look.
Imported into New Zealand by Balmar Marine and distributed solely by Auckland based Orakei Yacht Sales Ltd., the entire Scout Boats range has one primary focus….fishing. From the smallest Scout 151 through to the Scout 350 Abaco, every part of each model has been thought-out to make the best use of the space for the fisherman. With 23 models in the range, there is plenty to pick from.
Interestingly when you see the new Scout 222 Sportfish on its own it looks big enough, but alongside the Scout 262 it's dwarfed. But that's not where it stops. Scout Boats in fact offers centre console models up to 12m, the Scout 345 XSF, which has a price tag around half a million dollars on the local market. You'd have to be ultra serious about your fishing to make such an investment.
The 222 SF we tested is offered in its most basic form with none of the options from the standard option list included. It didn't even have any electronics, with the distributors leaving that choice to the owner. If you want all the extras then they come with the 222 XSF package, but the base price is obviously more. At $NZ110,000, on a trailer, the Scout 222 SF is reasonably priced considering that it still comes with just about everything you need anyway.
Jason Snashall of Orakei Yacht Sales said that in future they would probably spec the boat complete with a fish/finder/plotter and also a capstan, something else that would be certainly mandatory on a boat this size. The addition of a head would also be worth considering.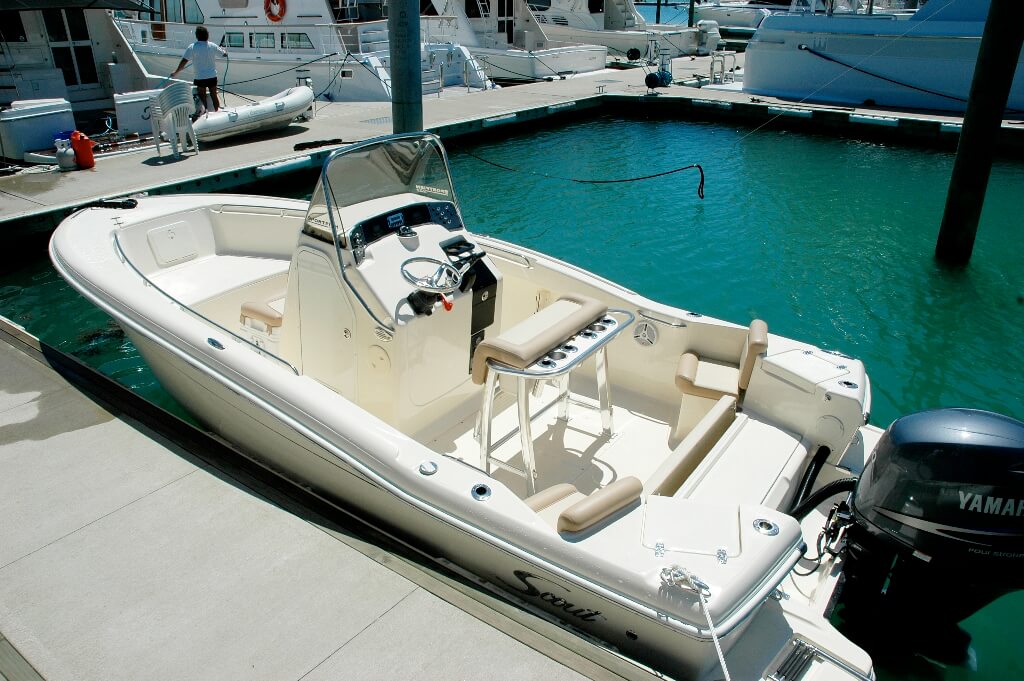 "We have had a lot of interest in the Scout 262 since we landed it last year, but there has certainly been a lot more enquiry for the smaller 222", says Snashall.
The 262 is also probably more suited to a dry-stacking arrangement as it has a 2.7m beam, whereas the 222 at 2.6m is more trailerable. Our test boat was in fact the second Scout 222 in the country and the sixth Scout that importers Balmar Marine have brought in.
The running surface of the Scout 222 features Scout's NuV3 hull design, which is a convex design that is comprised of variable degree angles in the hull. The aim is for a soft dry ride and that is certainly something that after a day on the boat I can attest to.
During our day fishing we experienced both calm and choppy water on Auckland Harbour and I was particularly impressed with the way the boat rode through the infamous Motuihe Channel chop with wind against the tide.
The big flare on the bow certainly pushes any excess water away and while given we had little wind to toss the spray up and over the gunnels, which would inevitably happen, we never took a drop of water aboard. I estimated that with three adults aboard, our fishing gear and 80 litres of fuel we had an all up weight around 1600kg. Weight can certainly make a difference to how a boat rides in any moderate to rough seas.
An additional innovation unique to Scout is the Air-Assist hull. Designer Steve Potts says this was specifically designed to combat the problem of static stability, common on small boats. With additional longitudinal buoyancy, (2.60m beam on the Scout 222) the Air-Assist hull increases static flotation and decreases time to plane and also improves overall handling characteristics. I certainly found that when at rest and fishing the Scout 222 was extremely stable, even with three of us fishing on one side. Acceleration onto the plane was quick and the transition was effortless with very little bow high attitude. Slippery would best describe it!
"An important advantage of this design is increased fuel economy", says Potts. At 5000 rpm we recorded 33.0 knots @ 44.5L/h or 1.35 litres per nautical mile from the Yamaha 150 4-stroke.
At 4500 rpm the speed was around 27.8 knots with a fuel consumption of 36.7L/h or 1.32 litres per nautical mile. Given the tankage of 375 litres that gives a range of around 255 nautical miles, allowing for the usual safety margin of 10%.
The Scout 222 is your typical centre console in many respects and is ideal for any type of fishing. It offers abundant amenities around the open cockpit and a compact fully enclosed console to keep your gear dry. This area is also designated for the head, with full privacy and ample sitting headroom.
One thing my fishing buddy Mark Burt commented on was the location of the side rails. Being recessed it meant they still served their purpose as a handhold but allowed you to still sit comfortably on the coamings. He also pointed out the perfect height of the coamings when stand-up fishing and the excellent rod storage either side. A bowrail is optional and the large, deep anchor locker comes with a sand anchor mount, plus access from the side should you get a bind-up with your ground tackle. A fully automatic rope/chain winch is another item on the option list that you'll definitely want.
Forward is a bow seat that includes an insulated bow fish bin with overboard drain. A cushioned cover is optional. One thing that the Scout 222 doesn't lack is places to contain your catch. A bonus is that they are large and designed for good sized fish and not just token lockers as can be found on some imported boats.
Also forward of the helm console is a 90-litre removable chilly/esky bin which also doubles as another seat. In all the Scout 222 offers seating for eight plus the forward bow pad.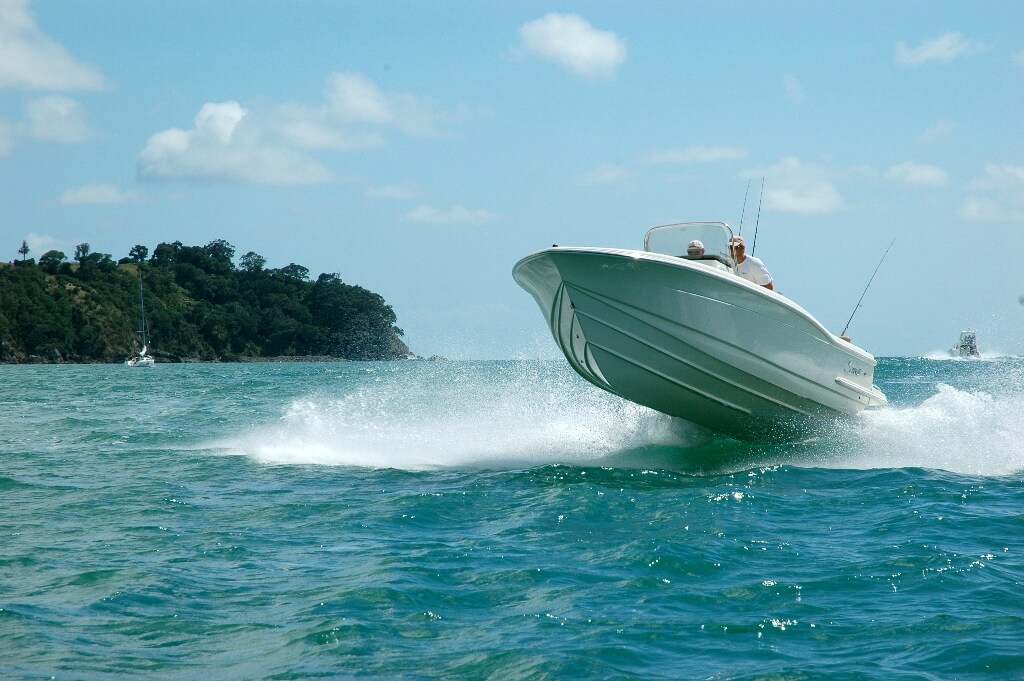 I was surprised at just how much protection the acrylic screen on the centre helm console provided. Fortunately it was one of the best summer Saturdays we have had in Auckland and the wind was warm. Snashall says that they are looking at providing a T-Top canopy for better overhead cover. The Cover Systems T-Top has the benefit of being able to be folded down when trailering long distances or when garaging.
The driving position is great either seated or standing. The flat double bolster comes with a fold up footrest and the tilt helm means you can adjust the wheel to best suit your driving position. There's even another drained locker under the seat which is ideal for keeping the drinks on ice and the stainless steel leaning post comes complete with a handrail, four rod holders and two drink holders.
The console of the 222 presents itself for reasonably large electronic displays, either flush mounted or on brackets. All the switches and instruments are close at hand in a full width display, with a tandem drink holder and lockable glove box below. There is also a BEP VSR (Voltage Sensitive Relay) switch and the Scout 222 comes standard with dual batteries and a Victron battery charger.
Portside aft is an aerated and circulating bait tank, with a similar sized compartment on the other side that we used as our bait bin. What I like about the centre console design is you have such a massive amount of workable space for fishing. Four fishermen would not be in each other's way (unless you get a multi hook-up) on the Scout 222.
Across the transom are corner seats with storage beneath and a central bench seat which folds down to form a wide moulded fibreglass step into the cockpit from the rear boarding platforms.
Scout Boats are all fibreglass, with composite stringers and transoms. Scout is always developing new and innovative construction methods. For instance, the engine mounting system on the 222 Sportfish and larger models, called the "Scout Strata-Mount" is a fully factory moulded bracket with one very important feature: the two main longitudinal grid stringers pass through the transom and are integrated into the engine mount. This design allows the natural stresses of the engines to be spread out over the entire hull.
Power options are outboard only, the Yamaha 150hp 4 stroke being the standard package. Top speed is around 47 mph, which I felt was just about right for the boat. We cruised most of the time around 4500 rpm @ 32 mph to 34 mph, but when we wanted a bit more speed it was available on demand.
Overall, as a centre console fishing platform the Scout 222 Sportfish is a hard boat to fault. While a centre console doesn't suit everyone's needs, if you're seriously into your fishing, then in this size range you'd be hard pressed to find anything better.
Make: Scout
Model: 222 Sportfish
Designer: Scout Boats
Price As Tested: NZ $110,000
Packages from: NZ $ 95,000
Material: GRP
Type:  Centre Console
LOA:   6.80m
Beam:  2.60m
Deadrise: 20 degrees
Hull Config:  Deep V
Trailerable Weight: 1750kg (est.)
Engine Capacity: 150-250hp
Power Options: Outboard Only
Fuel Capacity: 379 litres
Engine: Yamaha 150hp