If you are looking for a seriously cool fishing boat and don't mind the expense, then you have to check out the outstanding Scout 345XSF.
The Scout 345XSF is an extreme fishing machine and it comes with everything you'd ever need for a no nonsense day or even an overnight fishing trip. At 10.5m this is one of the biggest centre console sport fishers available and it comes with an enviable heritage.
Build in the USA by Scout Boats, it is the biggest in a line up of six boats in Scout's XSF range, the second largest boat in the Scout fleet behind the 350 Abaco Series, and boasts the revolutionary Scout Stepped Hull Technology for higher performance and increased fuel economy.
Under the guiding vision of company President Steve Potts, Scout has earned a reputation for being on the cutting edge of design and quality. For a start, Scout has eradicated all wood in the boat construction and the company is always developing new and innovative construction methods such as building all boats using a high-tech vacuum system.
The Scout hull is a convex shape of variable deadrise and also includes Scout's Air-Assist – stepped hull three-section hull design, which is designed to combat the problem of static stability, common on small boats. With additional longitudinal buoyancy, the Air-Assist hull is designed to increase static flotation and decrease time to plane and also improve overall handling characteristics.
The way the twin Yamaha 300s are mounted is different, like most other things on this boat. First, what you can't see is the moulded in transom bracket, which is attached to what the company calls its "Strata-Mount." This is a clever system that takes the longitudinal stringers right through the transom to the outboard engine bracket. In that way the 507kg of outboards hanging there aren't putting all of their weight on the transom. In fact, with this design, the boat doesn't even need a transom, as the load and stress is spread all along the bottom of the hull to the bow.
My test day on Auckland Harbour presented a combination of calm seas to a 25 knot SW breeze. Right from the start I knew that this was a boat that perfectly suited the adage, "there's no substitute for length". Running with a short following sea from Orakei Marina, through the Motuihe Channel and out to Rakino Island, the 345XSF sat as if on rails. What an awesomely smooth and dry ride at 4000 rpm @ 28 knots (32 mph). With a pair of Yamaha F300s bolted on the transom there is still plenty left in reserve and being the petrol head that I am, I couldn't resist a short full throttle blast. The GPS topped out at 48.2 knots (55.5mph), the tacho showed 6060rpm and the fuel gauge nudged 205L/h. When I throttled back to our cruise at 4000 rpm the fuel usage more than halved to 97.2L/h, for 3.5L/NM. With a pair of Yamaha 350s, the 345XSF will do 55.5 knots (64mph), with a best cruise at 3500 rpm @25.1 knots (29mph) getting 89L/h, also for 3.5L/NM.
As it's a serious fishing boat you are certain to want to spend some time trolling and the 345XSF is a perfect platform for the task. At 7 knots (8mph) @ 1500rpm the Yamaha F300s consume a modest 17L/h.
With 600hp on hand, when you punch the throttles down the boat is quick to plane in less than 8 seconds and reaches 30 knots in less than 10 seconds and maximum speed in less than 20 seconds with some appropriate adjusting of the engine trim. While a pair of Lenco auto tabs come standard with the boat I didn't like the way they automatically interpreted the trim of the boat for the waves and adjusted accordingly. The boat seemed to have a mind of its own and was forever changing attitude, so I bypassed the auto function and went to manual. What a difference and with the tabs set where I felt they should be the boat remained stable and with a constant slightly bow high angle.
The big flared bow helps keep the boat dry and the variable deadrise hull presents you with an extremely soft, smooth ride. I would love to be let loose with this boat in a 1m plus sea – I reckon it would be an awesome ride!
In the past I have reviewed both the Scout 245XSF and the 262XSF and in both cases found them to be exceptional boats in their class, both in performance and handling. The 345XSF is no exception.
Bowriders are not for everyone and to be fair you need good warm weather to really appreciate them. However they are an excellent design of boat for fishing and that's why most of them always end up in fishermen's hands. However, what is different about the 345XSF is that it has a solid GRP hardtop and full three-sided fixed glass screens. With the addition of some removable side curtains you could have an almost fully enclosed helm.
Central to the 345XSF is the centre console, which really is a lot more than just a helm station. It forms not only the helm area, but also incorporates a forward lounger and is the top of the internal cabin.
It's not until you actually open the port side door in the console and look inside that you appreciate how much space is down there and the height provided. Inside there is not only a head and hand held shower, but also a Corian vanity with ice chest below, stainless steel sink unit, forward berth with twin singles that can be changed to a very large double, a small dining table and copious storage. Headroom is around 2m and it's a very comfortable area if you are looking to overnight with a couple of people. The teak and holly sole adds a nice touch and is the only timber in the boat.
While there is a microwave oven the owners of our test boat had added a rod holder Magma gas kettle grill, which they say does the job perfectly. It also keeps the cooking odours outside.
As it's a dedicated fishing boat you are probably going to want some large display screens to check out the bottom contours and fish stocks. The 345 XSF helm allows for extra large displays and our boat had twin multifunction Garmin 7215 screens, which include radar, GPS, plotter, depth sounder and fishfinder capabilities. Mounted between was the Garmin GH10 autopilot and overhead a Garmin VHF200. Controls and engine instruments are all Yamaha, with Edson hydraulic assist steering. There is a glove box storage compartment to starboard and another glove box between the two helm seats.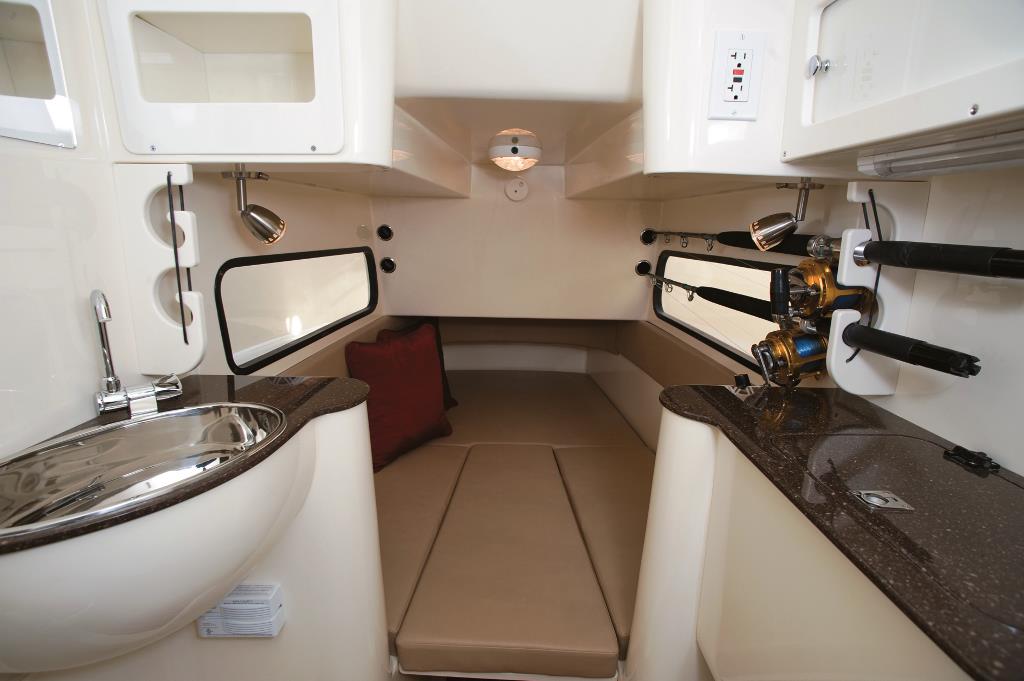 The driving position I found perfect in every aspect, be it seated, resting against the fold-up bolster, or standing. The seat base is adjustable so you can set it to suit your height. Over the helm is a powder coated T-top hardtop, 11 rocket launchers, and an optional electric retractable fibreglass sunshade that gives way to a moon roof in the hardtop. While I did like the solid screens I found the port side alloy mullion badly obstructed my view and I was constantly looking outside to check for any approaching vessels on a very busy Auckland harbour.
Directly aft of the twin helm seats is a bench seat, complete with armrests. Lift it up and you'll find the first of two live bait tanks aboard, plus four deep pull-out fish tackle storage drawers. There are further tackle storage drawers under the helm seats (in the test boat that was taken up by an Isotherm fridge) and a dedicated tackle box under the starboard coaming. There is no shortage of areas for your fishing tackle. The second live bait tank takes up most of the centre of the transom and should you do well with your fishing, then there are two huge underfloor bins for the catch.
As it's a walkaround boat you can fish from just about anywhere and you're not restricted to all crowding in the stern area. Scout has thought about this too and provides rod holders all along the wide side decks. Heavy duty vinyl panelling with cloth inserts surrounds the entire cockpit so if you are into stand-up sport fishing then you've somewhere to brace against almost anywhere in the boat.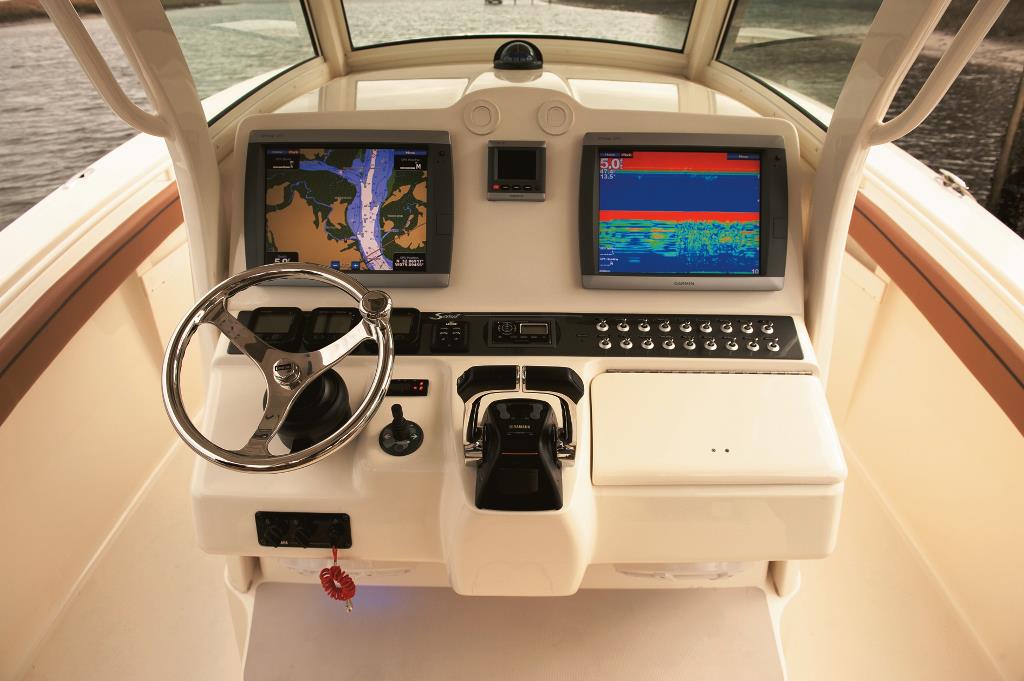 Flat coamings with no extrusions (all the cleats are flush mounted pop-ups) are perfect for sitting on while fishing but also for divers ready to drop over the side. For ease of boarding after swimming, Scout has provided an extra large clip-on ladder, which is stowed under the forward lounger.
The double sundeck lounge seating in the centre comes standard with cushions and armrests. A coil of 30-amp shore power cable and the Armstrong dual swim/dive ladder are also standard items, plus there's still plenty of space to stow fenders and other gear.
The Lewmar auto rope & chain anchoring set-up is hidden away in the bow, with the anchor mounted below deck and out of view. There is a hatch for access to the locker should you need to sort a problem out, but otherwise you can do all your anchoring chores from the helm. As you can't see what the anchor tackle is doing an Auto Anchor would be a good addition.
The bow area is another great place to relax on a nice day, with storage lockers either side complete with squabs and a floor access lets you get to the bow thruster and battery.
The cockpit sole in the test boat was GRP, but there is the option of all teak. Scout has carefully laid teak on top of the outboard platform that wraps around the two huge engines, inviting people to use this space for swimming, scuba diving, or just sitting with one's legs dangling in the water. You may not want the teak decks as this boat has, but it's a nice feature here.
This is the biggest Scout imported into New Zealand and even before it was off-loaded from the ship at Tauranga it had attracted a number of potential buyers. There is nothing like this built in NZ or OZ, unless it is totally custom and then at what price.
Unquestionably the Scout 345XSF is a boat that is only going to appeal to the serious fisherman. It is exceptionally well finished, meticulously constructed and comes with more standard features than most. It's also backed by a 3-year limited stem-to-stern warranty, in addition to Scout's 10-year limited structural transferable hull warranty.
Design Name:  Scout 345 XSF
Builder: Scout Boats
Country of Origin:  USA
Designer: Steve Potts
Year Launched: 2011
LOA:   10.6m
Beam: 3.20m
Deadrise: 22 degrees
Draft: 686mm
Displacement: 4672kg (dry)
Max Speed:  48.5 knots
Cruise Speed: 32 knots
Fuel Capacity: 1249 litres
Water Capacity: 113.5 litres
Construction: GRP
Engines, Make: 2 x Yamaha 300hp 4-stroke
Drive Train:  Outboard
Propellers:    15 ¼" x 19" Yamaha SS