Author :  Freddy Foote
The Sea Nymph name has been with us since around the middle of last century. However, over more recent times the brand has been through some ups and downs, with a host of different owners and manufacturing facilities. Nearly every time you mention the Sea Nymph name to someone, one of the comments you hear back is "Oh we had one of those when we were kids" or "I learnt to ski behind one." It was model names like the V13, V146, V16, Commander, Hustler, Charger and Blazer that made the brand synonymous with kiwi boating through the ages.
The Formula brand has been around for 26 years and it too has had a number of different owners, but has been in stable ownership since 13 January 2000, when the company Formula Cruisers Ltd was registered. Formula Cruisers Ltd is one of the more prominent kiwi builders of large cruisers up to 75ft, and since moving to Hobsonville, now has the rights to manufacture and distribute a number of Sea Nymph models.
Visually, the 640 Blazer is very attractive and drew quite a bit of admiration and enquiry at the West Park marina boat ramp before and after the test.
The seating arrangement had a certain accent on entertainment, with a very comfortable aft bench seat stretching across the back of the cockpit, being made up of 2 removable fish bins – next to the driver's one on its pedestal, it's the best seat in the house! 
The rest of the seating consists of a king/queen style seating to port, with a large storage area underneath, easily accessed by lifting the aft facing seat.
Additional storage space is plentiful, with spaces available under the driver's seat as well as underneath the squabs in the cabin. There are pockets on both the starboard and port sides – ideal for keys or cellphones. Behind the 200L fuel tank sits a large under-floor locker, which could be used for storing skis, ropes, lifejackets, and even dive bottles.
The transom area also had a good boarding area, being ideal for skiers or divers, with a port and starboard corner walkthrough which can be closed off when not in use with a drop-in door that fits securely into place.
As far as fishabilty goes, it would be a great fishing boat for a small family, with perhaps three people fishing quite comfortably. Four rod holders are fitted, two each side.
There are also side pockets on the port and starboard sides, ideal for rods, etc. One great feature that I noticed, is a deck light around the transom area, which would be ideal if you choose to do a spot of night fishing. The dash area is beautifully designed and finished. Our test boat came with a fish finder fitted but there was still plenty of room left for other instruments if you so desire.
The cabin is quite spacious and would be an ideal place for the kids to hang out in, or just to get out of the sun, an adult could comfortably sit in there if need be.
One thing I did notice immediately about the cabin area is the finish of the upholstery. Gone is the tacky pleated upholstery that seems so common on many boats, but here you can really tell that this boat has come off the production line from a 'big boat' manufacturer, as the quality just seemed to be up another notch. For all we know they could be off-cuts from a 60 footer!
The cabin also features a self-draining foot well that extends slightly out into the cockpit area. If you need to gain access to the anchor locker there is a large hatch in the foredeck. However, for a boat of this size, you're best to install a helm operated freefall anchor winch or a windlass should you prefer.
This particular boat was also fitted with a bimini and rocket launcher. When out on our test it gave plenty of headroom and visibility forward through the clears. Should you want some extra ventilation coming through the cabin area then there is a small zip out section on the forward facing clears.
I found the overall driving position and handling of the boat very good, and given my height (6'1″), I found it just as easy to sit and drive as well as to stand and drive. In the standing position there was adequate foot room and you could brace yourself in a good position when encountering rough patches of water. The engine throttle control was well positioned and overall it was a very easy boat to drive.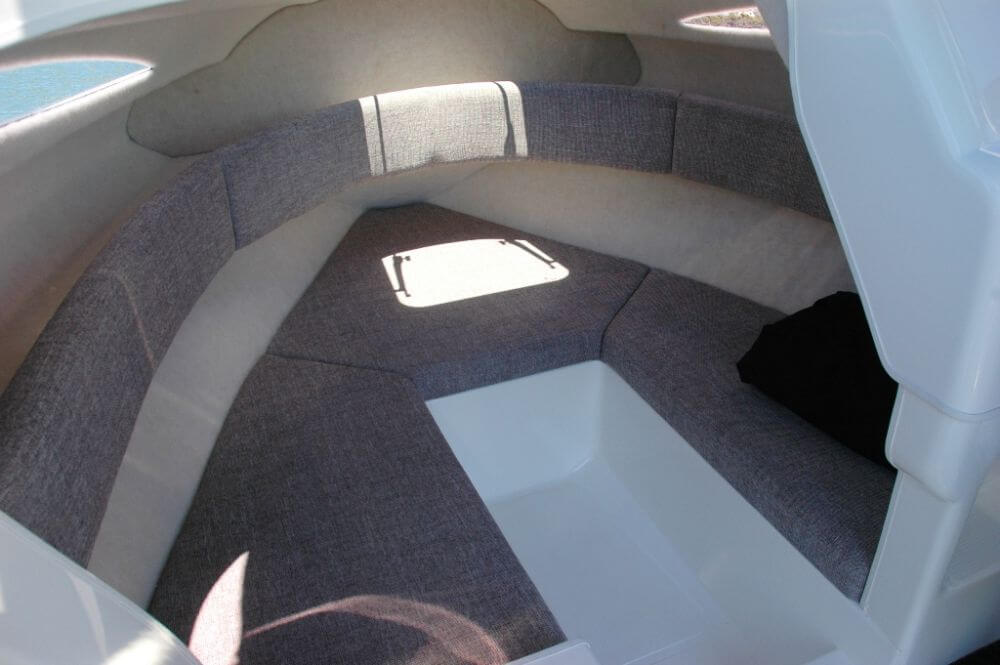 This particular boat is Formula's demonstrator model so had not yet been fitted out with an electronics package, however when that time comes, there is plenty of room on the moulded GRP dashboard for a sizeable multi-function display to be fitted.
Conditions on our test day were a bit variable, with an outgoing tide and a wind battling against it, giving harbour conditions that were quite choppy in places, so we got a good mix of water.
One thing I did notice was just how dry the boat was, given that the conditions were quite blustery. I was expecting to get at least a small amount of water on the screen, but by the end of the test, the screen was still bone dry.
I also observed that while in the passenger seat, there was a very handy grab rail that ran along the inside edge of the windscreen – a great feature.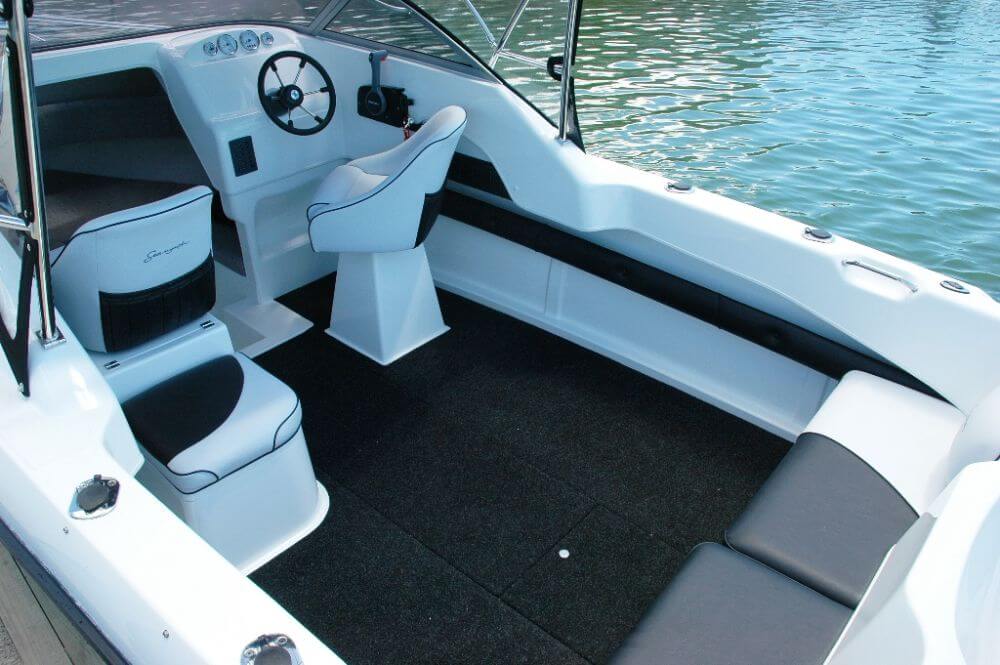 Horsepower wasn't a problem on our test boat – it had been fitted with a Suzuki 200hp four-stroke.
This was this particular boat's maiden voyage, the dealer only giving the engine its pre-delivery check the day before.
Idling out of the West Park marina, we slowly motored up onto the plane, and then at about 4000rpm we nailed it to the maximum 6000rpm mark. The torque and power that the Suzuki punched out was simply awesome. At full power, it became quite a lively boat, but the diehard petrol heads will love it. If you perhaps don't quite need that much power, a 175hp or even a 150hp engine would be adequate.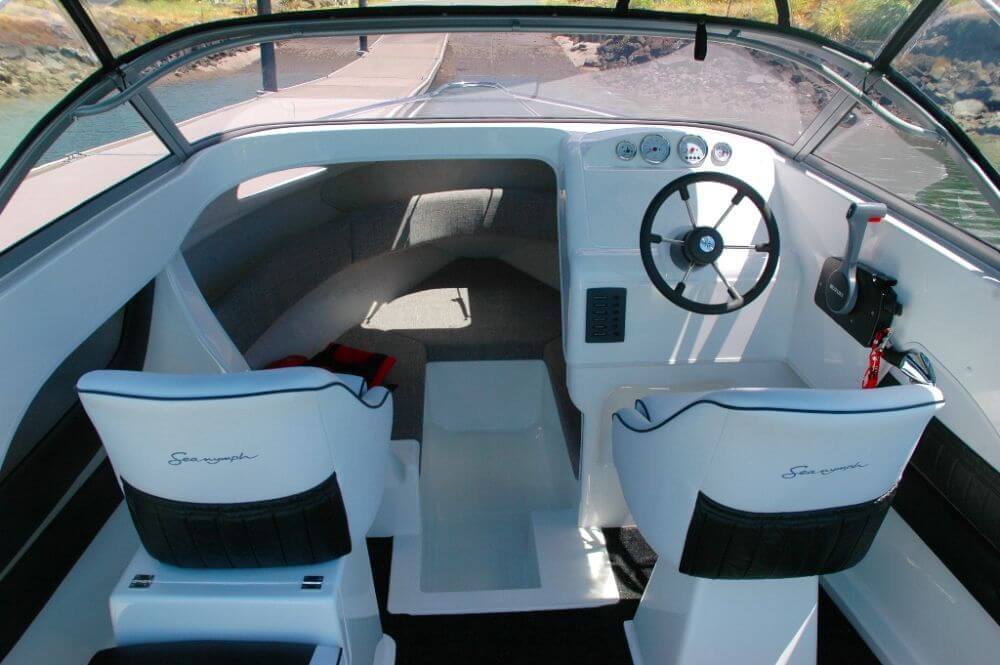 The 200hp Suzuki gave the 640 Blazer a top speed of 48.8mph @ 6000rpm – not bad for an engine that was straight out of the box, with a few more hours on the clock, expect a 50mph boat. I found a nice cruising speed of about 35mph @ 4400rpm, which gave a most comfortable ride for all of those in the conditions. In the rougher conditions the boat was quite sensitive to trim and in the flatter waters didn't need a whole heap to get it riding nicely. I noticed when I was taking the photos how the boat literally charged out of the water through the turns, with medium to heavy applications of throttle.
Stability overall was also good, and with a beam of 2.44m and two adults to one side there was not as much heel as one might expect.
Our test boat was one of the first from the factory and was a fairly standard package, with the bimini top and rocket launcher being the only optional extras fitted.
Overall I was very impressed with the 640 Blazer, it looked great, and the finish was exceptional. It's great to see such a classic brand still making a great name for itself decades after its inception.
Make:  Sea Nymph
Model: 640 Blazer
Price as Tested: $76,497
Packages from: $64,450
Material: GRP
Type: Cabin
LOA:  6.4m
LOH: 6.3m
Beam: 2.5m
Hull Configuration: Deep V
Deadrise: 22 degrees
Trailerable Weight: 1800kg dry.
Height on Trailer: 2.4m
Engine Capacity: 115hp – 250hp
Power Options: Outboard
Fuel Capacity: 200L underfloor
Performance -Suzuki DF 200
| | |
| --- | --- |
| 1000 rpm | 4.5 mph |
| 1500 rpm | 7.5 mph |
| 2000 rpm | 9 mph |
| 2500 rpm | 13 mph |
| 3000 rpm | 21.5 mph |
| 3500 rpm | 27.5 mph |
| 4000 rpm | 32 mph |
| 4500 rpm | 37.5 mph |
| 5000 rpm | 42.5 mph |
| 5500 rpm | 46.5 mph |
| 6000 rpm | 48.8 mph |
Speeds recorded on a Lowrance GPS