Meet the all-new Sea Ray 190 Sport! The latest addition to Sea Ray's bowrider line-up builds on the eye-catching style and value of the series with high-end components such as stainless-steel hardware and finished fibreglass storage compartments with gas assists. Sea Ray's mission statement for the 190 perfectly sums up this hot bowrider: To offer a well-built bowrider model to boaters who seek a stylish, powerful, well-equipped boat for comfortable cruising and engaging in active watersports with friends and family at a reasonable price.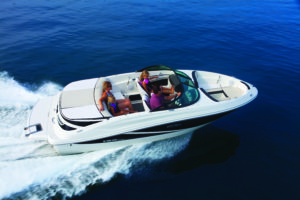 Bowriders are the most popular models in today's sportboat class for good reason. The bow-open layout permits additional seating or lounging options in an area that can double as a forward fishing deck on models so-equipped. The ability to accept a variety of power options, including sterndrives that leave the transom area open for a swim platform and tow pylon, allow the models to serve as excellent all-around boats.
Sea Ray's all-new 6.0m (19' 8") bowrider is built atop a hull that is a single degree shy of a true deep-V design (20-25 degrees) to offer a comfortable ride in water conditions that would force shallower-deadrise hulls back to the launch ramp, or its occupants a trip to the chiropractor. Matched with the standard 135hp MerCruiser 3.0L MPI engine with an Alpha One sterndrive, Sea Ray tells us that the rig will run in the high 30-mph range at wide open throttle.
The first thing I noticed about the 190 Sport's performance is that it's quick off the line. A lot of that may have to do with the upgraded 4.3L, 220hp engine. We reached planing speed in only 4.8 seconds and accelerated to 30mph and 11.2 seconds.

Once up on cruise, just a couple of shots of up-trim will bring it to the 5-degree bow high attitude that it needs to be for best performance.
If you bring up the trim any more the propeller will start to ventilate. Full speed turns are aggressive, so be sure everyone's hanging on as the 190 clings to the water like it's on rails. It's much more comfortable turning at cruising speeds where a slight slide makes the turn docile.
The 220hp MerCruiser 4.3L reached a top speed of 46.2 knots at 4520 rpm, just below the middle of Mercury's recommended maximum rpm range for this engine, which is from 4400 to 4800. At top speed we were burning 63.6L/h for a range of 74 nautical miles, allowing for a reserve of 10%. The most economical cruise was both at 20.5 knots @ 2500rpm and 23.7 knots @ 2750 rpm, burning 19.1L/h and 22.0L/h respectively. At both those speeds the fuel economy was a creditable 0.93L/NM, giving a range of 95 nautical miles.
Sea Ray offers three different graphic and gelcoat colour packages and the choice is yours at no extra price. At 2.21m the Sea Ray 190 has one of the narrowest beam widths on the market for boats in this class. That carries with it a number of advantages, including making it easier to tow, easier to store in a standard garage, and easier to push through the water with the standard 3.0L 135hp engine, provided it is lightly loaded.
Because the 190 has a narrow beam it follows that it will also be lighter, and it is one of the lightest bowriders in its class. That should mean, all other things being equal, that it will be more fuel-efficient both on the water (provided it is lightly loaded) and when being towed down the highway. Most boats in this class have one or two hatches over the stern of the boat and engine room. 
The Sea Ray 190 has three hatches – port and starboard gull wings to access storage spaces, and an engine hatch that is hinged aft. All three hatches can be opened and accessed while the boat is underway.
The 190 has moulded gelcoat surfaces in the engine compartment that greatly aid the owner in keeping this boat looking clean and new. Engine compartments that are finished rough in the conventional way collect dirt, oil and grime that is hard to remove. The engine compartment also has sound insulation.
Seating and Storage Features
The Sea Ray's consoles are topped by a sleek, low-profile black-framed windshield that may have taller occupants ducking the elements. The 190's compact helm console design allows a clear view of the gauges and digital depth finder over a standard tilt wheel that is padded and equipped with power-assisted steering. The layout offers easy access to the weatherproof switch panel with lighted chrome toggle switches and ignition to starboard.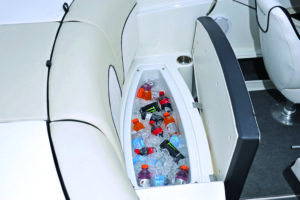 The throttle position is correctly placed for a seated or standing operator and situated over a handy open storage area with cup-holder recessed into the gunwale. Standard is a Sony 12V AM/FM stereo with CD player and MP3 port. Cockpit options include bucket seats with flip-up bolsters and sectional, snap-in carpeting. The bench seat base hides a large insulated ice chest and features deeply padded, premium vinyl contoured backrests. A pair of recessed, three-point hinges allows the seat cushion/lid to open fully.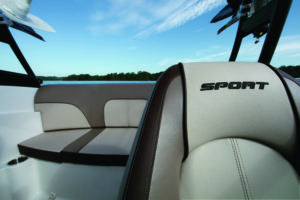 Premium multi-point hinges are used to secure the gull-wing engine compartment hatches to allow them to open a full 90 degrees for ease of access to compartments below. The starboard panel features a built-in gas-assisted lift support and covers a storage compartment hatch with a skid-resistant surface for access to and from the swim platform.
The gull-wing sunpad has port and starboard storage plus access from the cockpit and swim platform. While not quite as wide as the transom, the 190 Sport's standard extended swim platform reached beyond the sterndrive when it was in the down position. Obvious are the new stylised lines and bevels of the 2013 Sea Ray bowrider model.
The grab rail mounted on the aft side of the engine compartment may be a reach for swimmers using the three-step, telescoping ladder. However, the moulded-in base around which the ladder is folded provides a handhold to assist the boarding process.
At the other end, the open bow provides wide forward seating, with armrests integrated into the gunwales. We like the padded backrest at the bow to accommodate an aft-facing passenger on the centreline, and the forward location of the stereo speakers.
Storage compartments under each of the bow seats are carpeted and there is a separate locker dedicated to holding the anchor and rode.
A custom-fitted, painted tandem-axle trailer comes standard with surge brakes and swing-away tongue for convenience and storage of the new 190. The engine has a limited 2-year warranty from Mercury. We like the moulded gelcoat surfaces in the engine bay, something you don't see in many boats in this class. Fitted with the optional 4.3L engine, the bowrider will have plenty of power for tow-sports with a crowd aboard. Because of the other options available, owners can create their "own" custom version of the 190 to suit their needs and taste.
There are many options available, especially when it comes to canvas covers, from a simple tonneau to a full bimini with clears. There are also options for depth sounders, fire suppression system, ski mirrors, and even a water sports tower with wakeboard rack.
The 190 is available in an open bow version, just right for the whole gang to enjoy a day on the water, or with a closed bow, which allows for a sleeker look and additional stowage forward. The 190 also incorporates Sea Ray's patented Vented Chine design which enhances the boat's tracking and alleviates tendencies to skid or slip. The 190 bowrider is a good-looking boat and has a lot of features that set it apart from many other boats its size.