Looking for a huge day boat, then look no further than the all-new sea ray slx 350. a premium level day boat if you have a lot of friends.
One of the ten boat SLX range which starts with the SLX 230 and goes through to the SLX 400, the SLX 350 (10.5m) is the ultimate bowrider. However, this is not just a bowrider as we know it and with space available Sea Ray has transformed it into a lot more.
The Sea Ray 350 SLX was released in 2015 and made a significant impact on the sports boat market and has proven one of Sea Ray's most popular odels in that style. However, the latest edition of the SLX 350 is a much improved and changed model.
There is a lot more than just a refresh. It is all-new from stem to stern.
When you get a bowrider this big, you can do so much with space, and Sea Ray has maximised that opportunity. This is the first bowrider I have seen with a full-width bench seat forward, twin side mounted detachable tables and a pair of reasonable large aft seats. All up there is seating for 4-5 people and what better place to entertain and have those afternoon drinks. But wait, there's more. By dropping the tables down and readjusting the squabs, you transform the seating arrangement into twin loungers. A removable cooler under the forward seating means you can keep your refreshments handy.
There is plenty of storage spaces and drink holders, and with a through-hull anchoring system, you are left with a reasonably clean foredeck, apart from the cleats and spotlight. There is also a full cover should you want to have the entire space covered in bad weather. A freshwater wash down is also fitted in a separate deck locker. It's an old well-used cliché, but this is an entertainers boat. You don't buy it to go fishing or to overnight, you buy it to have fun. Yes, it's a $NZ700,000 day boat, but your friends ( room for about 18 of them) will love you for it. It is unquestionably a premium day cruiser presented to an exceptionally high standard in every respect.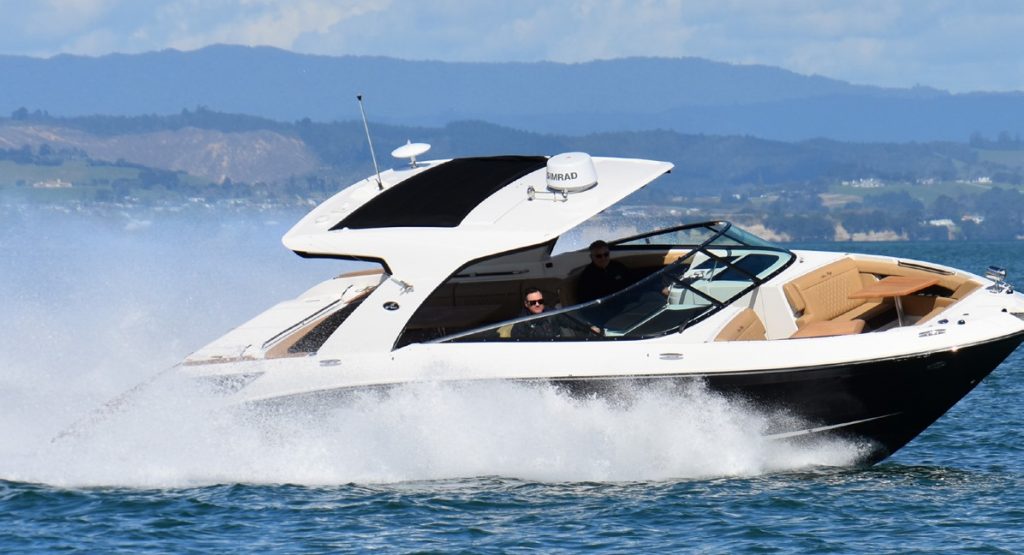 It may be an open bowrider but that doesn't mean it can't have a few extra niceties to make your day cruising more pleasant. The spacious bow and the cockpit are divided by a starboard side helm and port side cabin, which Sea Ray refers to as their port hideaway. With 1.40m headroom, the cabin is large enough to seat a couple of adults, plus with an infill offers a double berth.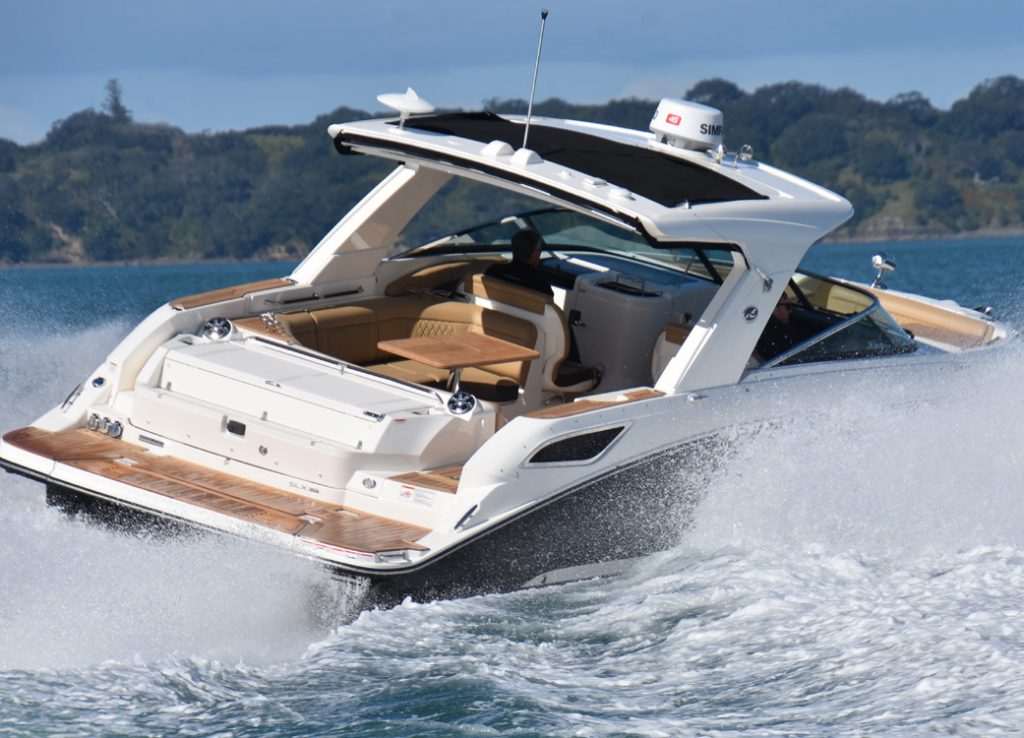 There is the option of air-conditioning via an inverter, so there is no need for a generator, plus 48cm TV. A translucent overhead hatch and portlight provide adequate natural light.
But what is more surprising is that within the driver's console is a full head/shower unit. The fully moulded unit has a Vacuflush head, moulded vanity and sink, plus an open port for ventilation. The space available is quite deceiving, and it even comes complete with a foldout step to assist access. You might want to add a soft curtain for privacy. With the cabin and headspaces in mind, I suppose Sea Ray is saying that this is an overnighter, but I would still regard the SLX 350 as an extremely luxurious day cruiser.
Sea Ray has once again made sure that the helm is functional, easy to view and effective. The completely redesigned dash is centred with a pair of the latest Garmin MFDs (9" or 12") that interface with the Mercury systems. There is no option for analogue gauges, but then why would you want to go away from the glass screen. The super-bright touchscreens have a built-in GPS receiver, echo sounder, wireless connectivity, and NMEA 2000 networking. Mostly you can run just about every function from the screens.
All switches and controls are easy to hand, and the Axium joystick docking system makes it so easy when manoeuvring at slow speed, such as docking or coming up to the fueling jetty.
Its twin ultra-comfortable helm seat provides you with three driving positions; seated, bolstered or standing. That same seating style is repeated to starboard, so you have seating for four facing forward when underway.
While the SLX 350 is an open boat, we all like to have some protection from the weather, especially the harsh UV rays in New Zealand. The SLX 350 comes with a moulded T-Top which is close to 2m off the deck and can be fitted with a full set of clears. I loved the retractable Sure Shade on the trailering of the hardtop, which allows you to cover the cockpit right through to the transom. There is also a manually operated sunroof in the hardtop.
The aft cockpit is all about entertaining with wrap around loungers that almost encapsulate the entire space. The port side lounger has a generous size table that folds to make seat access easier. Opposite is a double seat behind the helm with an optional wet bar with Corian surface, hand wash, fridge and trash bin alongside. Under the seat is a pullout Isky bin and the subwoofer for the Fusion stereo.
A lot of attention has been placed on the best use of space and making all areas easily accessible. The raised transom walkthrough, for example, is angled so that it doesn't infringe too much on the aft seat, plus there is storage beneath. That accessibility function extends to a small step for exciting from the side, and even the battery switches are handily placed.
The transom area on the new design SLX 350 has come in for a lot of changes. There is now a hydraulic rise/fall swim step, which is a considerable change from the fixed platform and under-mount swim step. This drops nearly 46cm and makes getting to and from the water so much easier. It also comes with built-in attachments to secure large water toys on the platform and means they don't have to clutter the cockpit.
There is a staging area available for getting your skis or wakeboard on, and the aft sun pad can be converted to a rear aft-facing lounge. It reminds me of a rumble seat from a '40s Ford. It comes complete with Fusion speakers, cupholders and USBs.
The boat is available in outboard or sterndrive, with the first boat into New Zealand running a pair of twin Mercruiser 350hp, 6.2L engines, with a joystick Axius System. Under the electrically actuated engine hatch, you have the choice of twin 300hp to 380hp Mercruiser diesel/petrol engines.
On a calm Auckland Harbour, we recorded 50 knots with the pair of 350hp Mercruisers and the best cruise around 32 knots @ 4000 rpm. The boat is quick to plane, with a low transition angle and once you play with the trim, it achieves maximum rpm very easily. Certainly a slippery boat through the water and impressive for its size and weight.
The 350 SLX is an extremely quiet boat both regarding hull and engine noise. Sea Ray incorporates a system in their boats called, Quiet Ride, which starts with a composite laminate which is applied onto the hull deck and liner during construction which
is designed to convert vibration energy into heat. Also an insulated engine box with acoustical foam. Sea Ray has paid extra attention to any area of the boat that may result
in any noise potential and insulated everything from the screws in the cap rail to the shape of the corner of the windscreen.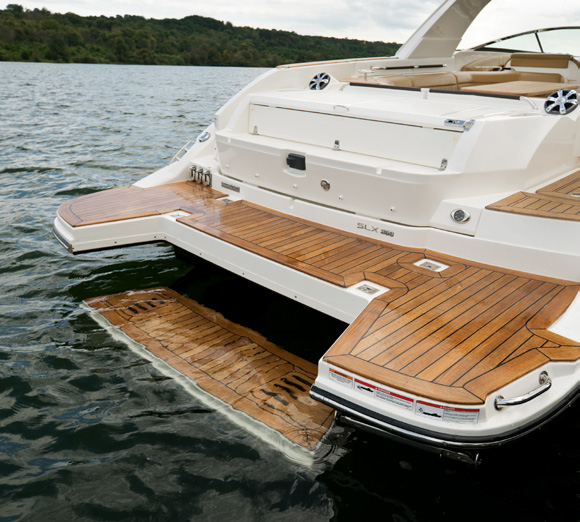 A party boat from transom to bow.
A spacious starboard side head.
The rise/fall platform is a standards item on the SLX 350.
The dash has been completely redesigned.
The aft cockpit is all about entertaining.
There is an amazing spacious port side cabin.
Transom seat before and after
While the Kiwi weather doesn't always suit a bowrider when it comes to one as big as the SLX 350, your perception changes. This is a day boat with overnight options and is
finished to an exceptionally high degree. If you are looking for a big bowlder, then the Sea Ray SLX 350 is a must for your shopping list. Sea Ray's enhancements from the keel up have made what was already a great boat even better. Certainly a premium dayboat.