SHE comes well equipped to handle comfortable seating for 18 people while underway, including an unprecedented 11 facing forward. At rest she can seat even more. She incorporates Sea Ray's proprietary "Quiet Ride" technology, has a standard fiberglass arch with stylish hardtop, and a large swim platform with a long list of amenities. Load her up with options and she can go hull-to-hull with nearly any open day boat on the planet. The mission of the Sea Ray 350 SLX is to be the ultimate day-boating premium bowrider. To that end she can comfortably seat about 20 adults (if we count the aft facing rumble seats that should only be used when not underway) in three venues, two with tables. At once she becomes a spectator boat, a platform for picnics, cocktail parties, BBQ dinners, and, if desired, a watersports platform. She has an optional overnight sleeping cabin for one person, or possibly a couple who would like to snuggle up. Her most important mission is day-boat entertaining. She can utilise larger power plants than the standard twin 300s, up to twin MerCruiser 380-hp 8.2 MAG engines. With Sea Ray's proprietary Quiet Ride technology, noise levels should be kept to a minimum. In any case she is large and luxurious. The Sea Ray 350 SLX has a LOA of 10.5 m, a beam of 3.20 m and a draft of 94 cm. With an empty weight of 5,897 kg, 151 L of fuel and 2 people onboard we had an estimated test weight of 6,196 kg.
With the twin 300-hp 350 MAG engines turning BIII outdrives with 24" pitch propsets, we reached a top speed of 47.2 mph at 5250 rpm. At that speed we were burning 190 lph for a range of 135 miles. Best cruise was reached at 3000 rpm and 21.1 mph. That speed reduced the fuel burn to 55.6 lph, which the 350 SLX could keep up for 9 hours and 48 minutes and 207 miles while still retaining a 10% reserve. We had a quick time to plane of 2.9 seconds, reached 20 mph in 4.4 seconds, and 30 mph in 6.2 seconds.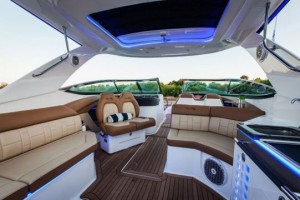 Given the size and weight of the boat, this time to plane number is remarkably quick and it means that the 350 SLX can easily be a popular tow vehicle for skiers and wakeboarders. With such a heavy boat for its size and her 21-degree deadrise at the transom, the 350 has a naturally solid ride. Crossing wakes and the light chop on test day revealed a steady boat with no tendency to throw water back into the riding areas. She responds well to the helm, leaning roughly 11.5-degrees into the turns. Our test boat was fitted with the Mercury Axius joystick for easy manoeuvering around the dock. This is consistently such a good system that I can see why it's become so popular, especially with those hesitant to move up to a larger boat. It gives precise digital instructions to the drive units and the 350 SLX responds well to the gentle inputs of the stick allowing docking into the tightest spaces with no cause for concern or worry. Our test boat was also fitted with the optional Dynamic Running Surface. This is a system of tabs that are flush against the stern of the hull.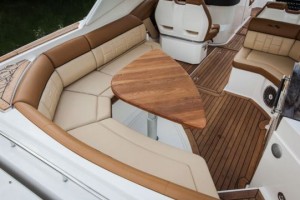 The system works, if desired, automatically to correct for variances in trim both laterally and longitudinally as well as minimising bowrise on acceleration. It can also be operated manually to make personal corrections, such as dialing in a wake for wakeboarders, or just re-trimming the boat for optimum performance. When coming up on plane, I naturally brought the drive trim up to put the 350 SLX into her optimum running angle. 
But then the DRS automatically put the trim right back down again, leveling the boat.  I reached down and moved the trim on the system manually and it stayed there just fine. That seems counter-productive to me. Now using the system to balance the load is another story, especially on a boat with the capacity that the 350 has. Most of the seating is clearly over to the port hand side and that creates an imbalance that the system will easily correct. But again, I could do it myself with trim tabs. So is the automatic DRS system for me, an experienced test captain? Not really. But for a newly-minted boater that who wrote a check for a 35' bowrider? Perhaps.
Sea Ray has clearly shifted gears to provide more premium-level aspects to its boats. No place is this improvement more evident than in the 350 SLX seating design, construction, styling and upholstery. After all, everyone uses the seats no matter what else they might do on the boat, and Sea Ray has decided to make them look and be up- scale. On boats, just as in cars, planes, trains and most any other conveyance, people like to sit fa
cing forward.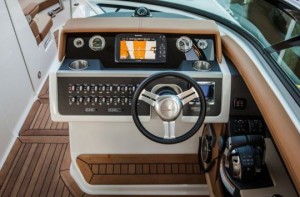 It is in our DNA. In a boat designed for 18 people to sit while underway, a full 11 can sit facing forward. We can't think of any other boat under 38 m, where this is possible. This feat has been cleverly done by admitting that cushions in a 90-degree corner have little value, recognising that the most important thing to sitting is to securely cushion the buttocks rather than the whole human thigh, and finally to also provide forward-facing chaises instead of aft-facing ones (except on the sun pad over the engine box).
Banished from the vinyl upholstery pallet is what we call "gel coat white". In its place we find a deep, rich dark Cognac vinyl contrasted by a light tan and accented with black. This colour scheme is carried on throughout the boat from the bow to the aft-facing stern seating. Thigh, upper back and side supports are proud and firm, much like what one finds in BMW seats where firmness takes precedence over squishy-soft seating. Baseball stitching is used on all double seams. The Sea Ray logo is heavily stitched in black. All armrests and bolsters are in dark tan. One of the deciding factors when designing any large boat is the incorporation of gathering areas, and the more the better. The 350 SLX has three distributed about the boat that will accommodate up to 18 people, all while still providing plenty of room to move about.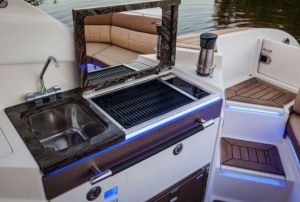 Let's take a look at them individually. The bow has an obvious "wow" factor with a mix of earth tones highlighting its features. Wraparound bolsters match the colouring of the headrests and armrests. The three-tone upholstery and optional teak decking creates a classy and upscale look that is deserving of the queen of the fleet. Two different tables are offered, a fiberglass version (standard), an upgrade to teak; and one or two tables are available, or a hydraulically actuated table that converts the area into a sun pad.
Four people sitting forward with plenty of room for more in this roomy bow layout. And no one is clamouring for space. The closeable walkthrough windshield and air dam will keep the (younger) kids safely locked to the other side behind the "do not disturb" sign that we might attach. The 350 SLX features a huge, L-shaped seat that wraps around the aft port cockpit and opposes a dual seat directly across.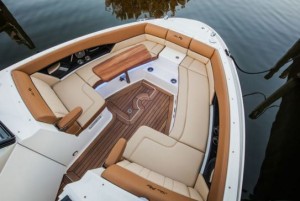 Dual observer seats to port pivot around to further increase the cockpit seating making a truly party-worthy arrangement. One of the more unique features of the cockpit is the optional electrically-actuated table that rises from its stowed position, flush with the deck. How many times have we all gone searching for a place to stow the cockpit table? Here's a clever solution. Our test boat was fitted with an optional teak cockpit sole, but a snap-in Berber carpet comes standard. Moving aft we come to another place to relax, and it can handle a crowd. The aft sun pad lifts to reveal a triple-wide aft facing seat that makes an ideal place to relax while on the hook. It also serves as a natural place to be when the kids are in the water so a watchful eye can always be present. The materials are first rate with the same soft-touch marine-grade vinyls and plenty of lighting to take the good times into the sunsets and beyond.
At the stern of our test boat was an option that we think is pretty cool, and so do all of the 350 SLX customers so far.  A switch to the side of the transom walkthrough activates the hydraulic swim step creating a cool place to relax as well as a much more friendly way of entering and exiting the water. This swim step is a clever addition and much thought went into its design.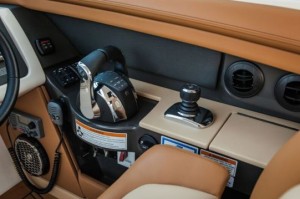 To prevent the 350 from powering off while the step is in the lowered position, there is an engine kill switch that is deactivated only when the step is in the full up position. Magnetic switches handle this task.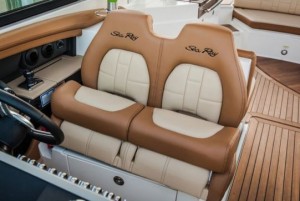 While she's not necessarily classified as an overnighter, there's little doubt that Sea Ray kept that option in mind when designing the 350 SLX by providing an optional berth upgrade accessed from what would be the helm storage access to the side of the helm console. The console door is opened, and a latch just abaft releases a deck hatch that automatically rises to expose steps into the compartment/berth. 
With this option, she can accommodate a very friendly cruising couple overnight.  Go ahead and enclose the cockpit in isinglass and another berth area can be created in a pinch for the kids to "camp out". We've been consistently impressed with the SLX lineup, and now with this latest addition, we can say that we think this boat is "exciting." We say that because not only is there a general quality upgrade in the new 350 SLX, but even more important, this is an all-new boat with lots of original thinking that provides lots of very practical functionality. In our view from styling, materials functionality and pricing standpoints she provides stiff competition for similar- sized European-style day boats that are far more expensive. For those who want a day boat this size and for whom money is no object, we say load her up with all of the options and turn the folks at the yacht club or marina green with envy. She certainly polishes up the image of Sea Ray.