Quiet Achiever
Sea Ray 370 Venture
By Freddy Foote
Sea Ray is famous for offering a vast array of sport cruisers; it's a segment they have largely dominated for decades. So when they decided to change it up with the release of their new 370 Venture, they went all out.  We sent Freddy Foote along to investigate.
On first glance the Sea Ray 370 Venture looks like any other sport cruiser from the American boat building giant. Lounge cockpit seating? Check. Multiple sun loungers? Check. Well-appointed cabin? Check. Inboard V8 Petrol engines? Negative.
Released in America in 2012, the 370 Venture has collected a number of major awards from our media counterparts, so this is no ordinary sport cruiser from Sea Ray, it has a secret.
In setting out to design the 370 Venture, Sea Ray wanted to create a sports cruiser that not only had all the amenities for entertaining on the water, but could also provide adequate accommodation for extended trips away.
How did they set about doing they? Firstly, out went the inboard engines under the cockpit, and on went a pair of Mercury Verado 300hp four-stroke outboards. Outboard power you say? But where?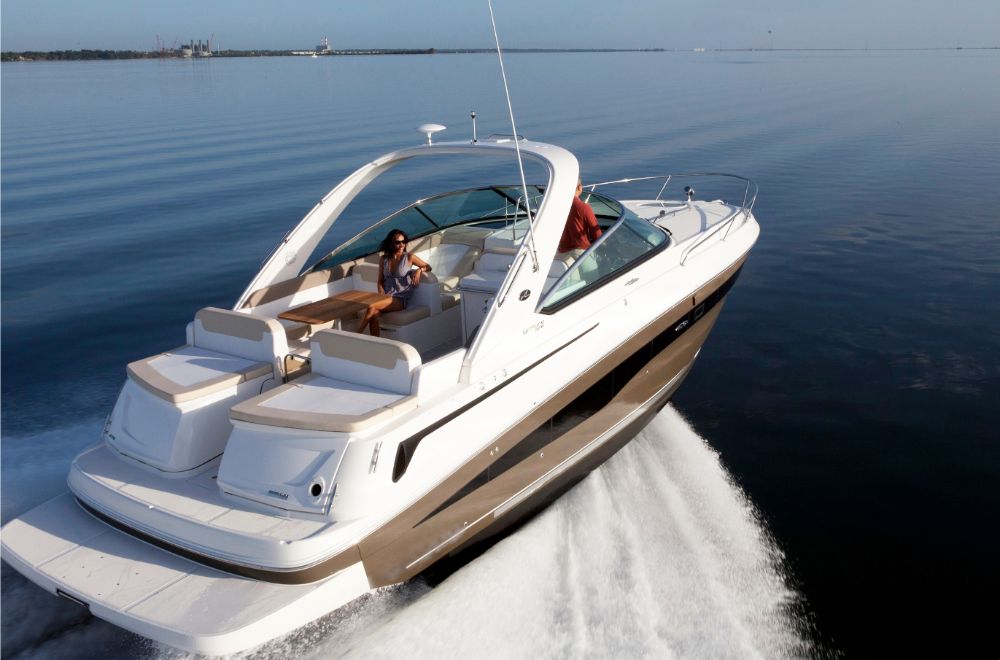 The key design feature of the 370 Venture is that the boat is built around the hidden Mercury 300hp Verado outboards, which are located aft under two pods. This configuration allows notable expansion of the cockpit and cabin areas.
Designing a boat around 'hidden' twin outboard power provides a number of benefits. By moving away from the traditional sterndrive or inboard engine room that you're traditionally used to seeing on a vessel of this size, most of that space allowed Sea Ray to create a large and comfortable mid-cabin, full-beam master stateroom underneath the cockpit area.
This isn't the first time four-stroke outboards have been put on a big boat, and unlike a sterndrive, the outboard motors can be tilted up completely out of the water, which mean you're going to experience less corrosion and less cost in antifouling and general maintenance.
The 370 Venture also has a large extended swim platform that extends far beyond the propeller below. So whether the engines are up or down, it's quite safe for swimmers to slide into the water.

We all know that Mercury Verado outboards are incredibly quiet, but essentially building engine boxes over the outboard wells the engines are now even further muffled.
The only indication when aboard that the engines are running is by looking at the gauges. Underway the real quietness of engine packages becomes more evident. Once you get the throttle down, you hear everything apart from the engines, water lapping against the hull, even the wake behind the boat.
At 11.33m x 3.43m, the  370 Venture is a big boat and weighs 8500kg. However, I found that for a boat of its size it still handles very much like a big trailer boat. Out on the water, it gets up on the plane at very easily and you'll find a comfortable cruise of 24.5 knots @ 4800rpm,  using 106 lph and 4.4 lpnm. Top speed is 35 knots @ 6500rpm burning 223.7 lph. Now it may seem thirsty, but it's really not. Especially if you are comparing it to other petrol-engined craft.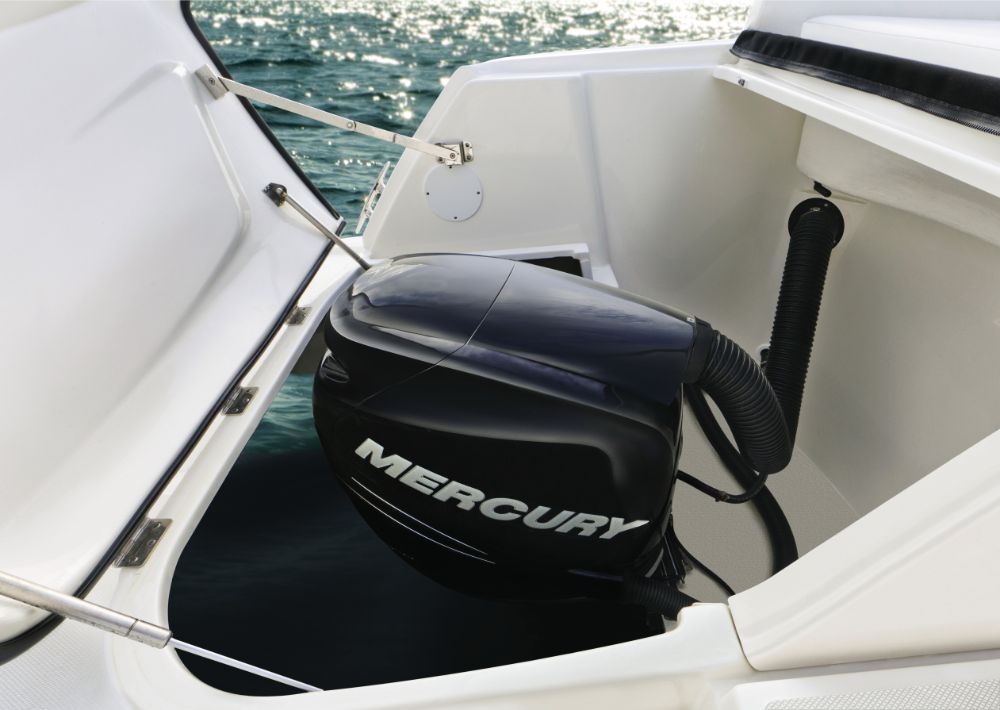 If you compare the 370 Venture to a 370 Sundancer, which is a similar configuration based on the same hull, and powered by twin 380hp Mercury 8.2L Mag petrol sterndrives, the figures are quite comparable. The Sundancer will top out at 38 knots using 245 lph and will cruise at 23.7 knots giving using 105 lph and 4.5 lpnm.
The helm seat is very comfortable, with great visibility forward and though there are a lot of instruments to look at in front of you, I imagine once you spend more time on the boat you'll learn where you need to glance.
The steering is light yet responsive, and you can throw it into some turns with relative ease, scrubbing of a bit of speed as you do, but your passengers won't be thrown around the cockpit.
I sat in as many seats as I could around the cockpit, and they were all ultra comfortable. Wind wasn't too much of an issue, it was sunny and it was nice to sit down the stern, relax and take it all in.
Because the outboard engines are mounted so far aft and so low, and there are no side decks, the cockpit is huge and able to seat six people around a table for entertaining. Like what is customary with American boats, not just Sea Ray, the design team have been able to take full advantage of the boat's 3.43 m beam and boy have they packed a lot into it. To access the foredeck, there are wide moulded steps on the port side of the companionway which you walk up via a split in the windscreen.
There are squabs that clip onto the foredeck to create a sun pad which compliments the two down aft across the transom section. In the cockpit, an L-shaped lounge sits opposite the helm, which itself has a double wide seat for the captain and passenger.
Further aft, a U-shaped bench wraps around a solid teak table. This table can adjust to form yet another sun pad with the addition of some squabs.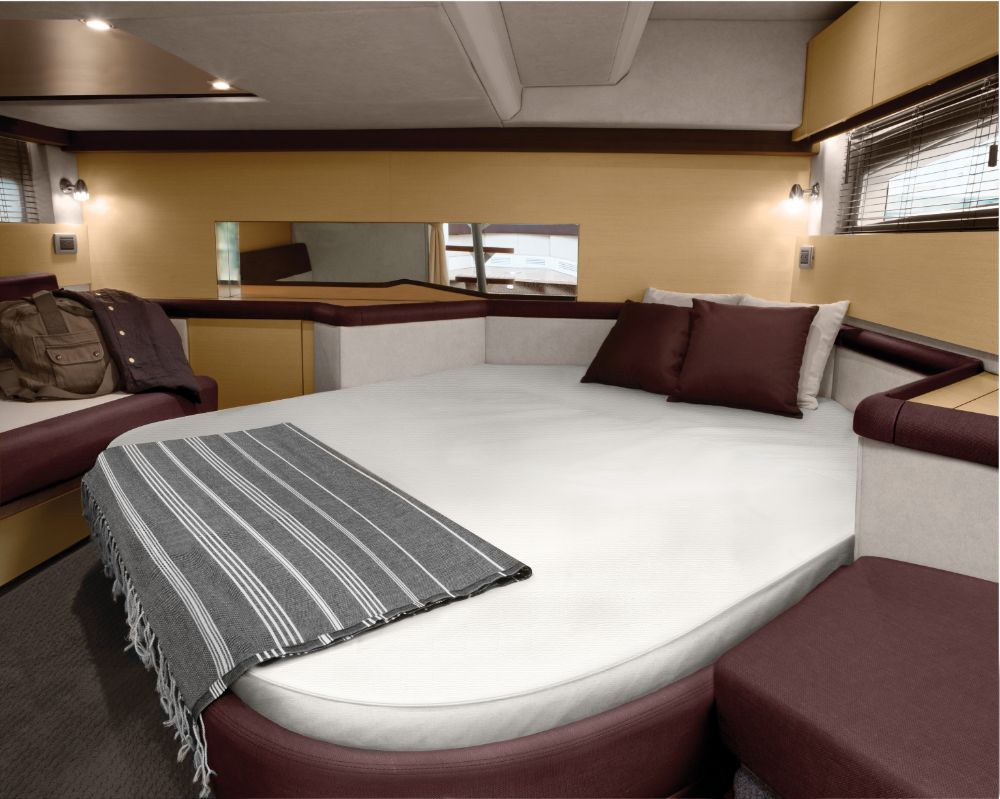 Over to starboard, there's further seating which sits adjacent to an outdoor galley. Again, nothing is spared here, with a stainless-steel sink and faucet, refrigerator, induction stove, storage and electric barbecue grill. Above the outboard pods are sun pads, either side of the center transom walkthrough.
Down below in the cabin area, as you immediately step down from the ladder, there is plenty of headroom in the main cabin area, I'm 1.85m tall and there was enough head height for me to stand.
There is a small galley to port, which has a sink, microwave, refrigerator and a coffeemaker. There is no stove top, but upstairs in the main cockpit there is an optional electric stove and grill installed in the counter behind the helm. I liked this cooking configuration and layout; it means that if you are preparing food, the smells aren't going to linger down below.
To the starboard side is located the wet head which is a shower and toilet cubicle all in one. It is fitted with a VacuFlush toilet plumbed to a 106 L holding tank. In an effort to contain water from the shower splashing over the toilet, there is a curtain. The compartment is fitted with a power vent, a small cabinet for various toiletries and further storage under the sink.
Located forward is a large dining area with wrap around seating, with a central table. This table drops down and with the addition of an infill creates a double berth.
Receding under the cockpit, where engines would be in other models, there is now a full beam master queen bed which runs diagonally, making best use of the space available. To starboard there is a sofa that is long enough to sleep a third person if need be.
It's a nice functional layout. However, for people who want to cruise with another couple, a privacy curtain closes the stateroom off. Sea Ray will also put in a bulkhead as an option if you want to increase your level of privacy.
The horizontal hull windows allow a flood of ambient light; our test boat was also fitted with air conditioning/heating as well as a tv/entertainment system. If you're spending time down below, you will be doing it in ultimate comfort.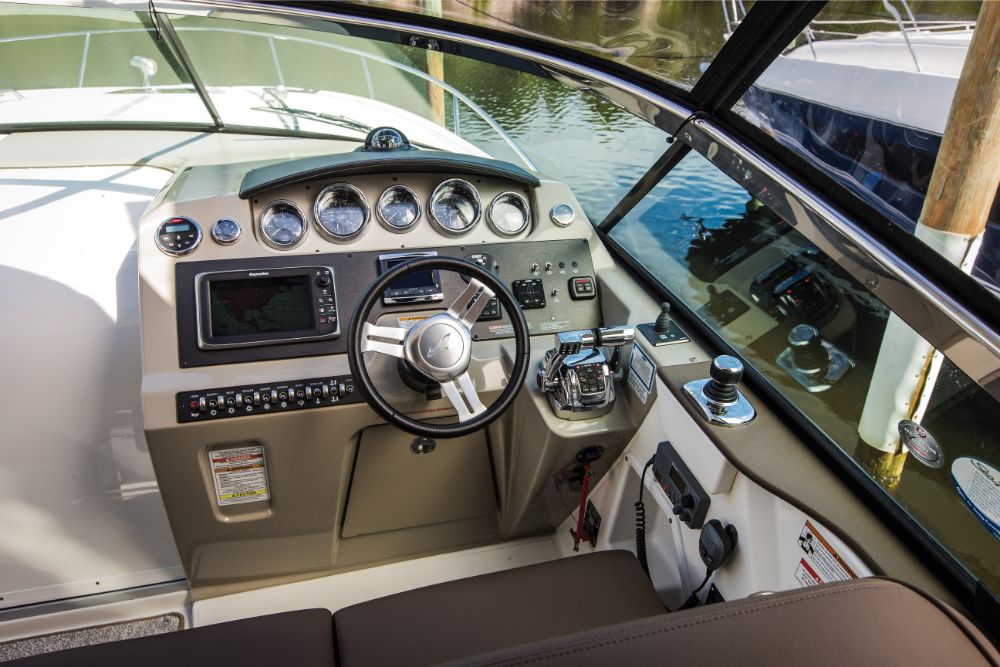 Overall I loved the Se Ray 370 Venture. It is another exciting example of Sea Ray's commitment to packing everything they can into a boat. The list of standard features included in this boat is substantial, so is the options list.
I loved the layout; it's very much a boat designed for a cruising couple or a couple with a young family. What could you compare it to directly? Well nothing really, apart from a model of a similar size in the Sea Ray range, but I would say there certainly isn't anything else out there like it with Verado power on the back.
If I'm completely honest, I was a little surprised when I heard the  price for this particular boat – $NZ671,000. But, bear in mind this has over $75,000 worth of options fitted, and even as a standard boat, it certainly does offer a lot in terms of value.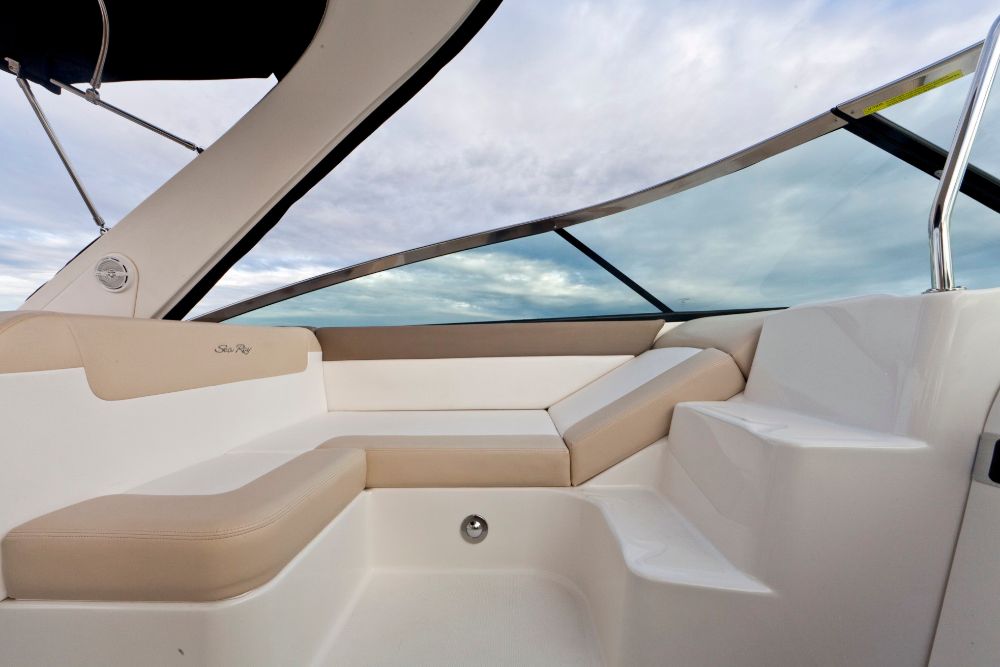 Model & Model: Sea Ray 370 Venture           
Priced from: $595,000
Price as tested: $671,000
Type:  Sport Cruiser
Construction:  GRP
LOA: 11.33m
Beam:  3.43m
Deadrise: 18 degree
Weight: 185kg dry
Test Power:   2 x Mercury Verado 300hp
Propeller: Enertia 15 x 15
Power options: Twin outboard
HP Range: 600hp
Fuel capacity: 840L
Water Capacity: 117L  
| | | | | |
| --- | --- | --- | --- | --- |
| RPM | Knots | L/h | L/NM | Range  (NM) |
| 1000 | 4.5 | 8.7 | 2.000 | 370 |
| 1500 | 5.5 | 12.1 | 2.200 | 340 |
| 2000 | 7.0 | 19.3 | 2.800 | 270 |
| 2500 | 8.0 | 31 | 3.900 | 190 |
| 3000 | 8.8 | 47.3 | 5.400 | 140 |
| 3500 | 9.5 | 72 | 7.600 | 99 |
| 4000 | 10.5 | 81.5 | 7.800 | 96 |
| 4500 | 20.0 | 95 | 4.800 | 150 |
| 5000 | 25.2 | 128.5 | 5.100 | 140 |
| 5500 | 29.7 | 165.5 | 5.600 | 130 |
| 6000 | 32.5 | 186.6 | 5.800 | 130 |
| 6500 | 35.0 | 223.7 | 6.400 | 110 |