The Boss
Text by Barry Thompson & Freddy Foote
If you are shopping for a 7m alloy hardtop, then you will know there is certainly plenty of choices available! If you've made a shortlist, then the Seaboss 700 should be on it.
Seaboss is one of those brands that is a quiet achiever, and has a loyal following, especially in the Waikato and Bay of Plenty region mainly because Thompson Marine, the manufacturer is based in Rotorua. However with the recent appointment of Auckland Marine Centre as its Auckland-based dealer, the brand has started to get a wider awareness.
Thompson Marine was established in 1990 as a division of Thompson Lawnmowers and Chainsaws, with Ron and Julie Baskett taking ownership of the business ten years ago and distributed their first Seaboss boats a year later. 
"Our Aim with Seaboss Boats is to fill a gap in the New Zealand market by providing a quality product at a price that remains value for money," says Ron.
He adds that the name has been built from its clientele with referrals from existing Seaboss owners one of the brand's strongest attributes. The fact that fishing guru Geoff Thomas uses a Seaboss 670 Hardtop for his TV fishing show has also not gone unnoticed.
"It's an unbeatable unit for fishing on the lakes or out at sea, handling all conditions in comfort and style. Plenty of grunt for waterskiing and heaps of cockpit space for fishing", says Geoff on the Seaboss website.
"We don't build the most boats, but we do make one of the best and pride ourselves on the quality and finish of every boat that leaves our factory,' commented Ron.
Like any manufacturer Seaboss Boats have been developing and refining their model range over the years, to cater for the market demand. Today the line-up encompasses seven standard models, two cuddy cabins (550 & 580) and five hardtops.
Seaboss also provide a full custom build programme in a variety of sizes through to around 8m, in virtually any style; open, cuddy, centre console, targa top or hardtop.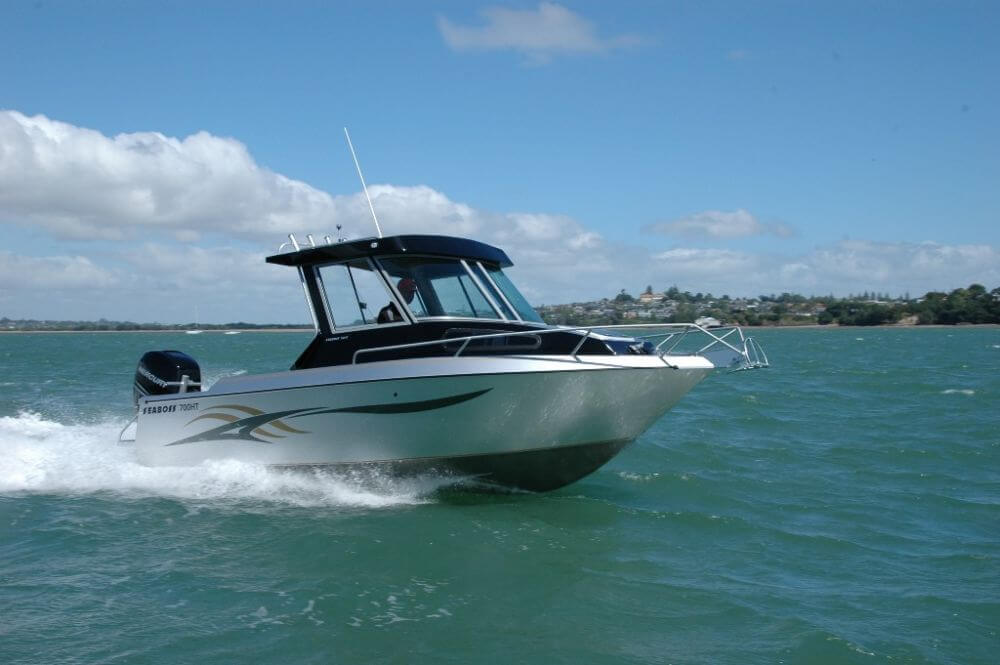 In our previous publication, Propeller Magazine, we tested two Seaboss models, the smaller and now no longer made, Echo and the 670 HT, one of five hardtop models available in the Seaboss range from 6m up to 7.5m. 
The 700 HT is almost a mirror image of the 670 HT; it's just it is a little bigger overall. While the 670 HT is, as the name suggests, 6.70m overall, the 700 HT is accordingly 7.0m. The 700 HT carries a beam of 2.50m and the 670HT is slightly narrower at 2.42m. Freeboard is the same at 750mm and both boats are built with 5mm hulls and 4mm topsides. As expected the 700 HT weighs in a little heavier at 650kg dry/1750kg towing weight and the 670 HT is 600 kg dry and 1600kg on the road.
While the hull design is similar, the 670 HT has a 17 deg deadrise at the transom and the 700 is marginally steeper at 18 deg. Engine options are 115hp-150hp for the 670 HT and 140hp-200hp for the 700 HT. 
Although it's a few years since we last looked at a Seaboss, it is evident right from the start that none of the gloss has gone off the brand. The attention to detail, finish and overall presentation of the newest 700 HT we tested was even better than we could remember.
The overall layout of the 700 is typical of the quintessential kiwi production alloy hardtop. The cabin has the usual storage space available underneath the side squabs, with additional storage in a shelf that runs around the perimeter of the cabin.  A neat feature is the cabin floor space which extends under the cockpit sole, giving you a longer storage area to stow skis, wakeboards and rods.
The twin berths are long enough for a couple to overnight and there is also an infill to make it all into one large bed. An comforting feature in the cabin is that it is all fully carpeted with a tidy finish.  Seaboss, like most alloy manufacturers, are quite flexible with layouts, so there is no reason why the cabin cannot be extended to allow for longer berths or even a small galley. Conversely, it could also be a little shorter if you want to maximise your cockpit space.
A hatch is located on the foredeck, giving access to the anchor well, though with a boat of this size, an auto-rope/chain capstan or drum winch should be fitted. A sliding door allows you to lock the cabin and also add privacy if you have a head installed.
The helm area is spacious, with a flat aluminum dash, which allows you to fit the extra large MFDs and plenty of other extras. Our boat came with a Humminbird 899CI, Mercury Vessel Views display, GME Electrophone, a couple of switch panels and the controls for the Quick windlass and Lectrotabs.  There was still room for loads more.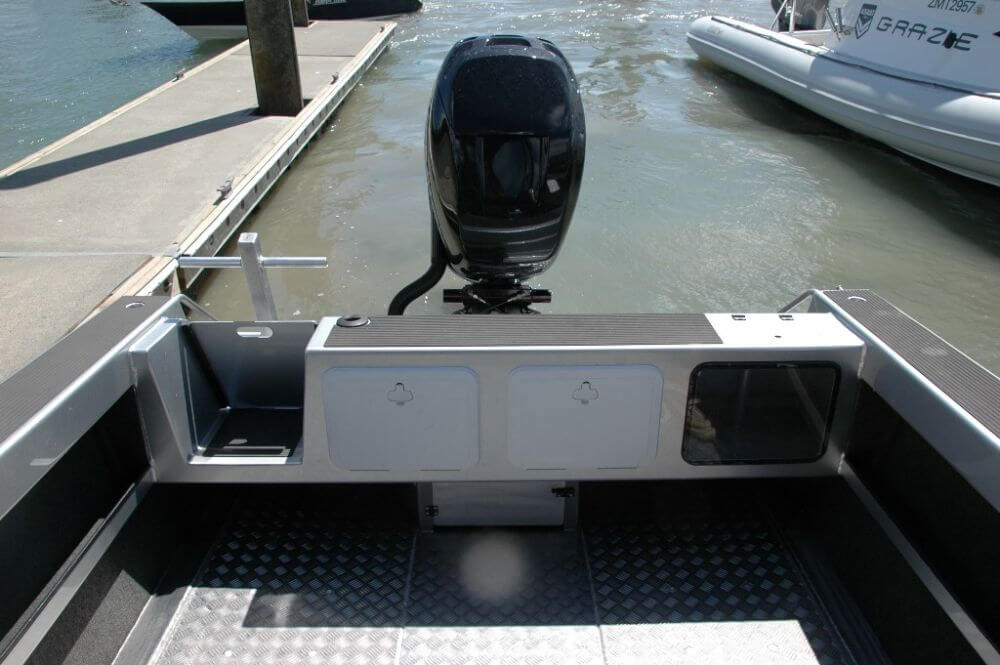 Seaboss's hardtops on all their models follow a similar style and they are well matched to the rest of the boat. Unlike some that aesthetically don't work, Seaboss's hardtop design flows smoothly with the remainder of the deck line. Surrounding you are toughened Sandbrook screens with sliding side windows and plenty of overall height. 
Cockpit storage on the 700 HT is provided inside coaming pockets with split level trays, a small forward underfloor locker and under the transom. The carpeted side trays provide some extra protection for the rods and reels. There is no large underfloor storage lockers with the space taken up with a 230-litre fuel tank and sealed buoyancy compartments.
The upholstered helm seat has a bolster base, which gives you a little extra room at the front of the seat to stand and lean against the seat itself. With the bolster down, the seated position gives you an excellent view forward. A well-positioned footrest is an added feature.
Opposite is another bolster seat, with a slid out padded chilly bin beneath so you have an extra couple of seats should you require them. A variety of seating options are available, such as the single pedestal seats and back to backs. Knowing that the boat is probably going to be used in rough water, Seaboss have been very generous with handrails, which are strategically placed within easy reach.
Being a medium to large sized hardtop, the overall design has an accent on fishing and diving, which is where boats of this style gain a lot of favour with kiwi boaters. The Seaboss 700 HT has a maxi-sized boarding platform that divers especially will love. The 'T' style boarding ladder allows excellent access back into the boat and when it is folded down, it rests outwards at an angle instead of being vertical in the water. A walk-through in the transom is located on the starboard side, with an optional live bait tank (complete with clear view front) on the port side. The water pick-up for the bait tank comes fitted as standard.
The very generous cockpit layout confirms the boat's fishing design and will easily allowing up to four people to fish comfortably. The wide flat side decks are finished with an anti-skid tread, two rod holders either side and splash gates at the rear of the hardtop to stop water running into the cockpit.
The Seaboss hardtop range are available with single or twin outboards, a sterndrive or jet drive.  Whereas the 670 HT (150 Mercury) ran 36.1 knots on the calm waters of Lake Tarawera, the 700 HT (Mercury 200 L4 Verado) topped-out at 36.7 knots. on a moderately choppy Auckland Harbour.
At 5500 rpm, the Mercury Vessel View indicated we were burning 76 lph @ 36.7 knots. Drop that back to around 4500-5000 rpm, which for the conditions was a nice cruisey range, and the fuel consumption dropped to 28 lph and the speed to 25 knots.
First impression was a stiff boat that didn't rattle or shudder in the choppy water. A moderate deadrise of 18 deg delivers a relaxing ride and the quite significant chines work well.
The Lectrotabs let you tweak the balance of the boat, something that is all too necessary in a hardtop, that can be so susceptible to wind. The 5mm hull, fully welded tread plate floor and underfloor construction adds a feeling of robustness to the ride of the boat. If that's not enough you can upgrade to 6mm bottom, bearers and transom, but I don't think that is really necessary.
Launching and retrieving isn't a problem, with two of us managing easily enough. The boat could be launched and retrieved with just one person if need be and the trailer comes fitted with a handy walkway down the centre.
At 7.0m in length overall, the 700 is a good-sized boat that will let you get to most destinations easily without needing to go to a bigger 7m+ model. At 2.50m beam and a towing weight of 1750kg it's still easily pulled by a small SUV or large wagon/sedan.
There are certainly cheaper boats out there, but everything can be built to a price, Seaboss, however, strives to produce a quality product that naturally deserves a quality price tag. If you're looking for an easy to use, well-crafted and finished, practical hardtop, then consider adding the Seaboss 700 to your shortlist.
Model: Seaboss 700 Hard Top                          
Priced from: $NZ99990
Price as tested: $NZ 109990   Type: Hard Top
Construction: 5mm/4mm
LOA: 7.00m
Beam: 2.50m
Deadrise: 18 deg
Trailerable Wgt: 1750 kg
Test Power: Mercury L4 200 Verado
Propeller: Enertia 17"
Power Range: 140-200hp
Power options: Outboard, Sterndrive, Jet.
Fuel capacity: 230 Litres