Seaforce 530 Skipa 
Another Alternative
Text by Barry Thompson
A fibreglass pontoon boat…..yeah right! While you may think that all pontoon boats are constructed of aluminium, think again. When Rick Lawrence, MD of Seaforce Boats in Hamilton, introduced the world's first fibreglass pontoon boat, he rewrote the design criteria for trailer boats….well fibreglass anyway.
His design idea was nothing new and having seen the success of his competitors in the alloy boat market, he felt that it was time they had some competition. Until then, no fibreglass trailer boat manufacturer had come up with a pontoon model, so Rick's plan was both innovative and at the same time risky.
"It was a well-proven concept and we knew we could make shapes that you can't make in alloy and that we could produce a soft riding, dry boat that also had style", says Rick.
After 3-4 years of research, including mocking up the pontoon concept with foam on an existing Adventurer hull, he final came up with what he felt was the right design. From there it was an all new hull, which Rick says took a considerable amount of time making sure the plug was exactly right before the moulds were built.
"It was critical to get all the running surfaces exactly as we wanted them so that the pontoon design would work effectively and I feel we have certainly achieved that", adds Rick.
He points out that it was really important to get the hydrodynamics of the water flowing from the hull right and this resulted in a lot of work detailing a moulded-in spray rail, which turns the water down and keeps the spray angle low.
But would the conservative fibreglass boat buyer accept something as radical as a pontoon boat? Well, it seems they did and since the first 530 Mate was introduced in 2008, sales have been better than expected. Released at the Hutchwilco NZ Boat Show, the 530 Mate picked up the coveted Innovation Award, a testimony to the new design.
"We came away from the show feeling very pleased and with orders in hand and until the GFC came and hit us all, we had plenty of boats in build", says Rick.
The first 530 was a full cabin, which was soon followed by the 530 Ute, a cuddy cabin version and then in 2015 by the centre console 530 Skipa. All three models are based on the same 5.65m x 2.25m hand laid hull, manufactured from isophthalic resins, with an underfloor grp stringer system and a moulded liner which goes all the way to the gunnels. There is no timber in the boat and all cavities beneath the inner liner and inside the pontoons are filled with polyethene foam. Overall a very stiff and extremely rigid layup. The boat according to Rick is unsinkable and has level flotation. All Seaforce boats are CPC Compliant.
An interesting feature of the Seaforce 530 Skipa is the liner is matt finished, so it doesn't glare in the bright sunlight. A simple and effective idea that I have not seen on any other boats.
My first impression of the Seaforce 530 Skipa is a boat that is destined for fishermen and when you look at it, it comes with all the things a fisho is going to need. For a start, there are eight quality rod holders set into the coamings, rod racks in the side shelves – long enough for 2.1m rods – and a Railblaza removable bait board all in the standard spec package.
Our boat then had the addition of a front mounted Railblaza bait board, 50-litre removable fish bin and a Raymarine 7″ MFD.
The bow section has come under some special attention, with the anchor locker large enough to handle a drum winch, but if you prefer the standard capstan/winch, then there is room for that also. The boat is already pre-wired for an after market addition of either. The anchor locker is exceptionally large for a boat this size so there is heaps of space for the anchor tackle.
Again thinking of the fishing aspects of the boat, the floor can be raised with a casting deck option for soft baiting and the Railblaza Starports in the foredeck are designed to take not only a forward bait board (another great idea), but also a mount for an electric Minn Kota outboard.
Included under the foredeck is a charger socket, one of four throughout the boat, so there are plenty of places to hook up accessories such as an electric reel, spot light or even your phone.
The centre console is much like any other centre console for a boat this size, with a huge flat dash capable of flush mounting up to a 12" MFD. Our boat was fitted with a 7" Raymarine plus a GME EPIRB and Lowrance Link 5 VHF. There were no gauges as all that was handled with the MFD. Seaforce uses a circuit breaker panel rather than fuses, which is fully waterproof and better adapted to the open console environment.
One of the unique features of the console is the fold down windscreen, which is a requirement if you don't have the T-top and are going to trail the boat with an all-over cover.
Seaforce uses an Australia made Oceansouth T-top complete with soft canopy and mounts for the aerials, GPS antenna, nav lights and even a couple of fore and aft spot lights. Designed exclusively for console boats, the 32mm aluminium tubing is great as a hand hold when underway or walking around the boat. It has some flexibility which means it's not locked solidly to the sole or console, so doesn't put too much tension on the mounting points.
Storage in the console was surprisingly generous. Lift the forward facing front seat and you'll enter a massive dry storage compartment inside the console. But wait there's more. Lift a floor panel and you get access to another large underfloor wet locker which would be a great space to stow gear that you don't need in a hurry. Access is a little awkward, but it makes great use of what otherwise would be wasted space. Aft of this is the 70 litre stainless Manta fuel tank. Extra fuel can be carried in tote tanks under the aft deck.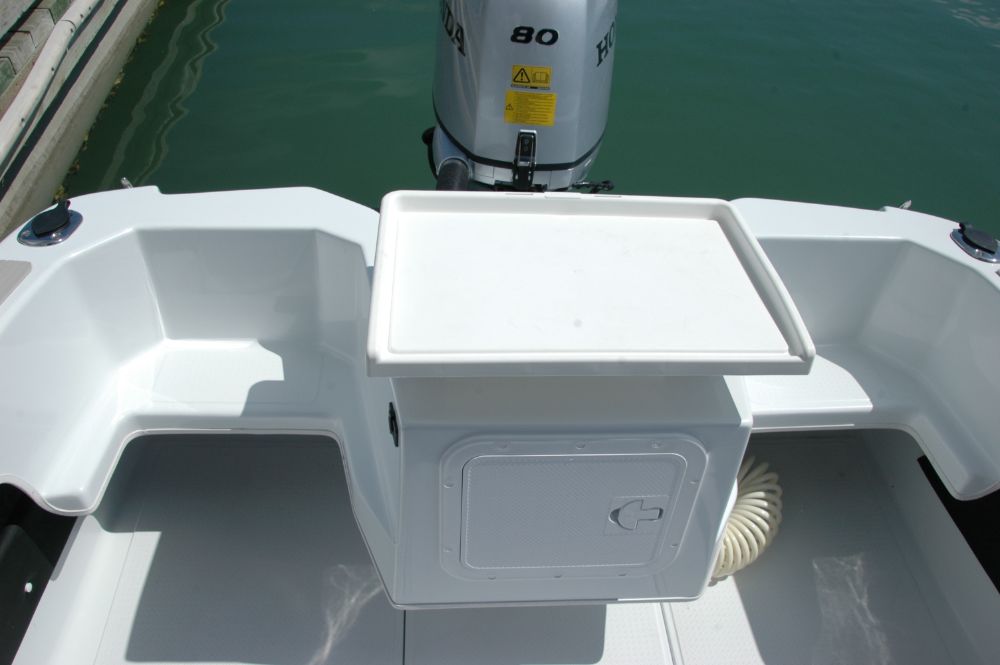 Seating is simple, with the forward bench on the console, a twin bench seat at the helm and two jump seats aft. The moulded base is just enough to sit on, but if you plan to use them a lot, then proper seat cushions are available. Without them you get better fishing access to the rear of the boat.
The helm seat comes with a reversible roll back and a 50-litre optional fish bin beneath. There are other seating options, but Rick says just about every 530 sold, has had the twin bench style.
I liked the extra detail around the centre of the transom with a dedicated locker in the centre capable of taking twin batteries and the 'snapper catcher' around the bilge. Rick was quick to pont this feature out which is simply a moulding that stops any bait or fish, not just snapper, slipping down into the bilge. Very neat and effective feature. A salt water washdown is standard.
Our test boat was powered by a Honda 80, which was a perfect horsepower match for the boat and although the options are right through to 115hp, I don't think the boat needed anymore. Top speed was around 38 mph and the boat felt stable and firm on the water and plenty for a boat of this size.
On a calm Auckland Harbour, I found a real nice cruise spot around 4500 rpm @ 26 mph, which gave us a fuel burn of  17.5 lph. The Honda showed itself to be very economical throughout the rev range, with a burn rate of 1.5 lph @ 1000 rpm right through to a maximum of 33 lph @ 6000 rpm.
I found that the Skipa 530 ran very flat and maybe the engine could have come up a notch. However, give it a bit more trim and the bow soon lifts and the boat runs at a good attitude. The spray rails do their job perfectly and the ride is soft and comfortable. In hard tight turns the boat hangs on, with the wide sponsons helping to hold the boat level in the aggressive turns. Stability at rest is exceptional.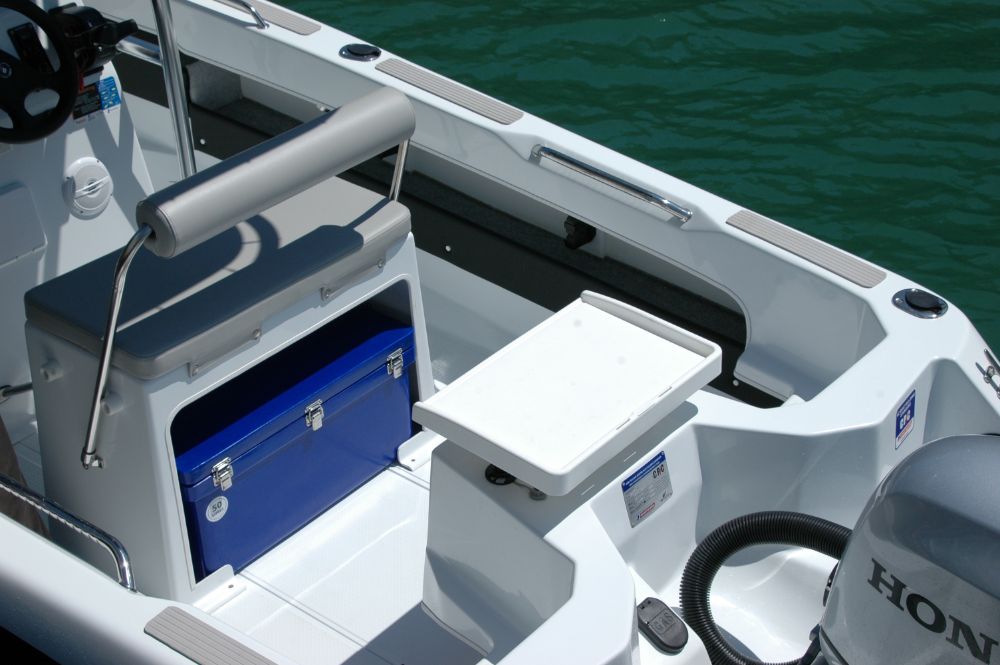 If you like the pontoon boat style but don't really like aluminiium, then the Seaforce 530 Skipa is a great alternative. It has the finish, soft ride and, all the same attributes of its alloy counterparts, but with the added advantage of softer lines. Overall a great, well priced, well finished and nicely presented boat.
If the 530 Skipa, is a bit small for you, then if you can wait until the 2017 Hutchwilco NZ Boat Show there will be a 7m version available. Already in the development stage it will be available in three versions, cuddy, cabin and centre console and will share a common deck profile. I can't wait to try the big brother!
Make & Model: Seaforce 530 Skipa  
Manufacturer: Seaforce
Priced from: $NZ37,000
Price as tested: $NZ47,995
Type: Centre Console
Construction: GRP
LOA: 5.65m
Beam: 2.25m 
Deadrise: 17 deg
Height on trailer: 2.5m   
Trailerable Wgt: 1 ton              
Test Power: Honda 80                              
Propeller: Solas 17"       
Maximum RPM: 6000 rpm                  
Top Speed: 38 mph
Power Options: Outboard Only
HP Range: 75-115hp
Fuel capacity: 70 litre
Trailer: DMW 
Notable Standard Items on Test Boat
CPC Compliant, Brass keel strip, foam filled buoyancy, pre wiring for winch,  wash down pump.
Notable Options on Test Boat
Oceansouth T-top,  50 litre fish bin, Raymarine 7" MFD, GME VHF, Lowrance Link 5 VHF.
| | | |
| --- | --- | --- |
| rpm | knots | L/h |
| 1000 | 2.0 | 1.5 |
| 1500 | 3.0 | 3.0 |
| 2000 | 4.0 | 4.5 |
| 2500 | 5.0 | 7.5 |
| 3000 | 9.5 | 9.0 |
| 3500 | 15.5 | 10.5 |
| 4000 | 19.0 | 12.5 |
| 4500 | 22.5 | 17.5 |
| 5000 | 26.5 | 24.0 |
| 5500 | 29.5 | 28.5 |
| 5800 | 32.0 | 32.0 |
| 6000 | 33.0 | 33.0 |