Seaforce have badged their latest release as a multi activity vessel (MAV) and that certainly sums up the versatile nature of the Discovery 6.5 MAV. Hamilton based builder, Fibre Forces NZ Ltd, have long had an enviable reputation as one of the leading manufacturers of entry level fibreglass boats in the 3m to 5 m range, so their move into the highly competitive top end of the trailerboat market heralds a whole new approach for the company.
To date their recognised models have been the Kona Cat, Adventurer, Utility, Ranger and Scout. However owners Ric Lawrence and Rusty Borrell felt they needed to expand their range with a larger cabin cruiser capable of handling offshore conditions.
Due to the small size of the company and the fact that the production schedule for existing models was already to maximum capacity, the new Discovery had a reasonably long three-year gestation period. The concept of the Discovery was to build a 6.4m boat with a high safety priority, to be multi recreational and very adaptable for whatever purpose, as well as built to meet all CPC specifications and requirements.
Released at the 1999 Hamilton Boat Show, the result is a gutsy boat based on a large volume hull that offers abundant interior and exterior space, whilst incorporating a very functional and practical layout. All styling and layout influences are very Kiwi and designer Rusty Borrrell is quick to point out that this is a Kiwi boat for Kiwi boaties.
The fully lined cabin layout is traditional with a vee berth with moulded bins under with insulation provided from the surrounding foam. In the cabin area positive foam buoyancy is used right up to the gunnels between the inner liner and hull. This offers a massive 44cuft of buoyancy which not only assists in making this a hell of a hard boat to sink, but also does a lot to quieten the hull when underway. Throw in a bag of ice or a few slicker pads and you have a couple of excellent cold storage areas for those weekends away. There is provision for a fully plumbed head on a moulded flat section of the cabin sole and cushion infills (neatly tucked away behind the helm bulkhead) turn the whole area into a large double berth for overnighting. Wide side trays take care of a lot of the storage problems and a plastic hatch allows for simple access to the back of the fascia. There is excellent sitting headroom for five to six adults and the lack of a port bulkhead gives the boat a very open plan feel. Privacy can be obtained with a draw curtain.
A flush mounted deck hatch allows you access to the deep anchor locker and there is a moulded deck recess to handle either a capstan or fully automatic rope/chain anchoring system.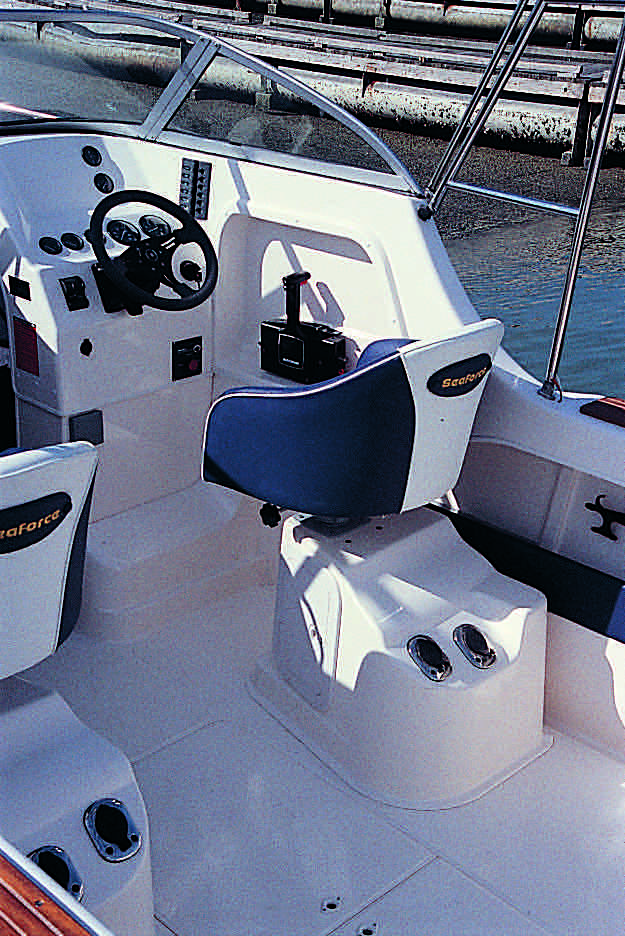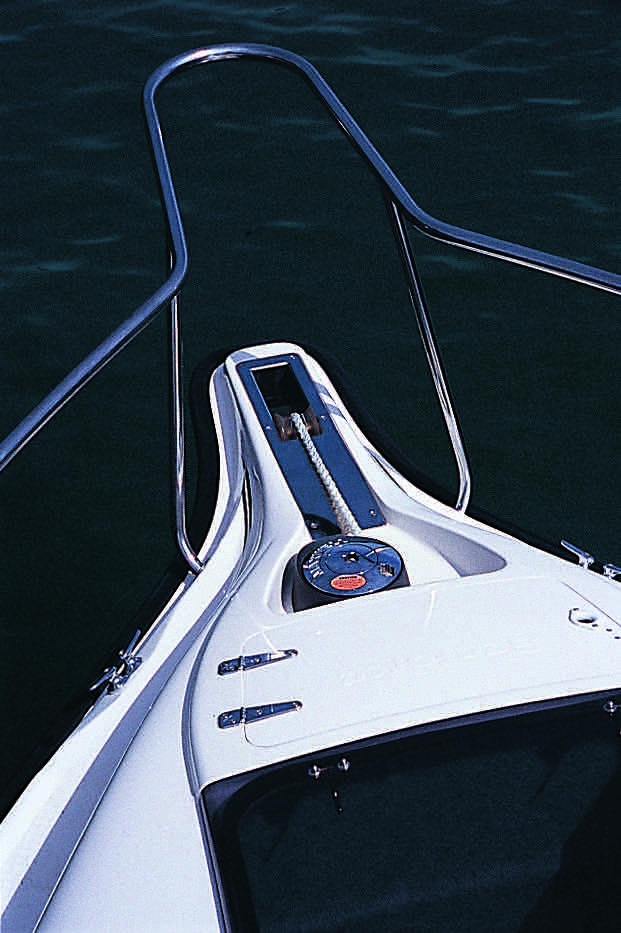 If you are vertical challenged then have no fear, the Seaforce Discovery has been designed with you in mind, with a raised false floor option for both forward seats. These can be fitted permanently when the boat is ordered from the factory. Standard seating is ideal for the fisherman who may require more open workable cockpit space with the twin swivelling pedestal seats on moulded bases incorporating rod holders and storage. If you want more seating then you can go for the customary king/queen or for the ultimate space just a pair of single swivelling seats on alloy pedestals. There is another single lift out rear seat to port plus the option of the same on the other side. An optional bin seat increases your seating options to six. Look also for a dinette version coming up this year with a corner seat and table option offering a neat social area on the port side.
A split-level fascia has all the instruments mounted just behind the Seastar adjustable steering with plenty of space for flush mounted electronics such as a gps/plotter, fishfinder or radar. The driving position is intelligent in design and both seated and standing I found it perfect. The adjustable seat base slides well out of the way when standing and when seated the built-in footrests and the ability to adjust the angle of the wheel to suit your own driving style was a real bonus. The toughened glass screen allows you to fit a wiper, so even with the canopy up and the wind and rain blasting over the front deck, you can still see to get home without having to poke your head out through the canopy.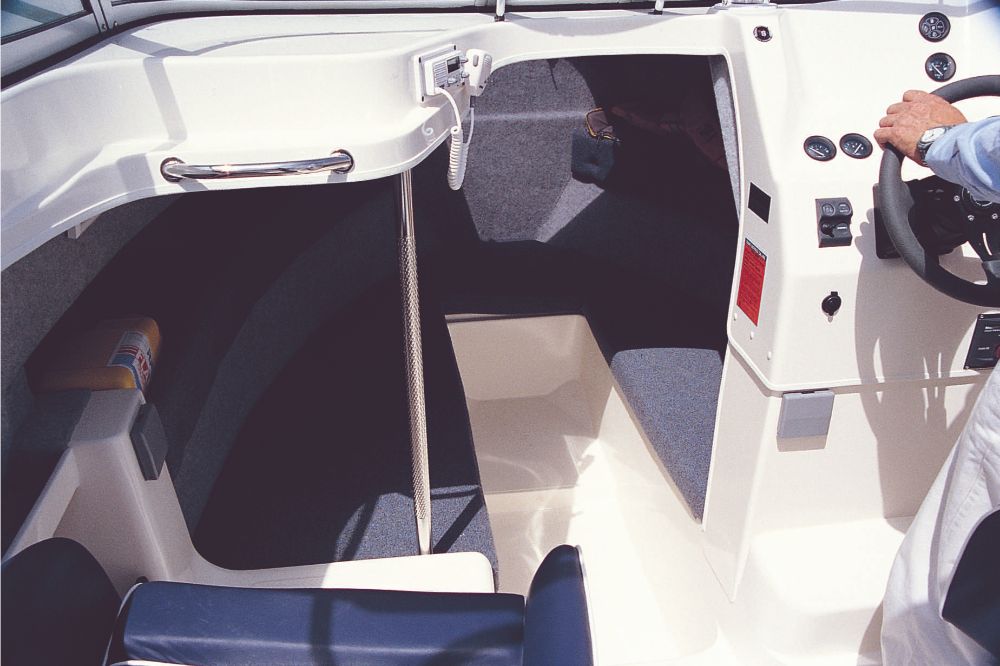 Storage under the cockpit floor is massive and large enough for fishbins, ropes, fenders, dive gear and a whole host of watertoys.  Although not self-draining the cockpit sole level is probably high enough to be so, with the current design dumping all cockpit water into a deep transom sump with automatic bilge pump. Standard is a 140 litre stainless fuel tank, although this can be increased in capacity to over 200 litres for those seriously looking at offshore cruising. Personally in a boat this size I feel 180 litres is minimum and there is certainly space to incorporate the extra size tank without encroaching too much into the underfloor locker.
The side trays go the full length of the cockpit so there's no danger of knocking the tips off your long rods. Rod racks take care of rod security if you don't want them laying on each other. If you fancy yourself as a night fisherman then again Seaforce have already looked after some of your needs with a concealed lighting strip illuminating the cockpit sole. The rear decks are finished with teak caps, with high toekicks and inwardly angled side decks, along with a serious bowrail giving a feeling of security when going forward.
The transom area incorporates a built-in tackle box, with the option of a small slide-out cooker in the centre with a freshwater washdown pump and moulded sink unit above. The Discovery comes standard with a manual foot pump and 20 litres of freshwater. Future models will also have a transom shower and saltwater washdown facility. To port is a bait tank with twin battery storage underneath and a liftout transom door to starboard.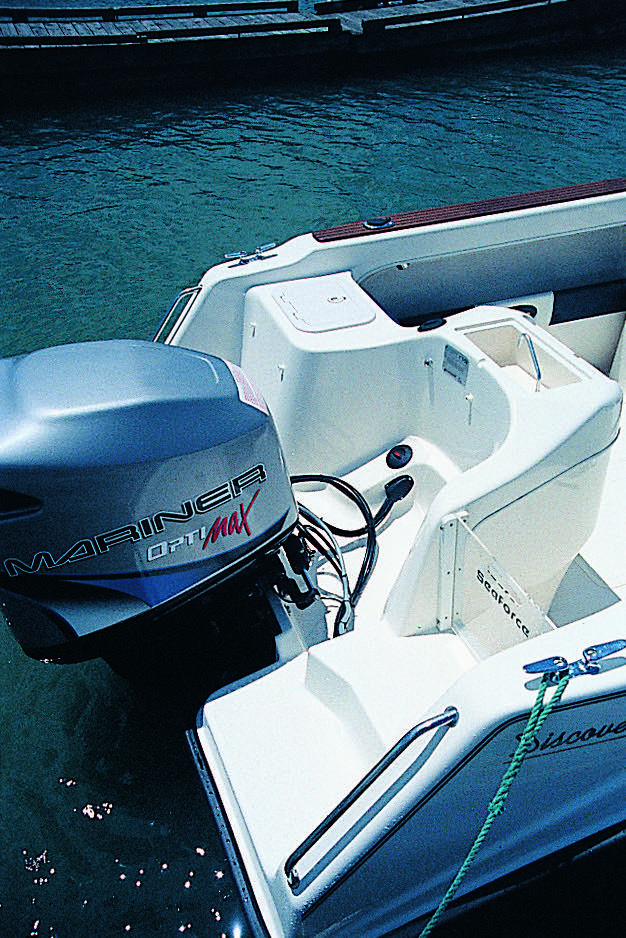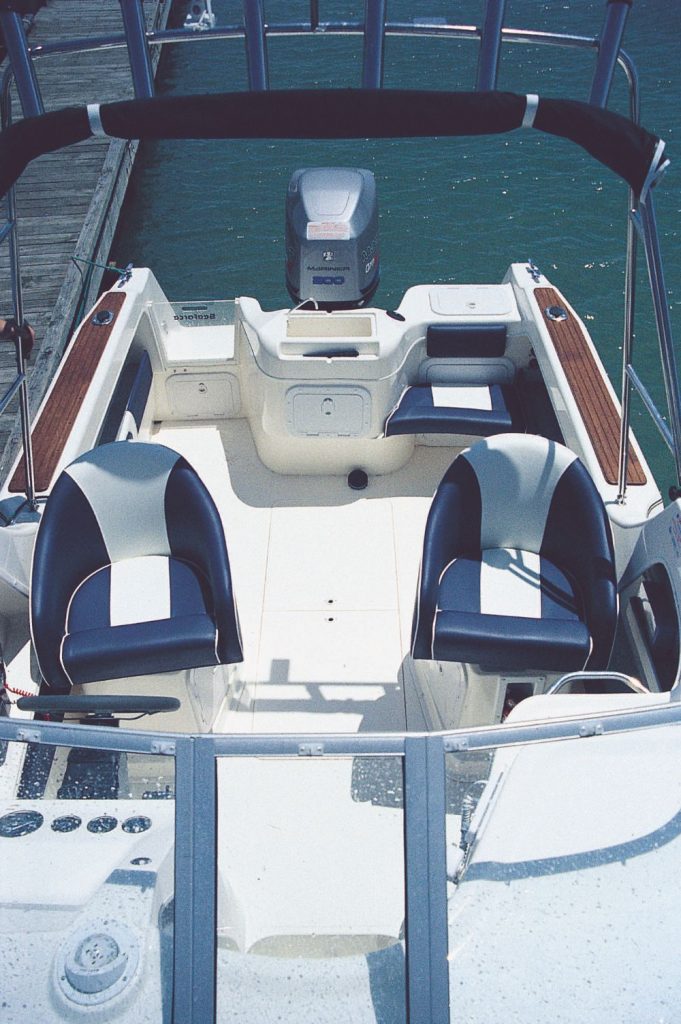 Construction incorporates 23 different mouldings with the boat built to CPC standards. There's no plywood in the boat with all facings, bin covers and seat bases built in lightweight polypropylene sheeting. A foam filled beam running across the boat adds a lot to the stiffness of the hull, and with no port side bulkhead a stainless steel vertical pole is used for deck support.
Underneath the 20 degree hull has a full keel tapering off into a flat pad at the rear, two planing strakes and very wide downturn chine flats. The boat has a very full entry forward and with the same stem angle takes on something of an overgrown look of the already well proven Seaforce Adventurer. The portofino stern features a radiused transom design to assist in giving the boat plenty of stern lift when backing-up. I tried it and it worked great.
I spent a very relaxing day aboard the Discovery 6.5 and in the light to moderate sea conditions on Auckland Harbour and found the ride and attitude of the hull excellent. I did however take sometime to get the trim right and found myself disregarding the gauge and running gut-feel into the head sea we experienced coming back from the bottom end of Waiheke. The choppier it got the more trim was needed, although looking back at the engine it didn't seem much over negative trim. Our test route was Westhaven and back via Gannet Rock, and Pakatoa Island, a distance of around 60 nm, although it wasn't until heading home that the weather cut up to more than half a metre chop.
The run down was effortless with the boat sitting on 40mph all the way and hardly flinching on the boat wakes and surface ripples. I went looking for some rough water but on this particular day you could have skied to Cape Colville. The hull was responsive, stable and in the light sea conditions a pleasure to drive. Not quite as nimble as a runabout, but certainly predictable. The strong hull lines are designed for blue water boating and I'm sure I would not be disappointed if I had had the chance to test the boat in more adverse seas.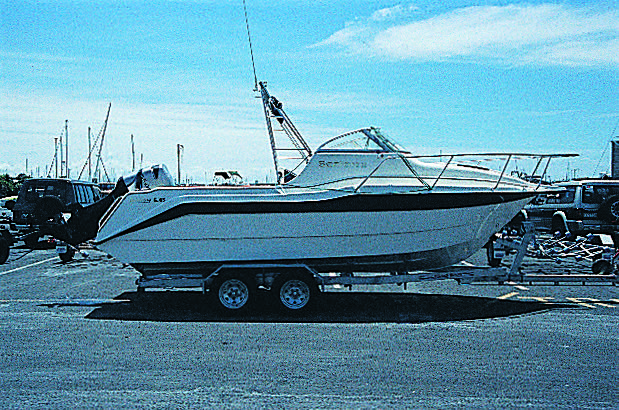 Fibre Forces have signalled their coming of age with the Discovery 6.5 and while they have brought a good boat to market, they have some well established heavy weight competition up against them. The individual styling of the Discovery  6.5 will help it develop its own market and I'm certain anyone seriously into fishing and diving and favours fibreglass over aluminium will put it on their shopping list. It's a boat that comes with a lot of features, many of which are unique to the Discovery, and has the additional bonus of being built by a company with a reputation for well-executed glasswork and quality finish.
Model: Discovery 6.50
Price (Hull only): $33195
Price As Tested: $65995
Designer: Rusty Borrell
Material: GRP
Type: Cabin Cruiser
LOA: 6.50 m
Beam: 2.40 m
Hull Configuration: Semi deep vee
Deadrise At transom: 20 deg
Trailerable Weight: 1800 kgs approx
Engine Capacity: 135 – 200 hp
Power Options: Outboard only
Fuel Capacity: 140 litres
Water Capacity: 20 litres
1000         @             5.0 mph (est)
1500         @             8.0 mph (est)
2000         @             14 mph  (est)
2500         @             21 mph
3000         @             25 mph
3500         @             31 mph
4000         @             36 mph
4500         @             41 mph
5000         @             47 mph
5600         @             56 mph
NOTABLE STANDARD EQUIPMENT
CPC Compliance, compass, toughened glass Taylor Sandbrook windscreen, foam buoyancy, isolating switch, sink with cutting board, fresh water system, teak gunnel protector strips, hydraulic steering, capstan anchoring system, cockpit down lights.
NOTABLE OPTIONS ON TEST BOAT
Rocket launcher, bimini canopy & clears, tilt steering, tackle box, Maxwell 3500, dual battery system, VHF radio, safety package with flares, fire extinguisher, EPIRB and first aid kit.
Make: Mariner
HP: 200
Model: Optimax
Cylinder Type: V6
Max RPM : 5600
Propeller: 19" Vengeance
Retail Price: $22717
Make: Monarch
Model: Custom Built
Braked: Yes
Suspension: Springs
Rollers: Multi and keel
Standard Features: Sub lights, multi winch.
Retail Price: $6800