Duncan Discovers A Winna
The Seaforce Bruce Duncan goes fishing in the award winning Seaforce Winna 430 and discovered a neat little boat  that provided everything he needed to catch snapper in the shallows.
Despite owning a 32 foot launch, small boats still give me a big thrill and really spin my wheels as probably my best early childhood memories are those as a family fishing from a 12 foot ply dinghy. Having spent over thirty years of my working life in the marine industry I have seen many families that were heavily into boating as a leisure activity turn their love of boating into a family business. Now second and third generations are coming into the family business; names such as the Lidguards and Salthouses spring to mind in the larger boat construction and families such as the Simpsons, Arkells and Boyces in the powerboat industry.
Recently I was at Mike's Marine in Silverdale which is owned and operated by Mike and Debbie Boyce and one small boat stood out and took me down Memory Lane to my early fishing days and I just had to have a run in it.
Mike's dad Ivan Boyce was a legend back in the late '60's and early '70's when he raced a boat called Tora Too, powered by a 454 Chev. This boat could not only be seen churning up a racecourse, but could be heard approaching from miles away.
The success of powerboat racing led to Ivan setting up business in 1972. When you race boats, particularly in offshore events, you rapidly build knowledge, skill and respect for the sea as it is an unforgiving master, and these skills were passed down to a young Mike when he started racing yachts in his youth. With the sea in his blood, Mike got into scuba diving and went on to complete advanced courses – "no use doing half a job," he would say. Having worked in his dad's marine shop in his school holidays, he found after a couple of years at university doing a B Comm. that it was boring, so rejoined his dad until Ivan sold up and retired to the Gold Coast.
Purchasing Hibiscus Coast Outboard Spares in 1990, Mike got into the mechanical side of the marine industry and has grown it over the past 15 years to a fully blown marine dealership and workshop known simply as Mike's Marine Centre. Like his dad before him, he has created a family business in which his wife Debbie and family are fully involved. If you didn't know Mike's family background in boating it clearly stands out when you see the professional standard, pride and the extra mile Mike goes to, making sure every boat they sell is to those same high standards.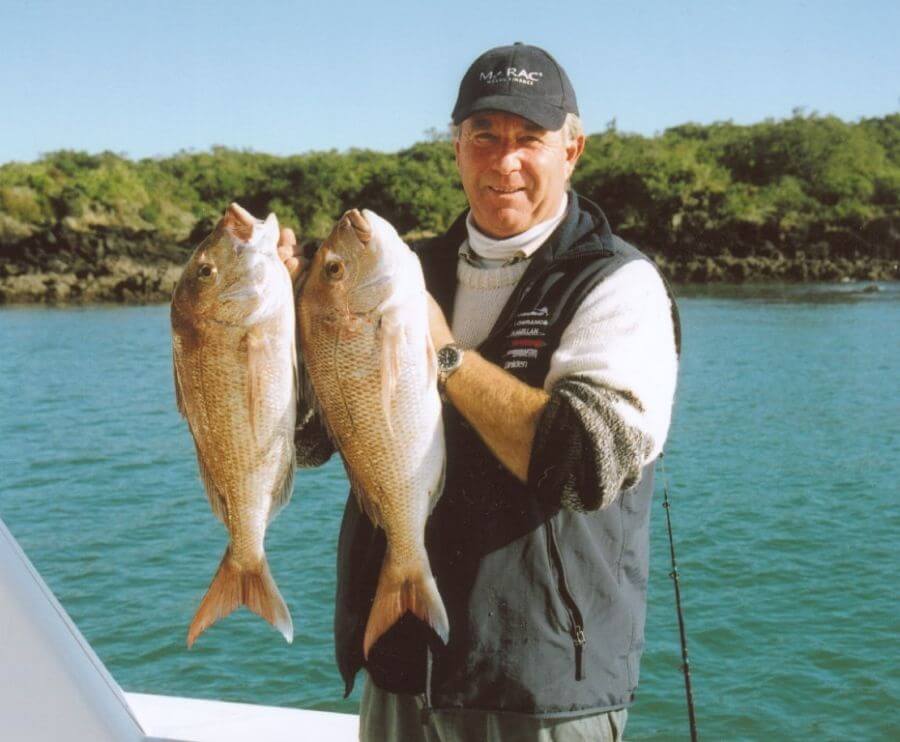 The boat that stood out for me on his yard was the 430 Winna built by the Hamilton boat builders Seaforce, which Mike has represented for the past 9 years. Being only 4.3 metres long it is hard to believe the thought, design and standard of finish that has gone into a boat of this size. It represents quality, safety and performance – the same standards Mike was brought up with, yet he even goes further than that. Despite being the smallest new boat he sells, he even takes the time and trouble to fit protector strip around the trailer guards and light fittings to stop accidental scratching when launching and retrieving. "Every boat no matter what size it is, is someone's pride and joy, and it is just another small way we look after our customers," says Mike.
As a very keen fisherman himself, it took very little arm-twisting to convince him to take me out for a fish in the 430 Winna. When you own your own boat shop and have the choice of any boat, it didn't surprise me when Mike said that we would take his own personal Seaforce 430 Winna.
Weighing in at approximately 520 Kg, the 430 Winna is easily towed by the average 2 litre family car and being on a multi roller trailer, both launching and retrieving is easy for both young and old. The Seaforce 430 Winna is constructed to the stringent CPC standards and has a maximum horsepower rating of 40HP. Mike's personal boat is powered by a 40HP 4 stroke Mercury as it is not only used for fishing but also as a fun family boat, towing the kids and friends around on assorted water toys.
Launching at Wenderholm at dead low tide with the motor trimmed up, we negotiated the shallow estuary and headed out to sea. Quickly on the plane, you are aware how quiet both the motor and hull are as we cruised to our first fishing spot at around 30 mph or 50 kph. Zipping back the canopy I noticed the standard of finish, quality and weight of the fabric to be very high indeed – seldom seen on boats of this size. Mike's philosophy is 'I believe for a few extra dollars you do it once and gain long-term benefit'. Opening the front screen allows you to lean forward to remove the anchor from the well and set it with little effort.
With a good size bait board mounted midships and a fish bin on the cockpit safe between us, we each are able to cast out a couple of baits without getting in each other's way. Waiting for our first bite, I could not help focussing on the design and finish of the boat.
Firstly it is important in a small boat to have a secure, dry place for cell phones, car keys and wallets and the dash-mounted glove box takes care of that. There are also dry lockers under each of the comfortable swivel seats, large enough to hold flare packs and the likes. With only a few small snapper taking our baits and the rat kingfish refusing baits and lures we pulled the pin to head up the Mahurangi harbour to see if we could find some live baits. With no baitfish showing on the sounder and the weather now starting to pack up we headed for the lee of Saddle Island to strayline the northern side shallows. Even with the sea conditions a bit sloppy we were both able to safely stand up and cast baits well back toward the reef without the boat feeling tippy at all.
Mike's local knowledge really paid off big time and before long we had enough good size snapper in the bin to feed our families and with a good 15 – 20 knots of wind blowing it was time to call it a day. With the wind against the tide the conditions were fairly choppy, but the ride home was dry and remarkably smooth.
Back at Mike's Marine Centre, we unloaded four rods, a fish bin, wobbly berley pot, camera bag, and two tackle boxes and yet at no time did you feel that cramped it would effect your fishing. Washing down the boat was a breeze as every corner is rounded and smooth and we soon had the 430 Seaforce Winna looking like brand new again.
The big question is what would a boat and trailer seat up as you have it set you back? Basic starting package is $18,404. First of all the standard if finish is superb and the standard features list is very impressive.  Items such as all deck hardware, upholstered side pockets, four rod holders, moulded inner liner, split windscreen, nav lights, bilge pump, isolating switch and seating for four are all provided in the basic package. Included in this is a DMW trailer, 30hp Mercury/Mariner, all tackle gear plus reg and WOF.
Depending on how far you want to go you can upgrade to a 40hp Mercury/Mariner, plus ad a whole load of extras such as colour fishfinders, canopy pack and bait boards etc. Our demonstrator with all the add-ons retailed for $26,829.
The thing I like about this boat and the way it has been set up is that everything from the trailer and jockey wheel to the handrails, cleats and fittings are of the highest quality. As Mike says he wants his customers to know that they are not only getting a solid safe boat but it will stand the test of time and give hassle-free fishing and fun. Being very aware of the cost of running a boat I asked how much fuel we had used for the trip. Being a 4-stroke motor they are very economical, so maybe $7 – 8 and if it was a 2-stroke – $10, so a family can have a lot of fun at little cost.
To me that's one hell of a nice little boat and with it being so economical, easy to tow and stow, it is not surprising that it has been so well received as one of the best level entry boats on the market today. What backs up my impression and experience of the Seaforce 430 Winna is that it has won the Best All Purpose Boat of the Show Under 6 Metres award in 2003 and now again in 2005.